Rita Cruise 3 days 2 nights
Hanoi, Halong Bay, Lan Ha Bay, Ba Trai Dao islets, Viet Hai village, Tuan Chau Harbor, Hanoi
Launched: 2022
34 Cabin(s)
Overview
Rita Cruise is one of the most luxurious cruises among luxury Halong Bay Cruises. The Rita Cruise has a modern design that is inspired by Italian and Indochine styles. With the neoclassic design outside, you will be impressed right from the first time see the cruise.
The Rita Cruise is equipped with many luxurious services such as a bar and lounge, Fitness Center, Karaoke, a spa and massage, and Swimming pool…to make sure you will have the best experience with our Rita Cruise.
Every room has private balconies. You can observe the beauty of Halong Bay in your private room and let yourselves immerse in nature.
There are various kinds of rooms: Senior Suite, Triple Suite, Honeymoon Suite, Rita Suite, President Suite, and Family Suite, you will have many choices of rooms, consider the number of people on your team to make the decision.
The Rita Cruise also provides you with various kinds of food in both Asian style and Western styles. What are you waiting for? Embark on a cruise on Halong Bay with Rita Cruise!
Hanoi to Halong Bay and Lan Ha Bay on Rita Cruise (L/ D)
08:00 - 08:40: Our tour guide and limousine will pick you up at your hotel in Hanoi's old quarter.
08:40: The trip to Halong Bay will take about 2.5 hours.
10:00: When you get to the province of Hai Duong, take a 20-minute break.
11:30 - 12:00: Get to Tuan Chau port.
12:00 - 12:30: Our support speedboat will take you from the wharf via Halong Bay to our luxurious Rita Cruise. You will be given a free drink when you get on the ship. Our friendly and skilled crew will conduct safety procedures with you, and then you can go to your cabin. We encourage you to explore our luxurious ship and then watch the beautiful scenery go by while we sail.
13:00: A special lunch of Vietnamese fresh seafood and a vegetarian set menu will be served while cruising through the beautiful Halong Bay and looking at the amazing rock formations in the bay.
Keep sailing through the Con Vit islet, Thumb islet, and Gia Luan Harbor, all of which are in the Cat Ba area.
Discover the natural area of the lagoon that was part of Lan Ha bay. On our cruise, we can drop anchor and swim or just sunbathe in the sun (private, wild, and fresh air).
Heading back toward the sleeping area.
Do kayaking and swimming at Ba Trai Dao Islet.
17.30: Come back to our Rita Cruise and join our party with fruits, cake, and wine when observing the sunset. Time to take pictures and chill in a romantic sunset.
18:00 - 18:15: Join a cooking class taught by the Rita Halong Cruise's Chef. You will be able to try out Vietnamese dishes like spring rolls and other well-known dishes.
19:00: Come to Lotus Restaurant for a fancy and cozy dinner. On the cruise, there will be a buffet with BBQ food and special seafood and Vietnamese foods.
21:00: Evening activities include playing games like cards and chess, listening to music, fishing squid, massage service, and sleeping on the Rita Cruise.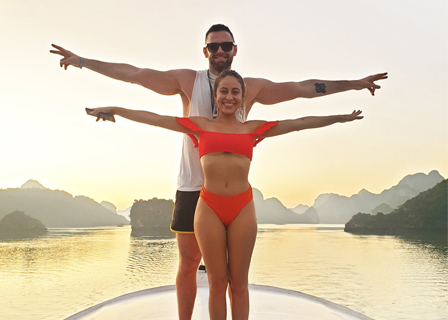 Doing Tai Chi, having breakfast, cycling at Viet Hai village, exploring Van Boi Beach and enjoying sunset party (B, L, D)
6:30: Join us on the sun deck for an early morning Tai Chi class. Tai Chi helps you focus your mind and get your body in shape, and there's no better place to do it than among the limestone peaks and islands.
07:00: Joining a light breakfast with a panoramic view of a world heritage site. After breakfast, you can relax and take in the beautiful view of Lan Ha Bay while the boat continues to cruise for more sights.
8:20: Transfer to the Daily Boat going to Viet Hai Village.
9:45 -10:00: Take a bike ride through Viet Hai village to see the beautiful scenery. We also visit a local family's home to observe their daily life. Back to the day boat so we can keep sailing around Lan Ha Bay.
12:00: Returning to our cruise, enjoy lunch with the scenery.
14:30: When you reach the Van Boi Beach area for swimming or kayaking, you will have the opportunity to see a fish farm at the typical floating village of Lan Ha Bay.
15:00: Enjoy our cruise's sunset party.
16:00: Return to the Rita Cruise and relax by playing a short game or having massage services as we cruise to the sleeping area.
19:00: Dinner on the cruise includes special seafood and traditional Vietnamese cuisine.
After dinner, relax with a large selection of cocktails at our bar, wine, and cigar cellar, or take in the nighttime view of the bay. Massage services can help you relax. Take advantage of one of our onboard activities, such as squid fishing or watching movies in the restaurant.
Meals: Breakfast, Lunch, Dinner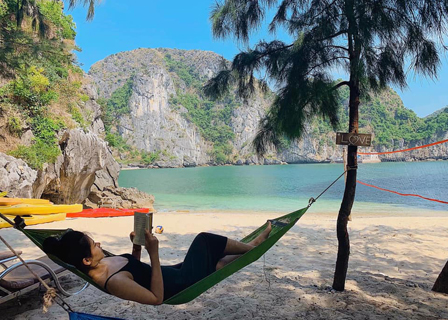 Rita on Lan Ha Bay and Halong Bay, come back Hanoi (B/L)
06.30: If you like sunrises, you should not miss this amazing early morning in Lan Ha Bay. You are welcome to join our daily Tai Chi sessions on our sundeck.
07.00 - 7:45:
Let's start a new day with a cup of tea, coffee, or juice while we watch the beautiful scenery around us.
In our Lotus restaurant, we will serve a light breakfast of pastries, tea, and coffee.
08:00: As we sail through the calm emerald waters on our way to Dark & Bright Cave (Hang Sang & Toi), you can take in the beautiful views of the Bay and its dramatic limestone islets. You can explore the cave on your own in a kayak, or you can relax on a bamboo boat rowed by a local.
09.30: Come back to Rita Cruise, check out your private cabin, and enjoy a wonderful bay cruise.
10:00: Have the last lunch buffet on the cruise.
11:30: Rita Cruise is landing in Halong Bay near Tuan Chau Harbor. You will be taken back to the harbor at Tuan Chau. It's time to say goodbye to the sailors and end the cruise.
12:00 - 12:30: Come back to Hanoi by Limousine.
13:50 - 14:00: Stop in Hai Duong province for a while to relax.
15:00 - 15:15: Arrive in Hanoi.
Our Rita Cruise on Halong Bay and Lan Ha bay will help you have the best trip. If you still want to consider other tours, you can check them on Halong tours, Halong Bay Cruise, and Lan Ha Bay Cruise, we will have more information about other Halong trips for you!
Inclusions
Entrance fee and sightseeing fee
Welcome drink
Bamboo and kayak boat
Luxury room with well-equipped furniture
Meals onboard
Insurance
English speaking guide
Tai Chi Class and Cooking Class onboard
Includes Taxes & Fees
Exclusions
Drinks
Tips
Transportation service
Personal expenses and all services are not mentioned above
"I won't never forget this memory"
my boyfriend proposed to me that day, now we r preparing for our weddings. Thanks to the Rita Cruise team!
"Highly recommended"
There is nothing to make complaints. I have a good time here and I did have chances to enjoy the tranquil landscapes, I'll never forget it. Thanks Rita Cruise for offering me this great opportunity, I really appreciate it.
"Such a happy day"
Our team have 5 people and everyone is happy with this tour. We have many happy moments together. The staffs are realy fiendly and the facilities of the ship is also great. Halong Bay and Lan Ha Bay are really beautiful, we can't compare which one is better.
"Halong Bay is too beautiful"
The landscapes are too beautiful, I did take many beautiful pictures. I think I did enjoy the most romantic sunrise and sunset in the world. I hope my friends and my family also have this experience so I'll recommend them
"A great tour"
I totally fell in love with Halong and Lan Ha Bay, I want to stay more but I don't have time. I really love cooking class, it helps me understand more anout Vietnamese cuisine. Moreover, kaykaking is one of my best experiences here
"Many happy memories"
I did have a good trip, I love Lan Ha Bay, I could explore this beautiufl place. I also engaged in cooking class but I didn't do it well but it is fun. I have a peacful time to enjoy Lan Ha Bay and I took many beautiful pictures, thank you
"Thanks for a great tour"
I really appreciate this chance which helps me to relax in a very beautiful place. I wish my daughter could be here, she would be very excited with the limestone mountains, they are so beautiful. The cruise and its facilities is really good. Nice ship!
"I really appreciate this tour"
Thanks for giving a good tour with a good itinerary. I had a good time here and will never forget about it. Halong Bay is too beautiful to miss it. The next time when I come to Vietnam, I will come back Halong Bay with my colleages and I will still use your services!
"A nice trip on a nice day"
I feel great about this tour, I love everything from luxurious design of the cruise, my comfortable room, friendly crew team, delicious food anf natural beauty... This is one of my best trip in Vienam, thanks
"I love it"
Such a happy tour, I had a good time here, I can feel how kind the crew team is and I feel thankful for it. Besides, I can enjoyed many delicious foods and many interesting activities. Both Halong Bay and Lan Ha Bay are so beautiful
"A luxurious cruise!"
This is my first time taking a cruise tour but it is great. The cruise is luxurious and the facilities are good. I love the Soundproof Karaoke, I can sing with my friend happily. Besides, I have many happy experiences here. Thanks
"I will comeback someday"
I love Halong Bay and its limestone mountains, they are so impressive. I also have a chance to try many Vietnam cuisines and they are so delicious. My room is also comfortable, I can enjoy the scenery from my bed and it is chill.
"I had a relaxing trip here"
I had a good time here, Halong Bay is very beautiful and it's worth visiting. The itinerary is detailed and I really enjoyed interesting activities inside it. Thanks for helping me have a great trip during my time in Vietnam
"Everything is perfect!"
I had a really good time here. I can enjoy the beautiful landscapes, joined cooking class and many other interesting activities. I want to say thanks to the crew team, you are so supportive and I really appreciate it.
"I want to stay more"
I wish I could spend more time in this beautiful place. I joined many interesting activities such as kayaking, swimming, sunbathing... I love them all. Moreover, your crew team is really nice and supportive. The landscapes were beautiful and the people were nice. Great!
"This was amazing!"
Everything was nice. I love the beauty of this place. I spent time enjoying the peaceful beauty of Halong Bay and Lan Ha Bay, they were so impressive. I ate a lot of delicious meals and I even can prepare Asian meal by myself. It was a good experience.
"I love this tour"
This is the first time I go to Vietnam but I'm really impressed by the beauty of Halong Bay and Lan Ha Bay. I love water sport activities too. I also have chances to admire the romantic sunrise and sunset. I hope I can comeback here in the near future.
"It was a nice experience!"
I love the design of the cruise, it made me feel I have the best service ever. The crew team is also nice and friendly, they support me a lot.Besides, the foods are fresh and delicious, I did have many good meals. The itinerary is very detailed, I engaged in many activities. Halong Bay and Lan Ha Bay are so beautiful. Love them!