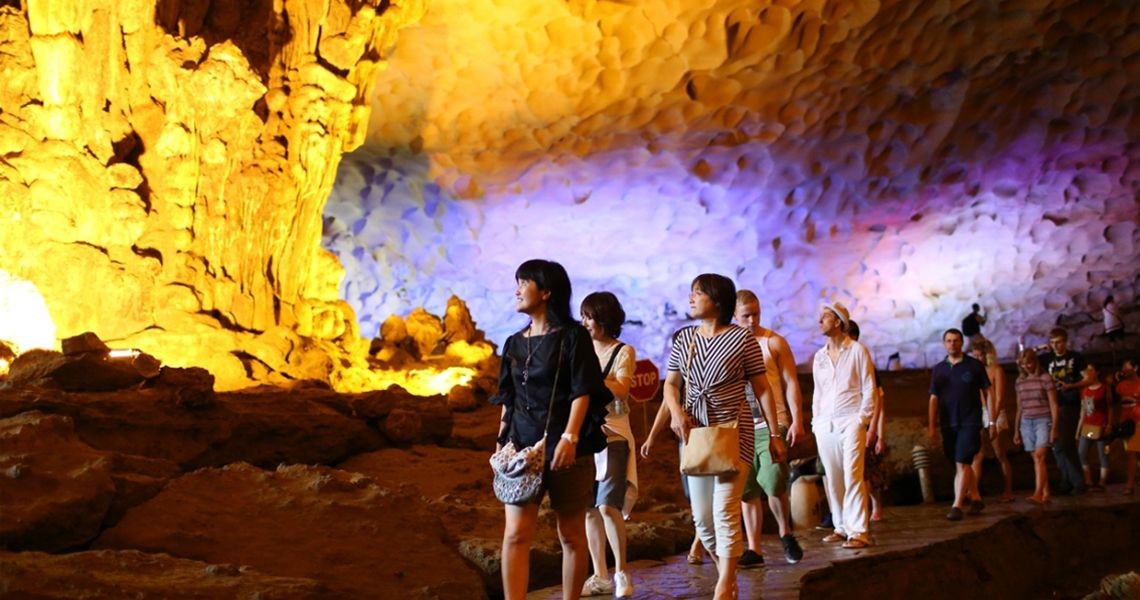 Overview Trinh Nu Cave
Located on the island range of Bo Hon in the system comprising the Sung Sot Grotto, Dong Tien Lake, and Luon Grotto, Trinh Nu Cave or Virgin Cave is known as the symbol of true love, and is the romantic place for taking the oath of love.
Besides its association with a fanciful love legend, Trinh Nu Cave also remains the site of important archaeological finds in Halong Bay. Many archaeologists discovered the remains of prehistoric inhabitants of Halong culture (about 4,000 years ago) with traces such as ash, bone fragments, and stone in 2000.
Trinh Nu Cave
In addition, in 2010, pieces of ancient ceramic wharves just in front of Trinh Nu cave, such as porcelain and crockery as well as jars with decorative patterns like ocean waves were discovered. They were identified as belonging to the Tran dynasty (13th-14th centuries) while glazed pottery pieces existing from the more recent Le dynasty (16th-18th centuries).
Finally, based on the results of these discoveries, ones believe that Virgin cave was a small, ancient pottery vestige in the old Van Don trading system. Nowadays, Bhaya Cruises is the only cruise operator allowed to visit the area where Trinh Nu Cave is located, under the special authorization of the Halong City government.
Trinh Nu Cave
They have renovated and maintained the Trinh Nu area by building a small gangway and stairs for ease of access as well as regularly cleaning the beach. Once visiting Trinh Nu Cave, tourists will admire the poetic beauty of Halong Bay's otherworldly landscape and mysterious caves filled with nature's masterpieces, stalagmites, and stalactites before dipping into the jade-green waters for a swim. In case you have some time to spare, take a sunbathe on the pristine private beach and soak up the atmosphere which can only be felt in Vietnam.
If you are interested in visiting Trinh Nu Cave during your Halong Bay cruise, we recommend checking Gragon Legend Cruise, V'Spirit Premier Cruise and Bhaya Classic Cruise,...