La Pandora Boutique Cruise 2 Days 1-night
Hanoi, Halong Bay, Lan Ha Bay, Dark and Bright Cave, Tuan Chau Harbor, Hanoi
Launched: 2021
12 Cabin(s)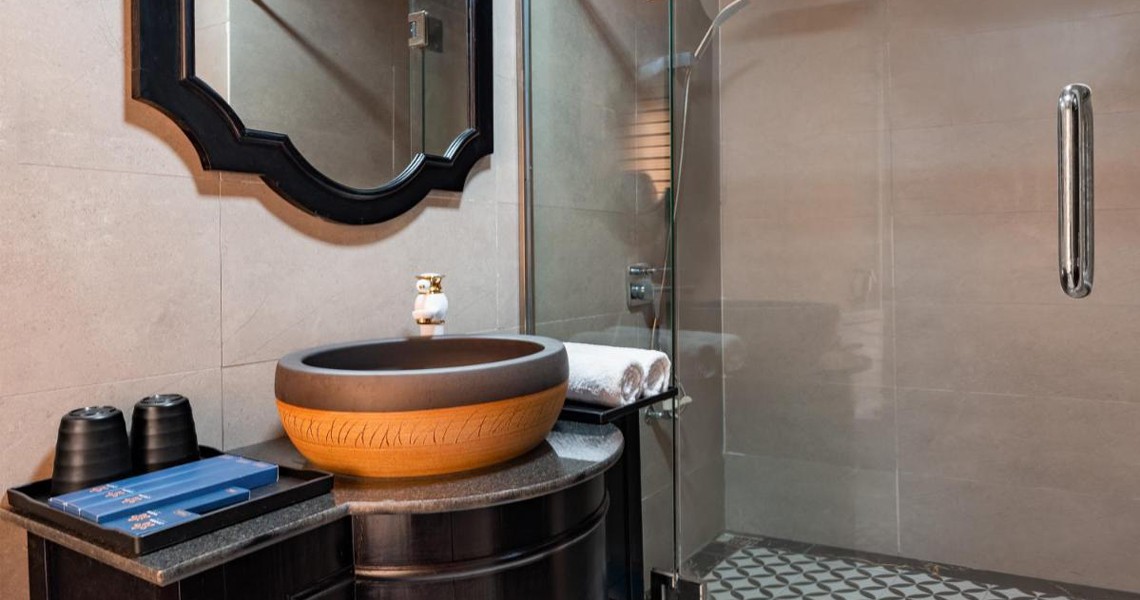 The room choice has 2 options for the capacity of two guests - one double bed or two single beds. Ocean View Double/Twin Suite offers an amazing overview of the landscape of Lan Ha Bay. This suite is fully equipped with many necessities, ranging from emergency equipment like a safety box, life jackets, a waterproof torch, and a hammer, to kitchenwares and a luxurious en-suite standing bathroom.
As the name suggests, Ocean View Family Suite is the perfect choice for a family of three with 3 options for beds - one double bed and one single bed, three single beds, or two double beds. With a large window that showcases the perfect view, you can fully take in the beauty of nature from a panorama viewpoint and fall deeper in love with this amazing and appealing atmosphere. This suite is also accompanied by various aforementioned necessary facilities that can make you feel at home.
At Ocean View Connecting Suite, the spacious and airy suite allows the maximum capacity of four guests with 3 options as follows: two double beds, four single beds, or one double bed and two single beds. This suite is donned in an Oriental-inspired design that is both modern and elegant, as well as many aforementioned facilities for your needs and safety.
Overview
La Pandora Boutique Cruise takes an amazing route to visit Lan Ha Bay, allowing you the most wondrous scenery of nature at the less touristic bay not far from the UNESCO World Heritage Site Halong Bay.
La Pandora Boutique Cruise offers an amazing Lan Ha Bay Budget Cruise with some of the most appealing features that are exclusive to this cruise. Once you step foot on deck, you will be in awe of the quality of the amenities, cabins, and service from caring crew members.
This luxury cruise is the perfect combination of modernity, mesmerizing Oriental-inspired design, and comfort. All 12 suites of the cruise are fully equipped with the most up-to-date facilities and safety equipment that can ensure you a carefree experience on board.
You have two amazing options to choose from, either a La Pandora Boutique Cruise 2 Days 1-night or a La Pandora Boutique Cruise 3 days 2 nights, each will take you to the best highlights of Lan Ha Bay and Halong City. Other than that, you can spend your time using the modern facilities or amazing services from the tending staff to wind down.
With Halong Bay Cruise Deals, you are guaranteed the best of the best deals with great qualities and amazing assistance. Check out more cruise deals to Halong Bay, Lan Ha Bay, and more!
Hanoi - Halong Bay - Explore Lan Ha Bay (L, D)
08:15 – 08:45: Pick up
You will be picked up at your hotel or private address with our shuttle bus. There will be a short break halfway before continuing the drive towards Tuan Chau Harbor in Halong.
11:45 – 12:00: Arriving at Tuan Chau Harbor and transferred to La Pandora Boutique Cruise via tender boats.
12:45 – 13:00: Getting on board
When you reach the cruise, you will be welcomed by the crew members and offered a drink to refresh. Get to know your captain, staff members, and listen to brief instructions about safety on board.
13:00 – 13:15: Lunch
A special lunch with Vietnamese cuisine of fresh seafood and an assortment of appetizing favorites are served while sailing through Islets of Con Vit.
16:00: Explore Lan Ha Bay
When the cruise sails through Lan Ha Bay, guests can take this chance to see the extraordinary limestone karsts landscapes. Once we reach the separate and quiet part of Lan Ha Bay Ong Cam Area, you can take your time to enjoy kayaking or swimming in the crystal clear water.
17:30: Back on board
After guests have gone back on board, La Pandora Boutique Cruise will be anchored to stay overnight. You can join a cooking class on how to make our specialty - the Spring rolls, and the complimentary Sunset Party on the sundeck with wine and fresh fruit.
19:00: Dinner and free time
Dinner is served at the restaurant. Enjoy delicious local food prepared and served for you by our wonderful onboard catering staff. After dinner, retire to your cabin or join the fishing excursion, watch a movie, have a drink at the bar, wifi access, or play exciting games. Overnight on board.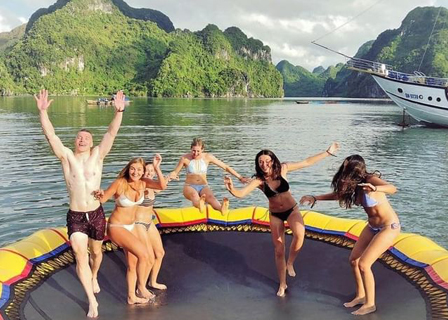 Discover Dark & Bright Cave – Halong Bay – Hanoi (B, L)
06:00: Enjoy sunrise and admire the magnificent scenery of the Bay.
06:30: Light breakfast, coffee, and tea are served.
07:15: Visit Dark & Bright Cave and islets by local rowing boats.
09:15: Get back on La Pandora Cruise and relax before checking out.
10:00: Lunch
12:00: Disembark at the Tuan Chau Harbor. Our shuttle bus takes you back to Hanoi
15:00 - 15:30: Arrival back at your hotel or home.
Inclusions
Entrance fees, sightseeing fees, kayaking, rowing boat
English/ Vietnamese speaking guide.
Luxury accommodation, shower
Welcome drink.
All meals during the tour
Insurance on-board
Fishing equipment
Includes Taxes & Fees
Exclusions
Drink
Tips for tour guides and driver
Personal expenses
Air tickets and transportation from the airport
Shuttle bus at Hanoi Old Quarter or Opera House.
Visa
Limousine service
Other drinks and tobacco
Tips for staff
Other expenses not listed above.
"Our tour guide was so supportive. A lovely tour to unwind in Vietnam."
Nguyen is a really great tour guide. She gave us a lot of information and we learned more about Vietnamese tradition and culture. Wish to come back to Vietnam someday.
"We really enjoy the peaceful time here on a luxurious Halong Bay Cruise"
I really appreciate this opportunity to explore Halong Bay. A lot of fun. Besides, the service of the cruise was great. Lan Ha Bay is also beautiful as its reputation. Highly recommend!
"Such an amazing trip with many interesting activities to explore Halong Bay!"
I wish I could stay here longer, this is my first trip to Vietnam and everything is great. La Pandora Boutique Cruise is a really nice trip with great service. Lan Ha Bay is worth visiting.