Crown Legend Cruise 2 Days 1-night
Hanoi, Halong Bay, Luon Cave, Titov Island, Sung Sot Cave, Tuan Chau Harbor, Hanoi
Launched: 2023
26 Cabin(s)
Located on the first floor, the Junior Ocean View promises to bring you the best experience on the Halong Bay cruise tour. With a full crystal glass window which helps you enjoy the ocean view in a fulfill way and recharge energy after taking part in outdoor activities.
The Senior Ocean View is located on the second floor that provides an airy space for customers in neoclassical architecture. You have the chance to enjoy the magnificent view and dreamlike sunset of Halong Bay with your friends, family or a special partner.
The V.I.P Suite includes the greatest quality facilities which are located on the second and third floors. Besides, your experience deserves the most gentle and professional service on the cruise. It is the ideal option for family, couple or best-friends trip to mark a memorable recollection in your lifetime.
Overview
Crown Legend Cruise in Halong Bay is officially launched in 2023 which is the very first cruise that has neoclassical architecture in all spacious cabins. With a variety of engaging onboard and offboard activities in Halong Bay Cruise Tour, where customers may fully immerse themselves in the less-touristy section of the sea and never get bored.
When cruising in the nation's iconic destination, Halong Bay Deluxe Cruise offers international visitors an authentic Vietnam experience. During an onboard activity such as a cooking demonstration guided by the brilliant Head Chef, customers can learn about the unique eating customs of the locals and have a taste of some of their favorite traditional Vietnamese foods.
A wonderful few days of partying and activities will be an exceptional recollection of your travels to Vietnam if you are a youthful, free traveler eager to experience the top 7 natural wonders of the world.
Please contact Halong Bay Cruise Deals for additional information and advance booking!
Highlights
Professional service
The majority of the crew members are male, young and highly friendly. Any request of the customers will be considered seriously. They serve guests gently in finding peace and relaxation when traveling. One of the things that makes your trip perfect is the crew, who significantly contributed to the trip.
Interesting activities
Travel onboard brings you memorable times especially in Halong Bay cruise overnight, it promises to experience many absorbing activities. On a day cruise, you will take part in kayaking, swimming, traveling on a bamboo boat, learning Vietnamese culture, hiking, etc. which are depending on your itinerary (2D1N or 3D2N) and destinations. You will try things that you never ever did before!
Spacious sundeck
This area exactly deserves visitors' expectation who want to experience an enjoyable life, it is undoubtedly the most relaxing place in the Crown Legend Cruise. After a long journey and participating in physical activities you can freely enjoy the sunset with your beloved people and favorite drinks. Besides, sunbathing in the magnificent view of Halong Bay is absolutely not a bad idea!
Hanoi – Halong Bay – Luon Cave - Titop Island/ Trinh Nu Cave (L, D)
08:00 - 09:00: Our guide will pick you up at your hotel in Hanoi Old Quarter and transfer you to Halong Bay by bus/limousine.
On the way you can enjoy the peaceful scenery of the River Red Delta.
11:30: Moving to the lounge for checking into the Crown Legend Cruise in Halong Bay. After a lengthy trip from Hanoi, you will have time to rest up while waiting for check-in.
12:15: You will be checked, presented about the itinerary and given a safety briefing by the cruise manager as you sip on complimentary beverages.
13:00: You will have time to relish your delectable buffet lunch and take in the breathtaking views while the boat makes its way towards the southeast of Halong Bay, passing the renowned Fighting Roosters and Finger Islets.
14:30 - 16:00: Sailing over emerald seas toward Luon Cave and taking in the breathtaking vistas of the Bay and towering limestone islets. Choosing between exploring the cave on a kayak by yourself or relaxingly traveling in a bamboo boat rowed by locals.
16:00: Hiking to Titov Island or Trinh Nu cave for breathtaking panoramic views of the Bay. After your climb, take a cool swim or relax in the shade with a coconut.
17:30: Back on board, you may take part in a sunset party during HAPPY HOUR (buy 2 get 1) at the Crown Legend Bar or sundeck.
18:30: Taking part in a cooking class that instructed how to make Vietnamese food (especially spring rolls) that was led by our session chefs.
19:15: Having a fantastic dinner and professional-quality dishes under a sky of a thousand stars.
20:30: Karaoke or chill with some drinks at Clown Legend Bar. Otherwise, you can choose to play squid fishing for free.
22:30: Resting time in a full facilities cabin.
Tai Chi – visit Sung Sot Cave – Hanoi
06:00: Participate in a Tai Chi session on the sundeck while the sun is rising over Halong Bay to start your day. Taking sunrise photos in the bay is an adventure of a lifetime (this activity is not mandatory).
07:00 - 07:30: Having a light breakfast.
07:30: Visiting the majestic Sung Sot Cave, one of Halong Bay's largest caverns with lovely stalactites.
When you come into the cave, you'll be astounded by the stunning panorama of the Bay and the crystals and stalagmites that have grown over millions of years and taken on shapes.
09:00 - 09:30: After boarding the ship, you pay the bill and check out then we head back to Tuan Chau Island.
10:30: When the boat is returning to the harbor, brunch is being served at the restaurant.
11:00- 11:15: Reboard at Tuan Chau Marina and go back to Hanoi.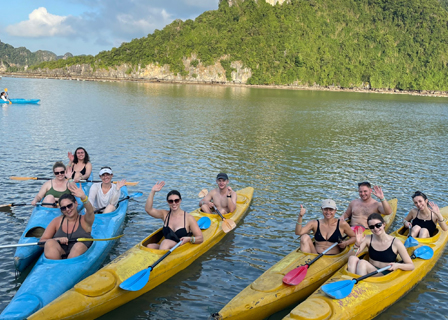 Inclusions
Crown Legend Cruise two-day cruise.
Includes 04 meals brunch and set menu 1 dinner and 2 lunches.
Free mineral water on board (one bottle per passenger each day)
Costs for sightseeing.
Costs for services and onboard insurance.
Includes Taxes & Fees
Exclusions
Transfers to and from Halong Bay, kayaking, and visa services.
Airfare, visa,
Beverage, spa and other personal costs.
VAT
Not all services are explicitly stated.