Le Journey Boutique Cruise 2 Days 1 Night Trip
Hanoi, Halong Bay, Lan Ha Bay, Ba Trai Dao islets, Dark and Bright Cave, Hanoi
Launched: 2019
14 Cabin(s)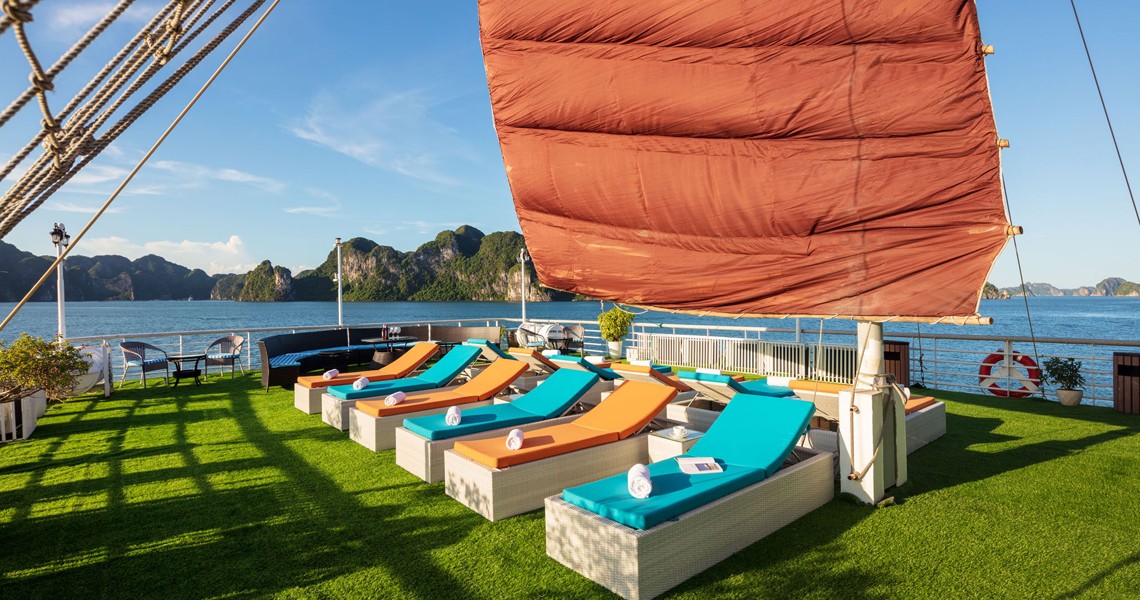 Overview
Le Journey Boutique Cruise is a brand-new 5-star iron ship with luxurious cabins and a capacity for 30–40 passengers that were created in both neoclassical and modern European styles. A cruise leaves from Tuan Chau harbor to visit Halong Bay and Lan Ha, and you may also engage in activities like swimming, kayaking, or riding a bamboo boat to immerse yourself in the landscapes of Lan Ha Bay's cold, crystal-clear blue water.
The idea for the Halong Bay Cruise Deals was developed as a way to provide a distinctive cruising experience in the World Heritage site, fusing Vietnamese traditions and multifaceted culture with the highest standards of hospitality befitting of prestigious luxury cruises in Halong Bay.
In addition, Le Journey Boutique Cruise also owns facilities to meet the requirement of a spacious sundeck, restaurant & bar, and relaxing area so that they can immerse themselves in the natural beauty of this destination. We are glad to be your companion during Vietnam Tour, especially Halong Bay Tour. Create a memorable trip with us.
Highlights
The best service
There will be a lot of smiles all around you from the moment you board the ship till the moment you say goodbye. The team's goal is to provide visitors with a comfortable "home far from home" while also ensuring they enjoy a luxurious holiday with exceptional service from experienced and caring personnel.
A wide range of activities
Visitors who take the Le Journey Boutique 5-star cruise to Halong Bay get the chance to kayak through pristine beaches and see the stunning beauty of the caves uniquely. You might get the chance to learn about the fisherman's life along the road by chatting. Don't miss the opportunity to swim in Halong Bay's pristine water and take photos of the view of several gorgeous mountains. Such a chance like that is quite rare in other parts of Vietnam. In addition, tourists may enjoy additional activities, including making Vietnamese food, squid catching, and partying.
Excursion suitable to every age and every demand
From young to middle age or over, from the adventurous to the leisure-loving spirit, Do you think Le Journey Boutique 5 star can meet all of their needs? If you love exploring on your own and are an active person, hop in a kayak to see crystal lake for yourself. In case you want to have a calm and enjoyable holiday with your loved ones, take a leisurely escape on a bamboo boat and take in the poetic beauty of this natural wonder.
Hanoi - Explore Halong Bay and Lan Ha Bay
Le Journey Boutique Cruise 5-star offers tours in Halong Bay. For tourists who enjoy exploring off-the-beaten-path to learn about authentic local culture and secret beauty sites on Halong Bay and Lan Ha Bay, two days are definitely advised.
08:00 - 08:30: Pick-up time
To tour Halong Bay and Lan Ha Bay, customers who reserve our transport service will be picked up from hotels around the Hanoi Old Quarter.
11:30 - 12:00: Arrival at Tuan Chau Harbor
12:00: Tender transfers to the main boat. Start the voyage.
Our cruise manager will give the cruise briefing and a safety introduction while you enjoy your welcome drink. You will next check into your cabin.
13:00: Have a delicious lunch
A delicious lunch is given while the cruise embarks on its voyage into the gorgeous Halong Bay, which is considerably more serene and uncrowded. He will pass several distinctively formed limestone mountains and islands, including the well-known Finger and Candle Islets.
15:30: Visit Tra Bau's floating village
Option 1: Swimming at Ba Trai Dao Island
Option 2: In Quang Ninh in 2018, Kong Skull Island (King Kong) was filmed in Tra Bau, a popular kayaking destination. Our small boat will take you there to view this fishing town.
17:00 - 18:00: Sunset Party, Happy Hour, and Cooking Class
Return to cruise and unwind on the ship. Lan Ha Bay's sunset falls down with a stunning scene. Joining our "Sunset Party" and "Happy Hour Deal" within the tranquil atmosphere.
An onboard activity called cooking demonstrations allows passengers to experience great cuisine while learning more about Vietnamese culinary traditions. You may learn how to prepare classic Vietnamese delicacies like fresh or dried spring rolls from Cruise Chef, as well as how to carve various kinds of fruits and vegetables.
19:00: Have a deluxe dinner
Savor the mouthwatering regional cuisine produced and delivered to you by our great onboard catering crew, and take in the breathtaking nighttime views of Lan Ha Bay.
21:00 – 23:00: Unique Activities
Enjoy the nightly entertainment on board, including squid fishing, the delicious cocktails in our bars, movies, spa treatments, or simply unwinding in your cabin.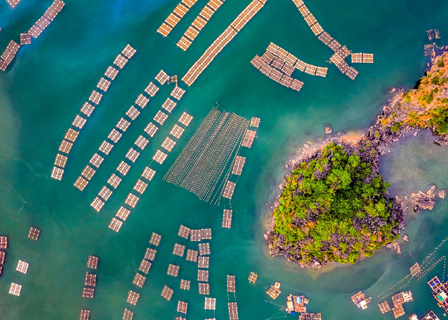 Lan Ha Bay – Halong Bay – Hanoi
06:00 - 7:00: On Le Journey Boutique Cruise, enjoy a small breakfast in the morning.
The cruise keeps traveling while crossing magnificent karst towers. Tea, coffee, and a light breakfast are offered in a tranquil setting with fresh air.
8:00: Tour Lan Ha Bay - Halong Bay
The Dark and Bright cave will be our next stop. It is renowned for its pure natural beauty and lyrical, alluring seascape of Lan Ha Bay. You will capture these beautiful, poetic local landmarks on camera. The greatest time for tourists to enjoy bamboo boating or kayaking, two intriguing activities that allow them to see the unique splendor of Lan Ha Bay's blue sky and limestone mountains.
9:00: Return to the boat to check out
10:00: Brunch
When a delicious lunch is being served, our cruise gently goes toward the harbor across miles of Karst Mountains and the beautiful ocean.
11:00 - 11:30: Return to Tuan Chau Harbor
It is possible to reserve a bus transfer service on the route between Halong and Hanoi in advance. End of a wonderful journey upon arrival at your accommodation in Hanoi's Old Quarter at approximately 15:00 - 16:00.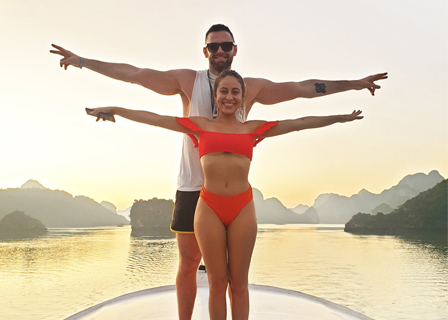 Inclusions
Entrance fees, sightseeing fees, kayaking, rowing boat
English/ Vietnamese speaking guide
Luxury accommodation, shower
Welcome drink
Meals on board: 02 lunches, 01 dinner, and 01 breakfast
Insurance on-board
Fishing equipment
Includes Taxes & Fees
Exclusions
Drink
Tips for tour guides and driver
Personal expenses
Air tickets and transportation from the airport
Shuttle bus at Hanoi Old Quarter or Opera House
Visa
Limousine service
Other drinks and tobacco
Tips for staff
Other expenses not listed above
"Good tour and guide"
Our guide was so nice and he supported us a lot. Halong Bay is really beautiful and we immerse ourselves in the beauty of the limestone mountains. The food onboard was good too. We like the Happy Hour because we could have our favourite drink with a bargain price while admiring the sunset. Highly recommend!
"Don't miss this wonderful tour"
It such a nice experience in Halong Bay with this nice cruise. My team had a great time here, we participated in many activities to discover the caves and the beauty of Halong Bay. Besides, the crew team is really supportive and the food was good. 100/100
"Discover more Vietnam's beauty"
We had wonderful experiences in Halong Bay, we also enjoyed many interesting activities here to discover the beauty of this place. And I also get a bargain in Happy Hour, we could sip our favourite drink while admiring the beauty of the sunset. Happy tour.
"Amazing Halong Bay Cruise"
Really great Tour! We had plenty of time to relax and the food was amazing. We had a chance to enjoy the beauty of both Halong Bay and Lan Ha Bay, I really appreciate it. The tour is also very recommendable!
"Private and relaxing"
I really appreciate this great opportunity. I can admire the limestone mountains in Halong Bay. Besides, I could explore many caves and islands. They are all great. I'm satisfied with the food onboard. Thanks for this nice tour.
"fun excursion"
Everything was good: detailed itinerary, delicious food and my comfortable room. I had a good time here, I enjoyed the peaceful landscape of Halong Bay and Lan Ha Bay. I really love the romantic sunset here.
"Once in a lifetime"
We had a fantastic trip. Thank you for the detailed itinerary. I could enjoy many interesting activities and eat many delicious foods. Out tour guide did an amazing job, he know a lot about these beautiful places. Thanks for this great experience!
"Gorgeous and peaceful cruise"
A memorable trip to visit both Halong Bay and Lan Ha Bay. The cruise was nice, the room was cozy and clean with windows right over the water, the crew team was incredibly nice, only the food wasn't really remarkable, but that didn't feel like an issue. Nice trip.
"Great overnight boat tour through Lan Ha Bay"
This is one of my best tours in Hanoi. Both Halong Bay and Lan Ha Bay were worth visiting. The rooms were also fine. Not too luxurious, but it was clean, spacious and comfortable enough to relax and enjoy the trip. Thanks
"Great time on the ship"
Great time in Halong Bay with a lot of background information from our tour guide. I had a chance to discover many islands and caves. It was a happy trip. The food onboard was also delicious and fresh. I did have a good time here.
"Great boat cruise to Lan Ha Bay"
We learned a lot about the landscape and also about the Vietnamese lifestyle. We were looked after very well by the nice crew team and I really appreciate it. My room was nice and the service was great too. Kayaking fun through beautiful landscapes.
"great time with great people"
Our family had a great time in Halong Bay. The cruise was good and our tour guide was knowledgeable, he helped us know more about Halong Bay and Lan Ha Bay and it is interesting. The food onboard was delicious and I love it.
"Awesome view and amazing tour"
The food onboard was great, the room was comfortable. The crew team was friendly and they supported me a lot. Halong Bay is beautiful and its limestone mountains were gorgeous. Natural Preservation Area was great too. Love this trip.
"Awesome view and amazing tour"
The food onboard was great, the room was comfortable. The crew team was friendly and they supported me a lot. Halong Bay is beautiful and its limestone mountains were gorgeous. Natural Preservation Area was great too. Love this trip.
"Great tour in Lan Ha Bay and Halong Bay"
I could visit many islets and caves during the tour. It was fantastic. Both Lan Ha Bay and Halong Bay are so beautiful and it's worth spending time on. I also participate in many interesting activities in the itinerary. It was a memorable trip.
"Amazing tour to Halong Bay"
This trip was good, I love swimming and kayaking. I also could try many delicious foods, I even made Spring Roll, it was really interesting and it was delicious too! I had a relaxing time here. Thanks for this good tour.
"Nice and relaxing tour"
Halong Bay and Lan Ha Bay gave me a chance to relax. The beautiful limestone mountains totally blew my mind. I also participate in many water sports activities, they were interesting. The foods onboard were delicious and fresh. Highly recommend!
"Amazing experience"
My mom and I had a good time together. I wish we could stay longer. Both Halong Bay and Lan Ha Bay are worth visiting. We spent time observing the romantic sunset together, we ate many delicious foods. Thanks for this great experience.
"Amazing trip and tourguide"
my friends and I had a good time here. We explore Halong Bay and Lan Ha Bay, they were so great. The cruise and its service were good, too. We had many delicious meals and I really appreciated this. Thanks