Dynasty Cruises 3 days 2 nights
Hanoi, Halong Bay, Tuan Chau Harbor, Fighting Cocks Islet, Sung Sot Cave, Ho Dong Tien (Fairy Lake Cave), Me Cung Cave, Titov Island, Halong Bay, Hanoi
Launched: 2019
22 Cabin(s)
Overview
Dynasty Cruises is a new cruise launched in 2019. Designed in the European royal style, Dynasty Cruises becomes one of the most luxurious cruises in Halong Bay. This cruise features 22 luxurious cabins which are all fully equipped with modern furniture and have private balconies for sightseeing and admiring the wonderful natural beauty of Halong Bay.
Dynasty Cruises provides a cozy restaurant and bar serving a diverse menu, a spa with international standard services, a spacious sundeck and a variety of exciting activities. Being professional and dedicated, Dynasty Cruise's team do believe to bring unforgettable experiences in your trip to the world heritage site – Halong Bay. We are all looking forward to welcoming you to Dynasty Cruises.
Hanoi – Drive to Halong Bay – Tuan Chau Harbor (L, D)
07.30 am – 08.00 am: Meet our tour guide
Our Limousine Bus will come to meet you at your hotel in Hanoi Old Quarter Area. If you are staying outside of the Old Quarter, please inform us of another arrangement.
11.30 am: Arrive at the waiting lounge at Tuan Chau Harbor
After 3-hour driving from Hanoi on the expressway, we will arrive at No. 20 Waiting for the lounge of Dynasty of the Sea Cruises. You will have time for a short rest at our waiting room while our tour guide helps you to complete the check-in process to get on Dynasty Cruises.
12.15: Welcome Drink
Our staff all warmly welcome you to Dynasty Cruises. Upon your arrival, you will do check-in the cabin and receive your room key. Have a welcome drink, and our cruise will start to sail further to discover Halong Bay. Our cruise management will provide you some onboard safety instructions. Please follow them because safety is very important.
13.00: Enjoy lunch
Lunch is served at the Dynasty Cruise's restaurant on the 3rd floor while our cruise glides slowly among the limestone karsts of Halong Bay. Take your first sight of Halong Bay's beauty. You will see the well-known Fighting Cock – the symbol of Halong Bay and Finger Islets.
14.45: Visit Sung Sot Cave
Sung Sot Cave (Amazing Cave) is our first stop in the 3-day 2-night itinerary with Dynasty Cruises. Sung Sot Cave is well-known as one of the largest ones in Halong Bay a lot of masterpieces in the stone inside. Our tour guide will show you some incredible facts about the stalactites and stalagmites of Sung Sot Cave.
16.00: Visit Tung Sau Pearl Farm
Following the transfer, boat to visit Tung Sau Pearl Farm which is famous for its pearl cultivation. Here you have around 30 minutes to do kayaking to explore further areas of Halong Bay.
17.30: Happy Hour
Back to Dynasty Cruises in the late evening when the sun goes down gradually behind small islets in Halong Bay. Let's join the sunset party on the sundeck and admire the magnificent beauty of sunset in Halong Bay.
From 17.30 to 19.00 is the period of time for Happy Hour – Buy 2 Get 1 FREE at our bar on the 3rd floor. Take this chance to have your drinks at a cheaper cost.
18.30: Cooking Class
Before dinner, our chef will take time to introduce to you all steps to make spring rolls – a traditional dish belonging to Vietnamese cuisine.
19.15:
Enjoy delicious dinner with a set menu of Vietnamese foods and vegetarian foods at the restaurant of Dynasty Cruises.
Afterward, it is your free time to enjoy the beauty of Halong Bay at night. Stay overnight in the luxurious cabin of Dynasty Cruises.
Halong Bay Further Discovering (B, L, D)
06.15 am: Tai Chi Session
The 2nd day in Halong Bay can be started by an early wake-up to join Tai Chi Class and watch the sunrise from the sundeck of Dynasty Cruises. This energizes your body and prepares for a new day with the new experience.
07.00 am: Enjoy a light breakfast at the Dynasty restaurant to fulfill your energy for all activities today outside of the big boat.
08.15 am: Transfer to the day cruise for a deeper exploration.
09.30 am: Visit Ho Dong Tien Cave - The Fairy Lake Cave
Ho Dong Tien Cave has long-lasting history and geological value. Moreover, it is also a charming cave that attracts the curiosity of tourists visiting Halong Bay. Let's go with us to discover this beautiful cave this morning.
10.40 am: Kayaking and Swimming
Our next stop is Hang Trong – Drum Cave where you can swim or do a kayak from a small floating farm.
12.30: Enjoy Lunch
After your morning discovery with visiting caves, swimming, and kayaking, you will enjoy a delicious lunch on the day cruise and have free time to immerse yourself into the atmosphere of Halong Bay by sunbathing on the sundeck.
14.40: Visit Me Cung Cave
Like its name – Me Cung Cave or Maze Cave, this cave features mysterious things for itself to be more attractive. Under the instruction of our tour guide, you will have around 1 hour to discover Me Cung Cave before returning to Dynasty Cruises at 15.40.
19.15: Dinner at the dining room
After leaving the day cruise, you will have a relaxing time in your private cabin or on the sundeck. Dinner is ready with many types of Vietnamese and Western Cuisine which satisfies all clients' flavors.
Enjoy your 2nd overnight in Halong Bay.
Meals: Breakfast, Lunch, Dinner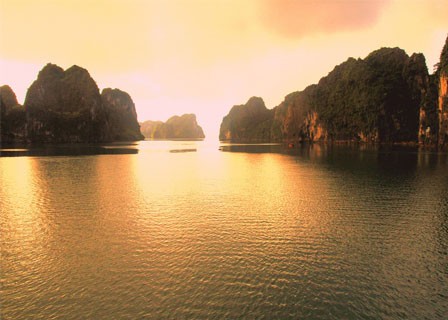 Halong Bay – Titov Island – Hanoi (B, L)
06.00 am: Morning Tai Chi Class
Our expert on the Tai Chi lesson is ready on the sundeck in the early morning. If you are interested in doing these exercises to start your day, wake up early and get on the sundeck to join it with other passengers. One special thing is that you will have a chance to see the stunning sunrise in Halong Bay while enjoying the fresh and atmosphere of a peaceful morning.
06.45 am: Have an early breakfast in the dining room.
07.30 am: Transfer to Titov Island
Heading to visit Titov Island, you will have time to go swimming at Titov Beach. Immerse yourself into the water of the beach to refresh your day. If you prefer hiking than swimming, you can climb up over more than one hundred steps to reach the top of Titov Island where you can admire the panoramic scenery of Halong Bay. Take marvelous pictures from the high top.
09.15 am: Return Dynasty Cruise and Check-out
Get on the transfer boat to return Dynasty Cruises. It's time to pack your luggage and check out your cabin while Dynasty Cruise is sailing back to Tuan Chau Harbor.
09.15 am: Enjoy your brunch at the dining room.
10.45 am – 11.00 am: Disembark
Drop the anchor, our transfer boat will take you to return to Tuan Chau Harbor. Say goodbye to our captain and crews.
Our bus will drive you back to Hanoi after 3 days 2 nights in Halong Bay. We arrive at Hanoi at around 14.30 – 15.00 (We will have a stopover on the way).
Drop you off at your hotels. End of services.
Dynasty Cruises – Dynasty of the Sea would like to say thank you so much for choosing our cruise. We really hope that you will enjoy the rest of your trip to Vietnam. Hope to see you soon in the future!
General Information
Bus pick-up time: 08:45 AM - 09.15 AM
Check-in: 11:30 PM - 12:00 PM
Check-out: 09:00 AM - 10:00 AM
Return Hanoi by bus: 02.30 PM – 03.30 PM
Shuttle bus pick-up & drop-off point: Hotel in Hanoi Old Quarter or in front of Hanoi Opera House
Booking Policy
• 50 % of the total cost is required to secure the booking.
• The remaining balance is to be paid 15 days prior to the departure date.
• In some special cases, you will be required to pay the full cost or a number greater or smaller than the standard 50% to secure your booking.
• In some special cases, the deadline for payment will be required sooner or later than the standard 15 days prior to booking.
Cancellation by Halong Bay Management Board due to bad weather
If the cancellation is made by the Halong Bay Management Board, the following policies will be applied depending on the time of cancellation.
• When a cancellation is made before departure date- check-in date (if no services have been used): 100% refund.
• When a cancellation is made during the trip (some services have been used such as transfer, food, some amenities, etc.): used services will be charged, the rest will be refunded.
• When a cancellation is made before or during the departure date and the trip must be shortened from 2 nights to 1 night, 2 days 1-night trip, plus other used services will be charged, the rest will be refunded.
• The final cost will be confirmed by your consultant via email. In all cases, please contact us directly for any urgent help. We are here to support you!
Note: In case of a cancellation decision made by the Management Board of Halong Bay, an alternative travel arrangement will be made on request, or you will be refunded in accordance. In all cases, please contact our travel consultant via email or phone for support. We are always willing to provide you with any assistance you may need on or off-board.
Cancellation by Customer
• More than 33 days prior to check-in ( departure date): Free of charge
• From 33 to 15 days prior to check-in ( departure date): 10% of total rates
• From 14 to 8 days prior to check-in ( departure date): 20% of total rates
• From 7 to 4 days prior to check-in ( departure date): 50% of total rates
• Less than96 hours prior to check-in ( departure date): 100% of total rates.
• No-Show: 100% of total rates
*** Cancellation notice from the customer must be sent to us via email. The refund will be processed between 10 -15 working days.
Important Notes
• PROGRAMS & SCHEDULES SUBJECT TO CHANGE WITHOUT PRIOR NOTICE.
• In case of adverse weather conditions in Halong Bay, the cancellation will ONLY be made by the Halong Bay Management Board. Usually, the announcement will be declared very close to or on the departure date and our refund policy will come into effect.
Inclusions
Welcome drinks, cold or warm handkerchief.
Entrance and sightseeing fee.
English speaking tour guide on board.
Accommodation in a luxury balcony cabin.
Tai Chi & Cooking demonstration.
Complimentary tea, coffee and 2 bottles of mineral water.
Night squid fishing.
Onboard insurance and service charges.
Full board meals: 2 days (02 lunches, 01 dinners, 01 breakfast); 3 days (03 lunches, 02 dinners, 02 breakfasts).
Includes Taxes & Fees
Exclusions
Airfares, transfers to and from Halong Bay, VISA service, Kayaking…
Beverages, spa, and personal expenses.
VAT
All services not clearly mentioned.