Athena Royal Cruise 3 Days 2 Nights
Hanoi, Halong Bay, Bo Nau Cave, Sung Sot Cave, Tung Sau Area, Me Cung Cave, Luon Cave, Tuan Chau Harbor, Hanoi
Launched: 2020
22 Cabin(s)
Overview
Athena Royal Cruise takes pride in providing an exceptional cruising experience with attention to detail and a focus on delivering the utmost luxury and comfort. Our luxury Halong Bay cruise is designed with a modern and refined interior that meets the highest 5-star standards. Each suite is meticulously crafted to offer a serene and opulent retreat, featuring amenities such as an herbal wood foot bath, private balcony, and fresh fruits.
The highlight of this Halong Bay Cruise is the exquisite indoor restaurant and bar located on the second floor. Here, guests can indulge in a fusion of European and Asian cuisine prepared by our top chefs. Additionally, guests can unwind at our onboard bar, savoring your favorite drinks while enjoying the stunning views of Halong Bay. Rejuvenate your body and mind at our spa and sauna facilities, indulging in blissful treatments and soothing heat. From film entertainment to engaging mini-games, there's never a dull moment.
Athena Royal Cruise caters to a wide range of guests, including families and corporate groups. With a capacity of 46 guests, we provide ample space for relaxation and offer packages for companies seeking team-building activities. Engage in exciting games and enjoy the facilities designed to help you unwind after stressful working hours.
Halong Bay Cruise Deals ensures that every moment of your journey is filled with luxury, relaxation, and lasting memories. Join us aboard the Athena Royal Cruise in Halong Bay and let us take you on a voyage of indulgence, where the beauty of Halong Bay blends seamlessly with world-class services and amenities.
Facilities
Water sports (non-motorized)
Depart from Hanoi - Halong Bay - Bo Nau Cave - Sung Sot Cave (L, D)
12:00: Experience a warm welcome from the friendly Athena Royal Cruise team at Halong International Harbour. Begin your 2-night 3-day cruise package by completing the hassle-free luggage check-in procedure at the comfortable waiting lounge before boarding the exquisite Athena Royal Cruise.
12:30: Embark on the Athena Royal Cruise, transferred to it by a tender boat. The Cruise Manager and the entire crew warmly greet you as you step onboard. While enjoying our signature welcome drink, take part in a safety briefing and receive a detailed overview of this Halong Bay cruise package.
12:45: Indulge in a delightful lunch served at our cozy restaurant. As the cruise sets sail towards the captivating Halong Bay, known as one of the world's natural wonders, immerse yourself in the breathtaking scenery and marvel at the famous limestone formations.
14:45: The cruise makes a stop at Bo Nau Cave, also known as Pelican Cave, located in the core area of the world's natural heritage. You will be transferred by tender boat to the magnificent Sung Sot Cave, the largest and most beautiful cave in Halong Bay.
15:45: Continue the journey by tender boat to Titov Island. This island holds significance as it was named by Uncle Ho after Gherman Stepanovich Titov, the Soviet astronaut who visited in 1962. Here, you can enjoy swimming, relax on the beach, or climb the steps of the Rock to reach the island's summit. Prepare to be amazed by the magical panoramic view of Halong Bay.
17:00: Return to Athena Royal Cruise and take this opportunity to unwind and indulge in your preferred activities. Relax in the outdoor jacuzzi, bask in the sun on the sundeck, or treat yourself to a rejuvenating spa treatment. Meanwhile, the cruise will move to the overnight location (Titop Island).
18:00 - 19:00: Take advantage of our delightful Happy Hour promotion, where you can enjoy a "Buy 1 get 1 free" offer on drinks. Savor your favorite beverage while witnessing the sun gracefully transitioning to a stunning twilight.
18:30: Participate in a cooking demonstration on Athena Royal Cruise led by the talented Head Chef. Learn the art of preparing traditional Vietnamese dishes as you discover the secrets behind their enticing flavors.
19:00: Savor a fusion set menu specially curated to satisfy your hunger after an eventful Halong Bay cruise tour.
20:30: Enjoy your free time engaging in various evening activities on this deluxe cruise. Immerse yourself in film entertainment and mini-games in the dining room, try your hand at squid fishing, or indulge in a relaxing massage. The Cruise Manager will be available to assist and ensure your evening is filled with joy and excitement.
Tung Sau Area - Me Cung Cave (B, L, D)
06:30: Rise and shine early bird! There's no better way to kick-start the day than practicing Tai Chi on the sundeck and surround yourself with the serene beauty of Halong Bay. Join us for Tai Chi class on the sundeck.
07:00: Enjoy light breakfast at our restaurant before joining an adventure to a rustic floating village and another brilliant cave in Halong Bay.
08:30: Transfer to the dayboat and kayak yourself to discover the breathtaking landscapes of Tung Sau Area, the village with local fishing life and pearl farming area. Don't forget to bring along your camera to capture stunning moments of untouched beauty.
12:00: After a morning full of adventure and exercise, you must be fueled up and hungry! A traditional Vietnamese menu awaits you, and it's sure to tantalize your taste buds. Relax and clear your mind after lunch, or maybe you'd like to keep the adrenaline flowing and take advantage of amenities such as the outdoor jacuzzi, or experiencing a spa treatment.
13:30: Once lunch is over at, it's time to visit the next brilliant cave, "Me Cung" cave (Maze Cave)
15:00: Have some free time back on the main cruise to sunbathe on the sundeck, relax at the outdoor jacuzzi, or experience a spa treatment.
18:00 - 19:00: Enjoy freshly prepared snacks and your favorite drinks while waiting for sunset on Halong Bay. Take advantage of the Happy Hours "Buy 1 get 1 free" drink while the sun is giving way to stunning twilight.
18:30: After sunset, it's time to learn how to cook and enjoy traditional Vietnamese dishes with our head chef. Grab a glass of wine, put on your apron, and join our cooking demonstration class!
19:00: Satisfy your appetite at dinner time with a fusion set menu for a unique dining experience. The perfect end to an already amazing day.
20:30: Enjoy the evening with free time activities such as film entertainment, mini-games, and squid fishing, or end your day relaxed and refreshed with a massage. The Cruise Manager is available and happy to support you in any way.
Don't miss out on this opportunity to explore and experience the wonders of Vietnam with Athena Royal Cruise - book your cruise now!
Meals: Breakfast, Lunch, Dinner
Luon Cave - Back to Hanoi (B, L)
06:30: Start your final day of our Halong Bay cruise 3 days by joining a revitalizing Tai-Chi exercise session on the sundeck. Engage in this calming practice for 30 minutes as the Athena Royal Cruise makes its way towards Luon Cave.
07:00: A light and satisfying breakfast awaits you at the restaurant, providing the nourishment you need to begin your day.
08:00: Embark on a visit to Luon Cave, one of the most captivating caves of Halong Bay. You will have 2 options to explore this cave: enjoy a complimentary kayaking experience or opt for a traditional woven (bamboo) boat, guided by a local boatman (public ticket available at 50,000vnđ/person).
09:00: Return to the Athena Royal Cruise, where you can relax and pack your belongings. Place your luggage outside your cabin door, and the Halong Bay Cruise Deals team will collect and prepare them for you at the pier.
09:30: Indulge in a delightful brunch buffet served at the restaurant after completing the check-out process. As the Athena Royal Cruise heads towards the port, savor a variety of delectable dishes and enjoy a leisurely meal.
10:45: Bid farewell to the breathtaking Halong Bay as you transfer back to Halong International Harbour via tender boat. Disembark from the deluxe cruise, and with warm wishes, the crew says goodbye, expressing their gratitude for choosing Athena Royal Cruise as your unforgettable journey comes to an end.
Please note that there is limited internet connectivity on board due to the natural formations of the sea, karst limestones, and mountains that may obstruct satellite signals. We apologize for any inconvenience caused and kindly ask for your understanding in this matter.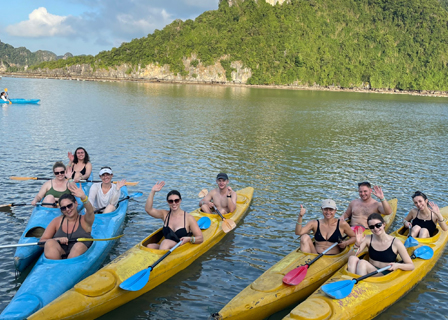 Inclusions
One night of accommodation in Athena Royal's suite cabin.
All meals included during the cruise.
Complimentary access to the recreational facilities on-board.
Engage in various activities, such as morning Tai Chi classes, kayaking to visit caves, squid fishing, and swimming.
An English-speaking guide will be available on-board to assist and provide information.
All entrance fees and sightseeing fees are included in the package.
Includes Taxes & Fees
Exclusions
Transportation provided for round-trip transfer between Hanoi and Halong.
Enjoy a selection of drinks, spa treatments, and laundry services.
Personal expenses and gratuities are not included in the package.
The price is subject to VAT (Value Added Tax).