Orchid Premium Cruise 3 Days 2 Nights
Hanoi, Halong Bay, Lan Ha Bay, Trung Trang cave, Viet Hai village, Ba Trai Dao islets, Ao Ech region, Halong Bay, Hanoi
Launched: 2019
5 Cabin(s)
Overview
If you are looking for a happy trip on a luxurious cruise in Halong Bay, Orchid Premium Cruise should be added to your plan.
Orchid Premium Cruise in Lan Ha Bay is outstanding with its unique beauty of Indochine architecture, and the combination of French and Asian factors, making the cruise have a cozy atmosphere and elegant look.
With the skilled crew team and their 24/7 support, you will definitely have the best experience on this luxurious cruise.
There are 5 types of rooms, and you will have various choices to choose from, each room is well-equipped and has private balconies, so you might have the best place to relax during your trip.
Orchid Premium Cruise gives you a detailed itinerary, a great choice for you to explore Halong Bay and enjoy many interesting activities.
Moreover, you might eat many delicious foods on the cruise, you will be impressed at first bite!
Don't hesitate, let's create many beautiful memories with Orchid Premium Cruise, this will be one of your best trips in Halong Bay!
HANOI – HA LONG BAY – LAN HA BAY (LUNCH & DINNER)
08:30: A luxury van will take you up from your hotel in Hanoi's Old Quarter. On the trip to Ha Long Bay, take in the scenery of the Red River Delta.
11:30: When you arrive at Lot 32 - Tuan Chau Marina, check-in in the waiting lounge. You may have a special tea in the lounge with a warm greeting.
12:15: A tender boat will take you to Orchid Cruises. We'll have some welcome beverages and gather in the restaurant for a cruise briefing and safety instructions.
13:00: Visitors will have lunch while we sail to Halong Bay - Lan Ha Bay, one of the New Seven Wonders of Nature.
14:15: We travel by bus to Trung Trang cave on Cat Ba Island, which is situated in the center of Cat Ba National Park and surrounded by Kim Giao forest.
Trung Trang cave is located in Trung Trang Valley, 15 kilometers northwest of Cat Ba town. The cave stretches 300m into the mountain and has a fascinating beauty owing to geological tectonics over millions of years, as well as various historical remains. The cave contains several stalactites of various shapes that both stimulate and amaze tourists.
17:00: Orchid Cruises travels to Tra Bau - Lan Ha Bay, a less crowded location. Have a refreshing swim in the emerald-green lake.
18:00: Onboard, you may participate in a cooking demonstration and enjoy Happy Hour (buy one get one free) at the bar while viewing the sunset over the harbor.
Massage services are available. Please book directly with our Cruise Manager.
19:15: Dinner time
21:00: It's time to take in the splendor of the bay at night, and our bar on the sundeck and in the restaurant awaits you. You might try your luck at squid fishing or watch a movie in the restaurant; we also have chess and cards available. Overnight stay on board.
LAN HA BAY (BREAKFAST - LUNCH - DINNER)
06:30: The day begins early with a Tai Chi class on the sundeck. Breakfast is provided in the dining area with a beautiful view of the bay's environment, then we continue our journey.
07:00: Breakfast time
08:00: Transfer to the tender for the trip to Viet Hai village. You will cycle along the village route, passing through rainforests and a dark tunnel. On the trip, take in the beautiful panorama of rice fields.
Stop in the village to relax. See a historic local house constructed of straw, mud, and bamboo...you will get the opportunity to experience native life in a valley of locals.
Electric car service is available (at an extra cost).
Return to the day boat for a tour of Lan Ha Bay. On the day boat, lunch will be served.
14.00: Visit Ba Trai Dao (Three Peaches Islets), a tranquil place with stunning scenery that is ideal for scenic kayaking or relaxing on a sandy beach.
17:00: Back to Orchid Cruises. Visitors may participate in a cooking class, swim in the pristine region, or enjoy Happy Hour (buy one, get one free) at the bar while enjoying the gorgeous sunset over the Gulf of Tonkin.
19:30: Dinner time. This is a delicious dinner in a cozy, romantic atmosphere.
21:30: Admire the nighttime scenery of the bay from the upper deck. Relax while sipping a drink from the bar. Participate in squid fishing or watching movies at the restaurant. Overnight stay on board.
Massage services are provided. Please book directly with the Cruise Manager (please see the massage menu)
23:00: End of Day Two program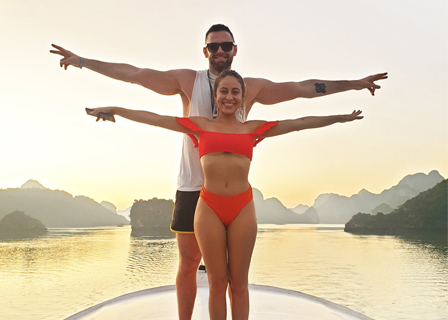 HALONG BAY – HANOI (BREAKFAST & BRUNCH)
06:30: It's a great opportunity to relax and enjoy the serene beauty of the bay with a taichi session on the sundeck. If you want to hunt for dawn, wake up between 5:30 and 6:00 a.m., depending on the season, and consult with our sailors.
07:00: Breakfast on the cruise.
07:45: Kayaking excursions take place in the Ao Ech region to discover the hidden beauty of Ha Long - Lan Ha Bay.
09:30: Orchid Cruises welcomes you back to the ship, and it is time to check out.
10:00: While cruising back, have a delightful brunch.
11:30: Disembark Orchid Cruises at Tuan Chau Marina, and say bye to the crew team.
14:30: Back to Hanoi. End of the trip.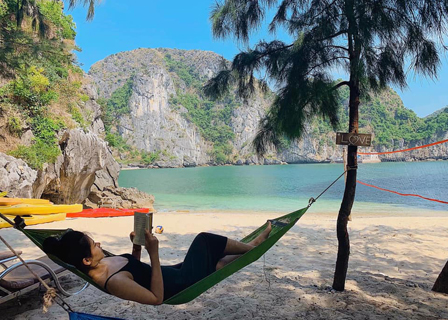 Inclusions
Luxury room as ordered.
All onboard meals are in the itinerary.
English-speaking tour guide.
Welcoming drink, two bottles of water in the cabin.
Onboard insurance, sightseeing fees, and value-added tax.
Includes Taxes & Fees
Exclusions
Hanoi – Halong transportation.
Massage treatment.
Personal expenses and services not included in the service include.