Verdure Lotus Classic Cruises 2 Days 1 Night
Hanoi, Halong Bay, Lan Ha Bay, Ba Trai Dao islets, Dark and Bright Cave, Tuan Chau Harbor, Hanoi
Launched: 2019
16 Cabin(s)
Overview
You will definitely be impressed at first look by the design of the cruise - the lotus. In Vietnam culture, the lotus is very meaningful; it is the symbol of spiritual enlightenment, beauty, fertility, purity, prosperity, and eternity. On the Cruise, you could catch the lotus images everywhere: in the lighting system, decoration, wall panels, windows…So, this Halong Bay luxurious Cruise will give you a natural vibe, you could have the best relaxing time here.
Not only having special designs and symbols Verdure Lotus Classic Cruises also has a skilled and friendly crew team; you surely have the best support throughout the Halong Bay tour.
The Cruise has many types of rooms, which are very comfortable and well-equipped; make sure that you will feel pleasant at home.
On the Cruise, you will be offered many delicious foods, you even could learn how to make Vietnamese food by yourself!
Moreover, if you want to pick up right at the airport, Halong Bay Cruise Deals could provide a good transport service and a safe trip to Halong Bay.
Don't hesitate anymore, let's have the best trip in Vietnam!
Halong Bay - Lan Ha Bay (L, D)
08:00: Pick up from your hotel in Hanoi Old Quarter or the Opera Theatre House.
11:30 – 12:00: Arrive at Tuan Chau harbor and check-in.
12:00 – 12:30: Take a Tender Boat to the Verdure Lotus Cruise, meet the crew, have a welcome drink, and get information about the cruise and safety instructions. Finish the check-in process.
13:00 – 13:15: Eating Vietnamese seafood and tasty lunch while travelling across the spectacular Halong - Lan Ha Bay, observing the bay's interesting rock formations.
15:00–15:30: You may choose to relax on the sundeck or visit the Ba Trai Dao - Tra Bau and the natural lagoon of Lan Ha Bay, where you can kayak.
17:30 – 18:30: Return to our Cruise to take part in our Happy Our "Buy one, get one free" and join a cooking class. Take photos and chill.
19:00: Dinner time. After dinner, you can join the squid fishing, relax on the sundeck, and sip a glass of wine at the bar… Overnight on boat.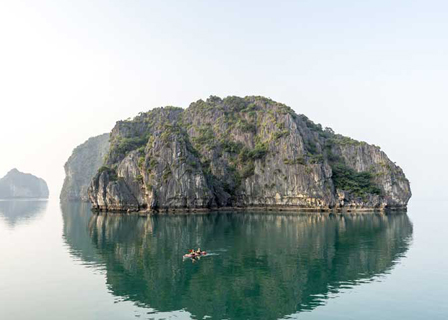 Lan Ha Bay - Tuan Chau (B, L)
6:00 - 6:30: On the sundeck, practice Taichi or enjoy the beautiful sunrise.
6:15 - 7:00: Breakfast time, admire the morning Halong Bay with a cup of tea or coffee.
7:00: Explore Dark and Light Cave. You may explore the scenery by kayak or bamboo boat, or you can immerse yourself in the cool, clear blue water of this location.
9:30: Back to the cabin, you should check carefully all the luggage before leaving your cabin.
10:00: Check out from the private cabin. Having lunch at the restaurant while the cruise is coming back to the harbor.
11:00: Take the Tender boat back to Tuan Chau port. Return to Hanoi.
15:00 – 16:00: Car will take you back to Hanoi. The Halong Bay trip ends!
Inclusions
Entrance fee
Luxurious accommodation
Welcome drink
Insurance on-board
Meals onboard: 02 lunches, 01 dinner and 01 breakfast
Includes Taxes & Fees
Exclusions
Tips for tour guide and driver
Personal expenses
Car transfer at Hanoi Old Quarter or Opera House
Other expenses not listed above
10
Marshall & Jane
United Kingdom
"a highlight to our 2 weeks in beautiful Vietnam"
love the experience we had on this Verdure Lotus and even the weather in Halong. We felt so lucky that we met Ms Ngoc, a friendly girl and easy to talk with. We had so many questions and requests but she was patient enough to solve them all. The cruise went smoothly and the seascape in the bay was extraordinary. We wourld defintitely comeback for longer stay. Anyway hope you like our little gift, Ngoc, thanks a lot!!
"Verdure Lotus Classic Cruise for 3 days 2 nights"
My family has the most charming cruise trip aboard the Verdure Lotus Classic! The ship was huge, elegant, and the cabin were well-decored and had full amenities. I was really surprised that the staff there seemed incredibly attentive and remmebered ourr names so quickly. Food onboard was on point, love the lunch on 2nd day. My kids enjoyed playing in the water and capture beautiful stalactites. The sunset at the end of each day was such a highlight, making our trip a truly sparkling escape. We suggest this cruise tour for those who seek for a family friendly ship and various activities for the whole members/
"good recommendations from halongbaycruisedeals, after all we enjoyed the trip"
We arranged a 2-day1-night cruise in Halong Bay, opting for this Verdure cruise and icluded transfers. We also needed transfer from Hanoi airport and our travel agent did the whole thing smoothly. Unfortunately, the first transfer arrived late and not until we reached out to Ly for assistance did the driver arrive. He even mistakenly dropped us at the wrong hotel. We received apologized from the agent and luckily nothing wrong happened after that. The cruise trip was excellent itself, nothing to compaint. Thank yo Ly and halong Bay Cruise Deals for such a memorable trip
"Excellent experience in Halong Bay, thanks a lot for the smooth booking"
We planned to stay for two nights in Halong Bay as we only have a week in northen Vietnam, bubt honestly we wish we had more time here! Thank you Halong Bay Cruise Deals for dedicated support and helped us to choose the best cruise as our wishes. Verdure Classic is a recommendation for anyone. Thks
9
Madeline Fabian
United Kingdom
"a special halong bay trip to my girlfriend and me"
My personal travel agent Nguyen was fantastic for the whole process of booking and escorted us to enjoy a perfect trip for our 2nd anniversary. Verdure lotus classic was more than we expected, every little detail was put a lot of efforts (our bed decor is an example). They made an adorable heart of rose pedals on the bed. We spent 3 days and 2 nights enjoying the view, eating good food and trying some kayaking.... Anyway we highly recommend this cruise tour if you go to Halong Bay