La Regina Grand Cruise 3 Days 2 Nights
Hanoi, Halong Bay, Lan Ha Bay, Dark and Bright Cave, Viet Hai village, Ba Trai Dao islets, Trung Trang, Tuan Chau Harbor, Hanoi
Launched: 2019
27 Cabin(s)
Overview
Welcome tourists to discover the breathtaking landscapes of Halong Bay and Lan Ha Bay in Vietnam during Vietnam Holidays. The voyage promises an unforgettable experience through many stunning caves, Viet Hai village, islands, and long beaches with various activities such as kayaking, swimming, biking, and enjoying unique food.
Tourists have a chance to admire a tranquil space with majestic mountains surrounding them and waving water under their feet. In addition, this is also the time to bond with your friends or family after hard working days.
La Regina Grand Cruise has several options for rooms, up to 27 suites with en-suite bathrooms, total bay views, and spacious private balconies. The ship was built in 2019, equipping with world-class luxury and modern comfort facilities which promise a fantastic voyage crossing the most famous destinations in Halong Bay and Lan Ha Bay attraction. The dinner was served with the highlight of the Vietnamese-enriched cruise prepared by a professional chef and well-trained crew.
Halong Bay Cruise Deals is an experienced agency offering tourists cruise trips around Halong, Lan Ha, and exploring this destination in a unique way. Therefore, you will not worry about scams, hidden fees, or high prices. We are honored to be your companion during the Vietnam Tour by La Regina Grand Cruise.
Highlights
Luxury and modern comfort facilities
La Regina Grand Cruise is equipped with the most modern devices and service such as gym, spa, board games, or sundeck mar & lounge to improve the clients' experience. In addition, the traditional design made of wood is the main theme offers a feeling Vietnam culture and style. Therefore, La Regina Grand Cruise is the harmony of both modern and old architecture. Each room has its sea view through the large glass window toward the world's natural heritages so that you may feel the major power of nature here.
Exciting onboard and off-board activities
La Regina Grand Cruise hosts many events on board to celebrate and welcome tourists in the scene of the sunset or breeze wind. After that, passengers can go kayaking toward stunning caves closer such as Light and Dark Cave, Gia Luan to Trung Trang caves which will impress them with magnificent beauty. Moreover, tourists can spend time swimming or squid fishing to know the local life in Halong Bay destination. The gym and spa are available for travelers to relax and unwind after a long day trip and activities. In addition, the cooking section is offered for tourists to learn how to make Vietnamese traditional cruises with a professional chef.
Well-trained crew with warm-hearted care
From the moment you step onto the cruise until departing from a ship, our crew will welcome you with a lot of smiles and friendliness. Tourists will feel "home far from home" while experiencing a luxurious holiday with our support 24/7. Our team is always attentive to creating the greatest voyage for you.
Hanoi – Tuan Chau Marina – Halong Bay – Lan Ha Bay (L, D)
11:30
Come to La Regina private lounge address: Lot 24 at the Tuan Chau Marina in Halong to take a welcome drink and quick check-in before boarding.
12:15
Transfer to La Regina Legend or Grand Cruises by speedboat or tender. Have a welcome drink while the cruise manager says about the orientation, activities, and safety on board the ship. The ship sets out on its voyage to Lan Ha Bay.
13:00
The cruise departs to tour Lan Ha Bay. You may relax and avoid crowds while savoring a meal with the distinct flavor of Vietnamese food.
15:30
You will reach Light and Dark Cave, one of Lan Ha Bay's top stops and a place renowned for its pure and serene beauty. Kayaking or using a local boat to explore the region. Following that, you may go swimming in the refreshing, emerald-green ocean around the boat.
17:30
When returning to the ship, take in the Bay sunset and the "Happy Hour" special. You might also participate in the cooking hour in the kitchen to learn how to make authentic spring rolls.
19:00
If the weather is good, have dinner on the sundeck or at the second-floor La Corona restaurant. You will be able to enjoy dishes made from top-quality, fresh ingredients in a distinctive fusion style that combines the best elements of traditional Vietnamese cuisine with cutting-edge modern influences.
Following supper, you can choose between resting, having fun squid fishing, or spa (with fees).
Go biking around Viet Hai village – Kayak and swimming on Ba Trao Dao Beach (B, L, D)
06:00
Welcome the dawn and warm up your body with a Tai Chi lesson on the Sundeck or just relax.
07:30
Have breakfast at the restaurant.
08:00
Head to Viet Hai village.
09:30
Arrive at the local port in Viet Hai to begin your 30-minute bike ride over a paved road across a picturesque lagoon. Then, climb a little hill before descending via a cave tunnel. You will arrive in Viet Hai, a little community tucked between a forest and limestone towers, after a nice ride through the jungle.
12:30
Whether in the village or on board, lunch is served.
15:00
A visit to Ba Trai Dao Beach. Its seawater is exceptionally pure and the bottom is visible on bright days. Kayaking and swimming are both safe.
16:00
Return to the main boat and relax until supper.
Meals: Breakfast, Lunch, Dinner
Lan Ha Bay – Halong Bay – Tuan Chau Marina (B, L)
06:00
Have a tachi session to welcome the new day on the sundeck or have a cup of tea or coffee to relax.
06:45
Have breakfast and get prepared for a new day.
07:30
You will take part in the Cat Ba World Biosphere excursion. You can go from Gia Luan to Trung Trang, which is one of Cat Ba Island's most impressive caves, in about 30 minutes.
09:30
Please place all of your stuff outside of your cabins before returning to the main boat to unwind and check out. A crew member will assist with carrying your stuff onto land.
09:45
The restaurant serves lunch as the boat returns to the harbor.
11:00
Disembark the ship, the crew say farewell and ride our speedboat back to Tuan Chau Marina.
Itineraries can be changed without notice due to the conditions of the cruise. Although there is Wi-Fi in the restaurant/bar area, Halong's location limits internet availability.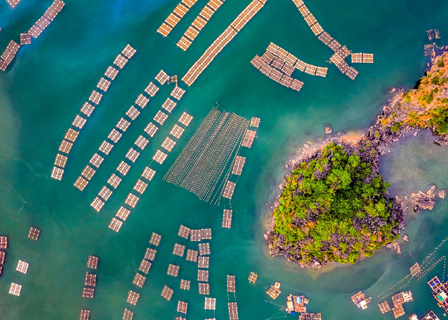 Inclusions
English/Vietnamese-speaking tour guide on board
Luxury cabin with private balcony
All meals aboard as mentioned in the itineraries.
Kayaking, Rowing boat, Swimming (if the weather permits), Squid fishing, Music entertainment, visiting Viet Hai Village - Sightseeing entrance fees.
Welcome drink, two bottles of mineral water in each suite.
Includes Taxes & Fees
Exclusions
Airfare, visa arrangements
Transportation
Beauty Spa Services & Massage
Beverages, tips, gratuities, and other personal expenses
All other services not clearly mentioned above.
"impressive scenery, halong bay is such an heaven on the land!"
i was overwhelmed because of halong bay and lan ha bay as well, it deserve 1 of 7 seven natural wonder. I also impress with VN food especially seafood, how can you guys make these best cuisine?
"This is an memorable trip!"
I decided to visit Halong Bay in the nick of time before I had to come back to my country but it turned out a wonderful experience for me. I had a great time here. Even when I traveled alone but it was really interesting because there were many amazing activities included in the itinerary. I had an opportunity t sample the delicious foods and try my luck at fishing. Halong Bay totally stole my heart, it is too beautiful to describe in words. You should come and experience it by yourself!
"Our family had a wonderful time with La Regina Grand Cruise"
I have to say that this is one of the best trips in my life. This is the first time I have had a trip with my family and we are all happy with the trip. The crew is really supportive. My son and my daughter really love the cooking class, they are curious about how foods are made and they can do it by themselves. I like the way when I lay in bed but still can observe the landscape outside. I love it!
"Totally wonderful!"
My mom and I had a great time here. Thanks crew for supporting me a lot. We only spent 2 days 1 night here but we had many beautiful memories. My mm really liked the cooking class, she said it was great maybe because she likes cooking haha. I myself love doing kayak, it was interesting. Highly recommended!
"This is one of he most fantastic trips in my life!"
Everything was great. I had a chance to taste many delicious foods here. I truly immersed myself in the beauty of Halong Bay. I did take many pictures, it was really beautiful. I like doing Taichi on the desk in the morning, it was great to start a new day by doing exercise in this beautiful scenery. I never forget the moment when the sun rises. That was a spectacular view!
"It was a nice trip arranged with many interesting activities!"
It was a nice trip. The facilities of this cruise are great, I have a good time on this cruise. Halong Bay is very beautiful with limestone mountains, it was impressive to me. However, I was allergic to some kinds of seafood but I didn't realize it before, then I felt a little bit uncomfortable during the trip. However, it's my problem, everything was great!
"I will never forget this wonderful trip!"
It was an amazing trip! I had a great time here with my friends. I tried many delicious foods and I even can join a cooking class and made Vietnamese food by myself. Such a great activity to learn more about Vietnamese cuisine. I did kayak and had the best time in Lan Ha Bay. Thanks for helping me have the best time here!
"That was a good experience!"
The trip was good. The staffs are nice and Halong Bay, Lan Ha Bay are beautiful. However, it's quite sad that it had clouds on the day I visit. However, these places are really beautiful and the seafood is delicious too. I wish the weather had been better. Maybe I will come back someday in the future on a nice weather day!
"I wish I could have more time here! everything was awesome and professional"
First of all, I want to say thank you to the staff, they were so supportive and friendly. I had the best time in Lan Ha Bay, I enjoyed the best time here with the beautiful landscapes and interesting activities. I wish I could have more time to explore these wonderful destinations. I will come back here one day for sure! You guys have to experience them!
"My husband and I had the best time here during our honeymoon holiday."
After thorough consideration of where to go for our honeymoon trip, we decided to travel to Halong Bay and it was totally the right decision. The facilities of this cruise were great, we had a comfortable time here. Besides, we enjoyed the romantic sunset, which was worth spending time observing. Halong Bay and Lan Ha Bay are so beautiful, we wish we could spend more time here. The seafood is really delicious. I really appreciate this trip!
"Such an amazing trip! I took thousands of pictures on and offboard :)"
I had a wonderful time in Halong Bay on this cruise. The room and facilities are great, I spent precious time on many exciting activities on the cruise. Moreover, the staffs were very friendly and they supported me a lot, I really appreciate that. I had time to immerse myself in the beauty of Halong Bay and Lan Ha Bay and I took thousands of pictures here to save the best moments. Highly recommended!
"Great trip, stunning landscapes, friendly crew, and tasty cuisine to Lan Ha Bay"
We had a great time and experience in Lan Ha Bay. I joined the squid fishing with Mr. Cuong and chatted a lot, then I understand more about his local life here and how interesting his work is. I traveled to Vietnam last year but haven't gone here. This time is fascinating. I will come back with my family next year to explore Halong Bay. In addition, thank Ms. Gam for her support. She is really kind and attentive!
"An impressive trip with friends to Lan Ha Bay, fatastic trip"
We shared a wonderful time together in Lan Ha Bay through caves, majestic mountains, and admiring sunset sunrise together which is an unforgettable scene. I was worried about scams since this is the first time we came to Vietnam. However, Anna helped us so much and organized a perfect trip here. Thank you so much and I highly recommend this agency and Lan Ha Bay, it is worth a visit.
"A great food experience with traditional food in Vietnam. Highly recommend it!"
The cuisine was a highlight of the tour for me. The food served onboard was great, and I was able to try a variety of traditional Vietnamese dishes. The seafood was fresh, and every meal was expertly prepared. I enjoyed dining on the deck of the cruise, taking in the breathtaking views while savoring my meals. It was a truly unforgettable experience.
"The activities in the tour were fantastic. literally no time to get bored"
I was able to go kayaking and explore hidden caves, which allowed me to get up close and personal with the stunning scenery. Returning Vietnam after many years in UK, I was impressed with the development and may nature wonders that I haven't seen. The more I travel, the more I love my country, Vietnam.
"The crew on the cruise was fantastic, and they made me feel welcome from the very beginning"
They were always there to assist me with any queries I had and were knowledgeable about the tourist attractions we visited. They were an invaluable part of my Lan Ha Bay experience. There are variety of activities: squid fishing, swimming or kayaking to the caves. The food is also tasty. Thank Ms. Gam for supporting to create a great trip.
"The crew treated me well from the moment I got onboard, and the trip went well"
The grandeur and beauty of the surroundings left me in awe. As we sailed through the crystal waters of Lan Ha Bay, I was mesmerized by a wide range of majestic mountains. The scenery was breathtaking, and the atmosphere was incredibly peaceful.
"A fascinating trip with interesting activities and comfortable accommodation"
I had a fantastic time on our Lan Ha Bay cruise. I enjoyed kayaking, swimming, and squid fishing. The cabin is clean and comfortable with modern facilities and a view of the ocean. A great trip to Vietnam
"Lan Ha Bay is a must-see destination in Vietnam, and a cruise is definitely the way to go"
Our 2-day cruise in Lan Ha Bay was a magical and unforgettable experience. The scenery was stunning, and we were able to relax and enjoy the beauty of the Bay. The cruise was comfortable, and the staff was friendly and attentive. The food was delicious, with a great variety of Vietnamese and Western dishes. We recommend waking up early to see the sunrise over the Bay, it's spectacular!
"We had an amazing time exploring Lan Ha Bay on the La Regina Grand cruise"
The limestone cliffs and caves are a natural wonder that are not to be missed. Our tour guide was knowledgeable and provided excellent commentary throughout the trip. The boat was comfortable, and we enjoyed the kayaking experience. Highly recommend this cruise.
"The 2-day cruise in Lan Ha Bay was the highlight of our Vietnam trip"
The scenery was breathtaking, and we enjoyed kayaking, squid fishing, and exploring caves. The boat was comfortable and spacious, with a great deck to enjoy the stunning views. The staff was friendly, and the food was fantastic. The Bay is a truly unique and beautiful place that everyone should visit. However, you should check the weather forecast before going cause there was a slight rain in the morning on my trip. Therefore I cannot attend the taichi session. Btw it's great overall.
"Lan Ha Bay is an amazing bay and this cruise make the excursions more luxurious"
We booked a 2-day 1-night cruise and were blown away by the stunning natural beauty of the bay. The limestone formations, emerald green waters made for a scenic and memorable trip. Our tour guide was knowledgeable and provided interesting insights into the history and culture of the area. The cabin was comfortable and well-equipped. It truly is a must-see destination.
"Our La Regina Grand Cruise was amazing! From the moment we boarded to the end"
The staff was incredibly attentive, and the facilities were top-notch. The views of the bay from the ship were breathtaking, and we enjoyed every minute of our time there. We especially loved the excursions and activities organized by the crew, they were the perfect way to explore and appreciate the beauty of the bay. We would definitely recommend this experience to anyone looking for a unique and unforgettable adventure.