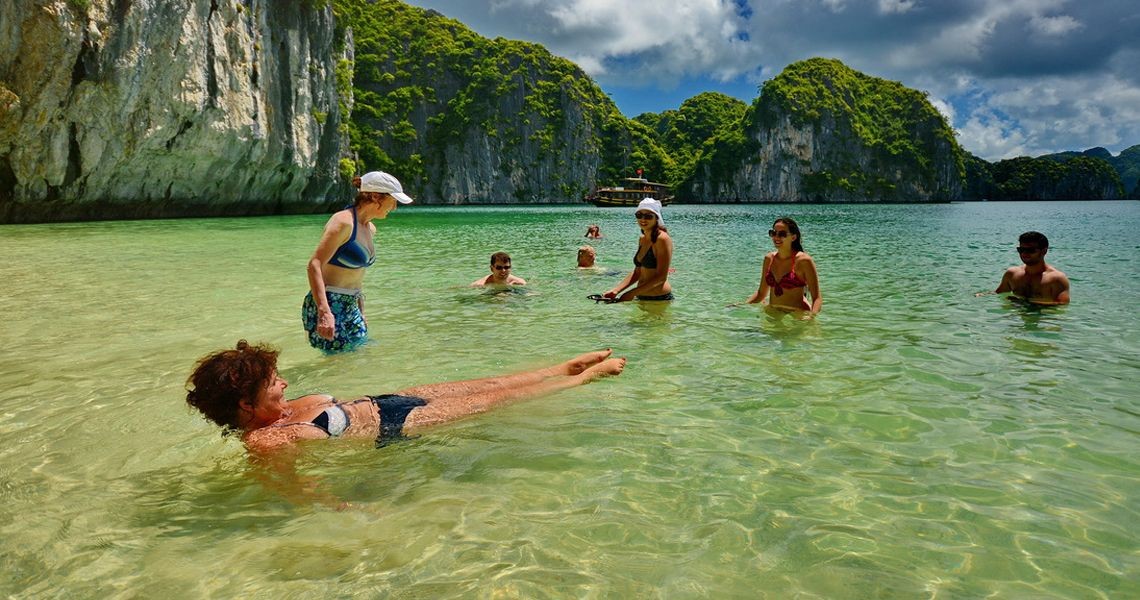 Overview Ban Chan Beach
Belongs to Bai Tu Long Bay, Ban Chan Beach is an unexplored patch of paradise concealed from the masses, and as of now still widely unknown. If you are seeking solitude on a pristine beach, hidden away amongst the towering karst landscape of Halong Bay, please don't skip Ban Chan Beach.
This beach is considered as a harmonious picture between the clouds and water like an exceptional masterpiece, bewitching any public thoughts had. With the beach stretches for several kilometers, the powdery white sand and jewel-colored waters, Ban Chan Beach is an ideal place for a waterside stroll as you take in the surrounding landscape.
Ban Chan beach
Coming to this beach, tourist can admire the famous towering limestone outcroppings as if they are acting as sentinels watching over the area. Besides, the impossibly steep cliff faces are bestrewn with casuarina pines, whose evergreen foliage is but another thread in the rich fabric of Bai Tu Long Bay's natural ecosystem.
Oddly, its beauty attracts tourists not only in summer but also in chilly autumn days or even in the chilly winter days. Last but not least, Ban Chan Beach is known as one of those rare places where you should go to do nothing, nothing but contemplate your surroundings- perhaps by taking a walk along the coastline or cooling off with a swim in the crystalline waters.
Ban Chan beach
Together with us, you can also take the time to cruise around the island and check out the rest of the nearby coast. Although it is not a popular beach as others in Halong Bay, it's unique with a primitive and unspoiled beauty which you've never seen in almost any famed beaches.
No matter who you're, what you do, where you come from, and how old are you, you will be impressed by the airy space or the white sand for many kilometers beneath casuarina pines of Ban Chan Beach.
This is truly a perfect choice for them who wish to escape from the bustle and hustle of large cities and be in harmony with nature.