Bhaya Classic Cruise 2 days 1-night
Hanoi, Halong Bay, Tuan Chau Harbor, Ba Ham Lake, Drum Cave, Sung Sot Cave, Soi Sim island, Halong Bay, Hanoi
Launched: 2009
20 Cabin(s)
Inspired by the gorgeous natural beauty of Halong Bay, each Deluxe cabin is designed with deep blue and brown tones leading to an elegant space, in coherence with nature and create a warm, cozy, and friendly feeling. The panoramic view of the majestic beauty of Halong Bay can be enjoyed through the large windows equipped in each cabin. You will always be living in a clean space, close to nature during your relaxing and exciting holidays. With an area of 12.5 square meters, each Deluxe cabin is furnished with a large double bed or 2 single beds for up to 2 guests, along with other high-class equipment such as air-conditioner, standing bathroom, wardrobe, minibar with free wifi.
Each Bhaya Classic junk boat has 2 Terrace Suites located on the upper deck at the bow of the boat. Terrace Suite is a great choice for travelers who want to experience a meaningful vacation in Halong Bay. Covering a space of 16.5 square meters, Terrace Suite has the style of an ancient royal family with traditional Vietnamese culture. Each cabin is fully furnished with modern equipment such as high-quality amenities, bedding, bathtub, and an extra sofa bed providing a comfortable relaxing space. The large balcony is an ideal place to relax and enjoy the majestic scenery of the bay, boosting the connection between the interior and the outside nature. A Terrace Suite can accommodate up to 2 adults and a child under 12 years old.
Premium Balcony Cabin is located on the Bhaya Premium cruise line which offers a more intimate and friendly space with a maximum of 15 passengers in from 3 to 7 cabins per boat. A small boat will bring more personal experiences for families, friends or couples. With an area of 20 square meters, each Premium Balcony Cabin brings spacious accommodation, allowing up to 3 adults. All cabins have a private balcony where visitors can enjoy the stunning scenery of Halong Bay. Two cabins can be connected to create a connecting cabin for a large group.
Overview
Starting its first voyage in 2007, Bhaya Classic Cruise has always been one of the most prestigious cruise lines in Halong Bay and is currently the largest owner of the ship in the region. With an innovative design and annual improvement programs to meet rigorous safety standards, Bhaya Cruise is a standard model for cruise ships in Halong Bay.
With a desire to bring the natural heritages of Halong Bay to many domestic and foreign tourists, Bhaya Classic Cruise is the pioneer and leader in shaping a sustainable tourism business associated with an emphasis on Marine environment protection. Since its establishment, Bhaya has continuously built and developed projects to clean the bay, improve the benefits for the community, encourage local people to strengthen preserving the culture, geography, conservation of rare and precious animal species facing a high risk of extinction.
Being one of the deluxe cruises inspired by Asian Culture and pictures of Khai Dinh King's ship, Bhaya Classic and Bhaya Premium Cruises are subtly designed and meticulously detailed to bring a completely different experience to customers. Bhaya Classic is a large ship line with 15 to 20 cabins. Bhaya Premium features a more compact design, only from 4 to 7 cabins, suitable for families or small groups. All cabins are carved with Asian delicacies but are still equipped with modern facilities to bring comfort to customers.
Proud of professional staff with English proficiency and high-class services, well-designed journeys, outstanding room amenities, rich Vietnamese identity cuisine, Bhaya Classic and Premium cruises will bring visitors an impressive experience and absolute satisfaction.
HANOI - HALONG BAY
08:00: Pick up at the hotels in Hanoi Old Quarter to Halong Bay.
12:00: Arrive at Bhaya Cruise Centre at Tuan Chau harbor.
12:45: Embark and check in on the Bhaya cruise, enjoy a welcome drink along with a cruise briefing.
13:00: Seafood buffet lunch is served while the ship goes further into the southeast of Halong Bay.
15:00: Visit Tien Ong cave.
17:30: Back to the Bhaya to enjoy a sunset time onboard. Enjoy the cool drinks in the "Happy Hour" program (buy 1 get 1 free). Join a cooking class on the top deck while the Bhaya cruise moves to the night sleeping spot. Relax before dinner.
19:30: Savor your sumptuous dinner on the boat.
21:00: Relax at the bar or join the night squid with our staff.
HALONG BAY - HANOI
06:15: Enjoy the dawn on the sea with a Tai Chi session on the sundeck or admire the spectacular beauty of the bay.
07:00: A light breakfast awaits you in the dining room.
07:45: Explore Cua Van Floating village for kayaking, one of the largest and most beautiful floating villages in Halong Bay.
09:00: Return to the ship and check out of your cabin.
09:30: Buffet brunch is served while the boat takes its cruise back to the harbor.
10:30: The boat arrives at the harbor, it is time to say goodbye to our crew and get on the transfer back to Hanoi.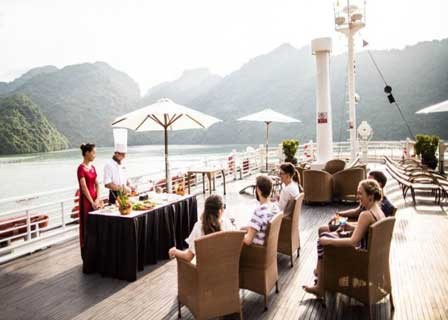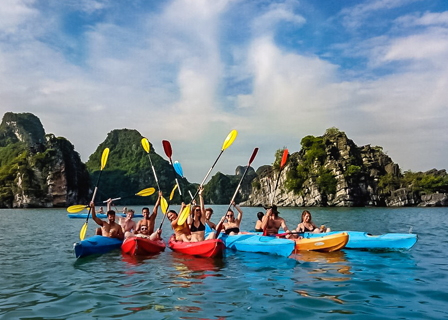 General Information
Bus pick-up time: 8:00 - 8:20 AM
Return Hanoi by bus: 15:00 PM - 15:30 PM
Check-in on board: 12:30 PM
Check-out on board: 10:30 PM
Shuttle bus pick-up point: Hotels in Old Quarter or 47 Phan Chu Trinh, Hoan Kiem Dist.
Shuttle bus drop-off point: Hotels in Old Quarter or 47 Phan Chu Trinh, Hoan Kiem Dist.
Booking Policy
• 50 % of the total cost is required to secure the booking.
• The remaining balance is to be paid 15 days prior to the departure date.
• In some special cases, you will be required to pay the full cost or a number greater or smaller than the standard 50% to secure your booking.
• In some special cases, the deadline for payment will be required sooner or later than the standard 15 days prior to booking.
Cancellation by Customer
• More than 30 days prior to check-in (departure date): Free of charge
• From 30 to 16 days prior to check-in (departure date): 10% of total rates
• From 15 to 10 days prior to check-in (departure date): 20% of total rates
• From 9 to 5 days prior to check-in (departure date): 50% of total rates
• Less than 5 days prior to check-in (departure date): 100% of total rates.
• No-Show: 100% of total rates
*** Cancellation notice from customer must be sent to us via email. Refund will be processed between 10 -15 working days.
Cancellation by Halong Bay Management Board due to bad weather
If the cancellation is made by the Halong Bay Management Board, following policies will be applied depending on the time of cancellation.
• When a cancellation is made before departure date- check-in date (if no services have been used): 100% refund.
• When a cancellation is made during the trip (some services have been used such as transfer, food, some amenities, etc.): used services will be charged, the rest will be refunded.
• When a cancellation is made before or during the departure date and the trip must be shortened from 2 nights to 1 night, 2 days 1 night trip, plus other used services will be charged, the rest will be refunded.
• The final cost will be confirmed by your consultant via email. In all cases, please contact us directly for any urgent help. We are here to support you!
Note: In case of a cancellation decision made by the Management Board of Halong Bay, an alternative travel arrangement will be made on request, or you will be refunded in accordance. In all cases, please contact our travel consultant via email or phone for support. We are always willing to provide you with any assistance you may need on or off board.
Important Notes
• PROGRAMS & SCHEDULES SUBJECT TO CHANGE WITHOUT PRIOR NOTICE.
• In case of adverse weather conditions in Halong Bay, the cancellation will ONLY be made by the Halong Bay Management Board. Usually the announcement will be declared very close to or on the departure date and our refund policy will come into effect.
Inclusions
Welcome drinks
Sightseeing and entrance fees
Halong Bay cruise itinerary
Complimentary basic tea and coffee onboard
Luxury cabin with en-suite bathroom
Meals on board:
1 Lunch, 1 dinner, 1 breakfast, 1 brunch for Halong Bay 2 day 1 night cruise
2 lunches, 2 dinners, 2 breakfasts, 1 brunch for Halong Bay 3 day 2 night cruise
Onboard insurance, tax and service charges.
Includes Taxes & Fees
Exclusions
Airfare
Beverage, tips and other personal expenses
Transfer by bus or private car/van Hanoi – Halong – Hanoi (book in the next step)
Christmas 24/12, New Year 31/12, Lunar New Year's Eve
All other services not mentioned in Inclusions