Overview
Are you looking for a trip that lets you experience all the highlights of touring on a Halong Bay cruise yet can fit in your time crunch? If yes, you should definitely check out our La Casta Day Cruise.
La Casta Day Cruise is ideal for those who have a limited time to visit Halong Bay but still want to take in everything this place can offer. The day cruise trip has an itinerary of 8 hours; each moment you spend on board with us will be unforgettable with exciting activities and beautiful landscapes that other cruises usually take you at least two days in their itinerary to provide. And don't worry that a day cruise will give you a lower quality because our facility, team, and customer service are always at their best and ready to serve you.
Check out more of Halong Bay Cruise Deals for the best trips you've been on! Come cruise with us to visit the beauty of Halong Bay, Lan Ha Bay, and Bai Tu Long Bay.
Highlights
Beautiful landscapes
When you come to Halong Bay, the one thing you cannot miss out on is the beautiful scenery that nature has bestowed on this place. La Casta day cruise trip makes sure that you will be able to see all the stunning landscapes with thousands of limestone mountains at Halong Bay. Our luxury cruise passes by some of the most significant parts of Halong Bay, including Sung Sot Cave - one of the biggest caves in the bay, Luon cave, and Titov Island, which other cruises will put in itineraries of 2 days or longer.
Exciting activities
Be prepared to spend all your energy with us because your day trip on board will be filled with a lot of exciting activities. With the duration of 8 hours, you will have the chance to fully emerge in the wondrous nature of Halong Bay and go swimming or kayaking on the clear water of the beach. And if you're tired of the beach, try climbing the mountains of Titov Island and the view from the top will surely mesmerize you.
Modern facilities and amazing customer service
Even on a day cruise trip, you can still enjoy the modernity and luxury that the facility of La Casta Cruise has to provide customers. If you want to chill out instead of spending your energy away, feel free to stay on the sundeck to relax or the outdoor jacuzzi and use the customer service that we proudly present to you. Our team of friendly and reliable staff is always available for any of your requests. For lunch, you will be served a buffet of seafood and traditional Vietnamese food, and before your trip ends, you will have the chance to join in a sunset party, and if it's your birthday, inform us and we will throw you a free party under the breathtaking view of sunset on Halong Bay.
Hanoi - Halong Bay - Sung Sot Cave - Luon Cave
06.00 – 06.45: You will be picked up by an English-speaking tour guide on a shared limousine bus to Tuan Chau harbor.
09:00: After your arrival at Tuan Chau harbor, you will check in, get on board, and meet the crew members that will accompany you on your day cruise.
09.30 – 11.30: Enjoy your welcome drink while our ship leaves the harbor to start on our journey. This will also be the time for you to pass by many islets that are magnificently shaped by Mother Nature herself, such as Dog Rock, Duck Rock, and especially Thumb Rock - a beautiful limestone islet rising from sea water in the shape of a giant thumb.
12.00: Feast on the buffet lunch of seafood and traditional Vietnamese dishes.
13.00: When the cruise stops at Bo Hon Island, our tour guide will take you to Sung Sot Cave - the largest and the most beautiful cave in Halong Bay. You will have about 45 minutes to discover the cave with our guide before heading back on the cruise to continue the trip to Luon Cave.
For those who want to chill out instead of cave exploring, you can stay on board and relax on the sundeck; feel free to use customer service if you need anything.
14.00: Here at Luon Cave, you will have about 30 minutes to go swimming or kayaking to heat yourself up.
15.00: The cruise has now arrived at Titov Island; here, you can climb up the mountain to enjoy a majestic view of Halong Bay. The view from the top will surely take your breath away.
16.00: After getting back to the cruise, you will join our sunset party; the staff members will serve you Vietnamese tea, coffee, fresh fruits, and snacks. You can choose to relax on the sundeck or in the outdoor jacuzzi.
Meanwhile, we will be heading back. On our way, we will pass by the Hoa Cuong area - one of the most beautiful attractions of the bay.
17.30: We are back at Tuan Chau port; the trip ends here.
Thank you for choosing Halong Bay Cruise Deals and La Casta Daily Cruise for your holiday in Vietnam.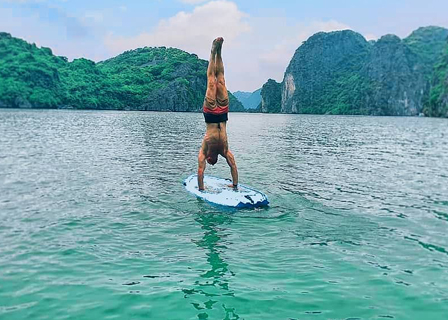 Inclusions
8 hours trip with La Casta Daily Cruise
Limousine Hanoi – Halong – Hanoi
Buffet lunch on board
Activities: Cave, kayaking, swimming, sunset party, Jacuzzi
English/Vietnamese-speaking tour guide
Free birthday party in the sunset party
Includes Taxes & Fees
Exclusions
Holiday surcharge
Taxes
Sightseeing fees
Other beverages, tips, and personal expenses
All other services are not mentioned clearly in the program