UniCharm Cruise 3 days 2 nights
Hanoi, Cat Ba Island, Halong Bay, Lan Ha bay, Cat Ba Island, Viet Hai village, Halong Bay, Hanoi
Launched: 2018
20 Cabin(s)
Being the most popular room type with the most reasonable price, yet Uni Balcony is still well equipped with the most luxury, modern facilities as well as a fancy standing shower bathroom in the area of 20 square meters. Despite being the most popular class on UniCharm with 16 rooms in total, but each still owns a private standing balcony in order to bring all the passengers the closest to nature.
With a limited number in quantity, 4 Uni Terrace suites will absolutely bring you an unforgettable memory with your partners and friends. Besides the spacious area spreading on 30 square meters inside, the massive terrace with two private fascinating sunbeds for you to stretch your bodies or sunbath will give you the feeling of a peaceful paradise.
It is sure that there is no one who doesn't want to share a great holiday in such a marvelous place with their families. With the size of 50 to 60 square meters divided into 2 separated rooms connected by middle doors, 4 Family Connecting can both give you interact between family members and ensure the privacy and independence from each other. Same to Uni Balcony and Uni Terrace, Family Connecting also presents your family private balcony to enjoy the happiest moment together.
Overview
If you have an ambition to not only discover a famous wonder of the world but also set the very first footprint on the off-the-beaten tracks, Unicharm Cruise is proud to be the only cruise to be able to indulge your greed. As you know, Halong has long time become a very famous and one of the musts for tourists who ever travel to the north of Vietnam, which results in the fact that Halong has gradually got slightly touristy. However, with the original gorgeous beauty along with its fame, every tourist cannot stop being curious about it. With a unique route, Unicharm will cover all the highlights of the Gulf of Tonkin including the well-known Halong Bay, the primitive newly discovered Lan Ha Bay, and a very naturally fascinating Cat Ba island.
Being a 4-star newly built, Unicharm will bring to customers a safe feeling with a modern steel coastal ship outlook and comfort you with interior smooth dark wooden décor.
Come to such an amazing wonder like this, any traveler certainly wants to touch, breathe, and feel nature as much as possible. Understand that basic desire, all the accommodations of Unicharm are endowed with balconies for the customers to enjoy the best moments of their trip in a private space.
Hanoi - Cat Ba Island – Ha Long Bay – Lan Ha Bay overnight
07:45 – 08:15: You will meet up with our tour guide and other travelers for 2-hour drive to Cat Ba Island.
10:30: Arrive at Cat Hai Harbor then get on a ferry to go to Cat Ba Island within half an hour then embark the cruise from here.
12:30: Briefing and welcome lunch will be given right after greeting from the crew while cruising at the middle of the stunning view and passing by Cap Bai Islet, Ngon Tay Island (Finger Islet), Sung Sot cave and Titop peak. Reach the core the UNESCO Nature Heritage before going toward to Lan Ha bay for anchoring. Once you arrive in Lan Ha Bay you will jump into the kayak to explore the Karst Mountains by paddling through narrow lanes under grottos and enjoy snorkeling and swimming.
17:00: Go back to the cruise for "cooking demonstration".
19:00: Enjoy the romantic in the middle of the tranquil bay.
Lan Ha Bay – Cat Ba National Park Trekking – Back to Lan Ha Bay
After a light breakfast, you will get on a local motor boat and have a 40-minute drive through Lan Ha Bay and stop at Cat Ba National Park for trekking. Enjoy lunch in a local restaurant after the most exciting trekking of your life.
A car will take you up to the mountain to visit Cannon – the old battle base of the island and the ruined relics of the war and enjoy the mind-blowing view of Lan Ha Bay.
After coming back to the boat you can either do a bit more kayaking, swimming or resting after a long day trekking.
Make friends with new passengers before having dinner.
Meals: Breakfast, Lunch, Dinner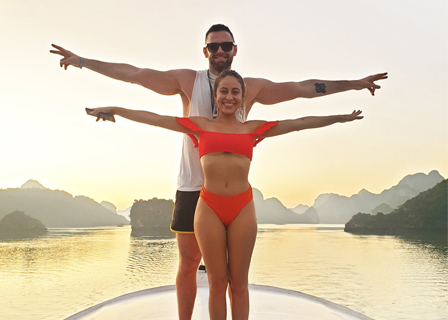 Lan Ha Bay – Viet Hai Village – Halong Bay – Hanoi
6:30 – 7:30: Begin your new day with a light breakfast.
07:30: Get on the tender boat to go to Viet Hai dock for a cycling tour around this village. Communicate with local fishermen here and visit an island school.
09:00: Go back to the boat for relaxing and swimming.
10:30: Packing and checking out before lunch and farewell to the cruise.
12:00: Disembark the cruise. Trip ends.
General Information
Bus pick-up time: 08:00 AM - 08:30 AM
Check-in: 12:00 PM - 12:30 PM
Check-out: 09:00 AM - 10:00 AM
Return Hanoi by bus: 2:30 PM - 3:00 PM
Shuttle bus pick-up point: Hotel in Hanoi Old Quarter or in front of Hanoi Opera House
Shuttle bus drop-off point: Hotel in Hanoi Old Quarter or in front of Hanoi Opera House
Booking Policy
• 50 % of the total cost is required to secure the booking.
• The remaining balance is to be paid 15 days prior to the departure date.
• In some special cases, you will be required to pay the full cost or a number greater or smaller than the standard 50% to secure your booking.
• In some special cases, the deadline for payment will be required sooner or later than the standard 15 days prior to booking.
Cancellation by Customer
• More than 31 days prior to check-in (departure date): Free of charge
• From 31 to 16 days prior to check-in (departure date): 10% of total rates
• From 15 to 8 days prior to check-in (departure date): 20% of total rates
• From 7 to 4 days prior to check-in (departure date): 50% of total rates
• Less than 4 days prior to check-in (departure date): 100% of total rates.
• No-Show: 100% of total rates
*** Cancellation notice from the customer must be sent to us via email. Refund will be processed between 10 -15 working days.
Cancellation by Halong Bay Management Board due to bad weather
If the cancellation is made by the Halong Bay Management Board, the following policies will be applied depending on the time of cancellation.
• When a cancellation is made before departure date- check-in date (if no services have been used): 100% refund.
• When a cancellation is made during the trip (some services have been used such as transfer, food, some amenities, etc.): used services will be charged, the rest will be refunded.
• When a cancellation is made before or during the departure date and the trip must be shortened from 2 nights to 1 night, 2 days 1-night trip, plus other used services will be charged, the rest will be refunded.
• The final cost will be confirmed by your consultant via email. In all cases, please contact us directly for any urgent help. We are here to support you!
Note: In case of a cancellation decision made by the Management Board of Halong Bay, an alternative travel arrangement will be made on request, or you will be refunded in accordance. In all cases, please contact our travel consultant via email or phone for support. We are always willing to provide you with any assistance you may need on or off the board.
Important Notes:
• PROGRAMS & SCHEDULES SUBJECT TO CHANGE WITHOUT PRIOR NOTICE
• In case of adverse weather conditions in Halong Bay, the cancellation will ONLY be made by the Halong Bay Management Board. Usually the announcement will be declared very close to or on the departure date and our refund policy will come into effect.
Inclusions
Welcome, drink & snack.
English speaking tour guide.
Meals on board as itinerary.
Tai Chi session.
Entrance and sightseeing fees.
Onboard insurance and service charges.
Includes Taxes & Fees
Exclusions
Airfares.
Visa stamp fee.
Hotel arrangement.
Hanoi – Halong Bay – Hanoi shuttle bus or private car/van( book in next step).
Spa treatment services.
Drinks are not mentioned in the itinerary.
Tips and personal expenses.
All other services are not mentioned in Inclusions.
Surcharge for New Year and Christmas.
Surcharge tourist site tickets due to changes in government policy.