Hermes Cruise 2-day-1-night trip
Hanoi, Halong Bay, Pearl Farm Village, Titov Island, Sung Sot Cave, Tuan Chau Harbor, Hanoi
Launched: 2021
18 Cabin(s)
Overview
Hermes Cruise, just like the name suggested, is a luxury cruise that promises you a wondrous experience of a lifetime. The luxury Halong Bay cruise has 18 cabins in total, each cabin is accessorized with the most modern decorations and furniture that fill every need of our guests.
Each and every room is designed with the notion of maximizing the space that our tourists can have, Hermes Cruise can proudly present to you a range of room spaces from 28m2 up to 64m2, all are adorned in neoclassical style to bring you the most glamorous and comfortable place to rest for the day.
Aside from the spacious rooms, Hermes Cruise is equipped with some of the most outstanding facilities, including high-class restaurants, outdoor jacuzzi and swimming pools, open space, an outdoor bar, professional spas, and so much more that await you on Hermes Cruise.
Hermes Cruise guarantees to bring you the most memorable traveling experience with our Halong Bay tour. You will not only be presented with the majestic scenery of Halong Bay but also the exciting activities and relaxing services that we have prepared for each of your needs.
What are you still waiting for? Contact Halong Bay Cruise Deals today and pick an exclusive Hermese Cruise trip to discover the beauty of Halong Bay!
Hanoi - Halong Bay - Visiting Pearl Farm village (L, D)
08:30 - 08:45: Pick-up.
You will be pick-up at your hotel if it's located in Hanoi Old Quarter, then we will go on the highway to Tuan Chau Harbor in Halong.
You can also arrive at our last pick-up spot at the Hanoi Opera House if you do not stay around the Old Quarter.
10:30 - 11:00: Rest midway.
You will have the chance to rest for about 20 minutes at the pearl store and pearl breeding place before continuing the ride to the harbor.
11:30 - 12:00: Arrive at Tuan Chau Harbour, Halong, Quang Ninh.
12:30 - 13:00: Transfer to the cruise ship and check in.
13:30: Lunch
Tourists have lunch while enjoying the spectacular Halong scenery from the restaurant on the 2nd floor.
15:00 - 16:45: Explore Halong Bay.
Visiting Pearl Farm village and witnessing the process of making and harvesting pearls, buying products made of pure pearls, or participating in kayaking, a must-try sports activity in Halong.
After that, you can visit Titov Island and climb up to the peak of the island, admiring the beautiful view of Halong Bay, taking pictures, and playing on the sea.
18:00: Free activity
From 6 PM, you can enjoy the Sunset Party with fruits and snacks at Hermes Sky Bar. If you like to enjoy drinks made by highly skilled bartenders, you can use this opportunity to use the special offer - Happy Hour, buy 2 and get 1 drink for free.
If the above activity is not your cup of tea, you can try out our massage service which is also available from this hour.
18:30: Cooking class
This is your chance to learn how to make Vietnamese spring rolls - a famous traditional food of Vietnamese cuisine.
19:30: Dinner
For dinner on board, we have prepared a European set-menu dinner at the restaurant for our guests to enjoy.
21:00: Rest
Tourists are free to rest, you can try squid fishing, or chill at the bar with a cocktail.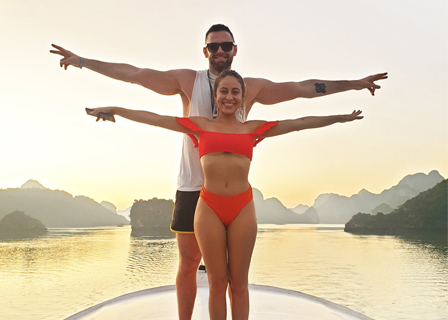 Halong Bay - Visit Surprise Cave - Hanoi (B, L)
06:30: Taichi class
Guests can take part in our Tai Chi class - a Chinese martial art practiced for health benefits and meditation. From this time, tea and coffee are served.
06:45 - 07:30: Breakfast
Tourists enjoy a light breakfast at the restaurant.
07:30: Visit Surprise Cave (Hang Sửng Sốt)
This is the largest and most beautiful cave in Halong Bay. The way to Surprise Cave is under the forest canopy with the craggy stone steps, due to this, tourists can feel as if they are entering the sky.
The cave is divided into two main compartments, the entire first compartment is like a large and spacious theater. The ceiling of the cave is filled with countless stalactites and stone statues, turning the cave into a dreamlike fantasy world.
Then to the second compartment via a small path, a stream of bright light poured in, and the cave showed a completely different scenery, right next to the entrance is a stone horse and a long sword. Going deeper and you can see even more wondrous things. The top of the cave is like a royal garden with a clear lake, charming scenery, and all kinds of trees - the home to many species of birds.
09:30: Check out and pay the bill
Tourists finish packing and check out at the reception desk. Please be sure that you don't forget anything.
09:45 - 10:30: Brunch
Tourists enjoy a buffet brunch and then relax on the way back to the harbor.
10:45 - 11:00: Check out of the cruise.
12:00 - 15:00: Back to Hanoi
CRUISE ITINERARY
Cruise itinerary is subject to change, with or without prior notice, depending upon tide and weather conditions.
CHILD POLICY
Free of charge for one child below the age of 5 years traveling with two adults. Limited one child per cabin only.
Children from 5 to below 11 years of age sharing a cabin with two adults on one bed are charged at 75% of adult rate, limited to one child per cabin only.
PEAK SEASON SURCHARGE
Christmas: 24th Dec
New Year's Eve: 31st Dec
Lunar New year: 30th and 1st, 2nd, 3rd
CANCELLATIONS & AMENDMENTS
Any changes / amendments to an existing booking shall be considered as a cancellation and a new booking shall be made. Penalty charges shall apply accordingly, based on the charge for each cancelled cabin as per the following percentages:
For FIT booking (less than 5 cabins):
| | |
| --- | --- |
| Period prior to the cruise date | FIT <, = 05 cabins |
| More than 15 days | No charge |
| 10 to 15 days | 50% of total price |
| 07 to 09 days | 70 % of total price |
| Under 07 days | 100 % of total price |
For GIT booking (from 06 cabins):
| | |
| --- | --- |
| Period prior to the cruise date | GIT > 06 cabins |
| More than 30 days | No cancelation charge |
| 15 to 29 days | 50 % of each cancelled cabin |
| 10 to 15 days | 70 % of each cancelled cabin |
| Under 10 days | 100% of each cancelled cabin |
For Charter booking:
| | |
| --- | --- |
| Period prior to the cruise date | GIT > 06 cabins |
| More than 45 days | No cancelation charge |
| 30 to 45 days | 50 % of each cancelled cabin |
| 15 to 30 days | 70 % of each cancelled cabin |
| Under 15 days | 100% of each cancelled cabin |
SHUTTLE BUS (Limousine bus)
Departure point in Hanoi: At guest's hotel in Hanoi Old Quarter
Time to pick up from Hanoi: 8.30 to 09.00 am
Rate for children below 2 years: Free of charge. Limited to one child per booking only, sharing chair with parents.
Inclusions
Welcome drinks with warm/cold tissues
Entrance fees and sightseeing fees
Full furnished in en-suite cabin with A/C, hot water
Experience English speaking guide/ station guide
All meals on board
Cooking demonstration
Tai Chi session
Kayaking
Fishing equipment, movie, exciting games
Sunset party ( as the menu attached file)
02 bottles of mineral water and tea – coffee in cabin
On board insurance
Includes Taxes & Fees
Exclusions
Airfares, transfers to and from Ha Long Bay
Visa arrangements
Beauty spa, massage services and Bar services
Other beverages, tips and personal expenses
All other services not clearly mentioned
VAT Tax
"The first cruise in my children's life, glad no prob happens"
These rooms are so beautiful and elegant. Pearl village is interesting so my children love it, and people are so friendly. I love Vietnam!
"Memorable anniversary with my girlfriend"
Good services, nice trip. The scenery is so romantic and marvelous. My girlfriend loves this, we will come back one day
"Nice cruise. Professional staff. Food and drinks are awesome"
The voyage went off without a hitch. We were really pleased. The cruise is luxurious, clean, and beautiful, with cutting-edge amenities. Several common rooms have an antique style. Both the set meal and the buffet brunch were excellent. My partner was intrigued by the vegan foods they cooked for him. Excellent cruise
"Really pleasant experience. I wish the weather could be sunny"
We are a group of six people. This is our second trip here with the help of Halong Bay Crusse Deals. They recommended that we go on the Hermes Cruise, which is the most modern and newest cruise. We explored Titop, Maze, and other sites of Halong Bay with fun activities. This cruise wasn't totally enjoyable as the weather was kinda gloomy, but the cruise did its best.
"Fantastic trip with Hermes cruise, love everything of this cruise"
"Well organized trip. The itinerary was flawless, like it's perfect for get to know Halong Bay"
My experience on Hermes cruise is free and easy. Everything is smooth and professional. Special thanks to my guide who took good care of me. if you choose this cruise to relax, the 3d2n tour is better than the 2d1n. I regretted choosing the 2 day itinerary because the trip was so great that I want to enjoy it longer. Even though I travel alone, I got to make some friends because the other guests are really nice. Thanks Halong Bay Cruise Deals for helping me choose this cruise.
"Splendid cruise and seascape... The staff helped us a lot and they did a great job"
We stayed one night on this boat and everything was perfect from the beginning to the moment they dropped us at our hotel! The staff was really friendly and the meals were really hearty! I love the spring roll the most. We really didn't miss anything! Our guide Hoang was also very welcoming and was able to share some Vietnamese history with us and show us Ha Long Bay. We had a wonderful time!! I recommend
"Thanks Halong Bay Cruise Deal! We enjoyed the experience on Hermes Cruise"
A family-friendly cruise. The interior design is just wow, i love the sundeck and we spent a lot of time there. The cuisine on the cruise is also delicious; my son was crazy about it haha. All activities are enjoyable, and we have shared many memorable moments. I'm sure I'll return with my family the next time.
"Amazing tour thanks to the devoted assistance of halongbaycruisedeals"
My trip to Vietnam hadn't have complete without a visit to Halong Bay. I am glad I didn't miss it because I was afraid the time was too rush. Thanks for a well-organized trip!! I also like the food on board!
"We book the Family Senior Suite and was really pleased. We loved the cruise"
The trip's services were superb, and my family thoroughly enjoyed them. We book the Family Senior Suite and was really pleased. The staff are pleasant and helpful. I'd want to thank Gam for assisting me in finding this cruise. I'm sure I'll return with my family to explore more of Halong Bay.
"Enjoyable journey. No particular complaints but wish the schedule could be less tight"
I don't have any big complaints but I wished the schedule could be less tight.
"Better than most cruises I have ever exp in Vietnam, worth trying"
I traveled to Vietname some times and love the cruise exp in Halong. Luckily we booked some of the excellent ones in Halong Bay and Lan Ha Bay, and Hermes Cruise is one of the best. We couldn't be more satisfied with the amenities, the staff's services (and friendliness), the food,... Plus the itinerary to the natural sites was well planned, I enjoyed a lot. P/s: My hus says thanks to the personnel who helped found his watch in the big lounge, thanks Hai!
"A truly wonderful experience with Hermes Cruise for 2d1n, wish it were longer"
I and my wife took the 2D1N tour, and I want to arrange another longer itinerary in the future. The Hermes trip is lovely and elegant; the landscape is stunning; the day activities are fun and intriguing; the cruise events are really entertaining; and the cuisine is great... The gorgeous landscape in Ha Long Bay makes me feel calm and comfortable, but I feel that we haven't explore enough the beauty of it. Apart from the ship's staff's warmth, they are extremely professional and give good service. As someone who has previously had seasickness, I must admit that I was shocked that I couldn't even feel the boat moving; there was no seasickness at all. We had a great time and will certainly go on another trip. Thank you really much!
"highly suggested for a short relax in the most beautiful bay in Vietnam"
The journey we had with Hermes was exceptional. The ship was stunning, modern and full-furnished, we basically didn't have any trouble or complaint, just sometimes the Wifi was not stable (so I don't rate 10 score). But anyway the rest was awesome, I just love to relax on the sundeck and watch Halong Bay pass by. I can't recommend this cruise enough.
"Viele gute Erinnerungen an die Halong-Bucht. . . kann diese Kreuzfahrt nur empfehlen"
Yes, the whole thing is very touristy, is handled following a stringent plan. The tour (the price includes the costs for excursions, activities and all meals) is worth the money because you have the opportunity to immerse yourself in this great natural landscape; the kayak tour is definitely worth it. Our suite is totally beautiful as the amenities are full, the huge glass window looking out to the view of Halong bay. You don't have much time to stay in the room anyway, because there is always something to do and eat. There are 2-3 smaller excursions to particularly beautiful spots (grottoes, caves, etc.) and various activities (Vietnamese Cooking Class / Thai Chi) on board. The food was very good and varied, sometimes a buffet, sometimes a la carte. The staff tried very hard and is always on hand when needed. The most beautiful thing for me was simply experiencing Halong Bay up close and the great sunset and the evening mood on the ship. A small minus point, I would have preferred a slightly less scheduled program (Vietnamese take punctuality very seriously).
"Great experience and highly recommended. Thanks hermes cruise for the trip"
The atmosphere and amenities were excellent. We were really pleased with the service, especially the crew, who were incredibly helpful during our stay. Accommodations were in excellent shape and just as pictured. Great organization with scheduled events. If you want a luxury cruise with a big budget, you can pick this cruise without searching anyfurther.
"I was very delightful with the services on the cruise. Thank Mai you're the best"
I love the ejourney. The staff is very helpful and nice.. I would like to thanks the staff Mai for helping me so much. I will definitely come back here if I return to Vietnam.
"most wonderful experience I have ever had in Vietnam, totally recommend"
The best cruise stay I've ever had I've had the opportunity to go across the world on many luxury cruises, but Hermers is an extraordinary experience. Staff is really pleasant and respectful, and the service is superb. The room is huge, neat, and very clean; it seems like you're in your own villa rather than on a cruise. I had a good , fresh and really cozy atmosphere during my time here. I will undoubtedly return with my Belgian friends and family.
"Very good cruise with yum food, great tour guide, funny Tai Chi class,..."
The vacation went incredibly well, and we were very pleased. The ship is stunning, modern, and comfy. The bedroom is spacious, and the inside is light, airy, cozy, and clean, making us feel at ease. The service is likewise excellent, and the wait staff is very attentive and compassionate. Ha Long Bay's shoreline and limestone beauty is magnificent. The events are well-planned. It's a beautiful thing to be immersed in afternoon tea, bathing in the jacuzzi, and watching the stars in the Sun Deck to soothe the soul after all the craziness with loved ones and friends. Excellent cuisine for three meals, and the food on board left me feeling fairly fulfilled. After Tai Chi practice in the morning, we go to have cake and tea. In general, you will be supplied regularly and will not go hungry.
"WOW experience. It took some time for us to finally pick this cruise and we are happy we did so :) "
We booked a Triple Junior Suite and the interior was awesome, the balcony was lovely too. We enjoyed the view from the suite so much. Anyway the itinerary was good as expected, sine we were consulted by Gam very detailedly. It took some time for us to finally pick this cruise and we are happy we did so :) Thanks Halong Bay Cruise Deals, Gam, the crew onboard and every staff helping us enjoy our time in halong!
"Amazing & fulfilled experience. I will return to Halong to see more unspoiled sites"
Over all the trip was very good. The staff was very polite and helpful, but I wish the itinerary can include more hidden sites :)