Sena Cruises 3 days 2 nights
Hanoi, Lan Ha Bay, Dark and Bright Cave, Viet Hai village, Halong Bay
Launched: 2019
16 Cabin(s)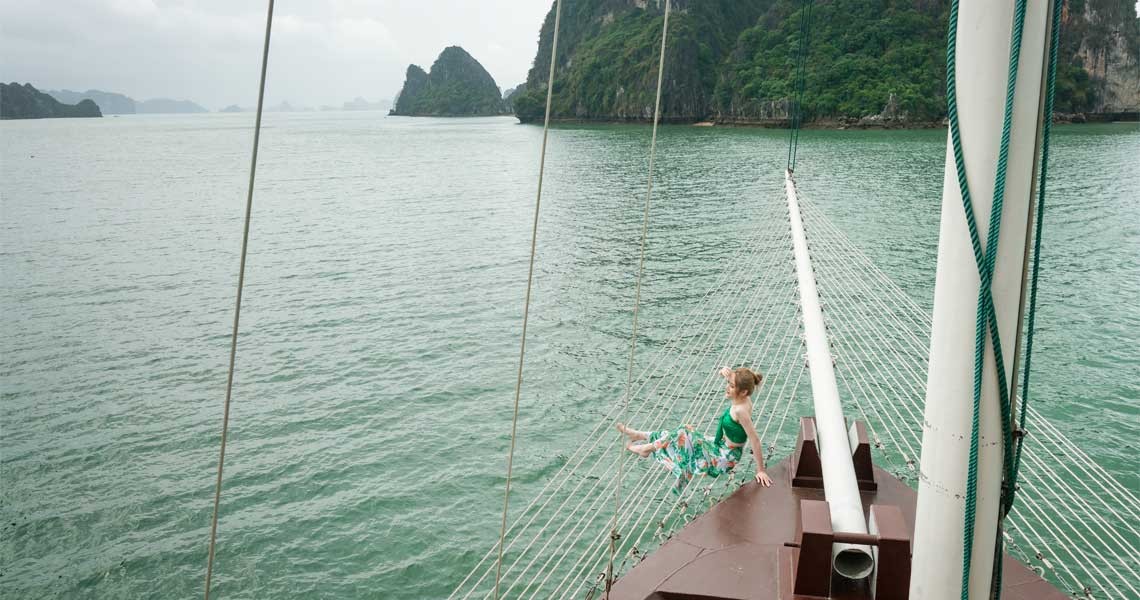 Our Deluxe balcony cabins, which are on the first deck, have wonderful views of the lovely bay. The balcony is the ideal location for unwinding, sipping drinks, and taking in the sea air. Each cabin is 25 square meters in size, comes equipped with an en-suite bathroom, and has everything you need for a comfortable stay. This suite is suitable for a group of 2 adults and 1 kid.
Located on the top deck, the Executive balcony cabins have a larger balcony and panoramic windows in addition to the traditional decor and contemporary furnishings of the Deluxe balcony cabins. Couples or honeymooners should definitely choose one of these rooms. The maximum number of guests allowed in this suite is 2 adults and 1 child.
Located on the first deck, the size of the room is 40m2 which provides the tourists with a large private balcony with a panoramic view. The Sena Terrace Suite cabins are among the largest and most luxurious suites available on Sena Cruises. They feature a large terrace and spacious cabin, as well as an elegant, practical, and contemporary setting with carefully chosen furniture. This suite is suitable for a family of 3 adults and 1 kid.
Overview
Sena Cruises is the ideal lens through which tourists can view the splendor of Lan Ha Bay tours in Halong Bay - a UNESCO world heritage site and a priceless gem in North Vietnam.
Sena Cruises is the ideal option for cruising services to explore this amazing landscape as the paradise on earth that it is, with an exceptional all-inclusive experience in a genuinely authentic oriental cultural setting. In 2018, Travelers' Choice on TripAdvisor ranked Sena Cruises among the top 15 cruises in Halong and the entire world.
Sena Cruises is a well-known brand in Vietnam and is a traditional and inviting boutique cruise operated by Swan Cruises. Sena Cruises guarantees to provide its passengers with the most memorable experience by upholding standards and going above and beyond.
Let's come along with Halong Bay Cruise Deals on the journey to explore this stunning cruise.
Highlights
Sena cruises design
Sena Cruises carefully considers all design elements, from the exterior to the interior aesthetic, when presenting the traditional culture of Vietnam so that the ship can embody the heartbeat and spirit of the long-ago civilization. Sena Cruises is like a harmonious combination of traditional boutique style, stunning natural scenery, and attractive destinations. Moreover, it also offers big-ship amenities in an ample space. The 16 cabins and suites have a luxurious interior design that features vibrant colors and high-end wooden furnishings. Each apartment has a private balcony or terrace with a stunning view of the bay.
Culinary
The second thing that cannot be missed when going on these Lan Ha Bay cruises is the wide range of food that it offers. At Moonlight and Lotus restaurants, you can find a combination of Asian and Western delicacies at the same time. In particular, the menu for Vietnamese food will be absolutely amazing with the chance to try the cuisine and seafood from Ha Long Bay like Halong Jellyfish & Pineapple Salad or Grilled Sea Bass with special sauce and served noodles. The menu changes according to the season, but the quality of the food is still guaranteed, so do not worry that the food will not be to your taste. Moreover, the food will be served in different styles, and you can either choose a set menu or a buffet based on your preference. You will have the once-in-a-lifetime opportunity to enjoy a special sparkling top-deck dinner.
Sundeck
The Sena Cruises are quite small, so they are especially suitable for a Vietnamese family tour or for a small group of people. The luxurious comfort of the cruise is enhanced by a wide range of excellent services and amenities. While there are many different dining options at the exquisite restaurant and bar, visitors can unwind with a variety of massages and spa services at the cruise spa. Or if you prefer a calm setting to lose yourself in the intriguing stories inside the books, there is a tiny, utterly classic library where you can spend some quality time. Furthermore, there is a sizable sundeck with lounge chairs where guests can enjoy drinks while watching the sunset.
Facilities
Water sports (non-motorized)
HANOI - HA LONG BAY - LAN HA BAY
08:00 - 08:30: Pick-up around Hanoi Old Quarter.
11:30 - 12:00: Arrive Tuan Chau Harbor.
12:00 - 12:30: Transfer to the main boat by tender. And you have arrived at Sena Cruise. Welcome to our boat!
13:15 - 13:45: Enjoy fabulous buffet lunch on the Sena cruise while contemplating the stunning view of Lan Ha Bay.
15:00: Explore Lan Ha Bay.
Option 1: Sena Cruise – Luxury Boutique Cruise reaches the Three Peach area (if the weather permits).
Option 2: We will visit the Dark and Bright Cave - famous for the pristine natural beauty and poetic, attractive seascape of Lan Ha Bay.
17:00: Return to Sena Cruise. You can rather choose to participate in our sunset party on Lan Ha Bay or take part in the cooking class to discover the mystery behind the famous Vietnamese spring rolls dishes.
19:00: Savor deluxe dinner. Please reward yourself with a wonderful time in our luxurious restaurant. You can drink cocktails in the panoramic bar, watch movies inside the restaurant, or go outside for squid fishing activities. The night will be spent on our cruise.
FULL DAY ACTIVITIES IN LAN HA BAY (B, L, D)
06:00: Participate in our Tai-chi session for a refreshing day.
07:00: Have a light breakfast.
8:00-8.30: Transfer to the Viet Hai village - Just like Sleeping Beauty, Viet Hai village is surrounded by high mountains, thick jungles, and a vast ocean. And if you want to see it, you will need to either take a boat or trek through the jungle for hours. But its beauty and the experience are the things that you do not want to miss.
13:00: Have lunch.
14:00: The cruise takes you to the pristine beach area. Here you can dip into the emerald waters. Swimming to see corals or you can also reach some secluded beaches for a while relaxing lying on the sand...
16:00: Go back to Sena Cruise.
19:00: Enjoy Dinner - Please reward yourself with a wonderful time in our luxurious restaurant. You can drink cocktails in the panoramic bar, watch movies inside the restaurant, or go outside for squid fishing activities. The night will be spent on our cruise.
Meals: Breakfast, Lunch, Dinner
LAN HA BAY - HA NOI (B, L)
06:00: Participate in our Tai-chi session for a refreshing day.
07:00: Having light breakfast.
08:15: Explore Frog Pond Area. Join kayaking & swimming to explore the Frog Pond area - the famous filming location for Kong Skull Island (King Kong) in Quang Ninh in 2018.
09:30: Return to the boat for check-out.
10:00: Lunch time. A set menu will be prepared for your lunch. At this time, you have the option to go to Cat Ba island, make sure to inform us in advance so we can schedule the time for you.
11:30 - 12:00: Disembark Sena Cruise and farewell the crew and back to Hanoi by bus.
15:00 - 16:00: Arrive at your hotel in Hanoi Old Quarter, end of an unforgettable trip.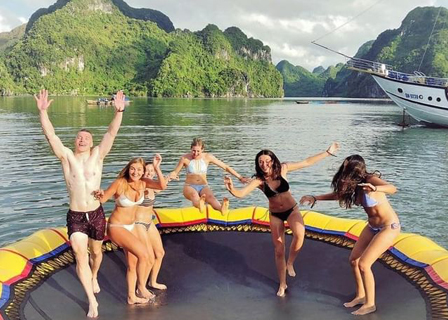 Inclusions
Fully furnished cabin with private ocean view balcony.
English-speaking guide on board.
All meals onboard are mentioned.
Complimentary 2 bottled water in each cabin.
Entrance and sightseeing fees.
Kayaking (02 people share a kayak).
Cooking class.
Includes Taxes & Fees
Exclusions
Limousine/ private transfer Hanoi - Halong - Hanoi (upon request).
Spa and massage, beverages, personal expenses.
Surcharge on Christmas, New Year, and Lunar New Year.
Tips for guide/driver/crew.
All other services and items not mentioned specifically above.
"So fun and pretty"
A fantastic tour with stunning views, I took many beautiful pictures here. Supper informative tour guide, he was very kind. The view was cool and the food was delicious, really enjoy this tour!
"A lot of interesting activities"
Nice time in Halong Bay with many interesting activities to discover this beautiful place. The itinerary was really detailed so I could enjoy the time in Halong Bay the best. The service was good too. Squid fishing was fun but I was unlucky, I didn't catch any squid. Highly recommend!
"Lovely tour in Halong Bay"
My husband and I had a great time in Halong, everything was good, our tour guide was so nice, he gave us a lot of interesting information. Besides, Lan Ha Bay is so stunning, I love it. Admiring the sunset on the top deck of the cruise is one of the best experiences I have!
"pleased about most of the things, except tha the food was tasty but not enough"
I picked this cruise because it's not too big and the cozy feel it gives off. My girlfriend and I enjoy a 2d1n cruise with Sena and were very pleased about most of the things, except that I think the food was tasty but not enough. I still feel hungry after dinner on the first day (even though gf forced me not to say this out loud) but I think the cruise can improve this. Thanks, we will rcm for friends.
"Halong Bay with my wife. An unforgettable journey in Vietnam"
That was a fantastic trip with my wife. Much more than we expect. The view was spectacular, especially after sunset. Of the different activities we participated in, I particularly loved the cave tour, the culinary class, and the Taichi and kayaking lessons on the second day. They provided plenty of tasty meals and even offered us a beverage because we were on our honeymoon. Very 10/10!
"love both cruise and sight. many thanks to halongbaycruisedeals for the quick booking"
K was the name of our tour guide. He was amazing! Extremely polite, attentive, informed, and amusing! The ship was beautiful. The service was outstanding. Lunch, a culinary lesson, nighttime squid fishing, and early morning Tai Chi were all fantastic. The great experience on the boat made the sight of Halong even more enjoyable. Thanks a lot!
"Awesome!! I enjoyed the sights of halong, got to meet nice people and learnt cooking!"
First I want to mention the crew onboard - so kind and generous, and the service was excellent. During the trip, I celebrated my birthday, and they graciously surprised me with a cake after dinner! The bed was quite comfy, and I highly recommend the cabins with a balcony. On the first day, we went swimming in the afternoon, and the water was beautiful. The next morning, we went kayaking, and the ocean was incredibly beautiful and serene. Every dinner was fantastic, and we had lots of vegetarian alternatives. Before supper, we had a brief culinary lesson in which we learned how to prepare fried spring rolls, it's easier than I thought (guess it's bcs of the talented chef) Overall, it is worth the money.
"Great Cruise with Helpful Crew. Manh was the most impressive staff"
Beautiful views of Halong Bay, as well as a pleasant staff and crew. Thank you for your hospitality, Manh; hope you can have more guests and happier.
"Acceptable experience. We didn't feel full after the meals"
I had a pleasant but not too outstanding experience on a Sena cruise. We viewed Halong Bay and stayed for one night. The itineraries were hurried in my opinion, while the available services onboard were quite enjoyable. The personnel and our guide were very courteous. The meals was of high quality but not in quantity... We didn't feel full after eating.
"I feel happy about the tour. If you want to book Sena cruise, go ahead bcs it's just like the online information"
Gam is very helpful in helping us choosing the rightt cruise The cruise was great, just like in the online photos. Crew is also great. Wonderful meals and good rooms. Thanks you guys
"The ship's crew is very helpful and smiley. The cabin is neat and clean. The food is varied and tasty."
All is good. Our guide, Tommy is excellent and kind. We will remember the stories he told about Halong and people here. Thank you very much everyone
"Tks Halong Bay Cruise Deals for helping us choose the right cruise."
Halong Bay was magnifique & beautiful! Highly recommend this cruise especially for the friendly and HELPful guide. 👍👌👍. Thank You and I'll find u next time I visit Vietnam.
"We took 2d1n cruise but wished it had been longer. Miss the cozy cruise"
This was incredible! The service was excellent, we had plentiful good food, the accommodation was large and clean, and our tour guide was a lot of fun and took excellent care of us. The sights were breathtaking. We took 2d1n cruise but wished it had been longer. We took a cooking lesson, explored on a tiny boat, swam off the back of the boat, and kayaked the next morning,... This cruise is highly recommended. We enjoyed how cozy the cruise was.
"Amazing experience, we will do it again if we come back to Vietnam"
The tour was fantastic from start to finish, and our tour guide did an outstanding job. The shuttle van was comfortable enough for the nearly three-hour travel. Sena Cruise provided excellent customer service on board, paying close attention to details. The design and atmosphere make you feel at home, not to mention the amazing sightseeing of Halong Bay. I will absolutely suggest this tour.
"A night on the pleasant Sena Cruise with my friends"
Sena cruises' crew provided an excellent greeting. We got two fantastic suites, each with a balcony overlooking the stunning scenery of Lan Ha Bay. Even if the weather could have been better, we could still swim in the bay. The crew was quite courteous, and Mike, the tour leader, was well-informed about both Ha Long Bay and Lan Ha Bay. It was a lot of fun kayaking to the floating farm. I suggest the cruise if you want to spend a night on the sea in beautiful surroundings.
"Sena cruise was excellent. Love that the dishes balanced between west and asian"
We spent two days and one night, in the Balcony Executive Cabin cabin of this ship. Everything is perfect. Our guide is Kien, a friendly, highly knowledgeable man, and Tai chi teacher is amazing ! ! ! Food is also great! ! Visit the island, the cab and have a lot of funs Highly recommended
"Good trip on a small but comfy cruise. Thanks David for being so energetic and helpful"
The whole package offered by Sena Cruises is phenomenal. The ship is brand new, the right size (16 cabins) and offers all that you will appreciate. The meals are excellent, the cabin is well designed and simply enjoyable, all the staff are friendly and customer oriented. Our guide was David - and he made all the difference to the trip - very energetic, very friendly, open and knowledgeable (and excellent English). Well done...we had a great time and learned a lot.. wish all tour guides were like him... Highly recommend
"love the journey, especially the visit to Viet Hai village. people were so friendly"
The staff is dedicated and friendly, ccruise is very new and quite clean, meals are excellent , tour guide is very funny , see you again one day not far.