Aphrodite Cruises 3 days 2 nights
Hanoi, Halong Bay, Sung Sot Cave, Cua Van Fishing Village, Titop Island, Luon Cave, Hanoi
Launched: 2012
17 Cabin(s)
Overview
As one of the first 5-star cruises in Halong Bay, Aphrodite Cruises doesn't choose modern grandeur style like emerging iron boats but made an effort to maintain the traditional Asian charm of a wooden boat to bring to customers a distinctive experience.
With 17 cabins classified into four different classes, you will surely find the same bountiful pleasure you would expect from any 5-star service by the contemporary furniture and carefully selected decorations. It does not matter whether you travel alone or with family, friends, or on a honeymoon with your partner, Aphrodite Cruises will make your trip to Halong Bay one of the utmost splendor.
Whether you are on the gorgeous open-air sundeck, in the lavish dining room, or in a state of bliss in the Jacuzzi or sauna, the staff are trained to provide a high-class service befitting of a world-class destination.
HANOI – TUAN CHAU – HALONG BAY
07.45 – 08.15: You will be met by the tour guide and driver to transfer to Tuan Chau island within 3.5 hours.
12.00 - 13.00: Arrive at the harbor then be escorted to Aphrodite Cruises to enjoy a welcome drink as listening to the captain briefing.
13.00 - 15.00: Enjoy an energetic lunch while cruising into the core of the UNESCO site and a short rest before the exploration.
15.00 – 16.15: Be transfer by small boat to Surprising cave to be amazed by thousands of year old tectonic magnificence.
16.15 - 17.15: Visit the most beautiful island in Halong Bay, Titop for trekking and swimming.
17.15 - 19.00: Come back to the cruise for a cooking demonstration and Happy Hour for the drinks.
19.00 - 21.00: Gain energy after a big exciting day.
21.00: Time for relaxing, star gazing or squid fishing with local men.
UNCOVER THE UNTOUCHED PART OF HALONG
06.15 - 06.45: Welcome the first light of the day with a Tai Chi class.
06.45 – 07.30: Savor a light breakfast on the big cruise.
07.30 – 09.15: Transfer to a day boat trip and cruise to the most primitive place of Halong bay that the big cruise cannot reach.
09.15 - 10.30: Either kayak around the Cua Van Fishing Village or take a locally-rowed sampan boat to both relax and enjoy nature.
11.30 - 13.00: A lunch with local cuisine will be provided on the day trip boat.
13.30 - 14.45: If you are a big fan of discovering nature it is another chance for kayaking around Drum Caves.
16:00: Come back to Aphrodite Cruises after a busy day kayaking Halong Bay. Take advantage of happy hour at the bar from 17.00 to 19.00.
19.30 - 21.00: Enjoy dinner with new friends.
21.00 Onward: Spend the evening at your leisure with a selection of movies or at the bar, drinking under the starry night's sky.
Meals: Breakfast, Lunch, Dinner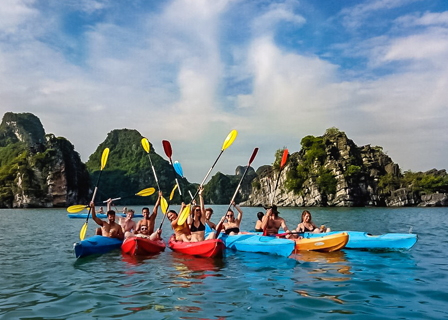 LUON CAVE – TUAN CHAU – HANOI
06.15 - 06.30: Hunt the photos of the sunrise in one of the most fabulous places in the world.
06.45 - 08.30: Eat a light breakfast to get ready for kayaking at Luon cave area.
09.10 - 10.30: Cruise back to the harbor while enjoying the brunch.
10.30 - 11.00: Get back to the luxury van to go back to Hanoi capital.
15.30 – 16.00: Arrive in Hanoi.
General Information
Bus pick-up time: 7:30 AM - 8:00 AM
Check-in: 12:00 PM - 12:15 PM
Check-out: 10:45 AM - 11:00 AM
Return Hanoi by bus: 3:30 PM – 4:00 PM
Shuttle bus pick-up & drop-off point: Hotel in Hanoi Old Quarter or in front of Hanoi Opera House
Booking Policy
50 % of the total cost is required to secure the booking.
The remaining balance is to be paid 15 days prior to the departure date.
In some special cases, you will be required to pay the full cost or a number greater or smaller than the standard 50% to secure your booking.
In some special cases, the deadline for payment will be required sooner or later than the standard 15 days prior to booking.
Cancellation by Halong Bay Management Board due to bad weather
If the cancellation is made by the Halong Bay Management Board, the following policies will be applied depending on the time of cancellation.
When a cancellation is made before departure date- check-in date (if no services have been used): 100% refund.
When a cancellation is made during the trip (some services have been used such as transfer, food, some amenities, etc.): used services will be charged, the rest will be refunded.
When a cancellation is made before or during the departure date and the trip must be shortened from 2 nights to 1 night, 2 days 1-night trip, plus other used services will be charged, the rest will be refunded.
The final cost will be confirmed by your consultant via email. In all cases, please contact us directly for any urgent help. We are here to support you!
Note: In case of a cancellation decision made by the Management Board of Halong Bay, an alternative travel arrangement will be made on request, or you will be refunded in accordance. In all cases, please contact our travel consultant via email or phone for support. We are always willing to provide you with any assistance you may need on or off the board.
Cancellation by Customer
More than 33 days prior to check-in ( departure date): Free of charge
From 33 to 15 days prior to check-in ( departure date): 10% of total rates
From 14 to 8 days prior to check-in ( departure date): 20% of total rates
From 7 to 4 days prior to check-in ( departure date): 50% of total rates
Less than96 hours prior to check-in ( departure date): 100% of total rates.
No-Show: 100% of total rates
*** Cancellation notice from the customer must be sent to us via email. Refund will be processed between 10 -15 working days.
Important Notes
PROGRAMS & SCHEDULES SUBJECT TO CHANGE WITHOUT PRIOR NOTICE.
In case of adverse weather conditions in Halong Bay, the cancellation will ONLY be made by the Halong Bay Management Board. Usually the announcement will be declared very close to or on the departure date and our refund policy will come into effect.
Inclusions
Welcome Cocktail
Entrance and Sightseeing Fees
English speaking Tour Guide on board
Cruise Itinerary and Program
Personal English speaking butler
A la carte menu: unlimited order
Unlimited house wine, local beer soft drinks, mineral water, tea, coffee
Luxury Cabins and Suites with A/C
Luxury en-suite Bathroom
Kayaking & snorkeling equipment (subject to availability)
Tai Chi Session, Cooking Class
Insurance
Includes Taxes & Fees
Exclusions
Round trip transfer from Hanoi to Halong Bay
Airfares and Visa Stamp fee
Hotel Accommodation
Beauty Spa Services & Massage
Tips and other Personal Expenses
All other services not clearly mentioned above
Surcharge for check-in on Lunar New Year, Christmas Days: 24th Dec, New Year's Eve: 31st Dec
"An amazing trip through Halong Bay!"
We recently returned from an amazing trip through Halong Bay with Aphrodite cruises. We were picked up from Hanoi and taken to the office in Halong Bay where we waited for the cruise to depart. We were greeted on board and the crew who were professional and courteous. They did everything they could to make the trip memorable for all passengers. The food was great and they made sure they would cater to everyone's dietary needs. Excursions were well organized and just a good taster of what life was there for the local fishing communities as well as the history of the region. Big thanks once again to all the staff on the boat. This trip is something anyone who goes to North Vietnam should do.
"The best trip in Ha Long Bay!"
We went on a luxury cruise with Aphrodite for a journey of 2 days, 1 night in Halong bay. The great yacht, amazing food, incredible scenery, and good value for money with Halong bay cruises deals. Professional service too. I would definitely recommend this cruise but would advise staying on an extra night if you have the time as it is quite a long drive from Hanoi.
"I highly recommend this cruise option at Halong Bay."
We chose Aphrodite Cruises based on advice from our friends, and we were not disappointed. We booked the 2 days 1-night option, which I think is probably the best bet. The accommodations on the boat were very comfortable, and compact as one might expect on a ship of this size. The bed was very comfortable, clean, and the bathroom with a bathtub was just fine. After boarding, we set sail almost immediately and were served lunch. The food was very good, but the pace of the service was a little slow. That is really my only criticism on the entire trip. Dinner and breakfast were buffet style, so there was no waiting. Our itinerary highlights included a visit to the spectacular cave on the Island and a visit to one of the surviving floating villages in the bay. The staff on the boat is very friendly and accommodating. I highly recommend this cruise option at Halong Bay.
"A memorable experience at Halong Bay!"
This was my boyfriend's and my first trip to Vietnam. We visited Halong Bay in North Vietnam. We were originally scheduled to be on the ship for two nights, but, due to inclement weather conditions, our cruise was shortened to one night. Nevertheless, the staff of Aphrodite Cruises was extremely professional and friendly. The food was beautifully presented and tasted well. The accommodations on the ship were comfortable and clean. We were fortunate enough to get one of the cabins at the tail end of the ship, with our own private deck, including tables and lounge chairs. The views of the bay were breathtaking and unforgettable. Our tour guide was knowledgeable and friendly. His command of English was impressive. There were many activities on the ship, such as kayaking around the bay, cave exploration, Titov Island for trekking, tai chi, and funny cooking class sessions.
"Amazing trip with Aphrodite Cruises"
Definitely no regrets picking Aphrodite Cruises as they were totally brilliant. The rest of the trip was pretty great. We got a room with a private balcony and it was really nice. The food was awesome and we really liked the cooking class session during happy hour. All their staff on the boat were very friendly and accommodating and the tour guides were very informative and helpful. These activities outside were also very exciting and I like kayaking around Luon cave most, it was a memorable experience in my life. I hope to return to Halong Bay one day, and I plan to use Aphrodite Cruises again.
"Wonderful vacation!"
I strongly recommend Aphrodite cruises with the 2-night cruise if your time allows. We booked the 2-night cruise in Halong bay with Aphrodite Cruises. I'm so glad that it gave us enough time to relax and take in the beautiful surroundings of Halong Bay. The crew is amazing and very friendly and helpful. We're so lucky to have the day boat to ourselves as we were the only people staying 2 nights. Our guide was more than we could have ever asked for, it was like traveling with a friend. I went swimming, kayaking, and fishing for clams (the chef prepared them and we had them at happy hour). Such an amazing day mainly thanks to our guide!!! Make sure you go squid fishing... Silly activities but all part of the experience. We booked the terrace suite which was amazing, but probably not needed as you don't spend too much time in your room. Make sure you jump off the boat into the water. So fun!!!
"Magnificent journey in Halong Bay!"
My friend strongly recommended I and my husband to have a journey in Halong bay. And we took a journey of 3 days 2 nights on Aphrodite Cruises. And everything made me impressed. From the perfect itinerary, romantic boat to the excellent service of the staff- I was so satisfied. Halong Bay is really beautiful and I can spend all day sitting at the balcony, drinking, and enjoying the terrific view of the bay. My husband likes eating traditional Vietnamese food and drinking at the bar. We had a wonderful time here together. Thanks all and wishing to come back soon.
"Great experience with Aphrodite Cruises!"
I thoroughly enjoyed my trip with HaLong bay cruises deals. From the journey of 3 days 2 nights, the excellent service provided by the onboard team to the return transfer to Hanoi - it all worked very well. The 2nd-floor cabin with a balcony was very comfortable with a fine shower. The food on board was on the whole pretty good with some courses excellent. The service provided by everybody we came into contact with was excellent. There were limited numbers on board and my understanding is that the whole Halong Bay cruise sector is struggling at the moment with a lack of tourists. For what it's worth I can wholeheartedly recommend that you go.
"Having an amazing time in Halong bay!"
What impressed me most during the trip was the professional service attitude of the staff on the Aphrodite Cruises. They were very thoughtful and enthusiastic ever since we boarded the yacht until we returned to the mainland. They always smile and make sure that we are having a good time. The ship is very luxurious, uniquely designed, and has many amenities. The dish was beautifully decorated and extremely delicious. At the end of the meal we also enjoyed the magic of the chef, it was really funny. Many thanks to all the Aphrodite Cruise team and I will recommend you to my family and my friends.
"An unforgettable experience in Halong Bay."
Such breathtaking beauty I have ever seen. On Aphrodite Cruises, I got a journey of 3 days and 2 nights allowing time to visit a floating village, kayak, and experience a cave that is off the beaten path. The crew was very professional and genuine. Enjoyed meeting the other guests from all over the world. Excursions are great just wish we'd had more time on the boat. Halong Bay is beautiful - definitely recommend this cruise!
"I definitely recommend the Aphrodite cruises!"
I took a 2 days, 1-night tour on Halong Bay with Aphrodite Cruises. This is an amazing trip with their cruises. The staff was really helpful and friendly. The food was excellent. And I love traditional Vietnamese foods. I feel completely happy and comfortable. Halong bay is beautiful - wish goes back.
"Such a nice trip ever with Aphrodite Cruises!"
What a memorable experience in Halong bay! A journey of 2 days and 1 night on Aphrodite Cruises, it was so awesome and I have had a wonderful time with my husband. The professional service and helpful equipped cruise impressed me. They take care and serve us very thoughtfully and always make me satisfied. The food and drink were so good. These activities were interesting; we visited a few famous caves in Halong Bay, kayaking around the bay. I wish to have more time in Halong Bay. Hope to come back in the near future with Aphrodite Cruise.
"I highly recommend Aphrodite Cruises in Halong bay!"
A relatively amazing journey in HaLong bay! I was so excited and looking forward to this trip. And indeed it did not disappoint me. The journey was wonderful and I had a completely relaxing time here. The ship is designed uniquely and full of utilities. I had a great meal, enjoyed a few cocktails at the bar and used spa service very well. The staff was extremely attentive, friendly and helpful and always making us feel comfortable. I like my room. It's spacious and airy and always clean and beautifully decorated. The trip was getting more and more interesting with the outdoor activities, explore Surprising Cave, kayaking through the caves and swimming around the bay. It was a memorable experience in my life. Thank you all for the wonderful trip.
"An awesome trip to Halong bay!"
Many thanks for Halong bay cruises deals have brought a wonderful trip and I was so satisfied. The perfect itinerary, the beautiful charm wooden yacht and professional service. On Aphrodite Cruises, I have had a lot of memorable experiences, and this is the first time I have a trip on the cruise. Halong bay is really beautiful. From the private balcony of my room, I can immerse myself in the wonderful views of the bay and have absolutely relaxing time. Besides relaxing time on the boat, we also have time to discover Surprising Cave, trekking, and swimming on the long white beach. In Surprising Cave, there is much surprising scenery such as stalactites having different and special shapes, an old banyan tree having luxuriant foliage, dinosaurs….It's so beautiful and amazing. I highly recommended this cruise!
"What an absolutely brilliant journey in my life!"
I can't believe that I just had such an amazing trip with my boyfriend. We took a journey of 3 days 2 nights on Aphrodite Cruises in Halong bay. I really love this yacht because of her beauty. It has a grand restaurant, a bar, a large open-air sundeck and lots of beautiful and traditional bedrooms. I love my bedroom so much, it was particularly romantic, unique, and comfortable with full infrastructure, it also has a private balcony. The service attitude of the staff on board was so good, they always smile and make sure you are having a good time. We have had a happy time together. Thank you guys, and we will recommend it to our friends.
"Amazing trip with Aphrodite Cruises in Halong Bay!"
So amazing! I just had a nice trip 2 days 1 night on Aphrodite Cruises and explored Halong bay. The yacht designed with the traditional Asian charm of a wooden boat to bring to customers a distinctive experience. After check-in, we had lunch at the restaurant on the yacht. It was so special, the space in the restaurant was really beautiful, the food was so delicious and fresh, and the staff on board was very helpful and friendly. Besides relaxing time on the boat, we have participated in a lot of interesting activities such as cooking class, Tai chi class in the morning, kayaking around Luon cave, bamboo boat,... I got lots of memorable experiences here and I'm absolutely satisfied with this trip. I hope so come back in the near future. Thanks, Aphrodite Cruises.