Overview
Ready for the ultimate Halong Bay experience? With the launch of the Stella Maris Cruise in 2023, you have the chance to combine luxury and discovery like never before. Offering room for up to 99 passengers, our guided tours promise 4 to 6 hours of immersive exploration within this UNESCO World Heritage site. And the best part? You can indulge in a mouthwatering seafood buffet at sea, all while benefiting from the most competitive rates in the premium day cruise category in Halong Bay.
The Stella Maris Cruise isn't just a regular boat; it's a floating masterpiece, thoughtfully designed with a modern aesthetic while preserving distinctive Indochinese architectural elements. It's a journey that combines luxury and adventure to create unforgettable moments for you and your family.
Stella Maris Cruise operates a fleet of 5-star standard vessels, committed to providing top-tier day cruises in Halong Bay while prioritizing environmental conservation and sustainable development in this iconic location. Our luxury cruise features a contemporary design, opulent interiors, and a restaurant offering panoramic views of Halong Bay. Moreover, our outdoor sundeck provides a serene space for relaxation and contemplation.
For exclusive Halong Bay Cruise Deals and a premium experience, choose Stella Maris Cruise as your gateway to an extraordinary adventure in Halong Bay!
Discovering Halong Bay - 4-Hour Day Tour Cruise (L)
7:30 A.M: Pick-up and Check-in
Start your exciting day with Halong Bay Cruise Deals as we pick you up at Tuan Chau International Port and assist you with the check-in procedures for your Halong Bay cruise package.
7:45 A.M: Welcome Aboard
As you step onto the cruise, our friendly crew will greet you with a refreshing glass of cool juice and a delightful plate of fresh fruit. Pay close attention as our Cruise Manager provides essential safety instructions. The journey kicks off as the boat departs from Tuan Chau Wharf, embarking on a voyage to explore the mesmerizing Halong Bay on your day tour cruise.
8:15 A.M: Scenic Marvels
While relishing a sumptuous lunch, the cruise sets its course to unveil the most enchanting sites in Halong Bay, included in your Halong Bay holiday package. Take in the breathtaking vistas of landmarks such as Heaven Gate, Dog Stone Island, Perfume Peak, Hoa Cuong Bay, and Ga Choi Islet. Mother Nature has thoughtfully placed Thumb Rock here, bestowing a message of beauty and grace upon all those who traverse the ancient waters.
9:00 A.M: Cave Exploration
Your experienced tour guide will lead you to the awe-inspiring Thien Cung Cave and Dau Go Cave, the most magnificent and extensive caves within the Halong Bay cave complex, all part of your day tour cruise package. From there, we continue to Ba Hang, a renowned destination characterized by its picturesque cave system. This place is steeped in the history of a fishing village, which once thrived in the area and was the earliest fishing community in Halong Bay.
10:30 A.M: Gourmet Seafood Lunch
Revel in a delectable seafood feast at our luxurious on-board restaurant. Savor special seafood dishes, expertly crafted with the finest ingredients that the Halong Bay luxury cruise has to offer.
11:30 A.M: Return to Tuan Chau Wharf
With lasting memories in your heart, our cruise makes its way back to Tuan Chau Wharf, concluding your remarkable 4-hour exploration of Halong Bay, a highlight of your luxury cruise deals.
Hanoi to Halong Bay - The Ultimate Day Trip (L)
8:10 AM - 8:50 AM: Hotel Pick-up
We'll begin our adventure by picking you up from your hotel in Hanoi's charming Old Quarter. Prepare for a day of excitement and discovery!
11:45 AM - 12:00 PM: Arrival at Tuan Chau Harbor
As we arrive at Tuan Chau Harbor, you'll be welcomed on board. Get ready to savor a delicious set menu lunch featuring traditional Vietnamese cuisine while we cruise through the captivating landscape of limestone islands.
1:30 PM: Explore Sung Sot Cave
Step into the enchanting Sung Sot Cave, Halong Bay's longest, largest, and most exquisite grotto. You will be awed by its natural beauty.
2:45 PM: Luon Cave Adventures
We'll set sail for the captivating Luon Cave area. Here, you have many things to do in Halong Bay such as options for kayaking or bamboo boat rides, or simply relaxing on board and soaking in the tranquil surroundings.
3:45 PM: Titop Island Discovery
Visit the picturesque Titop Island, a pristine destination perfect for swimming and hiking to the Titop peak. Capture breathtaking panoramic photos of the bay, creating unforgettable memories. Don't forget to bring your camera to check in thousands of photos!
4:30 PM: Sunset Party
Prepare to be enchanted by a magical Sunset Party. This serene moment allows you to unwind after the Halong Bay day cruise's activities. Sip on red wine, savor French fries, and enjoy an assortment of delightful fruits as you watch the sunset over the bay.
5:45 PM - 6:00 PM: Return to Halong Harbor
We'll make our way back to Halong Harbor, disembark from the cruise, and board the bus for your journey back to Hanoi.
8:30 PM - 8:45 PM: Arrival in Hanoi
Arrive in Hanoi, where we will drop you off at your hotel in the Old Quarter area, bringing this incredible journey to a close.
Don't miss this chance to experience the wonders of Halong Bay. Book your day trip now and be part of this unforgettable adventure!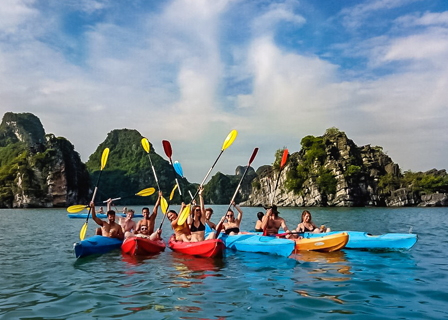 Inclusions
Complimentary bus transportation to and from your hotel located within Hanoi's Old Quarter.
Knowledgeable English-speaking guide to enhance your experience, including a refreshing bottle of water during your bus journey.
Sumptuous lunch served aboard the cruise, featuring an enticing array of dishes.
All entrance fees are specified in our detailed itinerary.
Access to exhilarating kayaking or bamboo boat experiences, providing an opportunity to get up close and personal with the beauty of Halong Bay.
Includes Taxes & Fees
Exclusions
Beverages and travel insurance.
Gratuity for the tour guide, driver, and any personal expenses you may incur.
Any additional items or services not explicitly mentioned in the program.