Saving Up to $15/pax for kayaking service.
Policy
FREE 01 Kayak ( 2 people) with each cabin.
This promotion will not be convertible into cash or discounted.
Free shuttle bus roundtrip transfers Hanoi - Halong Bay - Hanoi.
Policy
Only applicable for new booking.
Rebooking or cancellation is not permitted.
This promotion will not be convertible into cash or discounted.
Limited offer & Availability - Book Now Today!
Overview
Being the newest member of a company with almost 10 years' experience, V'Spirit Cruises, the Escape Sails is a cruise with a distinguishable heart which is eager to show you the verdant scene of mystical Halong Bay.
Aboard the Escape Sails cruise, you will always feel the embrace of safety, thanks to its structure of solid iron beams. The decoration of hauntingly sumptuous wood and the crowning of magnificent brown sails make the boat a luxuriant but cozy "home away from home".
Cruising on the luxury Escape Sails gives you the opportunity to see the southern part of Halong Bay which is called Lan Ha Bay, far fewer boats yet discover but as beautiful as their more famous sister. Here you have a chance to go swimming, kayaking or bamboo boat rowing and enjoy the atmosphere of Lan Ha Bay with a lot of amazing limestone islands.
With the incredible design of double sundeck and an excellent sophisticated bar, on the Escape Sails Cruise, you are encouraged to sit back and drink it all in, either at the bar or out on the sundeck, your wonderful experience will be ensured. The sundeck is also the place where you join an enlightening cooking class and an enjoyable fruit-carving demonstration. An afternoon tea service in a Western style is prepared for you after that.
Highlights
Shorter Transit, Longer Cruising
Our excellent service is provided to you right from the convenience without much time to spend on the road from Hanoi. Taking only 2 hours for transferring from Hanoi, the transit gives you an unparalleled 7 hours on the bay; almost double the normal route of other Halong Bay day tours. Our luxury transportation offers you an exceedingly relaxed journey with comfy chairs and air-conditioning.
A Less Travelled Route
In order to show you the isolation of the bay, the Escape Sails chooses an innovative route taking you through Halong Bay's quieter waterways, the Lan Ha Bay. This outstanding seascape with emerald waters, splendor limestone mountains, and lush tropical canopies unfurl from the deck of the Escape.
Welcoming Hospitality
Aboard the Escape Sails, you will be welcomed and served with Vietnamese hospitality. Our staff with traditional uniforms and a regular smile will promise to bring your Halong Bay cruise back to its simplest form, where you are more than a customer, but a guest to our gorgeous homeland.
Hanoi – Lan Ha Bay – Bright Cave – Got Harbor – Hanoi
7:30 - 8:00: Our luxury transfer will collect you from your hotel inside Hanoi Old Quarter to start the journey along the smooth Expressway to Got pier in Hai Phong city.
10:00 - 10.30: Arrive at Got pier, spend a short time to relax in our waiting lounge before embarking the Escape Sails Cruise. Here, a welcome drink is served while the itinerary for the following 7 hours of cruising time is presented.
12:00: A multi-choice lunch awaits you in the dining room as the Escape Sails Cruise starts cruising. Pass by some famous islets of the bay, including Da Chong islet and its 100-year old French lighthouse.
14:30: First stop of the day is the Bright Cave. Here you have 2 options to choose from: either kayaking through the silent waters to enjoy the quietness of the area with your own hand or sitting on a local-rowed sampan boat through the Bright Cave, a hidden lake enclosed by marbled cliffs and their tree-topped mounts.
15:30: Back to the Escape to relax on the two sundecks and relish the remarkable sights of the majestic bay. Take your chance to participate in a cooking class and fruit-carving demonstration led by our chef. Western-style afternoon tea with accompanying snacks is prepared following.
As the boat cruises back to the pier, you will have time to enjoy swimming in the clean water and quiet area of Lan Ha Bay.
17:30 – 17:45: Arrive back at Got pier, disembark the boat, and board the luxury bus to return to Hanoi.
19:45 – 20:00: Your Lan Ha Bay day trip with the Escape Sails Cruise ends when the driver drops you off at your hotel in Hanoi.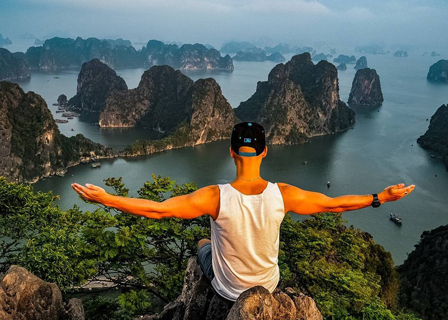 Children Policy
Children under 04 years old: Free of charge
Children 04 to 09 years old: Charge 75% rate of adult
Children from 10 years old and above: full charged as adult
Inclusions
Luxury Shuttle bus: Hanoi – Got Harbour – Hanoi (Hanoi Old Quarter ) with Complimentary bottled water.
Kayaking/Sampan boat.
Lunch on Lan Ha Bay Day cruise.
Professional English Speaking Guide.
Entrance fees and sightseeing tickets in Lan Ha Bay.
Lan Ha Bay Day Cruise Trip.
Includes Taxes & Fees
Exclusions
Meals or drinks not mentioned in our itinerary.
Travel insurance.
Pick up/drop off outside Hanoi Old Quarter.
Tips for guide and driver.
Personal expenses.
All other services not mentioned in the itinerary.
"Beautiful cruise in Lan Ha Bay"
The limousine bus for the transfer and the day boat was nice and comfortable. The cruise itinerary included a lot of interesting activities like kayaking or rowing bamboo boats, swimming, Vietnamese cooking demo, and sunset party with tea, coffee, fruits, and snacks on the top deck where we could get the best views of Lan Ha Bay at a magnificent moment. Our tour guide on that day was Quynh – a very accommodating and knowledgeable person. She shared with us a lot about the stories and legends of Halong Bay and Vietnam. To be honest, we had an amazing day with Quynh and Escape Sails. Thank you so much!
"Lan Ha Bay cruise trip on a nice day"
Our tour guide, Mike was nice and friendly, and helpful as well. Halong Bay and Lan Ha Bay weather on that day was sunny, so we could have the chance to enjoy the spectacular views of the bays. Must say that it was so beautiful. Highly recommend Escape Sails.
"Beautiful cruise!"
Luckily, on the day we joined the cruise, the weather was so perfect. Lan, the tour guide, and the cruise team made our cruise trip perfectly. The food for lunch was plenty and delicious. I also tried Vietnamese wine, rather good. My trip to Vietnam was better with Escape Sails. Recommend!
"Great cruise and quick deluxe transfer"
We didn't want a long transfer from Hanoi to Halong Bay. I had heard that it had taken around 4 hours to drive, so I decided to go with Escape Sails once I was informed about 2.5 hours only for transferring on the expressway. There was a stopover on the way for a short break. The views from the boat were breathtaking and peaceful. We could go kayaking through a cave and see a heap of fish in a farmhouse. We also had the best tour guide, Lan who guided us on the trip. She had a rich knowledge about Halong Bay and Vietnam, and a sense of humor as well. Highly recommend Escape Sails.
"Fabulous day trip"
We had a fantastic day from Hanoi to Lan Ha Bay. Lan, our tour guide, was very knowledgeable and attentive to ensure all passengers enjoyed the trip and all activities took place smoothly. Everything with Escape Sails was excellent from kayaking, rowing boats, cooking class, swimming, or serving amazing food for lunch and sunset party.
"A day trip you should join when visiting Hanoi"
We had a wonderful day trip across Lan Ha Bay. the tour guide, Quynh supported us during the journey from the hotel in Hanoi to Lan Ha Bay and returned. She did a great job of informing us clearly step by step of the cruise itinerary and gave us so much information and interesting experience that we expected. We sailed an incredible itinerary with the lovely Escape Sails and went kayaking and swimming. My most favorite activity was to kayak around the cave area to explore Lan Ha Bay and see a wild nature. One more plus was a delicious lunch on board. Must choose Escape Sails for your trip!
"Absolutely Wonderful Cruise"
There was no doubt that Escape Sails was the best cruise I had ever been on so far. A short transfer from Hanoi, only 2.5-hour drive on a very comfortable and luxury bus. The day boat was beautiful and spacious with 2 upper viewing decks for relaxing and enjoying the views of the bay. Our lunch was served in a nice restaurant with delicious food. And about the tour guide, Lan was a great person and very knowledgeable and informative. Halong Bay itself had incredible views to enjoy. You could join kayaking or bamboo boat rowing to explore the beauty of the bay. Then took time to swim to refresh yourself. Should not miss out the trip with Escape Sails. Thank you, Escape Sails for so many remarkable experiences.
"Ha long bay with Escape Sails"
We booked a day trip to Halong Bay from Hanoi. On the departure date, we were picked up at the hotel punctually by a tour guide named Lan. She was very informative to give us much information not only about Halong Bay but also about the history of Vietnam. We had sailed with Escape Sails through hundreds of limestone islands and islets. We went kayaking to explore the caves and then sailed to another site to jump off the boat and swim. We were served a 6-course meal, which was excellent. All staff on Escape Sails were friendly and nice. Definitely must visit Halong Bay with Escape Sails.
"Relaxing luxury cruise"
We chose Escape Sails because it took a longer itinerary to Halong Bay than other day cruises. We didn't have 2 days for an overnight, so this would be a great choice. Lan picked us up from our hotel and we got on a luxury minibus, a nice bus. We drove to the bay and meet Escape Sails via a tender. Tea was served as a welcome drink. Then we had time to relax and enjoyed an amazing meal. We were not in rush because we had more time in the bay. We were relaxed. We could do kayaking, doing a bamboo boat ride, swimming, or just relaxing on the boat. On the way we sailed back the harbor, we could enjoy the sunset views and be served tea, coffee, fruits, and snacks. At last, we boarded on the bus and turned back to Hanoi. Lan, our tour guide was really informative and took care of us well. Big thumbs up from us to Escape Sails.
"Best day in Lan Ha Bay"
The day cruise was really nice and new. Thanks to the guide of Mike, the excursions we experienced became more interesting. Kayaking, swimming, and sailing among the islands were great.
"Awesome experience"
The limousine bus for 2-way transfer and the boat was really luxurious and comfortable. The tour guide, Quynh was nice and had rich knowledge. She was also sweet and helpful and shared with us a lot about Vietnam. The trip featured a lot of activities like kayaking or rowing the boat to visit the cave area, Vietnamese cooking class, swimming, and sunset party. Overall, the cruise and its offers were so great. Highly recommend!
"Great experience with Escape"
Although the weather was a bit foggy on the day we were on the cruise, the cruise services and the experience we had were great. It brightened our day. The ship was nice and tidy with a lot of spaces for sitting and enjoying the bay. We met the best staff, a great tour guide Lan, and experienced interesting activities. Do kayaking, it was so amazing. Wouldn't regret it!
"Sail in winter"
Mike was a really nice and professional tour guide. So we had an extremely relaxing experience with Escape Sails. He gave us a lot of information about Halong bay, its legend, and about Vietnam as well. So helpful!
"David was a great tour guide"
We had a relaxing day with David and Escape Sails. Very friendly and helpful staff, delicious food, and lovely views of Halong Bay were all we had during one-day tour. Thank you, and we will recommend Escape to anyone visiting Hanoi. Will back if possible.
"Great tour with Escape Sails!"
I really enjoyed the Escape Sails tour to Halong Bay. The bus that transferred us from Hanoi to the bay was clean and the driver was so careful. The cruise was new, big, and clean, and followed a quiet way in Halong Bay. I felt very impressed with the cruise staff that all worn their uniforms nicely. Quynh was an amazing tour guide with full of positive energy and enthusiasm. Her English was so good, and she informed us a lot about Vietnam. She was so nice to give us some free time to enjoy the boat and the amazing bay before leaving it behind. Thank you, Quynh.
"Recommend Escape Sails"
We booked Escape Sails with the best support from the cruise team. In the morning, a big and comfortable limousine bus picked us up from the hotel punctually, even a few minutes earlier. There were about 20 pages on the bus. Our tour guide was Lan, a wonderful tour guide. She shared with us the stories of Hanoi and Halong Bay. The time for transfer was just 2 hours from Hanoi to the dock, and the same 2 hours from the dock returning Hanoi in the late afternoon.
Very smoothy! We were transferred by a shuttle boat to reach the big boat. The Escape Sails was clean and spacious enough for every passenger. Lunch was served soon and so delicious and diversified. We stopped at the Dark and Bright Cave area for kayaking or rowing bamboo boats and then stopped for another kayaking and swimming in another area. Unfortunately, the weather was cloudy, but the cruise trip was still great. No complaints with Escape Sails. Highly recommend!
"Further than my expectations!"
Generally, I didn't expect too much about any group tour of one day. But Escape sails brought me a different viewpoint. It was a truly great experience with an excellent tour guide, Hoang. From the moments he picked us up in the morning, he was so friendly, fun, and informative. The transfer from Hanoi was very comfortable and fast. The day boat was spacious and nice with many seating areas inside and outside.
From my taste, the food onboard was at a medium level, but it was a multi-course meal. We also joined the cooking class of Vietnamese food. And then we enjoyed a sunset party with coffee, tea, and snacks on the sundeck while the cruise sailed back to the dock. Vegetarian food on the cruise was great, not just normal. Activities such as kayaking, bamboo boat ride, and swimming were all organized well. A 13-hour long day with Escape Sails was a good value of time and money. Couldn't recommend Escape Sails more. Just as its name, escape from the busy cities.
"Most amazing cruise"
My family and I decided to take this amazing Escape Sails through Halong Bay and Lan Ha Bay. We were all welcomed from the beginning to the finishing by our tour guide Quynh. She was enthusiastic and always took care of us. We also traveled through and got closer to the limestone mountains. Halong Bay was a real paradise. The food was catered for different requirements including vegetarian food. We also could experience to make a simple Vietnamese traditional dish. With Escape Sails, we felt like at home with the welcoming staff. Highly recommend!
"Halong Bay day tour"
We were recommended to join the trip with Escape Sails. In the morning, we met Lan at the lobby, and then took a 2-hour transfer to the harbor. It was a very relaxing cruise providing us a delicious lunch with fish, chicken, prawn, and vegetable salad. We did kayak and bamboo boats to visit the caves and then back to the boat for the cooking demonstrations. Excellent tour with an informative tour guide. Thanks for an unforgettable cruise trip. We also saw the wild monkeys in the rock mountains. They were close to us!
"Highly Recommend!"
Escape Sails is a perfect choice for one-day tour. We were picked up by a comfortable and quick bus. Just 2 hours transfer on the highway, not a long ride of 4 hours. We were served different kinds of dishes for lunch. Drinks were not included in the price we paid. And we had an amazing day with Escape Sails: kayaking, swimming, cooking class, or just relaxing on the boat. Good value for every single dollar. Would recommend!
"Excellent Tour Day Trip!"
I and my friends had a great trip to Halong Bay. Truly, we were overwhelmed by the beauty of the cave and its landscape. Everything is very natural and pristine. We can also participate in interesting outdoor activities such as kayaking, swimming, ... The service quality and amenities onboard are also very good. We hope to return next year.
"Great tour to Halong Bay"
If you have a chance to visit Halong Bay, you can choose Escape Sails for your trip. Fast and appropriate pick-up service. Our guide is also very friendly and professional. Thanks to him, we know a lot of interesting things about Vietnamese culture and people. I was very impressed with the on-board activities such as kayaking, swimming, participating in cooking class with new friends, ... Actually, I am very satisfied with this tour.
"A day trip you need to book when visiting Hanoi."
It was an amazing trip with Halong Bay Cruise Deals. We were picked up at my hotel to start the journey along the smooth Expressway to Got pier in Hai Phong city. Great foods, the magnificence of the scenery, the pure tranquility in the air, the dedication of the crew,... alls cannot be found anywhere else. And highly recommend to the people who want to visit Halong Bay.
"Absolutely Wonderful"
Great 1 Day tour with Escape Sails! Halong Bay has a wide range of biodiversity, while the surrealistic scenery has indeed featured in endless movies. I was very happy to make a Vietnamese dish in the cooking demonstration with the guidance of a master chef onboard. Finally, I would like to thank the Escape Sails' staff for their enthusiasm and friendliness. Thanks a lot!
"Nice day in Lan Ha Bay"
I had an absolutely new experience with my friends on Escape Sails to Halong Bay. This is our first time in Vietnam. However, the tour of Halong Bay Cruise Deals gave me a lot of beautiful memories and impressions of this place. The transport was clean and comfortable with ample seats. The food was abundant and delicious. All the crew was friendly and professional. And I would highly recommend this tour.
"Halong Bay full day excursion"
So glad that we chose Escape Sails to Lan Ha Bay. I enjoyed in the glamor of Vietnamese cuisine as well as global cuisine via the gifted hands of master chefs. Our meals were great and delicious with freshest and nutritive seafood. Moreover, I could forget the noise in the urban thanks to the outside activities like swimming, kayaking,... And I truly wanna thank all the staff here for their friendliness, hospitality, and dedication.
"Great experience!"
I just returned from an amazing tour with my family in Halong Bay. We are very satisfied with the Escape Sails service quality from amenities, staff and outdoor activities. Our children pinned over saying goodbye to you. I believe they really had a new and interesting experience. And we must say that Halong Bay deserves a must-visit place in our life. With its beautiful landscape and great geological value, Halong has left us a lot of beautiful impressions.
"Great Tour!"
An impressive journey was full of memories! We were picked up at the hotel at 8 am by our very nice and friendly guide. All the meals on the trip were delicious, especially the spring roll. I'm delighted to join the traditional cooking class and explore Vietnamese culture. I enjoyed the day with many outdoors activities which are also very interesting such as kayaking, swimming, exploring, ...
"Highly Recommend Escape Sails"
I'm very excited to talk about my vacation in Halong Bay, a UNESCO World Heritage Site. We have chosen Escape Sails for our trip. And we are extremely satisfied with the service of this cruise. It is fully equipped with qualified facilities and amenities along with navigation and rescue devices, transceiver, fire alarm, which ensures the highest quality of service and safety standards for customers. If I have a chance to return to Halong Bay, I'll continue to use the services of Halong Bay Cruise Deals.
"Far exceeded my expectations!"
I just had an awesome experience in Lan Ha Bay with Escape Sails. One of my favorite activities was joining a traditional Vietnamse cooking class with the master chefs. My vacation was in March when the weather was suitable for outdoor activities like kayaking or swimming. Moreover, I'm really impressed by the dedication and enthusiasm of the crews on board. Thank you for this great journey!
"Nice day in Lan Ha bay"
The cruise was breath-taking and we got sight of Lan Ha bay. The paysage was magnificent. Beside the sight-seeing, i had a chance to know more about the sites thanks to the presentater. The activities included Kayak-ing, swimming, taking pictures, etc. We had the opportunity to get a taste of the marine cuisine of Ha Long and it was very delicious. The staff and the captain were friendly and hospitable, also they let me to take the steering wheel for a while. I was satisfied with your service and i'm looking forward to coming back here again.