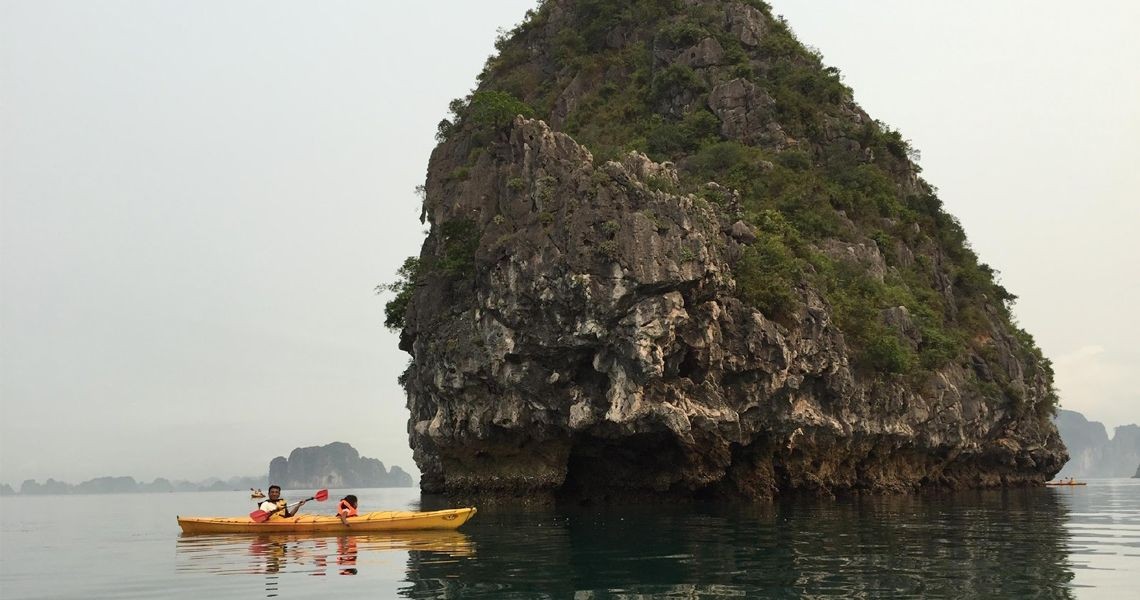 Overview Cong Do Island
Belongs to Bai Tu Long Bay and in the southeast of Halong Bay, 25km off from Bai Chay cruise port, Cong Do Island is one of the islands with the most meandering and tortuous sea-basins with wonderful natural salt lake, making it home to many species of marine life such as shrimp, crab, fish, squid, seaweed, algae. Here there is a coral reef ecosystem which is over 700m long, 300m wide with many rare coral species..
In the future, it will develop into an underground eco-tourism area. Scattering around the island is five major lakes which look like the ruby of the sea that most special highlight is the one located in a central location. These lakes are surrounded by high mountains, the highest is up to 172m high. You can absolutely see the vines intersperse small and big trees, grows beyond and clings to cliffs, runs along from down to near peaks.
Cong Do Island
In particular, the traces of the ancient Van Don ancient port in the southeastern part of the island have been preserved, however faint, but it confirms that Cong Do islands held key positions in commerce and trade with foreign countries.
Setting your foot on Cong Do Lake, you can be surprised by its awesome beauty with the lake water which is blue smooth as a giant mirror to the sky and the ecosystem is very diverse. You may easily see many algae, mollusks, bivalves, crabs, fish, and squid. Towards the beach in Cong Do, visitors have to cross the high rocky slopes, and four thick trees to go into the lake because of its wild.
Cong Do Island
In recent time, Cong Do is located in the central conservation area of natural heritage in the world. With the trip to Cong Do Island, tourists can enjoy trekking to the mountain and admire the panoramic views near the top of the hill.
The hidden lagoons make the place ideal for kayaking. Particularly, our Halong Bay Cruise Deals' tours have kayaking, swiming service, a variety of activities oboard and a great chance to explore beautiful Halong Bay. Some wonderful islands such as Titov Island, Soi Sim Island, and Cap La Island are waiting for you!
Finally, Cong Do promises to bring the most interesting experience and unforgettable trip for tourists when visiting Halong Bay!