Dragon bay Cruise 2 days 1 night
Hanoi, Halong Bay, Tuan Chau Harbor, Lan Ha Bay, Tra Bau Fishing Village area, Dark and Bright Cave, Hanoi
Launched: 2022
26 Cabin(s)
On the first floor of the cruise, there are 10 rooms. Each room has two single beds or one double bed. All of the rooms have a private balcony with a stunning view of Halong Bay. The Dragon Bay Cruise is a great place to relax because it has bathrooms with showers, walk-in closets, and windows.
On the second floor of the cruise, there are 10 double rooms. Each room has one double bed or 2 single beds. Each room also has its own balcony with a beautiful view of Halong Bay. The Senior Suite room on the Dragon bay Cruise includes a bathroom with showers, walk-in closets, and windows.
At the front of the cruise on the second and third floor, there are four triple rooms. In each room, there is one double bed and one single bed. All the triple rooms have balconies with a fantastic view of Halong Bay. Dragon bay Cruise provides a relaxing trip with bathrooms with showers, spacious closets, and windows.
Overview
Halong bay is one of the most attractive tourist places in Vietnam. Halong Bay is a UNESCO World Heritage Site, and it is known for its beautiful limestone mountains that rise up from emerald waters and have been there for a thousand years. These beautiful limestone mountains hold a lot of history and great value.
Halong Bay is Vietnam's most popular tourist spot, with more than 6 million people going there every year. Let's find out the reason why Halong bay attracts many tourists every year with our Dragon bay Cruise, we surely provide you with a fulfilling experience!
Dragon Bay Cruise offers Halong bay tours with 2 days 1 night trip with a detailed itinerary to explore Halong bay and Lan Ha bay on the luxury cruise.
Launched in 2022, Dragon bay Cruise is the new Cruise on Halong Bay, therefore, all the equipment is very modern and all rooms are well-furnished.
There is a total of 26 rooms with 3 types: Twin Cabin, Double Cabin, and Triple Cabin. You can choose the best suitable room for you and your friends or family.
All the rooms on Dragon bay Cruise are equipped with comfortable beds with large windows, letting you can watch the scenery even when you are relaxing.
Sky bar and restaurant on the third floor will definitely give you the best relaxing moment.
Explore Halong Bay and Lan Ha bay
08:00 - 08:30: You will be picked up at the meeting place in Hanoi and taken to Ha Long. (If you book a car service)
11:30 - 12:00: Arrive at Tuan Chau Harbor.
12:00: The tender takes you to the main boat. Move to Dragon Bay Cruises, have a welcome drink, and check in.
13:00: Have a delicious lunch
A wonderful lunch is given when Dragon Bay Cruises - Luxury Cruises sets sail for the spectacular Ha Long Bay, a branch of Ha Long Wonder that is considerably less busy and crowded. He will pass several distinctively formed limestone towers and islands, including the well-known Finger and Candle Islets.
15:30: Tour Ha Long Bay - Lan Ha Bay
The Dark and Bright Cave will be our next stop. It is renowned for its pure natural beauty and lyrical, alluring seascape of Lan Ha Bay. You will capture these beautiful, poetic local landmarks on camera. This is also the greatest season for visitors to enjoy activities like swimming, kayaking, or bamboo boats, which are intriguing ways to see Lan Ha Bay's beautiful sky and limestone mountains' natural splendor. Following that, tourists engage in thrilling swimming sports in Lan Ha Bay's emerald-green sea (Please prepare a swimming suit, sun cream, and sunglass with you).
17:00 - 18:00: Sunset Party, Happy Hour, and Cooking Class
Return to Dragon Bay Cruises and unwind while sailing. Ha Long Bay's sunset is approaching; sunset is special. Not just the colors but also the mood, environment, and temperature are important. Your current state of emotion. At all bars on the ship, take advantage of our "Sunset Party" and "Happy Hour Deal- Buy 1 Get 1 Free."
Cooking demonstrations allow passengers to experience great cuisine while also learning more about Vietnamese culinary traditions. You may learn how to prepare classic Vietnamese delicacies like fresh or dried spring rolls from Cruise Chef, as well as how to carve various kinds of fruits and vegetables. It's possible that other passengers may challenge you to a friendly competition to see who can prepare the meal the quickest. Finally, you may eat the food you want on your own, by yourself, or with your friends. For people who enjoy cooking and eating, this is an intriguing pastime!
Our seasoned captain will select the calmest spot to anchor for the night before supper.
19:00: Have a wonderful dinner
Savor the mouthwatering regional cuisine produced and delivered to you by our great onboard catering crew, and take in the breathtaking nighttime views of Lan Ha Bay.
21:00 – 23:00: Optional Special Activities:
Option 1: (Included)
Enjoy the night entertainment on board, including squid fishing, the delicious cocktails in our bars, movies, spa treatments, or simply unwinding in your accommodation.
Option 2 (Additional Fee):
You are taken by tender to a local fishing town to go squid fishing and have a BBQ party. You may also go kayaking and swimming there. This is the highlight - a special opportunity available only on Dragon Bay Cruise.
Dragon Bay Cruise overnight.
Experience Lan Ha bay and Halong bay
6:00: Exercising Tai Chi on the deck is a great way to start the new day. On the sundeck, you can sunbathe and watch the sunrise if the weather is good.
7:00: At the restaurant, you will have breakfast.
8:00: Discover Tra Bau floating village
Our tiny boat takes you to Tra Bau, a popular filming location for Kong Skull Island (King Kong) in Quang Ninh in 2018. Take the kayaking adventure to explore the Tra Bau region. To learn about daily living and conventional fishing techniques, you may visit the fish raft and speak with local fishermen. In order for you to view how the natives grow pearls, our conveyer boat will leisurely sail through the pearl farming community.
9:30: Return the boat to check out.
10:00: Have brunch and say goodbye to the crew.
11:30 - 12:00: Back to Tuan Chau Port
You can book the bus transfer from Halong to Hanoi in advance.
Enter Hanoi Old Quarter at 15:00-16:00. This is the end of a memorable trip.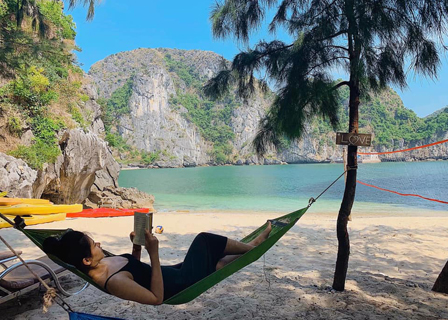 Inclusions
En-suite bathroom in each cabin
English speaking guide
All meals on board (1 breakfasts, 2 lunches and 1 dinner)
Entrance and sightseeing tickets
Cooking class
Kayaking
Welcome drink
Tax, service charge, insurance
Shuttle bus transfer Hanoi - Halong Bay - Hanoi
Includes Taxes & Fees
Exclusions
Drinks, tips and personal expenses
"Halong Bay 3 days 2 nights tour"
My mom and I had a nice time in Halong Bay with many beautiful memories. It was such a nice cruise with great service, we truly enjoyed the trip. The cooking class was really fun, I could learn more about the cuisine of Vietnam, many thanks!
"Fantastic tour in Halong with Dragon Bay Cruise"
2 days 1 night with Dragon Bay Cruise was a great experience for me, I did have a nice time here with the supportive crew team. I like the food onboard, they were nice and I even can cook Vietnamese food by myself, besides, relaxing at Ba Trai Dao beach was a happy time. Thanks for the good tour
"Love this tour and highly recommend"
I took a 3 days 2 nights tour and it was amazing, I had a nice time here to relax. I love visiting Tra Bau floating village and the local people were friendly too. The crew team was nice and supportive, the service of the cruise was good too.
"I wish I could have more time to explore Halong Bay"
Dragon Bay Cruise is a great cruise with a friendly crew team. I engaged in many interesting activities and I enjoyed them all. Love it
"I really appreciate the chance to explore Halong Bay"
An amazing trip with amazing people. Everything was great. Our family had a really nice time together. Thanks for supporting us!
"I was quite pleased with the cruise but some things could be improved"
halongbay is absolutely beautiful... The ship is nice and the welcome too We did kayaking and bamboo kayaking Unfortunately, we couldn't visit the caves as for the bad weather The Thai chi lesson was wonderful, we loved it The food is amazing but its ashame that the drinks were overpriced!
"it was a awesome trip, friendly staffs, great hospitality. Tasty food. Definitely vue for money"
The guide inquired about all guests' dietary needs, which I think is a huge plus. Vegetarian dishes were presented separately, and the portion size was more than expected. All-inclusive activities were provided, including a bamboo boat ride, swimming, kayaking, cooking demonstration, and squid fishing. The staff also celebrated honeymooners by performing songs and providing free beverages. The tiny magic performance is an added bonus. We loved the cozy accommodation with a balcony from where we could see the sunrise. The room arrived with two bottles of water (included) and a kettle, so we could brew coffee to enjoy on the balcony. With hot water, the shower is fantastic.
8.5
Canadian_traveler87
Canada
"worth it for the amazing views of Halong Bay, the rest is OK"
My friend and I chose this 5* 2 Day 1 Night Cruise. We were driven to the pier from our accommodation in the Old Quarter. This was a long journey, but we stopped twice to use the restrooms and get something to eat, which was convenient. We were transported to a tiny boat with metal seats when we arrived. Because guests be aboard this boat for quite some time before reaching the cruise, cushioned seats should be more comfortable. Our accommodation was beautiful, with amazing views. The bed was really comfortable, and the bathroom was very large. However, the room felt rather cold, so an additional blanket would have been useful. The cuisine was fantastic, which was a major worry of mine as a vegetarian. The staff tried their best to cate me, which I much enjoyed. A bamboo boat trip, kayaking, a cooking class, and morning tai chi were the activities we were offered. All of these activities were incredibly engaging and entertaining. There was also karaoke and squid fishing, although I didn't participate in any of these activities. The excursion seemed hurried because of the time. Indeed, you only arrive in Halong Bay in the afternoon and after that, there will be lunch and activities. Breakfast is at 7:30 a.m. on the next day, followed by lunch at 9:45 a.m. it's more like one day and one night than two days and one night. The staff was quite pleasant, especially Lee, our tour guide. He was amazing at explaining everything and spoke good English. Overall, I would suggest it for the opportunity to see some great sights, but be realistic about your expectations of the cruise.
"Dragon Bay Cruise 2d1n itinerary: 8.5/10 as my experience"
We just returned from a two-days, one-night trip to La Han and Halong Bay. The service and meal were both excellent. We had a great day swimming in the bay, kayaking, taking a bamboo rowing boat to an stunning cave, and visiting Cat Ba Island. The accommodations were nice, the showers were excellent, and the boat overall was of high quality. However, there was a large number of teenagers who partied till the early hours, which we did not enjoy. I'm not sure how this may be handled, but we'd like not be on a party boat.
"This is a very nice and special halong bay cruise for our family members"
Great trip on a beautiful boat. The food and cabins are also excellent. The best shower I've had since I arrived in Vietnam. Harry, our tour guide, was really helpful. The view in the harbor is spectacular, and there is much to do on and off the boat. A really memorable thing is that we met some wonderful passengers and had a fantastic time singing karaoke with them after dinner. Thank you, Dragon Boat Cruises, for a 5-star experience.
10
John fr Singapore
Singapore
"Great trip for Group of 7, I would recommend the cruise for everyone"
Harry was an excellent tour leader. He was kind, patient, attentive, and responsible. He was incredibly sporty and entertaining by getting things started on karaoke night. We had a great time together. Despite a transportation snag on the return trip with a French couple, he handled the problem with tolerance and expertise. Dragon Bay benefits from Harry.
"Good cruise for 2 days 1 night trip, both my wife and I enjoyed it"
The cuisine was good, and my room had a fantastic end-to-end window. Nice staff that is also highly attentive to dietary concerns.
"THE BEST PART IS THE VARIETY OF FOOD SERVED ON THE CRUISE."
WE WERE CONCERNED ABOUT FOOD ON THE CRUISE SINCE WE WERE INDIAN VEGEN. THEY KEEP SERVING NEW DISHES ONE BY ONE. AT ONE TIME, WE THOUGHT THIS WOULD BE THE LAST DISH. BUT THEY BRINGED NEW DISHES AGAIN. OTHER ACTIVITIES INCLUDE KYAKING, MOUNTAIN CAVE SWIMMING, COOKING VIETNAM DISHES, KAROAKE - EVENING PARTY ON THE DECK, AND MUSIC INSTRUMENT PLAY. EVERYTHING WAS OUTSTANDING. THE STAFF, THE CAPTAIN, AND THE MANAGER WERE ALL VERY COOPERATIVE. I HIGHLY RECOMMEND THE DRAGON CRUISE.
"We enjoyed a lot, everything was good they even had special treat for us for our honeymoon"
They provided us with food that we asked. The staff was very friendly and polite, offered us with various activities which were fun I would recommend it to everyone
"100% worth it. We booked this boat last minute with Halong Bay Cruise Deals and happy we did that"
We had a rocky start when the bus arrived about an hour late to pick us up, but once on the boat, everything went perfectly. The boat is fantastic; every room has a separate terrace, and the bed and bathroom are also excellent. The activities are enjoyable and well-organized, and there is plenty of delicious Vietnamese food. Victor, our tour guide, was wonderfully attentive and hilarious, and he told us many fascinating things about Halong Bay. The only minus point of the excursion is that we spent less than 24 hours on the boat.
"Amazing, Remarkable, unforgettable. Must visit in Vietnam."
The room is very comfortable. the guide Hary is very Nice! We Like the food. A lot of Food. I recommend highly
"I would recommend the Dragon Bay Cruise if you have not to much time and want to enjoy the Halong Bay experience!"
Our tour guide Victor was really helpful and kind . - Service 5/5: The entire team was quite professional. - Food 5/5: The food was great and plentiful. - Room 5/5: Plenty of space, including a nice balcony, a large bathroom, and a clean environment. - Activities 3/5: There were too many things. We had a good time and would do more if we had more time.
"Not the best as I expected more gorgeous sites of Halong. Cruise amenities are good"
Instead of taking you to the most gorgeous part of Halong Bay, they will transport you to a less crowded location. So if you want to explore unspoiled spots and more unique ones, go ahead and book. The rest was good. Thanks to the crew for amazing assitance
"The trip was wonderful we had a lot of pictures and memories full in mind."
Our cabins are really excellent, with comfy beds, a big bathroom, huge windows facing the sea, and a tiny patio. Great cuisine, but not a lot of choices for breakfast (few fruit types, only toast, no baguettes). Lee, our tour guide, also guided us on the bus. The scenery is breathtaking, and there is a good excursion to Bright Cave in boats, kayaking, and swimming. Though the services weren't 5-star, the workers deserved the tip (providing fresh plates for new dishes, etc). Absolutely recommended
"I was pleased by the profession of the cruise crew and the veg meal, it made the sightseeing even better"
Everything was great; we were not sure about vegetarian meals, but it was delicious. If you enjoy exploring caves and other outdoor activities, a day trip with Dragon Bay is fir you.
"2 day 1 night with Dragon bay cruise was value for money"
amazing vacation ever-lovely staff always smiling delicious food unforgettable views of Halong and tasty drinks I strongly rcm everyone
"Summer Roll Cooking Class, Thai Chi, Kayaking... all good quality"
Super well-organized, great food, views and friendly staff. Excellent accommodations & onboard service, and plenty of activities! Mr Lee, the tour leader, made certain that everyone was taken care of!