La Regina Classic 1 Cruise 2 Days 1-night
Hanoi, Halong Bay, Bai Tu Long Bay, Thien Canh Son cave, Vung Vieng Fishing village, Halong Bay, Hanoi
Launched: 2019
22 Cabin(s)
Overview
The La Regina Classic 1 cruise is not only elegant and luxurious but also a lovely fusion of traditional Vietnamese design. The most breathtaking views of the bay, nearby sights, and onboard entertainment are all included while relaxing on the cruise with La Regina Classic 1.
Bai Tu Long Bay offers tourists the stunning beauty of Thien Canh Son Cave and Vung Vieng floating fishing village by kayaking or bamboo boat. Travellers can admire thousands of majestic mountains around close sight or swim nearby. Furthermore, the La Regina Classic 1 cruise provides many interesting activities such as celebrating "Happy Hour", participating in cooking class on the sundeck with the Deep Fried Spring rolls or enjoying squid fishing. Be ready for the La Regina Classic's most memorable experience.
The cruise includes 22 cabins for passengers so you can choose a suitable one for yourself and your companions. The ship was renovated in 2022-2023 and is equipped with comfort amenities, promising an amazing journey through the most popular Bai Tu Long Bay attractions. The highlight of Vietnamese cuisine is also served by the professional chef and attentive crew.
Halong Bay Cruise Deals, an experienced agency, promises a memorable trip around Halong Bay and Bai Tu Long Bay. You won't have to worry about a scam or hidden fee. It is an honor to provide with you the most fascinating trip on the La Regina Classic 1 during Vietnam Trip.
Highlights
Attentive and friendly staff
All the crew is well trained to provide the most professional service and travelers can have a comfortable trip here. They are always ready to support you anytime. With a beautiful smile on their face, you will feel "home away from home" from the moment that you enter the La Regina Classic 1.
Admire the beautiful destinations and various activities!
Tourists can take a close look at the majestic mountains surrounded by green trees with slight waves and a breeze. Explore the Thien Canh Son cave, which lies on a mountaintop and has a long history of holding geological importance. We advise bringing a camera and trekking in athletic footwear. Travellers can visit a local village to understand more about their lifestyles or tradition. Go kayaking and swim in the freshwater in the morning and then take squid fishing at night. Many wonderful activities are waiting for you.
Taichi on sundeck
Tourists can take part in Taichi on sundeck while admiring the sunrise rising from behind of wide range of mountains or the wavy surface. You can experience Taichi with other like-minded passengers and feel nature's beauty in the morning. In case you prefer to stay in the cabin, it's also a great option to relax and recharge energy for a new day of adventure.
Hanoi – Bai Tu Long Bay – Visit Thien Canh Son Cave (L, D)
08:00-08:30: Pick-up in the Old Quarter of Hanoi (optional).
12:15 – 12:30: After you board, the crew members will offer you a welcome drink and give you a safety briefing before the boat begins to cruise into Bai Tu Long Bay.
13:15: Start your holiday with a wonderful restaurant meal.
15:30: Explore the Thien Canh Son cave, which lies on a mountaintop and has a long history of holding geological importance and being aesthetically pleasing. We advise bringing a camera and trekking in athletic footwear.
17:30: Join "Happy Hour" while taking in the stunning sunset across the water.
18:30: Deep-fried spring rolls, one of the distinctive flavors of Vietnamese cuisine, will be covered in a cooking session on the sundeck.
19:30: Dinner will be provided in a restaurant or on the sundeck.
21:00: Relax on La Regina Classic Cruise 1 or join Squid fishing at the Reception deck area.
Experience Vung Vieng Fishing Village - Bai Tu Long Bay - Hanoi (B, L)
06:30: Taichi on the sundeck to start your day.
7:00: Light breakfast is served in the dining room.
07:45: By visiting one of the largest villages in Halong Bay, the floating fishing village of Vung Vieng, you may learn about fishermen's daily lives and indulge in various free-time sports like bamboo boating or kayaking.
9:00 – 9:30: Please place all of your baggage outside of your cabin door before returning to the main boat for relaxation and check-out; a crew member will assist with bringing bags onto the shore.
09:45: The restaurant serves brunch as the boat sails back to the harbor.
11:00: Disembark at the port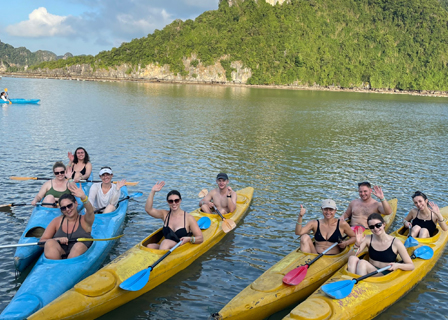 Inclusions
Welcome drink, hot/cold towels
01 bottle of water/guest/night on-board
Cooking class
Entrance fees at sightseeing points
Spacious air conditioner cabins and en-suite bathrooms
All meals during the tour
Kayaking
Taichi
Includes Taxes & Fees
Exclusions
Tips and beverages
Personal expenses
Transportation
All other services not clearly mentioned above