Jasmine Cruise 3 days 2 nights
Hanoi, Halong Bay, Tuan Chau Harbor, Tien Ong Cave, Cua Van Fishing Village, Pearl Farm Village, Titov Island, Tuan Chau Harbor, Hanoi
Launched: 2007
24 Cabin(s)
The superior cabin is entry-level with a number of 12 cabins (2 double and 10 twins) in total. Located on the main deck in an area of 16 square meters, each Superior is well designed with teak-wood furniture, large windows, and classily selected decoration. Fully equipped with air conditioner, mini bar, in-house phone, safety box, standing shower, bathrobe, slippers, the Superior will be a good choice for a cozy and comfy stay.
9 Deluxe cabins cover the second deck of the boat. A little bit bigger than the Superior, each Deluxe cabin has a floor space of 18 square meters plus a private balcony (4 square meters) where you can sit and enjoy the sea breeze. Each cabin comes with a classy décor with lovely pictures and well-designed amenities.
Situated on the first deck, the only two Jasmine Junior Suites are grandly designed with a spacious area of 24 square meters. A bathtub with a Jacuzzi will be one of the best relaxations on the boat after a day of excursions. You can also just step out on the balcony to immerse yourself in the outstanding view of the bay. The cabin is also well-furnished with air conditioner, mini-bar, safety box, in-house phone, standing shower, bathrobe, and slippers.
Overview
Jasmine Cruise is one of the deluxe cruises in Halong Bay which is also the second of the famous "Three Sisters" (including Violet, Jasmine, and Ginger) managed by Heritage Line. With three brown sails and dark wood covering in the style of a traditional junk, Jasmine is well known for its welcoming crew and modest sophistication which can satisfy visitors who are looking for both coziness and exploration.
Both interiors and exteriors of Jasmine Cruise are sheltered in refined wood, which creates an Indochina look. With 23 well-furnished cabins, all with sea-view windows or balconies, a large restaurant, and a spacious sundeck, guests can enjoy the bay's beauty everywhere they want, inside the cabins or up on the sundeck. After a long day with some highlights of Halong Bay destinations, exciting activities such as morning Tai Chi, swimming, kayaking, and visiting a floating fishing village, you can relax yourselves with the excellent service onboard or treat your body with several massage treatments.
Aboard the Jasmine Cruise, and you will live a totally different life. You will awake with sunshine and sea waves around you. A sumptuous breakfast with noodles, eggs, omelets, bacon, croissants, cereal, coffee, tea, juices, and more awaits you in a sophisticated restaurant. Your day will be full of exciting activities from a morning Tai Chi lesson to paddling in the bay on a kayak, then swimming, and visiting a floating village. Every moment will be a memorable one in your whole life.
Highlights
Restaurant
Jasmine's restaurant offers its guests a spacious area to enjoy their meals with picturesque scenery scrolling behind outside the windows. Beautiful Asian and Vietnamese decors and wooden furniture bring about an Indochina feeling that cannot be found in the Western countries. Inside the restaurant is a small lounge with a bar where your dinner is served.
Massage Room
Your cruise will be totally complete with an hour of massage in our beauty room after a long day out. Among our wide selection of spa treatments, opt for a head and shoulder massage, our skillful therapists will help to bring your body back into balance and weighs you softly into a snooze.
Terrace and Sundeck
When you are on the boat, do not miss any moment in the terrace. This public place comes with chairs and comfortable seating for passengers to see the life of the bay. Especially, in the evening, a splendid seafood barbecue will be set in this open and peaceful area. Up to the top deck of the boat, you have a lovely space to enjoy the view of the bay from above. Here we set up sun chairs and umbrellas for you to relax and taste some drinks and snacks served from our bar.
Facilities
Water sports (non-motorized)
Tuan Chau Harbor - Tien Ong Cave - Cua Van Floating Village
Arrive at Tuan Chau harbor then embark the Jasmine. A welcome delightful buffet lunch is served in the dining room. You have time to relax and explore the boat after lunch.
The first stop of the day is Tien Ong cave. The cave covers an area of 1,000 square meters, 5 meters above sea level, 50 meters deep, displays proof of human race dating back to 10,000 – 8,000 BC.
The second stop is Cua Van floating village. You are free to explore the village either on a bamboo boat rowed by a local or paddle by yourself in a kayak.
Back to the Jasmine to refresh yourself with a drink on the sun deck and participate in our cooking class to learn to make specific Vietnamese dishes.
Enjoy your splendid dinner either à la carte or buffet style in our sophisticated restaurant.
Surprise Cave - Floating Pearl Farm
Wake up early and go up to the sundeck for a Tai Chi class at around 6:30 am.
Transfer to our day boat named "Sunset" to go further into the bay. Breakfast will be prepared for you while the Sunset cruises to the Surprise Cave, one of the most beautiful caves in Halong Bay with hundreds of stalagmites and stalactites. The cave is also the largest cave in the bay which covers an area of 10,000 square meters.
After getting out of the cave, you have free time to go kayaking through this water landscape.
Back to the Sunset, your lunch is served in the restaurant.
In the afternoon, you will visit a floating pearl farm where you can see how pearls are cultivated.
Return to the Jasmine to admire the sunset on the top deck, followed by an excellent dinner served in the dining room.
Meals: Breakfast, Lunch, Dinner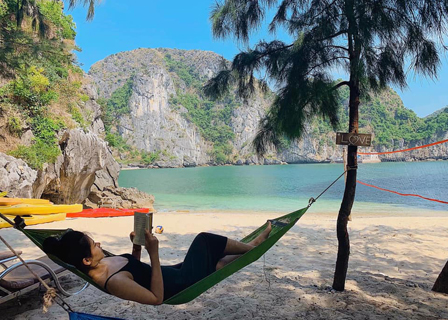 Titov Island - Tuan Chau Harbor
Let start your day early with a Tai Chi class on the sundeck. A light breakfast with tea, coffee, and pastries is ready for you in our dining room.
We take you to Titov island where you find a white sandy beach for swimming and a chance to have a spectacular panoramic view of the area by stepping up to the top of the island.
Back onboard (around 8:45 am), you have time to freshen up and pack your luggage then check out of your cabin.
A full breakfast with fresh food is served to you while the boat cruises back to the harbor.
Say goodbye to the Jasmine when it arrives at Tuan Chau harbor. Your trip ends.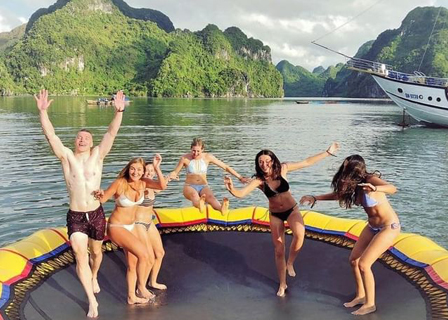 General Information
Bus pick-up time: 8:15 AM – 8:30 AM
Return Hanoi by bus: 3:00 PM - 3:30 PM
Pick-up point: Tuan Chau Marina, Tuan Chau Island, Halong City, Quang Ninh, Vietnam
Drop off point: Tuan Chau Marina, Tuan Chau Island, Halong City, Quang Ninh, Vietnam
Check-in: 11:30 AM - 12:30 PM
Check-out: 10:45 AM - 11:00 AM
Booking Policy
• 50 % of the total cost is required to secure the booking.
• The remaining balance is to be paid 15 days prior to the departure date.
• In some special cases, you will be required to pay the full cost or a number greater or smaller than the standard 50% to secure your booking.
• In some special cases, the deadline for payment will be required sooner or later than the standard 15 days prior to booking.
Cancellation by Customer
• More than 30 days prior to check-in (departure date): Free of charge
• From 30 to 16 days prior to check-in (departure date): 10% of total rates
• From 15 to 10 days prior to check-in (departure date): 20% of total rates
• From 9 to 5 days prior to check-in (departure date): 50% of total rates
• Less than 5 days prior to check-in (departure date): 100% of total rates.
• No-Show: 100% of total rates
*** Cancellation notice from customer must be sent to us via email. Refund will be processed between 10 -15 working days.
Cancellation by Halong Bay Management Board due to bad weather
If the cancellation is made by the Halong Bay Management Board, following policies will be applied depending on the time of cancellation.
• When a cancellation is made before departure date- check-in date (if no services have been used): 100% refund.
• When a cancellation is made during the trip (some services have been used such as transfer, food, some amenities, etc.): used services will be charged, the rest will be refunded.
• When a cancellation is made before or during the departure date and the trip must be shortened from 2 nights to 1 night, 2 days 1 night trip, plus other used services will be charged, the rest will be refunded.
• The final cost will be confirmed by your consultant via email. In all cases, please contact us directly for any urgent help. We are here to support you!
Note: In case of a cancellation decision made by the Management Board of Halong Bay, an alternative travel arrangement will be made on request, or you will be refunded in accordance. In all cases, please contact our travel consultant via email or phone for support. We are always willing to provide you with any assistance you may need on or off board.
Important Notes
• PROGRAMS & SCHEDULES SUBJECT TO CHANGE WITHOUT PRIOR NOTICE.
• In case of adverse weather conditions in Halong Bay, the cancellation will ONLY be made by the Halong Bay Management Board. Usually the announcement will be declared very close to or on the departure date and our refund policy will come into effect.
Inclusions
Entrance fees
English & Vietnamese speaking guide
Luxury accommodation with A/C, hot shower, mini bar
Kayaking for the 2nd day (applied for 3 days/ 2 nights package)
Itinerary Cruise through Halong Bay
Welcome Cocktail
Full Board Meals as itinerary
Tai Chi Class
Insurance on board
Includes Taxes & Fees
Exclusions
Transfer by bus or private car/van Hanoi – Halong – Hanoi (book in the next step)
Beverage, tips and other personal expenses
Kayaking services (for itinerary of 2 days 1 night)
All other services not mentioned in Inclusions
Christmas 24/12, New Year 31/12, Lunar New Year's Eve.