Glory Legend Cruises 3 days 2 nights
Hanoi, Halong Bay, Tuan Chau Harbor, Titov Island, Cua Van Fishing Village, Me Cung Cave, Sung Sot Cave, Tuan Chau Harbor, Hanoi
Launched: 2013
22 Cabin(s)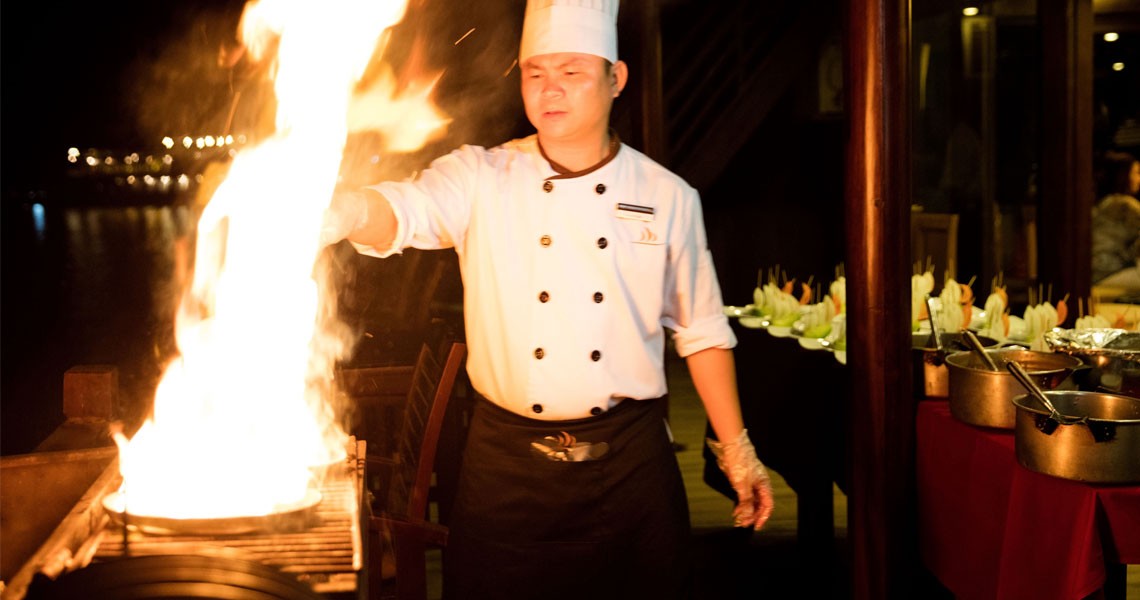 Overview
Understanding that an overnight trip in Halong Bay is always on the checklist of many travelers' life, Pelican Glory Cruises was launched in December 2014 with an attempt to provide an unforgettable experience for tourists on any budget. As a four-star cruise, the whole team is encouraged to show their best performance to escort our distinguished guests during their special journeys to the World's Natural Heritage.
Glory Legend Cruises was uniquely designed in the traditional wooden style, which makes it visible among many other modern cruise ships of the same class. 22 cabins on the cruise all meet international standards with elegant en-suite bathrooms, spacious private seating areas, and qualified safety systems and so on.
Moreover, the cruise also pays attention to fulfilling travelers' experiences by a wide range of activities such as kayaking, swimming, hiking, visiting caves, and cooking class. Especially, you will never miss the real touch of local life with an interesting visit to floating villages on Halong Bay.
All in all, with our staff's dedication, the comfortable design of the boat and the variety of activities, Glory Legend Cruises is proud to be your great travel companion on the journey to Halong Bay.
Highlights
Restaurants and Bar
Pelican Glory Cruise strongly believes that cuisine is an important part of traveling, therefore the restaurant and bar are seen as one of the highlights on the cruise. The restaurant is spacious with both indoor and outdoor areas, which can fit a maximum of 50 passengers. The indoor side is well-furnished with modern facilities to make sure that all the meals will be excellently served on the table. Besides, the outdoor seats will bring out guests the freedom to enjoy the scenery. All the set-menu meals are various with both Vietnamese and International dishes, which are carefully prepared and decorated by our talented chefs. Moreover, the bar counters are located on both the second and the third floor with a variety of choices on the drink lists so that you will order your drink anytime with ease.
Spa & Massage Service
To help our guests have the most relaxing moments on Halong Bay, Pelican Glory Cruise also provides massage and spa service upon request. With our professional therapists, your body and your mind will truly be relieved from stress. The spa room is located on the first floor, next to the reception area. Making a reservation in advance is needed for this service.
Facilities
Water sports (non-motorized)
Hanoi – Halong Bay – Tung Sau Pearl Farm – Titov Island (L, D)
8:30 am – 09:00 am: Pick up at hotels
The journey starts with the pick-up by our shuttle bus in the lobby of your hotel. With a short drive on the expressway, you will have a chance to see the tranquil countryside life in the Red River Delta. After a 2.5 hour drive, the rice fields' scenery will be replaced by mountain ranges of Halong Bay in the distance.
12:00 - 13:00: Get on Glory Legend Cruises and check-in your cabin
When you arrive at Glory Legend Cruises Lounge, located at Block no.15 on Tuan Chau Island, you will first enjoy your welcome drink, take a short break then have a transfer to the cruise.
Our tour guide will have some important briefings on the tour program, safety rules while you enjoy your welcome drink in the dining area. After the briefing, you receive the room key and check-in. The cruise starts sailing to Halong Bay, which has been worldwide famous as a UNESCO site.
13:00 – 13:30: Enjoy lunch while sailing over Halong Bay
After your check-in, lunch will be served in the restaurant with a set menu of both Vietnamese and International dishes. On the way cruising, you will be amazed by the unique scenery of Halong Bay formed by 1,969 out-of-water limestone mountains. You also have a chance to see some featured islands on the way sailing such as the Incense Burner, Fighting Cocks Islets, etc...
14:30 – 16:30: Kayak at Tung Sau Pearl Farm and visit Titov Island
"Tung Sau" area will be the first stop in the afternoon. During your visit, you will learn how to cultivate pearls on this pearl farm or go kayaking around this lovely area. (Please wear proper clothes if you choose kayaking)
After the pearl farm, the tender will take you to Titov Island for swimming and hiking. For hiking, shoes are more suitable as you will go up with 500 steps to the observation building to see the glorious picture of Halong Bay during sunset.
16:30: Back to Glory Legend Cruises
The tender takes you back to the cruise to relax. While the captain is sailing the cruise to Luon Bo overnight anchoring area, you can have massage with our therapists. (Please have a look at the massage brochure and book in advanced with Cruise Manager)
Attending a cooking class on the cruise will be another activity delivered by our chef. You will get to know every step to make a Vietnamese traditional spring roll.
Happy Hour (Buy one get one free) will come after the cooking section. With your favorite drink, you can enjoy the tranquil atmosphere in the late afternoon on the bay.
19:30: Dinner and relaxing time on the cruise
You will have dinner with a Vietnamese and International set-menu in the restaurant.
After dinner, you can join in squid fishing with other passengers or simply enjoy the quiet atmosphere by sitting on the top deck.
All the activities will end at 23:00.
Cua Van Floating Village – Me Cung Cave (B, L, D)
6:00 am: Enjoy sunrise and do Tai Chi exercises
A Tai Chi class of 30 minutes will be arranged on the sundeck for early birds who do not want to miss the sunrise.
07:30 am: Breakfast with tea, coffee, and pastries will be served in the restaurant after the Tai Chi section.
8:30 am: Transfer to the day cruise and visit Cua Van Floating Village
You will be transferred to a day boat, which takes you further to discover other parts of the bay at 8:30.
In the morning, you will visit Cua Van, which is a floating village of 700 locals. To go sightseeing around the village, you will get in a wooden boat rowed by the local people to feel the peaceful life here. Trying to row the wooden boat is also an unforgettable experience with the locals.
10:00 am: Visit Me Cung Cave
Our tour guide will lead you to Me Cung Cave (Maze Cave), one of the most beautiful ones in Halong Bay. As revealed in its name, The Me Cung Cave consists of many compartments. While having a walk inside, you will feel like you are in a maze created by the Mother of Nature with many sparkling stalactites and stalagmites.
12:00 – 12:30: Lunch on the day boat and return the big boat
A set-menu lunch will be served on the day boat. After lunch, you can relax on the sundeck while the day boat takes you back to Glory Legend Cruise. During your free time in the late afternoon, you can have your body relaxed with massage service. (Please have a look at the massage brochure and book in advanced with Cruise Manager)
The cooking class will be delivered on sundeck for those who loves Vietnamese cuisine before the Happy Hour (Buy one, get one free).
19:30: Enjoy the night in Halong Bay
You will be back to the restaurant to have a deluxe set-menu dinner at 19:30.
After dinner, you have a number of choices for evening activities such as watching movies, listening to music, reading books, playing cards and squid fishing.
The program for the second day will finish at 23:00
Meals: Breakfast, Lunch, Dinner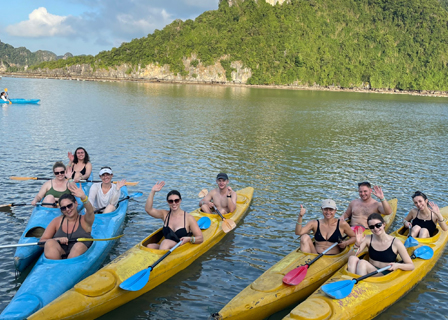 Sung Sot Cave – Tuan Chau Harbor – Hanoi (B, L)
6:00 am – 08:00 am: Morning exercises and early breakfast
You can wake up early to enjoy the stunning sunrise view and attend the Tai Chi class on the top deck with our master.
After doing exercises, you have a light breakfast before other activities. Coffee and tea which are served in the restaurant will make you awake and energetic for the day.
8:00 am: Heading to Sung Sot Cave
You will have a visit to Sung Sot Cave, which is widely known as the biggest cave in Halong Bay of more than 1,000 m². You will challenge yourself with 150 steps to the entrance of the cave. Sung Sot Cave was divided into 3 smaller chambers, which will bring you lots of surprises. As you will walk for 45 minutes inside the cave, shoes and convenient clothes are highly recommended. The tender will transfer you back to the cruise after your journey in the cave.
09:30 am – 10:00 am: Check-out the cabin and have lunch at the dining room
You will have time to pack your belongings before checking out and settling your bill at the reception.
On the way back to Tuan Chau Harbor, you will have brunch on the cruise then relax a bit before disembark.
12:00 - 15:00: Transfer back to Hanoi
The shuttle bus leads you back to your hotel before 15:00. Your safe return to Hanoi is also considered as the end of Halong Bay Glory Legend Cruises 3 days 2 nights.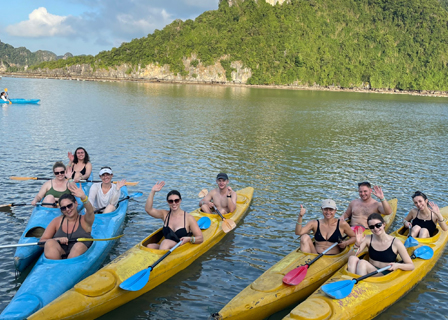 General Information
Bus pick-up time: 07:30 AM
Check-in: 11:30 AM
Check-out: 10:30 AM
Return Hanoi by bus: 04:30 PM
Shuttle bus pick-up point: Hotel in Hanoi Old Quarter or in front of Hanoi Opera House
Shuttle bus drop-off point: Hotel in Hanoi Old Quarter or in front of Hanoi Opera House
Booking Policy
• 50 % of the total cost is required to secure the booking.
• The remaining balance is to be paid 15 days prior to the departure date.
• In some special cases, you will be required to pay the full cost or a number greater or smaller than the standard 50% to secure your booking.
• In some special cases, the deadline for payment will be required sooner or later than the standard 15 days prior to booking.
Cancellation by Halong Bay Management Board due to bad weather
If the cancellation is made by the Halong Bay Management Board, following policies will be applied depending the time of cancellation.
• When a cancellation is made before departure date- check-in date (if no services have been used): 100% refund.
• When a cancellation is made during the trip (some services have been used such as transfer, food, some amenities, etc.): used services will be charged, the rest will be refunded.
• When a cancellation is made before or during the departure date and the trip must be shortened from 2 nights to 1 night, 2 days 1 night trip, plus other used services will be charged, the rest will be refunded.
• The final cost will be confirmed by your consultant via email. In all cases, please contact us directly for any urgent help. We are here to support you!
Note: In case of a cancellation decision made by the Management Board of Halong Bay, an alternative travel arrangement will be made on request, or you will be refunded in accordance. In all cases, please contact our travel consultant via email or phone for support. We are always willing to provide you with any assistance you may need on or off board.
Cancellation by Customer
• More than 33 days prior to check-in ( departure date): Free of charge
• From 33 to 15 days prior to check-in ( departure date): 10% of total rates
• From 14 to 8 days prior to check-in ( departure date): 20% of total rates
• From 7 to 4 days prior to check-in ( departure date): 50% of total rates
• Less than96 hours prior to check-in ( departure date): 100% of total rates.
• No-Show: 100% of total rates
*** Cancellation notice from customer must be sent to us via email. Refund will be processed between 10 -15 working days.
Important Notes:
• PROGRAMS & SCHEDULES SUBJECT TO CHANGE WITHOUT PRIOR NOTICE
• In case of adverse weather conditions in Halong Bay, the cancellation will ONLY be made by the Halong Bay Management Board. Usually the announcement will be declared very close to or on the departure date and our refund policy will come into effect.
Inclusions
Hanoi - Halong Bay – Hanoi Shuttle Bus
Welcome Drinks
English speaking guide
Accommodation in Deluxe cabin
All Meals as mentioned in the itinerary (B-= Breakfast, L= Lunch, D= Dinner, BR= Brunch)
Entrance fees
Kayaking, cooking demonstration
Sightseeing admissions
Service charges
Insurance on board
Includes Taxes & Fees
Exclusions
Drinks not mentioned in itinerary
Visa arrangement
Personal expenses
Tips and other Personal Expenses
Airfares
Other services not mentioned in above
Surcharge for Christmas 24/12, New Year 31/12, Lunar New Year's Eve