Halong Bay Catamaran Cruise
Hanoi, Halong Bay, Lan Ha Bay, Ba Trai Dao islets, Halong Bay, Hanoi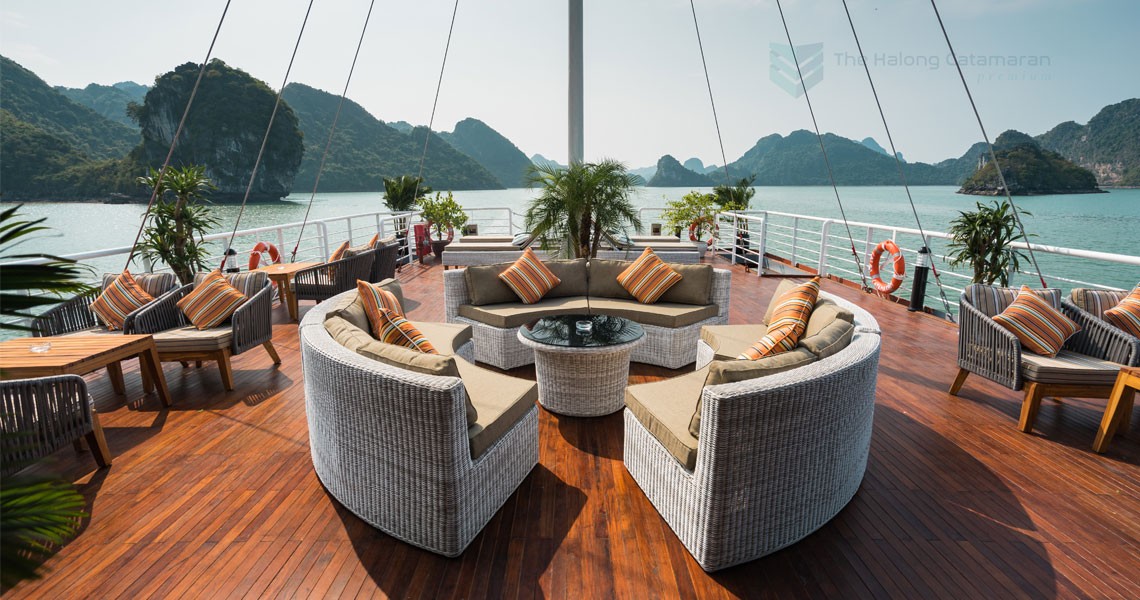 Overview
The Halong Catamaran Premium Cruise is a new brand of Halong Bay day cruise offering the unique and perfect itinerary in Halong Bay. When you join the Halong Catamaran, you have to experience the mix of traditional and modern beauty of this cruise in the world's natural heritage sites. Be with a luxurious design, this cruise ship features up to 99 available seats offering spacious area for all travelers. In addition, the Halong Catamaran has designed with beautiful hammocks that you can sit back and enjoy the fresh air when water is rushing below you.
The Halong Catamaran Premium Cruise has a private and unique route, escape from the crowds and be depth into the beautiful Lan Ha Bay. Around 8-hour cruising from Tuan Chau Marina to Three Peaches Beach of Lan Ha Bay with this Halong Bay luxury day cruise, you have a great & memorable experience for years to come.
Let's come to sail between Halong Bay and Lan Ha Bay with us!
Highlights
The Halong Catamaran with its long and unique itinerary
The Halong Catamaran is the only luxury cruise reaching Ba Trai Dao Beach during the one-day itinerary. Starting from Tuan Chau Harbor, this cruise sails among almost 2,000 limestone karsts from Halong Bay to the Lan Ha Bay area. The high-speed highway system is a highlight of this cruise, which helps to sail further and discover more for one day. Let's take a look at its cruising map below.
Restaurant
The spacious restaurant and bar are the ideal places to serve all guests with a variety of foods and drinks for one day. The restaurant is beautifully designed in the mix of traditional and modern design with perfect lights and luxurious furniture, which creates a gracious room for dinner.
Sundeck
The sundeck can be considered as the most favorable location for tourists because of its unlimited views. The Halong Catamaran offers you a spacious sundeck on the second floor where you can enjoy the breathtaking views of Halong Bay, capture the most beautiful moments of nature, and watch the stunning sunset over the bay. Let's enjoy your wonderful day!
Hanoi - Halong Bay - Lan Ha Bay - Ba Trai Dao Beach - Hanoi (L)
07.45 am – 08.30 am: Pick up from your hotels in Hanoi Old Quarter Area.
Have your breakfast at your hotels get ready for the pick-up in the morning. Our English-speaking tour guide will go around Hanoi Old Quarter and pick you up from various hotels. Please be ready to make a smooth process.
10.00 am - 10.15 am: Take a short rest on the way to Tuan Chau Harbor.
A quick break is to stretch your leg or enjoy your breakfast if you missed it this morning. You can buy something to eat on the rest road to Halong Bay. Get back to the car after 15 – 20 minutes and finish our drive.
11.30 am - 11.45 am: Board on the cruise
Arrive at Tuan Chau Marina, you receive warmly welcome from our staff who are waiting for you with their smile on their faces. We serve a welcome drink while you are listening to a brief about what we will do today and some useful notes for you during the day. Afterward, it is your free time to be on the sundeck and have the first views of Halong Bay.
12.00 am - 01.00 pm: Enjoy your lunch
After returning to the cruise, lunch will be served in style of a deluxe buffet with a variety of options including Vietnamese traditional dishes as well as some surprising dishes from other countries. The bar opens for all time, so you can order for some cocktails, wines or beers (incur a charge). Have free time for relaxing after lunch.
02.00 pm - 03.00 pm: Kayak or Bamboo boat to visit Bright - Dark Cave
Hop on a 1-hour journey as we paddle through a small grotto, leading us to an exclusive lagoon encompassed by walls of rock from all angles within Halong Bay. This serene nook serves as an exclusive retreat for our group. Our guide will recount the legends associated with Halong Bay as we maneuver our way back to the vessel.
03.15 pm - 03.45 pm: Frog Pond & Swimming in Lan Ha Bay
Indulge in some fun activities such as trampolining, sliding on water, swimming, or simply opt to unwind on the boat and bask in the serene ambiance of Lan Ha Bay. Take delight in the sand for an hour and take a break to contemplate the fascinating marvels of this natural wonder.
04.00 pm: Cooking Demonstration
After back to the Halong Catamaran cruise ship, you will join the cooking demonstration in the restaurant area. We have prepared all the fresh ingredients for you to make Vietnamese spring rolls. Enjoy your handmade dishes. All customers are excited about this activity, especially families with kids.
04.30 pm: Sunset Party
When the sun starts to hide under the limestone karsts, get on the sundeck for the best magnificent views. We serve Vietnamese green teas, coffee, little cakes and some kinds of fresh fruits while you are relaxed on the sundeck during the last moments on the cruise today. The cruise ship is heading back to Tuan Chau Harbor.
05.45 pm - 06.00 PM: Disembark the cruise
Arriving at the dock, it is time to say goodbye to the Halong Catamaran. Our bus is ready to drive back to Hanoi.
08.00 pm – 08.30 pm: Drop-off at your hotel
After a 2-hour drive, we arrive in Hanoi. Our tour guide will transfer you to your hotel in Hanoi Old Quarter.
Thank you so much for choosing the Halong Catamaran Premium Cruise as a part of your trip. We hope you enjoy the rest of your memorable trip to Vietnam.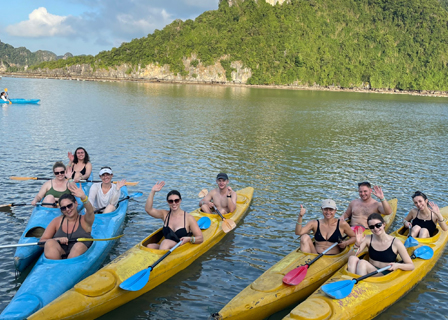 Children Policy
Children under 04 years old: Free of charge
Children 04 to 09 years old: Charge 75% rate of adult
Children from 10 years old and above: full charged as adult
Cancellation policy for FIT bookings:
7 - 10 days prior to actual arrival will be charged 50% on the total booking value
5 days prior to actual arrival will be charged at 100% on the total booking value
Cancellation policy for GIT bookings (From 10 pax up):
10 - 25 days prior to actual arrival will be charged 30% on the total booking value
6 - 9 days prior to actual arrival will be charged 50% on the total booking value
5 days prior to actual arrival will be charged at 100% on the total booking value
Inclusions
Sharing bus for round-way transfer on the expressway.
Lunch on the cruise.
Free drinking water all day.
Kayaking.
Cooking class.
Speed boat transfer to and from activities and beach.
Teas, coffee, fruits, and cakes for a sunset party.
Entrance and sightseeing fees.
English-speaking tour guide.
Onboard insurance and service charges.
Includes Taxes & Fees
Exclusions
Beverages not mentioned above.
Food or drinks ordered at the short rest stop.
Any other services not mentioned above.