Nostalgia Cruise 2 Day 1 Nights
Hanoi, Tuan Chau Harbor, Lan Ha Bay, Trung Trang cave, Tra Bau, Ao Ech area, Halong Bay, Hanoi
Launched: 2023
10 Cabin(s)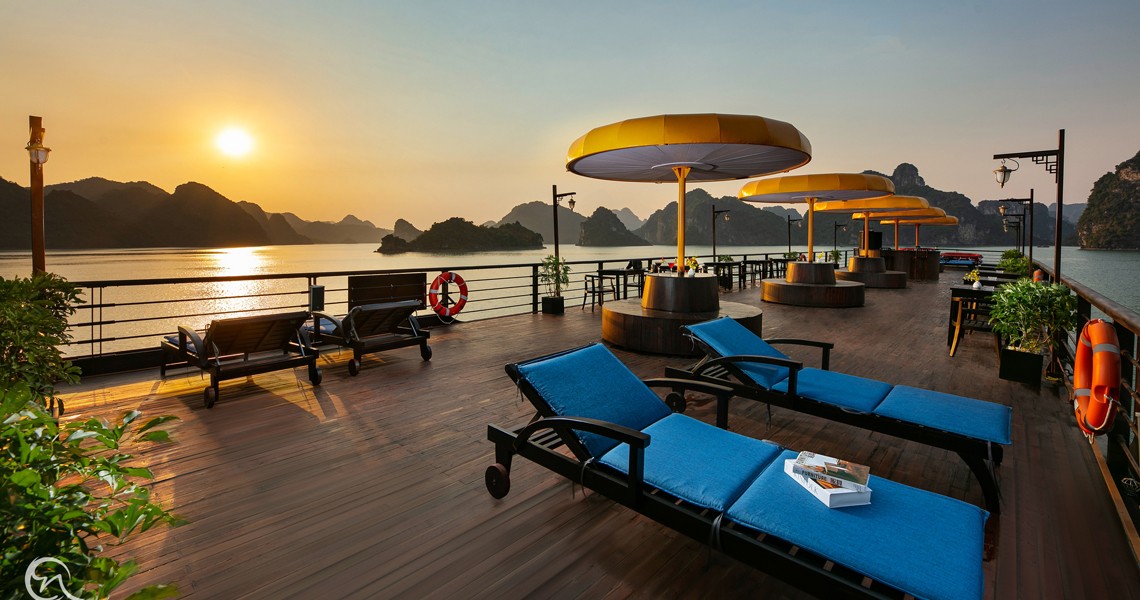 Spend a night as royalty and let yourself sink into the peace and genuine beauty of Lan Ha Bay with the exceptional accommodation in King Suite. Enter the King Suite, located on the 2nd floor and has a complete panoramic view of the sea where you are treated like royals.
The Queen Suite was elegantly created with great care for the smallest of elements. The architecture eloquently shows the stamp of Asian philosophy and Vietnamese feudal traditions, depicting scenarios from a long-forgotten era. Each is distinguished by remarkable art-décor interiors.
A fantastic option for seasoned travelers wanting an unrivaled cruise in Vietnam are the spacious suites with quiet ocean views that beckon you out to the private balcony. Experiencing royalty as a Princess and Prince and immersing in your own space, isn't it intriguing?
Overview
Nostalgia Cruise is a brand new of Lan Ha Bay Luxury Cruise that launched in February 2023. The cruise features 10 cabins with ocean view and private balconies, luxurious restaurant and bar, especially outdoor Jacuzzi on the 3rd floor to ensure your holiday can be as perfect as possible. With the combination of wood and iron architecture, your room becomes cozier but equally modern and sumptuous.
If you are interested in physical activities, Nostalgia Cruise in Lan Ha Bay will attract your attention by many activities to explore Halong Bay & Lan Ha Bay. You have an opportunity to discover beautiful places by kayaking, sunbathing, bamboo boat rowing and even swimming (if the weather is in favorable conditions).
In case you are looking for a relaxing trip or ceremony, Nostalgia Cruise in Halong Bay also organizes many special events including sunset celebrations, beach party, spa (in-room), honeymoon, birthday and even weddings.
Halong Bay Cruise Deals promises to bring your smile, happiness and yet worth your prices. Kindly contact us today for instant assistance!
Highlights
Outdoor Jacuzzi
To level up your time onboard, the outdoor Jacuzzi pools next to the sundecks are unquestionably a highlight of the Nostalgia Cruise. Enjoy the expansive view of Halong Bay while soaking up the warm water after a day of exploration. You can watch the sun go down, and talk with your friends, family or an important partner.
Luxury and modern facilities
Each cabin aboard the boat has air conditioning, a seating area, a flat-screen TV, a safety deposit box, and a private bathroom. Besides, a kettle, minibar, and fridge are all provided. There is a closet in each unit. Each morning, a breakfast buffet is offered on the boat and the Vietnamese cuisine-focused traditional restaurant at Nostalgia Cruise is always ready for your dinner, lunch, and brunch!
HANOI - TUAN CHAU - HALONG BAY - LAN HA BAY (L, D)
08:30: A luxury vans picks you up at Hanoi Old Quarter. Passengers will have the chance to enjoy the beauty of Red River Delta's landscape while being on the way to Halong Bay.
11:30: Tuan Chau Marina is the first stop, then you check-in in the waiting area. You will then be warmly invited a delicious tea at the lounge after the 3-hour journey.
12:15: It's time to transfer to the Nostalgia Cruise in Lan Ha Bay by tender boats. We welcome you aboard and serve some welcome drinks to reduce fatigue. To prepare for the tour, we will gather at a restaurant for briefing on the cruise and basic safety guidelines.
13:00: While cruising and visiting Halong Bay and Lan Ha Bay, customers will have a delicious lunch with seafood and Vietnamese traditional food.
15:00: Transfer to Trung Trang cave on Cat Ba Island, which is situated in the heart of Cat Ba National Park and has Kim Giao Forest all around it. Trung Trang cave is situated 15 kilometers to the northwest of Cat Ba Town, the 300 m-long tunnel that runs through the mountain has a fascinating beauty.
17:00: Arriving in a quiet and peaceful area at Lan Ha Bay - Tra Bau. Enjoy a leisure swim in this less-crowded spot.
18:00: We come back to cruise and join a cooking class that is introduced by session chefs. An alternative is Happy Hour - you can buy 1 get 1 drink at the bar while watching the sun go down and enjoying the magnificent view of the bay with fulfillment.
Option: Massage service is available.
19:15: Enjoy a fusion meal prepared with the finest ingredients, a blend of sophisticated French neoclassical cuisine and traditional Vietnam elements.
The restaurant also offers tea ceremonies for you to appreciate Vietnamese tea culture.
21:00: Time to take in the splendor of the bay at night. Our bar is open on the sundeck and in the restaurant. We also have chess and cards available for you to play. You might like to try your luck at squid fishing or watch a movie in the restaurant.
Have a good night on the ship.
HALONG BAY - HANOI (B, L)
06:30: Join in a Tai Chi class on the sundeck, after that we serve you a light breakfast.
07:00: Breakfast will be served in the restaurant while the cruise is on the way.
07:30: Ao Ech area is the next destination. Discover the hidden charm of Halong - Lan Ha Bay by kayaking or you can swim the second time if the weather conditions are favorable.
09:00: For check-out procedures, we return to the Nostalgia Cruise in Halong Bay.
10:00: You can enjoy a lovely brunch as the cruise back to Tuan Chau.
11:35: The tour comes to the end as we bid our goodbyes at the Tuan Chau port.
14:00: Return to our hotel in Hanoi where you were dropped off and the trip is over.
Inclusions
English speaking guide
All onboard meals as mentioned in the itineraries
Kayaking, cooking class, Tai Chi exercise, squid fishing, satellite TV, tea ceremony, swimming (in favorable weather conditions)
Sightseeing entrance fees
A/C in a luxurious cabin
Two bottles of mineral water, a welcome drink, a fresh flower, and a handkerchief are provided in each cabin
Includes Taxes & Fees
Exclusions
Airfare and visa requirements
Massage and spa services
Drinks in menu, gratuities, tipping, and other personal costs
Additional services not specifically listed above
Transportation