Launched: 2018
27 Cabin(s)
The Princess suites bring its visitors a luxury accommodation with a private balcony, a fully equipped bathroom, and a spacious bedroom. Covering the whole first deck and a part of the second deck, 22 Princess Suites offer guests luxurious places to totally enjoy the beauty of the bay.
The Queen Triple Suite with a size of 54 square meters is best suited for a family or group of three. The suite is suitable for both parents and a child on a King-sized bed and a single bed or three friends sleeping on three single beds. The Queen Suite comes to you with an immense comfort from the facilities (complimentary minibar, a bathroom with shower and bathtub) and remarkable views from the spacious balcony.
As its name suggests, the Queen Regent, also the only VIP room on the La Regina Legend, offers its customers a "palace" where they will be treated as queen regents in their journey to conquer the legendary bay. The 135 square meter suite is excellently furnished with a round-shape bed as a Queen's, an open bathroom with shower and bathtub for utmost relaxation, a library corner. Can anything be better than sipping a cup of coffee while reading some pages of a book in an in-room cozy library or looking over the poetic bay through a large glass window?
Overview
"La Regina" in Latin literally means "Queen". As its name, La Regina Legend Cruise brings a true power of femininity and her own beauty into the green water of Lan Ha Bay.
La Regina Legend has well completed the art of travel with an elegant design with every detail meticulously planned to perfection. Thus onboard La Regina Legend, you will forget all the hustle and bustle of your daily life all while immersing in the charming space.
The ship features 27 luxury suites categorized into 3 classes: 22 Princess Suites, 4 Queen Triple Suites, and the only Queen Regent, all are furnished with an en-suite bathroom and private balcony.
Each type of suite carries its own story. The Princess and Queen Triple tells the story of the final queen of Vietnam's feudal era, Queen Nam Phuong, who was an outstanding example of brilliant beauty and talent in the Nguyen Dynasty.
The Queen Regent conveys the incredible story of Queen Regent Y Lan, who was considered a standout amongst the most important people during the early Ly Dynasty and one of the few women who held significant political power in the dynastic time of the History of Vietnam.
Facilities
Complimentary Mineral Water
Individual controller air-conditioning
HANOI - TUAN CHAU HARBOR - LAN HA BAY
9:00 - 9:30: Luxury limousine pickup at your hotel in Hanoi Old Quarter. Only 2 hours per way are spent on the journey from Hanoi to the Bay.
11:30: Arrive at the La Regina Private Lounge.
12:30: Your cruise starts with a welcome drink while the Cruise Manager is introducing the safety briefing.
13:15: Enjoy a delightful set menu lunch at La Corona restaurant.
15:30: Discover the historic Trung Trang cave on Cat Ba island.
17:30 - 19:00: Back to the main boat to enjoy a stunning sunset and join "Happy Hour" – 30% off for all drinks.
18:30: Take part in the Cooking Class on the sundeck which is carefully introduced by the Chef.
19:30: It is time for a delightful dinner served at the indoor restaurant or on the sundeck if the weather allows.
21:00: Join night Squid Fishing or watch a favorite movie at the La Magia Restaurant.
LAN HA BAY – TUAN CHAU HARBOR – HANOI
06:15: Participate in a Tai Chi session on the sundeck to start your day.
06:45: A light breakfast awaits you afterward at La Corona Restaurant.
07:30: You will join the tour of Cat Ba Wolrd Biosphere. It will take you around 30 minutes to transfer
from Gia Luan to Trung Trang – one of the most imperrsive caves in Cat Ba Island, Vietnam.
9:00 – 9:45: Pack your luggage and check out of your cabin.
09:45: Enjoy a farewell brunch while the boat is cruising back to the pier.
11:30: Disembark the La Regina Legend Cruise and go back to Hanoi.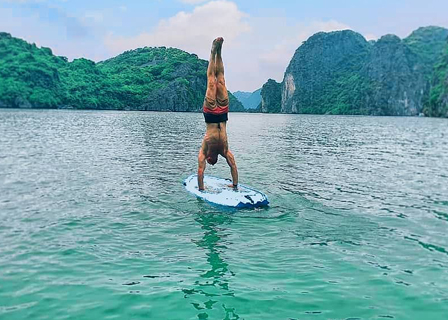 HANOI – TUAN CHAU HARBOR - LAN HA BAY
9:00 - 9:30: A luxury limousine van will pick you up from your hotel in Hanoi Old Quarter. A 2-hour journey starts to take you to Tuan Chau Harbor at around 11:30 am.
12:30: Embark the La Regina Legend Cruise, enjoy a welcome drink and listen to a safety briefing.
13:15: Await you at La Corona restaurant is a delicious set menu lunch.
15:30: Set your foot in Trung Trang cave on Cat Ba island.
17:30 - 19:00: It is time for admiring one of the best moments of the day when the sun goes down on the bay. Join the daily "Happy Hour" promotion with 30% off all drinks onboard.
18:30: A Cooking Class is taken place on sundeck when the guests learn how to make a Vietnamese dish.
19:30: Savor a well-prepared dinner at the indoor restaurant or on the sundeck if the weather allows.
21:00: Find your own entertainment onboard, Squid Fishing, watching a movie or chatting with new friends.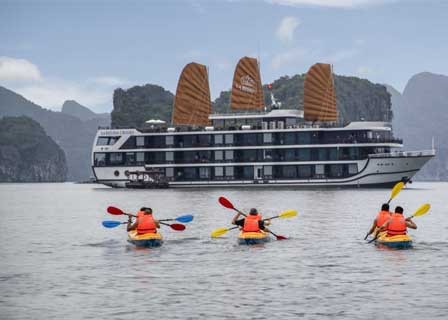 LAN HA BAY - HALONG BAY
6:15: Begin your new day with a Tai Chi session in the sunrise.
6:45 – 8:00: Have breakfast at La Corona restaurant on the second floor.
8:30: Transfer to a Day Boat to go to a further area of the bay.
9:30: Visit Viet Hai village where has been separated from the outside world for hundreds of years.
12:00: Back to the Day Boat and enjoy lunch.
14:00: Discover Ao Ech area on a kayak.
16:30: Transfer back to the La Regina Legend Cruise. It is time to enjoy the stunning sunset on the sundeck when the "Happy Hour" happens again.
18:30: Join a Cooking & Fruit Carving Class on the sundeck. Every step will be carefully guided by our Chef.
19:30: The second dinner is served to you, at the indoor restaurant or on the sundeck.
21:30: If the dinner cannot finish your day, you can relax or entertain yourself with any of the services onboard before going to bed.
Meals: Breakfast, Lunch, Dinner
LAN HA BAY – TUAN CHAU HARBOR – HANOI
6:15: A Tai Chi session takes place again on the sundeck.
6:45: A breakfast served in La Corona restaurant will give you the energy to start an exciting morning.
7:30: Kayak and swim in the emerald water of Tra Bau area.
9:00 - 9:45: Back to the boat and check out.
9:45: Enjoy your last meal onboard before getting back to the mainland.
11:30: Disembark your cruise and take a transfer back to Hanoi.
General Information
Bus pick-up time: 08:00 AM - 08:30 AM
Check-in: 12:00 PM - 12:30 PM
Check-out: 09:00 AM - 10:00 AM
Return Hanoi by bus: 2:30 PM - 3:00 PM
Shuttle bus pick-up point: Hotel in Hanoi Old Quarter or in front of Hanoi Opera House
Shuttle bus drop-off point: Hotel in Hanoi Old Quarter or in front of Hanoi Opera House
Booking Policy
• 50 % of the total cost is required to secure the booking.
• The remaining balance is to be paid 15 days prior to the departure date.
• In some special cases, you will be required to pay the full cost or a number greater or smaller than the standard 50% to secure your booking.
• In some special cases, the deadline for payment will be required sooner or later than the standard 15 days prior to booking.
Cancellation by Customer
• More than 31 days prior to check-in (departure date): Free of charge
• From 31 to 16 days prior to check-in (departure date): 10% of total rates
• From 15 to 8 days prior to check-in (departure date): 20% of total rates
• From 7 to 4 days prior to check-in (departure date): 50% of total rates
• Less than 4 days prior to check-in (departure date): 100% of total rates.
• No-Show: 100% of total rates
*** Cancellation notice from customer must be sent to us via email. Refund will be processed between 10 -15 working days.
Cancellation by Halong Bay Management Board due to bad weather
If the cancellation is made by the Halong Bay Management Board, following policies will be applied depending the time of cancellation.
• When a cancellation is made before departure date- check-in date (if no services have been used): 100% refund.
• When a cancellation is made during the trip (some services have been used such as transfer, food, some amenities, etc.): used services will be charged, the rest will be refunded.
• When a cancellation is made before or during the departure date and the trip must be shortened from 2 nights to 1 night, 2 days 1 night trip, plus other used services will be charged, the rest will be refunded.
• The final cost will be confirmed by your consultant via email. In all cases, please contact us directly for any urgent help. We are here to support you!
Note: In case of a cancellation decision made by the Management Board of Halong Bay, an alternative travel arrangement will be made on request, or you will be refunded in accordance. In all cases, please contact our travel consultant via email or phone for support. We are always willing to provide you with any assistance you may need on or off board.
Important Notes:
• PROGRAMS & SCHEDULES SUBJECT TO CHANGE WITHOUT PRIOR NOTICE
• In case of adverse weather conditions in Halong Bay, the cancellation will ONLY be made by the Halong Bay Management Board. Usually the announcement will be declared very close to or on the departure date and our refund policy will come into effect.
Inclusions
Welcome drink & snack.
English speaking tour guide.
Meals onboard as itinerary.
Tai Chi session.
Entrance and sightseeing fees.
Onboard insurance and service charges.
Kayaking or bamboo boat.
Includes Taxes & Fees
Exclusions
Airfares.
Visa stamp fee.
Hotel arrangement.
Hanoi – Halong Bay – Hanoi shuttle bus or private car/van( book in next stept).
Spa treatment services.
Drinks not mentioned in itinerary.
Tips and personal expenses.
All other services not mentioned in Inclusions.
Surcharge for New Year and Christmas.
Surcharge tourist site ticket due to changes from government policy.
"Beautiful cruise and delicious food! Thanks for La Regina!"
This cruise is so luxurious! I love it, wish I booked for one more day. But the menu should be updated :( delicious but a little bit boring

8
Annie R. Smith
United States
"wifi connection didn't work well :)"
I'm pleased with the services here, thanks for supporting me and my family. However you should fix your wifi connection, it was difficult to access. Making Vietnamese spring rolls is interesting, my mom loves this dish.
"Surely watching forecast before booking, it might have been a good trip."
the most regret thing in my trip is the weather was soooo bad... we couldn't go out, join some activities or kayak as i expected. The internet was even worse because of weather and losing connection, frankly, i was bored. Fortunately, the staff always take care me and ask to do anything i want, they hope that i can have better experience though the weather was not convenient. I felt so warm and decided not boring anymore, i immersed myself in every corner of halong, and thats nice! Thank you so much!!
"impressive scenery, halong bay is such an heaven on the land!"
i cant stop surprise because of halong bay view, i enjoy it in a fulfill way. Btw, now i know the reason why VN food is on another standard, it extremely yummyyyyyy! how can they make these food? Then i have a chance to do in cooking class onboard, the receipt kinda complicate but it worth the taste. Thank you so much for giving me the best trip ever!
"10/10"
Nothing to complain about, the cruise was gorgeous and the staff was so professional. I had a nice time traveling among the pure beauty of Halong Bay, thanks La Regina Legend.
"Lovely new cruise on Ha Long Bay"
Unquestionably a premium cruise ship! The accommodation was beautiful, and the staff was kind. The dinner was very delicious! It was all buffet, but the food was great, and there was even a rooftop deck BBQ. My only complaint is the loud and irritating music on the terrace. That really spoiled the relaxing night. They were playing ear-piercing pop and EDM music or sth.
Anyway, the rest was great. Totally recommend you to cruise on Le Regina Legend.
"A satisfying boat trip overall"
I took a 3D2N cruise on La Regina Legend and it went great. The food is totally fine, though I am vegetarian they gave me the best options they can. I especially wanna say thanks to our personnel, though I didn't remember his name, he helped us a lot and even go find us a hotpot when the one in our cabin is broken. The only thing I didn't satisfy is that the wifi was too weak, I don't know if it's because of the weather or sth, but the personnel can't do anything either. I hope that La Regina Legend can improve this so the next guests can have a perfect experience.
"Worth trying"
Beautiful scenery, a lot of enthusiasm, a great staff, and a lovely boat. Activities are timed such that if you go on a one-night vacation and want to see/do everything, you have plenty of options... 40 minutes kayaking, 20 minutes swimming behind the boat (awesome experience), visit to Cat Ba Cave... Ha Long Bay is breathtaking. I just want to cruise to make some upgrades for the facilities, such as the deck railing.
"Pure Awesome"
Very luxury and beautiful boat. The staffs are very friendly and helpful. The food is unexpectedly good and the cocktails are the best! Althought there is nothing much to do during the night but we had a great time on the boat chilling on the deck.
"Great staff, great food"
The Ha Long Bay region is breathtakingly beautiful. Although cruise life was not our cup of tea, this boat provided an enjoyable experience. Dai deserves special gratitude for making our stay as enjoyable as possible.
"Nice cruise in Halong Bay"
We were on the La Regina Legend last week, a really excellent cruise ship with extremely comfy accommodations and a big deck. The harbor itself is filled with other guests who, regardless of ship or star rating, follow a similar schedule. The nicest part was sipping beverages on the terrace during happy hour while watching the spectacular sunset. Needless to say, the staff was really kind and helpful, especially Chris, our tour guide. When you plan the trip, make sure you obtain the number of your trip leader and they have your number so you can find each other when you arrive at the port station.
"Great overall"
The accommodations were lovely and clean, and the staff was kind and amusing.
The cuisine was good, not spectacular, but better than the Vietnamese restaurants we came to. We did, however, like the cocktails during happy hour.
Kayaking and sightseeing were enjoyable activities. Yet, no one was present but us and the instructor when I awoke to Tai Chi in the morning...
"Lan Ha Bay Cruise"
I arrived on Friday and left on Saturday. This cruise was not on Halong Bay, but on Lan Ha Bay. Lan Ha Bay is two hours from Hanoi while Halong Bay is three hours.
The boat is fantastic, with spacious cabins and low costs when compared to other trips.
There were no buffets or fixed meals. We don't get any additional food, such as snacks or quick meals. Food is only accessible during fixed meal hours. The set meals, on the other hand, were fantastic.
Additional activities on the boat are comparably good to those seen on other boats, such as kayaking, cooking, and fishing.
Overall, a relaxed and enjoyable cruise.
"Very impressive itinerary"
Tbh I didn't expect that much because it was my wife's idea to book this cruise. However, the schedule through Halong Bay's exceptional sites impressed me. The nature in Halong was insane, maybe thanks to the good weather or the devoted introduction of the tourguide, we feel connection with the stories, the marvelous islands,... I would definitely come back to explore more.
"Thanks for our best cruise ever in Vietnam"
My wife and a 13-month-old kid had a fantastic time on our La Regina 2-day/1-night Lan Ha Bay tour. They made us feel extremely welcome and even surprised us with an upgrade to our accommodation, which was very kind considering that we had a tiny child with us. The meal was wonderful, and the staff was kind and spoke decent English. The boat itself was really comfortable and one of the most contemporary we saw around the harbor. I would not hesitate to suggest La Regina to others, particularly if you want to avoid the massive tourist hordes of Halong Bay.
"Good stay"
We had a fantastic time on the cruise. The personnel was quite kind and helpful. Hung, in particular, assisted us in organizing direct transportation from the ship to the airport. Even Nga was gracious and helpful. They communicated in English and provided excellent guidance. The cruise was clean and well-kept.
"Awesome cruise"
모든 것이 너무 좋았습니다. 더 이상 말 할 것이 없이 좋았습니다. 음식도 너무 좋고 배도 너무 좋고.
"Couldn't ask for more"
We highly recommend this cruise as it was such a fantastic trip and a great itinerary. The food was enjoyable and our cabin had full amenities. The staff were fantastic along with th
"Amazing experience, would totally travel again if I have a chance"
Excellent rooms and friendly staff, especially Nancy. Daytrip out to cat ba was brilliant.
Nothing to complain about
"Nice Boattrip"
Regina Legend gave us a wonderful experience in Halong Bay. We were confused among some options but finally went with this brand. The crew assisted us a lot during the trip. Thank you so much for making this journey smooth and carefree
"One-night experience at the cruise"
The cruise experience was excellent; my family and I thoroughly enjoyed the weather and activities. Duy was there for us the entire time, the fishing trip was fantastic, and the crew was wonderful. The meal (BBQ chicken and supper) was decent but didn't meet my expectation, due to several errors by the food servers. The kids really enjoyed the individual who showed them how to make spring rolls since he was quite amusing.
"A memorable family trip with La Regina Legend"
The cruise was fantastic. We should have gone with the 3D2N itinerary. 2D1N seems hurried. The whole atmosphere and room amenities are worth the price. The food was good, however, I wish the buffet had more alternatives. The team was quite nice. Patrick, the assistant manager, Sam, and Daisy deserve special recognition for their excellent service and support. Even better, we were promoted to the grand cruise. I really suggest the La Regina Legend cruise!