Emperor Cruises 3 days 2 nights
Hanoi, Bai Tu Long Bay, Thien Canh Son cave, Cong Do Island, Cong Dam area, Thay cave (Master cave), Vung Vieng Fishing village, Halong Bay, Hanoi
Launched: 2000
8 Cabin(s)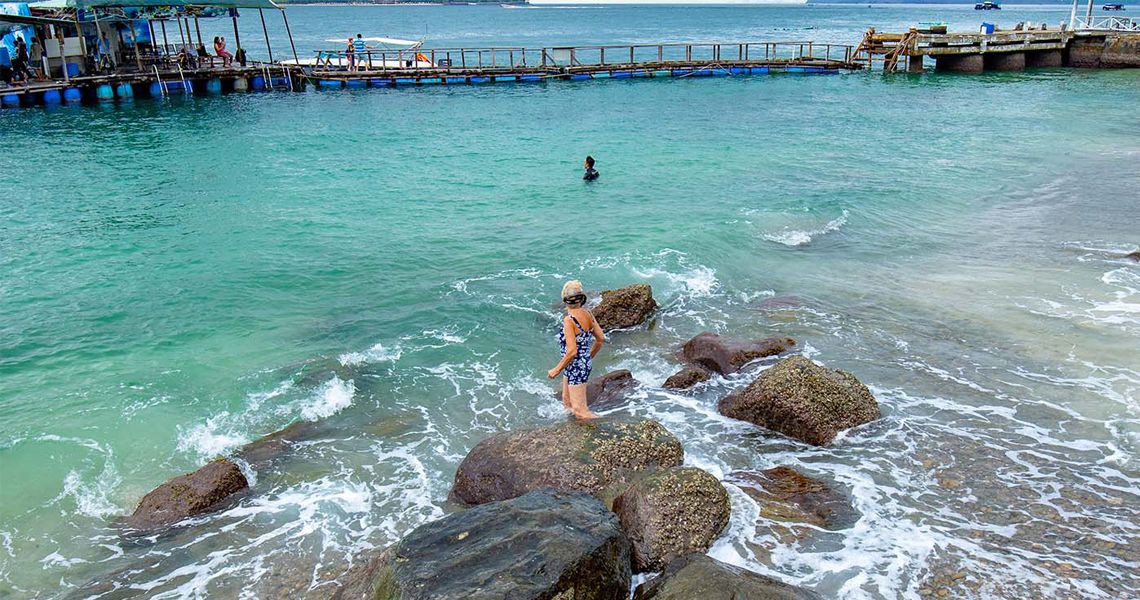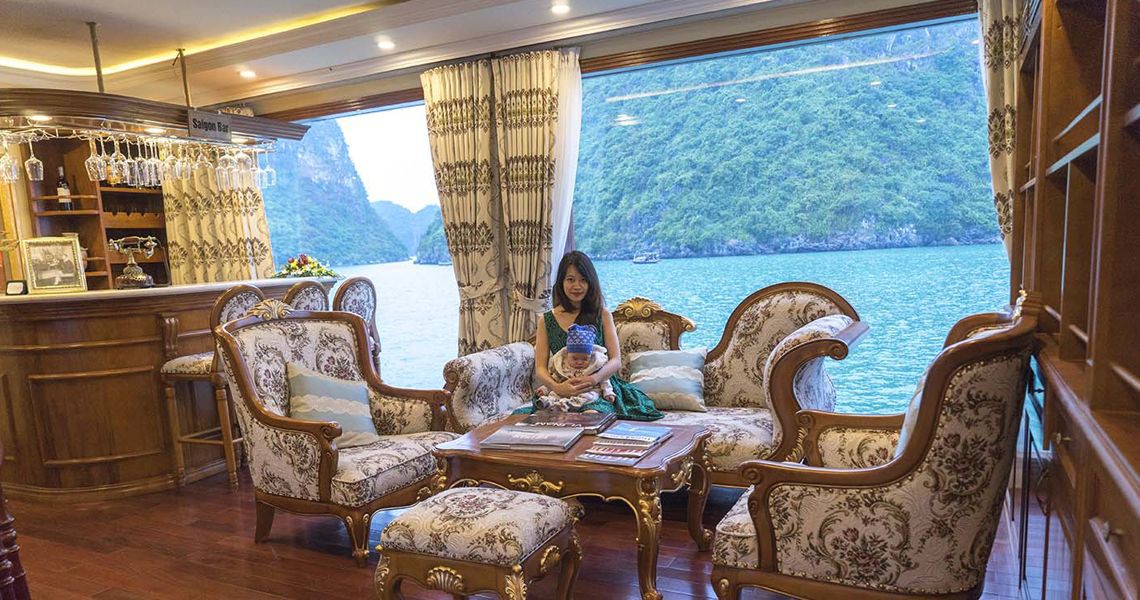 Emperor Cruises offers 02 Signature Suites on the main deck: Do Son Suite and Lak Lake Suite. Both of these suites are spacious with their private balcony offering spectacular sea views. The room size is 43 sqm and includes twin beds or double beds for couples and families. The suites are decorated in Indochine style with wooden floors and fully-equipped furniture. Besides, the bathroom fits for royalty with shower and jacuzzi bathtub. When you are relaxing in the bathtub, the ocean views of the bay can be seen from the window of the bathroom.
With this class of cabin, you can choose Nha Trang Suite, Da Lat Suite, Vung Tau Suite, and Hue Suite on the main deck and upper deck. These cabins own space of 50 sqm each and with ocean views both sides and a private balcony. Like other suites, all suites of state class have double beds or twin beds on request (extra beds are available on request).
Featuring 02 Royal Suites (King Suite and Queen Suite), Emperor Cruise brings a royal and spacious space for passengers. These two cabins are located on the upper deck with a size of 70 sqm in which the size of the private balcony is 10 sqm. They are 02 largest suites on the cruise and also offer the best views from huge windows and private balconies with sunbeds.
Overview
Being one of the first junk cruises in Northern Vietnam, Emperor Cruises operates in Bai Tu Long Bay with daily basic itineraries of 1-night and 2-night programs. With the slogan "Experience Every Moment", Emperor Cruises ensures to bring the best holiday on board for all passengers whether you choose 1-night or 2-night option.
This luxury cruise is a perfect combination of classic elegance and modern comfort, which brings a unique traditional imperial beauty to the legend Bai Tu Long Bay. Being an imperial cruise ship in this bay, Emperor Cruises offers diverse services in a small cruise ship with 08 luxurious cabins, 02 restaurants, two bars, a fitness center, 02 spa rooms, a kid's club, and a special small library.
Due to these conveniences, Halong Bay Cruise Deals highly recommend Emperor Cruises for a honeymoon anniversary, luxury adventures, or leisure holidays with families and friends in big or small groups. Do not miss your chance to discover and save your moments in Bai Tu Long Bay with Emperor Cruises!
Facilities
Individual controller air-conditioning
HANOI – SUN HARBOR - BAI TU LONG BAY - THIEN CANH SON CAVE - CONG DO (L, D)
08.00: Pick-up service
Our tour guide and driver will pick you up at your hotel in Hanoi's Old Quarter. It is kindly advised that you should be ready at the hotel lobby at least 5 minutes before the pick-up time. Moreover, please note that our shuttle bus may be late or earlier than the expected time due to the traffic situation.
You will be transferred to Halong Bay by a shuttle bus which provides high comfort during 3.5-hour driving including a short break along the way. The transfer from Hanoi to Halong is optional. In case, you travel to Halong Bay on your own, or you depart to Halong Bay from other places, not Hanoi, the pick-up point, in that case, will be at the waiting house of Emperor cruises at the Halong International cruise port.
12.00: Arrive at Sun Harbor
After reaching the harbor, you will stay in our waiting lounge for check-in before boarding time.
12.30: Embark Emperor Cruises
We embark on the Emperor Cruises to start our journey exploring the World Heritage Site. Welcome on board, you will be invited a welcome drink, followed by an introduction to cruise itinerary and safety instruction during your stay on the cruise.
13.00: Lunch at the restaurant
Lunch will be served at our restaurant on the main deck. While you are enjoying lunch, our cruise starts to sail further from Halong Bay to the heart of Bai Tu Long Bay.
Bai Tu Long Bay is located to the northeast of Halong Bay which has been recognized as the World Natural Heritage twice. The fact that the density of limestone islets in Bai Tu Long is not as dense as Halong Bay. However, it offers extremely pristine beauty without much human influence. Additionally, Bai Tu Long Bay is much less busy as "its mother" of Halong Bay, therefore, it is suitable for travelers who want to escape from the hustle and bustle cities and mingle with the natural.
14.30: Visit Thien Canh Son Cave
We will leave the cruise to visit Hon Co Island which is one of the most interesting highlights of Bai Tu Long Bay. Located in the heart of the Bay, the island is also called Grass Island. As the name suggests, this island is covered by the green color of grass, and different plants growing naturally. Visiting this island, you have a great chance to go swimming in the cool crystal-like water, then take a sunbathe on the long white sandy beach which still preserves its untouched beauty.
Hon Co island is also well famous for Thien Canh Son Cave (meaning Heaven's landscape) which consists of a large number of stalactites and stalagmites shaping different objects like a dolphin, flowers. To reach the cave entrance, you need to pass about a hundred stone steps winding round the cliff covered by green foliage that gives you the feeling of a treasure hunting.
16.30: We will return to Emperor Cruises by a small boat.
17.00: Kayaking and Swimming
It's time for recreational activities. You can do kayaking on the calm emerald water (please remember to change your clothes into swimming suits because you may get wet). Otherwise, you can relax with other services available onboard such as spa, massage (extra fee). Moreover, you shouldn't miss the magnificent sunset in the Bay. Sitting on the deck with a glass of wine and watching the orb of golden light falls beneath the horizon of the sea that is called the magical moment of nature.
18.00: Tea Demonstration
Time to attend a tea demonstration in which you can have in-depth information on tea as well as the sophisticated way of drinking tea as the real art. In Vietnam, a cup of tea is a common way to show the hospitality of hosts when welcoming guests coming to their home.
18.30 -19.00: Cooking Demonstration
Our onboard chef will deliver a cooking demonstration in which he will perform different cooking skills, then show you how to make a Vietnamese dish of spring rolls.
19.30: Dinner at the restaurant
Dinner will be served with a la carte menu in the restaurant.
21.00: Relaxing time
You can spend the time after dinner to socialize with other guests on the cruise that would be an opportunity for cultural exchange. There are various for you to join like watching movie night, dancing, singing, especially squid fishing in the late evening. With the help from the crew members, you can try your luck with squid fishing, then taste delicious dishes cooked from what you have caught.
Overnight on the Emperor Cruises.
Notes: If you have any food allergy or diet, please inform us in advance so that we can give you the most suitable menu for you.
It is necessary for you to bring swimming suits, sunglasses, sun cream.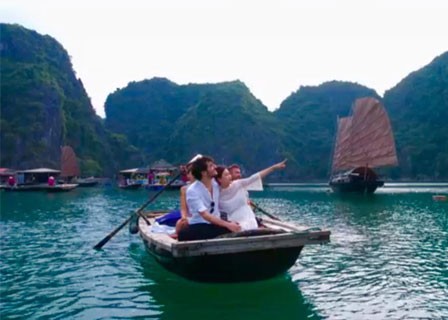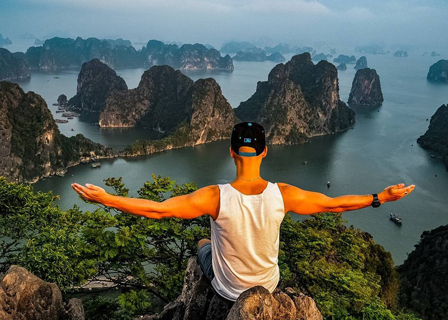 CONG DO - CONG DAM (HON XEP NATURAL PARK) - THAY CAVE - CONG DO (B, L, D)
6.00: Vovinam morning exercise
Early risers can attend a Vovinam basic session which has spread strongly not only domestically but also with international friends to become the pride of Vietnamese martial arts. Besides, it is highly recommended for you to wake up early enough, then go up to the sundeck to admire the stunning dawn with a cup of tea and cookies prepared by the crew members.
6.45: Breakfast time
Enjoy light breakfast with milk, bread, cereals, fruit juice, yogurt, cookies, tea, and coffee onboard. Then, there will be time for you to relax on your own before starting the 2nd day exploring Bai Tu Long Bay.
8.30 - 9.00: Transfer to a day boat
We will transfer to a Day Boat to depart our excursion visit the hidden corners in the Bay.
10.00 -11.00: Kayaking
We will do kayaking to discover the Thay Cave which is one of the most spectacular caves in Bai Tu Long Bay. The name is Thay (teacher) cave because it is said that inside the cave there are many stalactites in the form of a book, a brush, and a small stone like a table used to read books. The cave door is right next to the water's edge, so just a jump from the kayak you will reach the cave floor covered with a smooth layer of fine sand.
11.00 -12.00: Visit Cong Dam and fishing villages
The next stop is the Cong Dam area which is very famous for old fishing villages and Hon Xep natural parks. Located quite far from the mainland and completely isolated from the usual tourist routes, the landscape in this area retains many wild features and a very clean environment. Moreover, Hon Xep natural park is an outdoor geological museum with mountains formed from stones stacked in a straight line completely by nature but it looks like a man-made construction.
12.00 -15.00: Enjoy lunch and relax on the Day Boat.
15.00 -15.30: Return Emperor Cruises
We will be transferred back to the main boat of Emperor Cruises. You can take a rest in your cabin or join recreational activities.
18.15: Cooking Class or relaxing time
It is optional for you to join a cooking demonstration of making spring rolls to see whether you can do it better than the first try or not. Otherwise, you can choose to relax with a spa and massage.
19.00: Dinner at the restaurant or on the sundeck
BBQ dinner is served on board in a truly amazing setting.
21.00: Onboard games
There are various activities in the evening like watching movies, playing games, or lying on the deck with a cup of wine while enjoying the peaceful atmosphere in the Bay at night. Squid fishing is also available for you to join.
Overnight on board.
Meals: Breakfast, Lunch, Dinner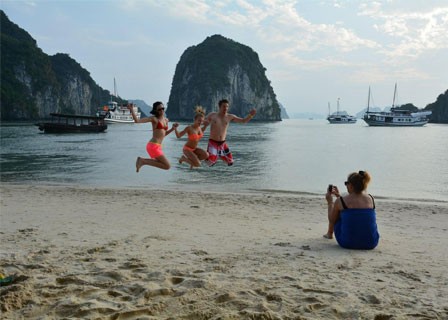 CONG DO - VUNG VIENG FISHING VILLAGE – SUN HARBOR - HANOI (B, L)
6.00: Vovinam Class
The sounds of the sea will wake you up. You can go up to the sundeck to do morning exercises with a Vovinam session, then have some cookies while drinking a cup of tea under the first rays of sunlight.
6.45: Breakfast is served in the dining room.
7.15 -7.30: Visit Vung Vieng Fishing Village
We will spend time visiting the Vung Vieng fishing village. You can immerse yourself in the romantic nature, admire the rocky mountain covered with trees and different types of plants, and observe the daily life of the fishermen. You can also participate in daily experiences with fishermen such as dropping fishing nets, catching fish ...Moreover, the Vung Vieng fishing village is also well known for pearl growing farms that provide a high quality of pearl jewelry.
8.30: Return Emperor Cruises
We will return to the Emperor cruises by a tender. You can relax in your room, then prepare your luggage.
9.30: Check-out time
Please leave your luggage in the reception area or in front of the room's door so that our staff can help you, and don't forget to give the room key back to the receptionists.
9.45 - 10.30: Brunch time
Early lunch will be served while the cruise is sailing back to the harbor.
11.00: Return to the dock
We will be at the Emperor Cruise dock at the harbor. It's time to say goodbye to the crew members, then disembark the cruise.
After that, you will get on the shuttle bus to go back to Hanoi for your onward journey.
Our 2-night Bai Tu Long Bay Cruise finishes here. Thank you so much for trusting the Emperor Cruises. we wish you the best. See you on your next trip to Halong Bay and Bai Tu Long Bay.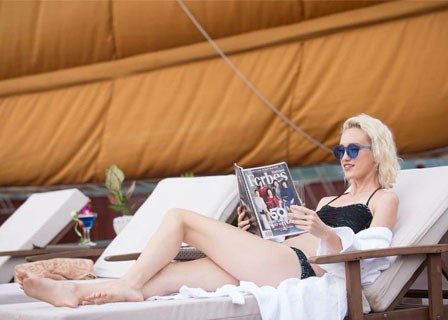 General Information
Bus pick-up time: 7:30 AM - 7:50 AM
Check-in: 12:30 PM
Check-out: 9:30 AM - 10:00 AM
Return Hanoi by bus: 3:30 PM - 4:00 PM
Shuttle bus pick-up point: Hotel in Hanoi Old Quarter or Thang Long Water Puppet Theatre in 57B Dinh Tien Hoang Street
Shuttle bus drop-off point: Hotel in Hanoi Old Quarter or Thang Long Water Puppet Theatre in 57B Dinh Tien Hoang Street
Booking Policy
• 50 % of the total cost is required to secure the booking
• The remained balance is to be paid 15 days prior to the departure date.
• In some special cases, our travel consultant will inform you if full payment is required or the exact deposit amount deadline for the remained balance.
Cancellation by Customer
• More than 31 days prior to check-in: Free of charge
• From 31 to 16 days prior to check-in: 25% of total rates
• Less than 15 days prior to check-in: 100% of total rates.
• No-Show: 100% of total rates
*** Cancellation notice from customer must be sent to us via email. Refund will be processed between 10 -15 working days.
Cancellation by Halong Bay Management Board due to bad weather
If the cancellation is made by the Halong Bay Management Board, following policies will be applied depending the time of cancellation.
• When a cancellation is made before departure date- check-in date (if no services have been used): 100% refund.
• When a cancellation is made during the trip (some services have been used such as transfer, food, some amenities, etc.): used services will be charged, the rest will be refunded.
• When a cancellation is made before or during the departure date and the trip must be shortened from 2 nights to 1 night, 2 days 1 night trip, plus other used services will be charged, the rest will be refunded.
• The final cost will be confirmed by your consultant via email. In all cases, please contact us directly for any urgent help. We are here to support you!
Note: In case of a cancellation decision made by the Management Board of Halong Bay, an alternative travel arrangement will be made on request, or you will be refunded in accordance. In all cases, please contact our travel consultant via email or phone for support. We are always willing to provide you with any assistance you may need on or off board.
Important Notes:
• PROGRAMS & SCHEDULES SUBJECT TO CHANGE WITHOUT PRIOR NOTICE.
• In case of adverse weather conditions in Halong Bay, the cancellation will ONLY be made by the Halong Bay Management Board. Usually the announcement will be declared very close to or on the departure date and our refund policy will come into effect.
Inclusions
Welcome champaign/sparkling wine/ house wine in room
Unlimited use of Massage, Sauna.
Unlimited drinks all the time: House wine, cocktail, mocktail, spirit, local beer, fruit juices, soft drink.
English speaking butler service
All rooms with private balcony & full ocean view, Jacuzzi bathtub
Free Mini-bar, fruits, snack & nuts
2D1N Cruise: 01 set menu lunch, 01 a la carte dinner, 01 breakfast and 1 Brunch
3D2N: 02 set menu lunch, 01 a la carte dinner + 01 BBQ dinner, 02 breakfast and 1 Brunch
Cookery & tea demonstration
Free 24h Dining menu in room
Live music, cinema, bars & art gallery
Vovinam session
Beach activities such as squid fishing, visiting cave, fishing villages, boating
Fun club for kids & library
Free Kayaking
Free wifi (the signal is not good all the time)
Sightseeing & entrance fees
Service charges and government tax
Includes Taxes & Fees
Exclusions
Air fares
Airport transfer - Noi Bai Airport (Hanoi) or Cat Bi Airport (Hai Phong)
Personal expenses
All other services Not mentioned above