Cozy Bay Cruise 2 days 1 night
Hanoi, Halong Bay, Tuan Chau Harbor, Sung Sot Cave, Titov Island, Pearl Farm Village, Hanoi
Launched: 2018
11 Cabin(s)

The Deluxe Double/Twin room is in an area of 13m2 per room. All rooms have large windows, so you can immerse yourselves in nature every time you want. There are 2 single beds and the maximum number of occupants is 2 people. All room is equipped with a shower bathroom and has a large window, letting you enjoy the landscape even when you are relaxing.
The Luxury Cabin is in an area of 13m2 per room. All rooms have large windows so you always have private space to enjoy the beautiful landscape. There is 1 double bed and the maximum number of occupants is 2 people. All room has a bathroom with a shower and a large window, the guests can observe Halong Bay even when they are lying in the bed.
The Deluxe Family room is in an area of 16m2 per room. All rooms have large windows, therefore, the guest can observe the beautiful nature in their own space. There are 1 double bed and 1 single bed in this room. The maximum number of occupants is 3 people. All rooms have bathrooms with showers and a large window, make sure that you can admire the beautiful nature every time.
Overview
Cozy Bay Cruise with well-equipped facilities will be a good choice for tourists among many other Halong Bay Cruises. Cozy Bay Cruise provides you with many good services such as sundecks, restaurant, and bar...
Featuring 11 cabins including Luxury Double/Twin rooms, Deluxe Double/Twin rooms, and Deluxe Family rooms, you can choose the most suitable room depending on the number of people on your team.
All the rooms have private balconies for you to chill in your own room. You are served delicious food which makes you impressed right from the first bite.
Cozy Bay Cruise offers you 2 days 1-night trip to experience Halong Bay with many interesting activities. The detailed itinerary that Cozy Bay Cruise prepares for you will help you to have your best trip in this gorgeous Halong Bay.
HANOI – HALONG BAY – SUNG SOT CAVE – TITOP OR SOI SIM ISLAND (L/ D)
8h30: The Cozy Bay Cruise tour guide will meet you at your hotel in Ha Noi Old Quarter.
10h15: Take a 20-minute break halfway to rest.
12h00: Arrive to Tuan Chau Harbor.
12h30: Welcome to Cozy Bay Cruise and have a welcome drink while learning about the cruise and safety instructions. Check-in to your air-conditioned room.
13h00: Enjoy a wonderful meal of Vietnamese traditional cuisine while traveling across the majestic Halong Bay and observing the bay's unique rock formations.
15h00: A trip to Sung Sot Cave (Surprising cave)
16h00: Our boat will take you to the island of Titop/Soi Sim. It is noted for having a viewpoint at its peak that provides spectacular views of Halong Bay, or you may swim on the romantic sandy beach.
17h30: Return to Cozy Bay Cruise and have a shower, relax on the sundeck, and enjoy the sunset in comfortable lounge chairs while having a drink or reading a book in the most special moment.
18h00: Enjoy the welcoming Sunset Party as well as the Cooking Class. Learn how to make fresh noodle rolls so you can enjoy the result.
19h00: Enjoy your dinner while sitting by the window and viewing the beautiful Bay at night.
20h30: Enjoy activities such as squid fishing, singing karaoke, or relaxing on the sundeck.
Overnight on boat: Clean air with conditioning room.
EXPLORING HALONG BAY – PEARL FARM VISITING – KAYAKING – COMING BACK HANOI (B/L)
6h00: Get up early in the morning to observe the sunrise on the sundeck.
7h00: A morning view of the bay with a cup of tea or coffee. Have a breakfast buffet!
7h40: Start with visiting the Halong Bay Pearl Farm. Halong's pearls are the most famous in Vietnam. It takes years to farm and retrieve pearls.
8h30: Kayak in Halong Bay and explore the bay on your own.
10h00: Check out and enjoy a beautiful bay cruise.
10h45: Enjoy your lunch when you cruise back to Tuan Chau Harbour.
12h00: When the Cozy Bay Cruise arrives in Halong Bay harbor, tourists say goodbye to the sailors and complete the cruise.
12h30: Take the bus back to Hanoi by Expressway.
14h30: Stop halfway for a brief rest.
16h00: Arrive at the Ha Noi Old Quarter hotel. The Cozy Bay Cruise 2 days 1 night trip is over!
Cozy Bay Cruise will fulfill your Halong Bay tour. This modern cruise will provide you with the best service to help you have a good time in Halong Bay. Don't hesitate to contact us, we will make the memorable trip together!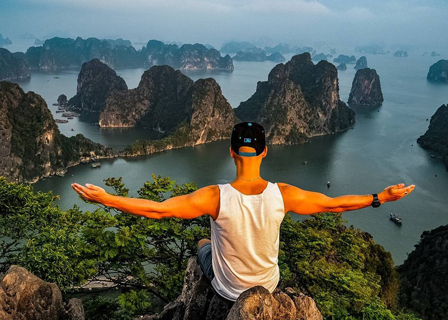 Children from 1 to 4 years of age are free, to share a room with parent.
Children from 5 to 8 years of age are charged 75%, sharing a room with parent
Children from 9 years of age as adult
Only one (01) child under 4 years old sharing room with two (02) adults is allowed for FOC;
Inclusions
Expressway Transfer Round Trip
Limousine Bus & Felix Samco Bus.
English Speaking Guide
Water on the Bus
Entrance fees: During the tour
Buffet Lunch
Kayaking/ Bamboo Boat
Sunset Party: Red wine, Tea, Cakes, Shrimp Chips, Fresh Fruits
Includes Taxes & Fees
Exclusions
Drinks
Kayaking/ Bamboo Boat
Personal expenses.
Tips for guide and driver
Other things are not mentioned in our tour program
"Halong Bay leaves me with the best memories!"
Really a good tour, the balance between interesting activities and time to relax, so I really enjoy the tour. The food on board was delicious and the beverage at the restaurant was great too. Couldn't recommend this tour more!
"Couldn't have asked for more"
Our tour guide Nguyen is the best tour guide ever, he is so informative and I could learn a lot from him. I think 2 days 1 night is enough for me to explore this place and I love the sunset on Halong Bay, it was so romantic and peaceful, amazing!
"Seeing the sights"
Amazing trip with amazing people. The staff on the cruise was friendly, our tour guide was so kind, he helped us to learn more about Vietnam's culture and history. And, this 2 days 1 night trip is well-organized and the itinerary was really detailed. Thank you for the good service!!
"A beautiful memory in the country shaped like S"
The trip to Ha Long this time is very memorable. I booked the Cozy Bay cruise through the travel agency and was completely satisfied with the experience there. Initially, rooms were well equipped, clean and fragrant. Staff spoke English very well. Besides, we had an elegant restaurant and bar with a wide choice of food and drinks. Cooking class was fun and interesting. What a good vacation.
"Nature at its best"
We started a fantastic day out. The pick-up and limousine ride was ok, although the car was a lil old. The cruise boat was changed one day earlier since we received a notification from the operator. The vegetarian alternatives were quite limited. About the locations we visited, they were all fantastic. The caves were stunning, the kayaking was fantastic, and the scenery was lovely. Halong Bay is the most memorable thing to me during the time we spent in Vietnam.
"I want to stay longer"
Halong Bay is too beautiful to explore in only 2 days. I love everything here. The staffs are so nice, they helped me a lot. The foods of the cruise are delicious too and I'm happy with my detailed itinerary. Thanks for giving me this chance
"A relaxing trip"
I had a good time with this ship. I can eat the delicious food when enjoying the beauty of Halong Bay outside. It was great. The cruise is good with well-equipped facilities. I had many good experience here. Thank you!
"I had many beautiful moments here"
My colleage and I had a great time here. We had a relaxing trip together. We enjoyed many interesting activities together and they were funny. The facilities of the cruise was quite good. Halong Bay and its limestone mountains is great.
"Halong Bay Pearl Farm was great"
I had a good trip with this cruise. The staffs were friendly and the service was good as well. I had a chance to explore Halong Bay Pearl Farm and they were so impressive. I aslo had many delicious meals on the cruise. Thanks
"the sunset is beautiful"
I love the sunset. I can enjoy the beautiful sunset from the sundeck and it was too beautiful, I took many beautiful pictures here.The landscapes of Halong Bay is very beautiful and there were a lot of things fo me to explore.Cozy Bay Cruises is great too. Thanks
"I like Tivtop island"
I had a great time on Tivtop island, I can swim here with my son, it was a great time. The itinerary of this tour is good, it lets us explore Halong Bay through many interesting activities and we really had many beautiful moments. Besides, the cruise is good too.
"I'm happy"
A happy trip with many interesting experience. I can explore Halong Bay. Besides, I also could visit caves and islets, they are great. I had a good time time on a good cruise. There is nothing to make complaints.
"Sung Sot Cave is beautiful"
I love Sung Sot Cave, it was so impressive. Besides, I also had a good time in TivTop island, I swan here and it was great. Halong Bay is really beautiful, it's worth visiting. The cruise is quite good staffs, foods are fresh and delicious too.
"Nice adventure"
It was a nice experience for me, I had the peaceful time here to relax. The detailed itinerary helped me have the best experience here. The crew team was so supportive, thanks. I hope my family could visit Halong someday in the future!
"A happy time with my family"
My family had a happy time here. We took many pictures among many limestone mountains. I want to say thanks to the staffs, you are so supportive. The food was aslo good too. We really appreciate your service. Thanks Cozy Bay Cruises.
"The weather was not good"
It was a cloudy day and I couldn't have the best experience here. Bowever, the crew team was really nice and they prepared many delicious foods. I also engaged in cooking class and made Vietnamese food. I wish the weather had been better!
"A good cruise"
It was a happy trip, I can feel the kind of the staffs. I had good meals and I even learned to make Vietnamese cuisine by myself. It was a great experience and I'm happy with it. Besides, the landscape of Halong Bay is beautiful, which give me the peaceful atmosphere to relax.
"I like it"
This was a good experience to me. I had a chance to explore the beautiful destination in Vietnam. Besides, the cruise was good with the nice crew team. Even though I had a cold on that day but it's still a good trip.
"Nice trip"
The landscapes are beautiful, I had a peaceful vacation here. The facilities is good, the crew team was kind. The itinierary had many interesting activities for me to explore this place. I had a happy time here, thanks!
"A happy trip"
My friend and I had a good time here, we engaged in many activities together. We love private balcony because we can enjoy nature everytime we want. The facilities are good and we are happy with this trip!
"The weather was bad"
I couldn't enjoy Halong Bay in the best mood because the weather was not good, it had clouds on that day. However, the crew team was nice and they supported me a lot. Besides, seafoods are fresh and delicious!