La Regina Royal Cruise 2 days 1-night
Hanoi, Halong Bay, Luon Cave, Titov Island, Sung Sot Cave, Tuan Chau Harbor, Hanoi
Launched: 2018
20 Cabin(s)
The Noble Suite provides tourists with a warm, traditional setting where you may have a fantastic vacation while crossing the gorgeous mountains and peaceful waves. You may have a drink while relaxing and gazing out the glass windows at nature. We ensure that moment and the view will be in your mind as an unforgettable image.
This cabin offers many luxury and modern facilities within a space of 26 m2, providing a panoramic sea view to tourists for optimizing the experience. From the suite, you can admire a wide range of majestic mountains, crystal water, and slight waves.
Grand Royal Suite is a large-sized room on La Regina Royal Cruise with a fascinating view of the sea and dramatic mountains. Providing tourists, a chance to feel peace and relax after a long working period in a cozy and stunning space. Halong Bay Cruise Deals ensures a memorable trip on the ship with comfortable and modern amenities.
Overview
We warmly invite visitors to see Halong Bay's stunning scenery while in Vietnam discovery. The journey guarantees a wonderful experience via several magnificent caverns, fishing villages, islands, and long beaches with a variety of sports including kayaking, swimming, bicycling, and eating distinctive cuisine. Visitors get the chance to take in a serene setting with towering mountains around them and rippling water beneath their feet. After long days at work, this is also a good time to spend with friends or family.
Up to 20 cabins are available at La Regina Royal Cruise so tourists can have a chance to choose the suitable one.
The ship was renovated in 2018 and is outfitted with top-notch luxury and contemporary comfort amenities, promising an amazing journey around the most popular Halong Bay tourist attractions.
Halong Bay Cruise Deals is an established company that offers visitors boat vacations around Halong and a special method to see this location. As a result, you won't have to worry about fraud, surprises, or exorbitant costs. We consider it an honor to travel with you on the La Regina Royal Cruise's Vietnam Trip.
Hanoi – Luon Cave – Titop Island (L, D)
11:30: Attend Le Regina Royal waiting lounge in Halong International Harbour, to take quick check-in before boarding.
12:30: Transfer to La Regina Royal Cruise by speedboat or tender. Have a welcome drink while the cruise manager talks about the journey.
12:45 – 13:00: Tourists have lunch at the restaurant. Take in the stunning surroundings and well-known limestone formations as the boat heads into Halong Bay, a natural wonder of the world.
15:00: See Luon Cave on your first excursion. One of Halong's best locations for rowing or kayaking is believed to be here. Following that, you may go swimming or trek to the summit of Titov Island for another breathtaking, expansive view of the Bay.
17:30: When returning to the ship, take in the Bay sunset and the "Happy Hour" special. You could come into the kitchen with our chef to learn how to prepare classic spring rolls.
19:00: Enjoy the dinner in the restaurant or on the sundeck (based on the weather).
Then you can join squid fishing, spa (charge fee), karaoke, or relaxing.
Halong Bay – Surprising Cave (B, L)
06:00: Have a Ta chi session to welcome the new day on the sundeck.
06:30: Have breakfast and get prepared for a new day.
07:30: After breakfast, you'll go on an excursion to the majestic Sung Sot Cave (Surprising Cave), the largest and most stunning cave in Halong Bay, where you can enjoy breathtaking views of the whole bay.
09:00: Return to La Regina Royal Cruise, unwind, and prepare your bags. Put your bags outside the cabin. Our staff will gather them.
09:45 The restaurant serves a buffet of Vietnamese food as the boat returns to the harbor.
11:00: Say farewell to the passengers, and disembark at the port.
Itineraries can be changed without notice due to the conditions of the cruise. Although there is Wi-Fi in the restaurant/bar area, Halong's location limits internet availability.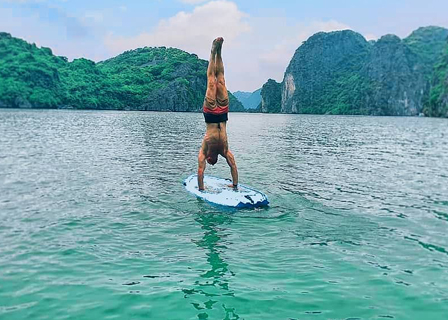 General Information
Bus pick-up time: 7:10 AM - 7:45 AM
Check-in: 12:00 PM - 12:30 PM; Check-out: 10:30 AM - 11:00 AM
Return Hanoi by bus: 4:30 PM
Shuttle bus pick-up & drop-off point: Hotel in Hanoi Old Quarter or in front of Hanoi Opera House
Booking Policy
• 50 % of the total cost is required to secure the booking.
• The remaining balance is to be paid 15 days prior to the departure date.
• In some special cases, you will be required to pay the full cost or a number greater or smaller than the standard 50% to secure your booking.
• In some special cases, the deadline for payment will be required sooner or later than the standard 15 days prior to booking.
Cancellation by Customer
• More than 31 days prior to check-in (departure date): Free of charge
• From 31 to 16 days prior to check-in (departure date): 10% of total rates
• From 15 to 8 days prior to check-in (departure date): 20% of total rates
• From 7 to 4 days prior to check-in (departure date): 50% of total rates
• Less than 4 days prior to check-in (departure date): 100% of total rates.
• No-Show: 100% of total rates
*** Cancellation notice from customer must be sent to us via email. Refund will be processed between 10 -15 working days.
Cancellation by Halong Bay Management Board due to bad weather
If the cancellation is made by the Halong Bay Management Board, following policies will be applied depending on the time of cancellation.
• When a cancellation is made before departure date- check-in date (if no services have been used): 100% refund.
• When a cancellation is made during the trip (some services have been used such as transfer, food, some amenities, etc.): used services will be charged, the rest will be refunded.
• When a cancellation is made before or during the departure date and the trip must be shortened from 2 nights to 1 night, 2 days 1 night trip, plus other used services will be charged, the rest will be refunded.
• The final cost will be confirmed by your consultant via email. In all cases, please contact us directly for any urgent help. We are here to support you!
Note: In case of a cancellation decision made by the Management Board of Halong Bay, an alternative travel arrangement will be made on request, or you will be refunded in accordance. In all cases, please contact our travel consultant via email or phone for support. We are always willing to provide you with any assistance you may need on or off board.
Inclusions
Welcome, drink & snack on board.
Entrance fee for every destination.
English/Vietnamese-speaking tour guide on board
Luxury cabin
All meals aboard as mentioned in the itineraries
Kayaking, Rowing boat, Swimming (if the weather permits), Squid fishing, Music entertainment.
Welcome drink, two bottles of mineral water in each suite.
Includes Taxes & Fees
Exclusions
Airfare, visa arrangements
Transportation
Beauty Spa Services & Massage
Beverages, tips, gratuities, and other personal expenses
All other services not clearly mentioned above.