Ambassador Cruise Itinerary 2 days 1 night
Hanoi, Halong Bay, Titov Island, Luon Cave, Sung Sot Cave, Tuan Chau Harbor, Hanoi
Launched: 2018
46 Cabin(s)
Overview
Launched in 2018, Ambassador Cruise is one of the grandest modern steel boats in Halong Bay. The design with a twin sundeck, an onboard music live band, and many entertaining services make it stand out among other Halong Bay cruises.
Featuring 46 luxurious cabins, 1 open restaurant, and 2 wide bars with a total capacity of up to 400 pax, the Ambassador cruise promises to give you an unforgettable tour floating around the marvelous Halong Bay.
Ambassador cruise offers 2-day-1-night and even day cruise itineraries to satisfy both adventurous and relaxing passengers. Embarking on this luxury Halong Bay cruise, you will be impressed by the splendid Piano Lounge before exploring all the available options for interior entertainment and treatment.
The twin decks of Ambassador Cruise will then evaluate your sunbathing experience to another level, not to mention the infinity pool with a 360-degree view of Halong Bay. Guests are free to choose between these high-end services on the boat or join in adventurous excursions.
The suites on Ambassador Cruise are more spacious than those on other same-segment yachts. With the complementary tones, all the suites on the board are full-furnished with parquet wooden flooring, a walk-in closet, and a private balcony.
The huge windows also help you absorb the whole scenery of Halong Bay. Moreover, the vessel focuses on being environmentally friendly and actively reducing and eliminating onboard plastic.
Pick the best suite option and treat yourself to an excellent journey through heritages and attractions in Halong bay with Ambassador Cruise!
Hanoi - Halong Bay - Luon Cave - Titov Island (L, D)
08:00 - 08:30: Pick up at your hotel in the Old Quarter by our tour guide on the shuttle bus.
10:00 - 12:00: Arrive at Ambassador's Lounge at 1st Floor, Terminal – Halong International Cruise Port, Bai Chay Ward, Halong City, Quang Ninh. The reception will assist you with the check-in process before embarking.
12:00-12:30: Transfer to the International port for Cruise boarding. Brief about Ambassador Cruise while sipping a welcome drink at Piano Lounge or our restaurant.
12:45 - 14:00: Enjoy your buffer lunch while enjoying the majestic views of Halong Bay's limestone islets.
14:30 - 15:30: Your first excursion is a visit to Luon Cave, a hidden gem that will leave you in awe. Marvel at the breathtaking scenery as you glide on a bamboo boat rowed by a local or kayak through the cave's self-contained lake nestled within a majestic mountain.
16:00 - 17:00: Next stop is Titov Island! This is your chance to soak up the sun and dive into the turquoise waters of the bay. Climb to the top of the island and be rewarded with sweeping 360-degree views, including a crescent moon-shaped beach that will take your breath away.stic and serene landscape of Halong Bay.
15:45 - 16:30: If you prefer a more relaxed pace, Ambassador Cruise welcomes you to the onboard Atelier de Beauté Spa. Pamper yourself with some much-needed TLC while surrounded by the stunning surroundings of Halong Bay. Alternatively, stay onboard and savor some homemade cakes at the Piano Lounge or unwind in the outdoor Jacuzzi pool.
17:30 - 18:30: As the sun sets, we'll anchor overnight, and the fun doesn't stop there.
Join us for Happy Hour and Canapes at the Piano Lounge or Sundeck (weather permitting), and enjoy a cooking class before indulging in a delectable dinner.
19:00: Time to savor delicious supper with Chef's special menu at the restaurant. A small note for you about the dress code is that formal, semi-formal, or smart formal dressings are all accepted.
After dinner, let loose with drinks* and live music from the Midnight Buzz Band at the Piano Lounge (except Monday). Try your luck with squid fishing or catch a movie in your cabin, or indulge in another spa treatment at Atelier de Beauté Spa*. The choice is yours!
Sung Sot Cave - Tuan Chau Harbor - Hanoi
06:30 - 07:00: Rise and shine! Join a Tai Chi session on the sundeck, which is a great way to start your day with some gentle exercise and relaxation. If the weather is not ideal, the class will be moved to Piano Louge.
07:00 - 07:30: Enjoy a light breakfast at the Piano Lounge, where you can savor freshly brewed coffee, tea, and delicious pastries while enjoying the stunning views of the bay.
07:30 - 08:30: Go on an exploration to Sung Sot Cave - the largest and most magnificent cave in the bay. Prepare a camera to appreciate all the interesting forms of stalactites.
08:30 - 09:30: Return to the cruise ship and savor a full breakfast at the restaurant.
09:30 - 09:45: Settle your bills and check-out at the reception on the first deck.
10:15 - 10:30: Disembark at Halong International Cruise Port, where you will continue your journey to your next destination.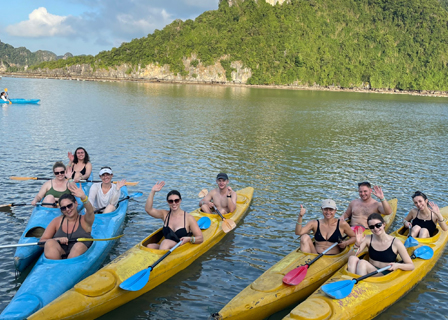 CRUISE ITINERARY
Cruise itinerary is subject to change, with or without prior notice, depending upon tide and weather conditions.
CHILD POLICY
Under 5 years old: Free of charge for the 1st child, from the 2nd child: 15% of an adult price
From 5 – under 12 years old:
Sharing bed with parents: 60% of an adult price
Using extra mattress: 75% of an adult price
From 12 years old & above (Quote as 1 adult, applied triple room rate)
PEAK SEASON SURCHARGE
Christmas: 24th Dec
New Year's Eve: 31st Dec
Lunar New year: 30th and 1st, 2nd, 3rd
CANCELLATIONS & AMENDMENTS
Any changes / amendments to an existing booking shall be considered as a cancellation and a new booking shall be made. Penalty charges shall apply accordingly, based on the charge for each cancelled cabin as per the following percentages:
Quantity of persons
Time
Cancellation Charge Policy
From 1 – 3 rooms
7 days prior to the arrival
No cancellation charge
Less day 7 days prior to the arrival
100% of the total rate
From 4 – 6 rooms
More than 21 days prior to the arrival
No cancellation charge
From 20 to 14 days prior to the arrival
50% of the total rate
Less day 14 days prior to the arrival
100% of the total rate
From 7 – 10 rooms
More than 45 days prior to the arrival
No Cancellation charge
From 45 days – 31 days prior to the arrival
25% of the total rate
From 30 days – 21 days prior to the arrival
50% of the total rate
From 20 days – 10 days prior to the arrival
75% of the total rate
Less than 10 days prior to the arrival
100% of the total rate
For 11 rooms & above
To be confirmed upon request
No Show
Will be charged in full
SHUTTLE BUS (Limousine bus)
Departure point in Hanoi: At guest's hotel in Hanoi Old Quarter
Time to pick up from Hanoi: 8.30 to 09.00 am
Rate for children below 2 years: Free of charge. Limited to one child per booking only, sharing chair with parents.
Inclusions
Accommodation in a luxury balcony cabin
Meals as mentioned in itinerary
Beverage: welcome drink, bottled water in room, tea/coffee in breakfast
Afternoon tea service
Enjoy cooking class on sundeck in the late afternoon
English/Vietnamese in-house tour guide
Take part in the basic Taichi class in the early morning
Free wifi in the restaurant onboard, in-room satellite TV
Free of charge birthday cake for guests whose birthday coincides with their trip
Romantic check-in points onboard
Ambassador customer care service 24/7, provide all information related to the trip
Halongbay's sightseeing and overnight fees with basic travel insurance
VAT and service charge
Includes Taxes & Fees
Exclusions
Transportation
Drinks on meals
Spa and massage services
Laundry service
Kayak (20USD/kayak)
Tip and other services which are not mentioned in Inclusions