Pelican Cruise 2 days 1-night
Hanoi, Halong Bay, Luon Cave, Titov Island, Sung Sot Cave, Tuan Chau Harbor, Hanoi
Launched: 2014
20 Cabin(s)
Overview
Pelican Classic Cruise is one of the deluxe cruises in Halong Bay which is a member of Ha Long Image Cruise Company established in 2011. The cruise is fully equipped with qualified facilities and amenities along with navigation and rescue devices, transceiver, fire alarm, which ensures the highest quality of service and safety standards for customers.
Well understand that the significant factor for a successful business is the satisfaction of the customers over the services they use, Pelican team are always ready and eager to receive customers' feedback to continually improve our services.
The Pelican Classic Cruise offers a rich cuisine and an extensive collection of drinks from the refined restaurant and bar, indoor or on the sun deck. The rooms are flawlessly designed with spacious windows or private balcony overlooking the sea, natural wood floors, in-house phone, air-conditioner, and an en-suite bathroom. These highlights, along with a specialized and welcoming staff, have been providing a great experience for visitors when coming to Halong Bay - of the natural wonders of the world.
Highlights
Pelican Classic Restaurant
Pelican Classic's restaurant is designed for a wonderful atmosphere where guests can enjoy their meals while admiring the impressive view of the bay. Our proficient staff serves you with well-catered delicious meals together with a supreme service to bring you an unforgettable dining experience.
Pelican Classic Spa
Onboard Pelican Classic, do not forget to visit our Spa. Our skillful and specialized therapists will pamper your body and calm your mind with expert spa and massage treatments. Our wide selection of therapies including customized facial and body massage which are always available at your request, will relieve your pain and stress, treat your physical conditions, and improve your flexibility.
Facilities
Water sports (non-motorized)
Wooden/parqueted flooring
Hanoi - Halong Bay
7.30 - 19.30
Pelican Halong Bay Cruise transfers pick up guests from Hanoi Old Quarter. There is a stopover halfway for about 30 minutes.
Arrive at the waiting room of Pelican Cruise at noon.
Embark the boat, enjoy a welcome drink while our cruise manager presents an introduction of the program, safety instructions and general regulations.
The boat starts its journey to discover Halong Bay while a buffet lunch with many delicious dishes is served to you.
Along the way, you will see many caves and limestone islands with different shapes, and they are named after its forms such as Incense Burner islet (looks like an incense burner), Fighting Cock islets (2 cocks fights each other), etc.
The first stop in the afternoon is Luon cave. You can opt to visit the cave on a bamboo boat or paddle kayak by yourself. Look around on the rocky mountain, you will encounter monkeys.
Next, you have free time to swim at Titov beach, experience the feeling of being deep in the emerald water of Halong Bay. Don't miss the opportunity to admire a panoramic view of the bay by 400 steps up to the top of the island.
Come back to the ship, relax on the deck then join our cooking class and Happy Hour promotion (buy 1 get 1).
17.30 - 19.30
Enjoy your sumptuous dinner with Vietnamese and International dishes at the restaurant.
After dinner is your free time for you to enjoy a drink at the bar and join our evening activities such as watching movies, playing board games, squid fishing or booking a massage service.
Halong Bay - Hanoi
06.00 - 08.00: Join our Tai Chi class on the deck, under the first sun rays of a day.
Have breakfast in the serene bay after that.
08.00 - 11.30: We take you to Sung Sot cave, one of the most stunning caves in Halong Bay.
Return to the Pelican Cruise, relax then pack your luggage and check out of your cabin.
Buffet lunch awaits you in our restaurant.
11.30 - 17.00: Arrive back to Tuan Chau harbor. Disembark the boat, get on the shuttle bus back to Hanoi.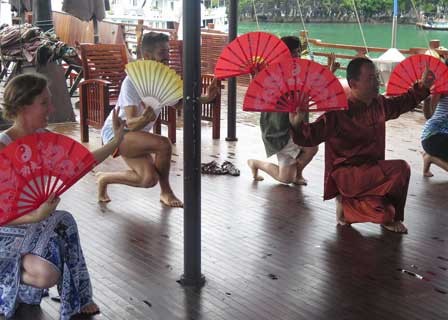 General information
Bus pick-up time: 07:30 AM
Check-in: 11:30 AM
Check-out: 10:30 AM
Return Hanoi by bus: 04:30 PM
Shuttle bus pick-up point: Hotel in Hanoi Old Quarter or in front of Hanoi Opera House
Shuttle bus drop-off point: Hotel in Hanoi Old Quarter or in front of Hanoi Opera House
Booking Policy
• 50 % of the total cost is required to secure the booking.
• The remaining balance is to be paid 15 days prior to the departure date.
• In some special cases, you will be required to pay the full cost or a number greater or smaller than the standard 50% to secure your booking.
• In some special cases, the deadline for payment will be required sooner or later than the standard 15 days prior to booking.
Cancellation by Halong Bay Management Board due to bad weather
If the cancellation is made by the Halong Bay Management Board, following policies will be applied depending the time of cancellation.
• When a cancellation is made before departure date- check-in date (if no services have been used): 100% refund.
• When a cancellation is made during the trip (some services have been used such as transfer, food, some amenities, etc.): used services will be charged, the rest will be refunded.
• When a cancellation is made before or during the departure date and the trip must be shortened from 2 nights to 1 night, 2 days 1 night trip, plus other used services will be charged, the rest will be refunded.
• The final cost will be confirmed by your consultant via email. In all cases, please contact us directly for any urgent help. We are here to support you!
Note: In case of a cancellation decision made by the Management Board of Halong Bay, an alternative travel arrangement will be made on request, or you will be refunded in accordance. In all cases, please contact our travel consultant via email or phone for support. We are always willing to provide you with any assistance you may need on or off board.
Cancellation by Customer
• More than 33 days prior to check-in ( departure date): Free of charge
• From 33 to 15 days prior to check-in ( departure date): 10% of total rates
• From 14 to 8 days prior to check-in ( departure date): 20% of total rates
• From 7 to 4 days prior to check-in ( departure date): 50% of total rates
• Less than96 hours prior to check-in ( departure date): 100% of total rates.
• No-Show: 100% of total rates
*** Cancellation notice from customer must be sent to us via email. Refund will be processed between 10 -15 working days.
Important Notes:
• PROGRAMS & SCHEDULES SUBJECT TO CHANGE WITHOUT PRIOR NOTICE
• In case of adverse weather conditions in Halong Bay, the cancellation will ONLY be made by the Halong Bay Management Board. Usually the announcement will be declared very close to or on the departure date and our refund policy will come into effect.
Inclusions
In-house English-speaking Tour Guide
Welcome Drink
Entrance & Sightseeing Fees
Luxury Cabins & Suites with A/C with Luxury en-suite Bathroom
Meals as itinerary
Tai Chi Session
Taxes and Service Charges
Insurance on board
Includes Taxes & Fees
Exclusions
Airfares, Visa arrangement
Pre-post accommodation in Hanoi
Beauty Spa Services & Massage
Beverages not mentioned in itinerary
Tips & Others Personal Expenses
All other services not clearly mentioned above
Surcharge for Lunar New Year's Eve
Hanoi - Halong - Hanoi Transfer (book in next step)