President Cruise 2 Days 1-night
Hanoi, Halong Bay, Tuan Chau Harbor, Sung Sot Cave, Luon Cave, Titop Island, Tuan Chau Harbor, Halong Bay, Hanoi
Overview
Being one of the most luxury cruises in Halong Bay, President Cruise offers its guests an experience par excellence. Aboard this ship, you will enjoy a cruise through the world's most splendid scenery all while being served with Michelin-starred dining, jazz band entertainment, and the most luxurious accommodation found nowhere else in Halong Bay.
The five-deck steel craft President is also the biggest overnight cruise ship in Halong Bay measuring 86 meters long, 13.9 meters wide and 13 meters high. With 46 elegant cabins, two spacious sundecks, a sophisticated dining room, an outdoor Jacuzzi, and a premium spa, the President promises to ensure an exceptional and remarkable experience for its guests.
Cruising with the President, you will enjoy the majestic scenery unfolding before your eyes. Our handcrafted experiences will lead you through the limestone karsts to discover a hidden wealth of culture, explore Cua Van floating village, fabulous caves, pearl farms, and climb up to the top of an island to get a 360-degree view of the bay from above.
Highlights
Evening Entertainment
After dinner, let stay a while at the restaurant for a Brazilian jazz duo which promises to light up your night in the elegant piano lounge. Being inspired by the music of the Jazz Age 1920s, aboard the President, you will find a New York jazz café right at the dining area, which cannot be found in any other Halong Bay Cruise.
TUAN CHAU HARBOR - SUNG SOT CAVE - LUON CAVE
11:30: Your shared or private transfers will drop you at HOME Finest Teas Lounge, Paradise Comfort Hotel, Tuan Chau island.
12:30: Transfer to the President Cruise by electric cars. Being welcomed onboard with a welcome drink and a cruise briefing at the Piano Lounge.
13:00 - 14:15: Savor your buffet lunch.
14:30: Have a short trek to Sung Sot Cave, one of the most beautiful caves in the bay featuring thousands of stalactites and stalagmites in different forms.
16:00 - 17:00: Kayaking in Luon Cave.
17:00 - 18:30: Join our daily Happy Hour on the sundeck.
17:30 - 19:00: Learn to make a Vietnamese dish during the cooking demonstration.
19:00: Enjoy your Michelin-starred dinner with more than 40 Eastern and Western dishes.
After dinner, you have free time for tasting a drink from our bar while enjoying live Jazz music at the Piano Lounge.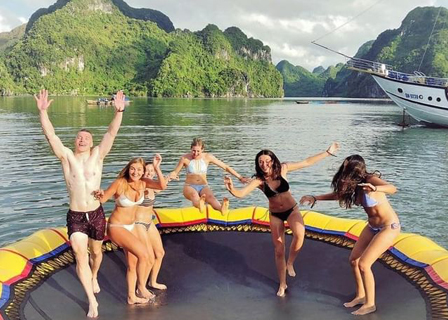 TITOV ISLAND - TUAN CHAU HARBOR
06:30: Begin your new day with a Tai Chi session on the sundeck.
07:00: Your breakfast is served after that with coffee, tea, and freshly baked pastries.
07:30: Visit Titov island for swimming on the beach or trekking to the top of the island to get a panoramic view of the bay.
08:30: A buffet brunch is served at the restaurant while the ship is cruising back to the mainland.
09:45: Time for bill settlement and check out.
10:30 - 10:45: Disembark the President at Tuan Chau harbor.
General Information
Bus pick-up time: 08:45 AM - 09.15 AM
Check-in: 11:30 PM - 12:00 PM
Check-out: 09:00 AM - 10:00 AM
Return Hanoi by bus: 02.30 PM – 03.30 PM
Shuttle bus pick-up & drop-off point: Hotel in Hanoi Old Quarter or in front of Hanoi Opera House
Booking Policy
50 % of the total cost is required to secure the booking.
The remaining balance is to be paid 15 days prior to the departure date.
In some special cases, you will be required to pay the full cost or a number greater or smaller than the standard 50% to secure your booking.
In some special cases, the deadline for payment will be required sooner or later than the standard 15 days prior to booking.
Cancellation by Halong Bay Management Board due to bad weather
If the cancellation is made by the Halong Bay Management Board, following policies will be applied depending on the time of cancellation.
When a cancellation is made before departure date- check-in date (if no services have been used): 100% refund.
When a cancellation is made during the trip (some services have been used such as transfer, food, some amenities, etc.): used services will be charged, the rest will be refunded.
When a cancellation is made before or during the departure date and the trip must be shortened from 2 nights to 1 night, 2 days 1 night trip, plus other used services will be charged, the rest will be refunded.
The final cost will be confirmed by your consultant via email. In all cases, please contact us directly for any urgent help. We are here to support you!
Note: In case of a cancellation decision made by the Management Board of Halong Bay, an alternative travel arrangement will be made on request, or you will be refunded in accordance. In all cases, please contact our travel consultant via email or phone for support. We are always willing to provide you with any assistance you may need on or off board.
Cancellation by Customer
More than 33 days prior to check-in ( departure date): Free of charge.
From 33 to 15 days prior to check-in ( departure date): 10% of total rates.
From 14 to 8 days prior to check-in ( departure date): 20% of total rates.
From 7 to 4 days prior to check-in ( departure date): 50% of total rates.
Less than 96 hours prior to check-in ( departure date): 100% of total rates.
No-Show: 100% of total rates.
*** Cancellation notice from customer must be sent to us via email. Refund will be processed between 10 -15 working days.
Important Notes
PROGRAMS & SCHEDULES SUBJECT TO CHANGE WITHOUT PRIOR NOTICE.
In case of adverse weather conditions in Halong Bay, the cancellation will ONLY be made by the Halong Bay Management Board. Usually the announcement will be declared very close to or on the departure date and our refund policy will come into effect.
Inclusions
Welcome drink & snack.
English speaking tour guide on board.
Luxury Balcony cabin with A/C.
Full meals onboard (01 lunch, 01 dinner, 01 breakfast for 2 days/1night, and 02 lunches, 02 dinners, 02 breakfasts for 3 days/2 nights).
Tai Chi session.
Cooking Demonstration.
Travel Insurance.
Kayak service (for 3days/2nights program).
Includes Taxes & Fees
Exclusions
Airfares
Hotel Accommodation.
Hanoi - Halong Bay - Hanoi round-trip transfer (Book in the next step).
Visa arrangements.
Beauty spa services and massage.
Tips and other personal expenses.
All other services not clearly mentioned above.