V'Spirit Cruise 3 days 2 nights
Hanoi, Halong Bay, Lan Ha bay, Dark and Bright Cave, Viet Hai village, Hanoi
Launched: 2018
18 Cabin(s)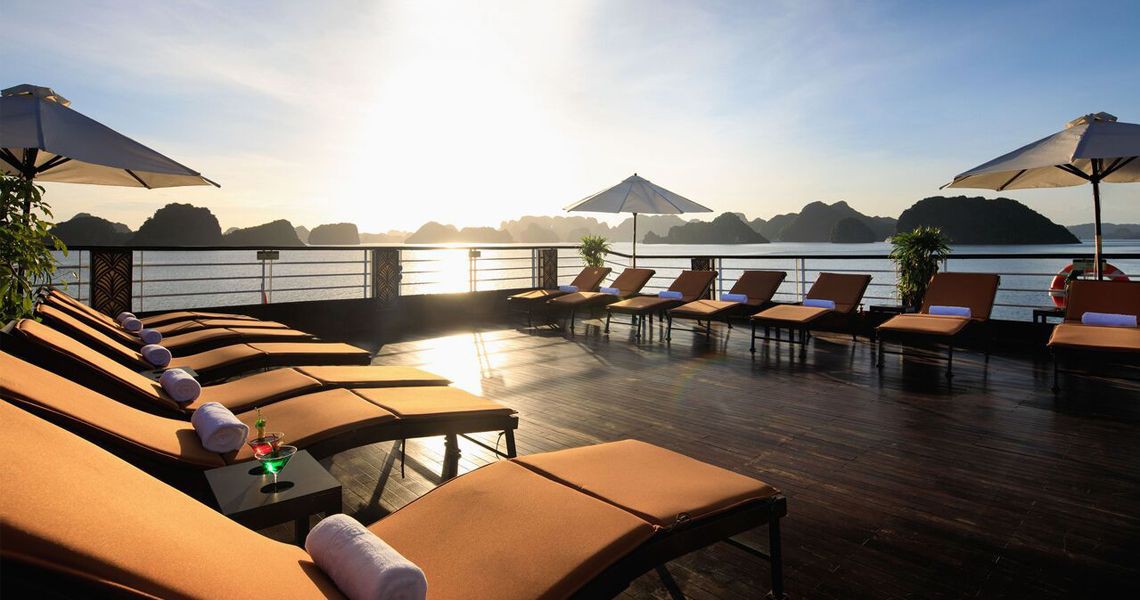 With a very reasonable price, Junior Suites Balcony facilities meet the standard of a 5-star suite with the size 26 square meters. Desinged in Enrope style, all the furniture in this cabin class is made from wood, giving you a classic and cozy vibe. You an your company can enjoy the view of Halong Bay from the private balcony, or simply when lying on the bed.
Same size and design with junior suite balcony, but located on the second floor, Senior Suites Balcony is not only a comfy stay but also offers clients a more brilliant view of the bay.
If you, unfortunately, have to work during the vacation, Perla Dawn grand suite will provide you a spacious working area in the most comfortable accommodation of 45 square meters and help you to dispel all the stress of work with the overlooking view the bay.
Overview
Being a leading 5-star ship among the Halong Bay luxury cruises, the V'Spirit Cruises bring passengers to discover the new Lan Ha Bay. With enthusiasm and dedication to giving the best natural and cultural explosion to tourists, the cruise has gradually designated the primitive beauty of Lan Ha Bay on the traveling maps for tourists.
Moreover, as we are experts in taking care of the guests' Halong Bay vacation, the facilities onboard are designed to serve the best amenities to any passenger. In fact, all the suites of The V'Spirit Cruises are endowed with private balconies so that you can touch every inch of nature in every single second wherever you go. The service on board is served by well-trained, friendly, and professional staff as well.
Halong Bay Cruise Deals proudly presents to you available itineraries from The V'Spirit Cruises. Let's begin your voyage in the World Heritage with all the activities and create an unforgettable memory with your partners, friends, or families!
Facilities
Water sports (non-motorized)
TUAN CHAU MARINA – HALONG – LAN HA BAY
11:45 – 12:00: Arrive at V'Spirit Cruises lounge at Tuan Chau International Harbor and complete check-in procedures.
12:00: Then transfer to V'Spirit Cruises by a tender boat.
12:30: Embark on V'Spirit Cruises, and enjoy a welcome drink while the guests listen to cruise briefing and safety introductions.
13:00: Enjoy your lunch at The Dawn Restaurant while cruising from Ha Long Bay to the less-crowded Lan Ha Bay.
14:45: Make an excursion to the Tra Bau area by kayaking, get closer to the rocky islands and admire the stunning nature of the bay. You have a chance to kayak pass by a hidden temple of the fishing villagers if weather permits.
16:15: Before coming back to the cruise for swimming and water activities, immersed in the green water of the Bay with floats.
17:00: Join a cooking demonstration to get to know Vietnamese cuisine and create your own special flavors
17:30 – 18:30: While waiting for twilight over limestone islands, treat yourself a Sunset party with some complimentary. Take the chance of HAPPY HOUR to have your favorite drinks
19:00: Dinner at the restaurant. Fine dining setting with degustation expedience will create memorable moments.
21:00: Enjoy evening views of the bay on the top deck, and join some game shows at the top deck bar to get some nice local gifts. Optional: Try your luck with squid fishing.
VIET HAI VILLAGE – BA TRAI DAO BEACH
06:15: Wake up early and watch the sunrise with a Tai Chi session on the sundeck.
07:00: A light breakfast is served at the Dawn Restaurant.
08:00 – 08:30: Transfer to Viet Hai pier by speed boat, where we'll take an opportunity to explore the local life of an ancient village on Cat Ba island.
09:00: Arrive at the pier, you'll choose to take a ride by bicycle or electric car to Viet Hai village. The 6 km ride takes you along a beautiful lagoon and a lovely cave to the hidden village of Viet Hai.
11:30: Relax and enjoy your lunch in a local restaurant.
14:00: Start exploring the fish farms at Viet Hai pier by kayaking. Learn a little more about the local life of people who spend their life in the Heritage.
15:00: Transfer to Ba Trai Dao, enjoy more swimming or just lie on a small & pristine beach and watch the clouds drift by (If weather permits).
16:00: Back to the cruise to relax and wait for the sunset on our sundeck, maybe with a cocktail in hand.
17:30 – 18:30: Time to take a shower or chill in the bathtub to refresh your energy. Take the chance of HAPPY HOUR discount to have your favorite drinks at the top deck bar with special offers.
19:00: Dinner at the restaurant. Fine dining setting with degustation expedience will bring you a cozy yet enjoyable experience.
21:00: Enjoy evening views of the bay on the top deck, and join some game shows at the top deck bar to get some nice local gifts.
Optional: Try your luck with squid fishing.
Meals: Breakfast, Lunch, Dinner
LAN HA BAY –HALONG– TUAN CHAU MARINA
06:30: Start a day with a Tai Chi session, enjoy the fresh seascape in the pure air and watch the sunrise on the bay.
07:00: Have a light breakfast on board.
07:30-8:45: Explore Bright cave on a traditional rowing bamboo boat with locals.
09:00: Return to the cruise before you check out.
09:30: Enjoy brunch at our restaurant while cruising back to Tuan Chau port.
11:00: Disembark at Tuan Chau Marina.
General Information
Bus pick-up time: 09:30 AM - 10:00 AM
Check-in: 12:00 PM - 12:30 PM
Check-out: 09:00 AM - 10:00 AM
Return Hanoi by bus: 2:30 PM - 3:00 PM
Shuttle bus pick-up point: Hotel in Hanoi Old Quarter or in front of Hanoi Opera House
Shuttle bus drop-off point: Hotel in Hanoi Old Quarter or in front of Hanoi Opera House
Booking Policy
• 50 % of the total cost is required to secure the booking.
• The remaining balance is to be paid 15 days prior to the departure date.
• In some special cases, you will be required to pay the full cost or a number greater or smaller than the standard 50% to secure your booking.
• In some special cases, the deadline for payment will be required sooner or later than the standard 15 days prior to booking.
Cancellation by Customer
• More than 31 days prior to check-in (departure date): Free of charge
• From 31 to 16 days prior to check-in (departure date): 10% of total rates
• From 15 to 8 days prior to check-in (departure date): 20% of total rates
• From 7 to 4 days prior to check-in (departure date): 50% of total rates
• Less than 4 days prior to check-in (departure date): 100% of total rates.
• No-Show: 100% of total rates
*** Cancellation notice from customer must be sent to us via email. Refund will be processed between 10 -15 working days.
Cancellation by Halong Bay Management Board due to bad weather
If the cancellation is made by the Halong Bay Management Board, following policies will be applied depending on the time of cancellation.
• When a cancellation is made before departure date- check-in date (if no services have been used): 100% refund.
• When a cancellation is made during the trip (some services have been used such as transfer, food, some amenities, etc.): used services will be charged, the rest will be refunded.
• When a cancellation is made before or during the departure date and the trip must be shortened from 2 nights to 1 night, 2 days 1 night trip, plus other used services will be charged, the rest will be refunded.
• The final cost will be confirmed by your consultant via email. In all cases, please contact us directly for any urgent help. We are here to support you!
Note: In case of a cancellation decision made by the Management Board of Halong Bay, an alternative travel arrangement will be made on request, or you will be refunded in accordance. In all cases, please contact our travel consultant via email or phone for support. We are always willing to provide you with any assistance you may need on or off board.
Important Notes
• PROGRAMS & SCHEDULES SUBJECT TO CHANGE WITHOUT PRIOR NOTICE.
• In case of adverse weather conditions in Halong Bay, the cancellation will ONLY be made by the Halong Bay Management Board. Usually the announcement will be declared very close to or on the departure date and our refund policy will come into effect.
Inclusions
Welcome drinks.
Accommodation in luxury balcony cabins with air conditioning and en-suite bathroom.
English speaking guide onboard.
Complimentary 2 bottles of mineral water, coffee, tea in the cabin.
Handkerchief (cold or warm).
Full board meals: 02 lunches, 01 dinner, 01 breakfast ( 2 day itinerary) & 03 lunches, 02 dinners, 02 breakfasts ( 3 day itinerary).
Tai Chi session.
Night squid fishing.
A bottle of wine in Grand Suite Balcony Cabin.
Cooking demonstration.
Entrance and sightseeing fees.
Onboard insurance and service charges.
Kayaking or bamboo boat.
Includes Taxes & Fees
Exclusions
Visa stamp fee.
Airfares.
Hanoi – Halong Bay – Hanoi shuttle bus or private car/van( book in next stept).
Hotel arrangement.
Drinks not mentioned in itinerary.
Spa treatment services.
All other services not mentioned in Inclusions.
Tips and personal expenses.
Surcharge for New Year and Christmas.
10
Debbie and David
United States
"Must-try once in lifetime"
We took an overnight cruise of Perla Dawn sails, overall it was good as a 5-star hotel in a big city. There were spa, bar, restaurant, exceptional rooms on board. We thought we could stay on this cruise for the rest of our life. Thanks to all crew for their great hospitality.
"Best for Honeymoon"
The room was decorated specially for our honeymoon even though we did not request for it. Definitely recommend.
"Excellent experience and crews."
We stayed on Perla Dawn sails, a luxury cruise in Lan Ha Bay. It was a lovely boat, with friendly staff on board. The food was tasty and plentiful so that I got so full after each meal. The cabin was exceptional, we had a balcony and bathtub. Thumbs-up for the 5-star experience!
"One night luxury cruise in Halong and Lan Ha Bay."
We were picked up by a luxury car from Hanoi, then got transferred to the dock. The transfer was very comfortable, and it took only 2,5 hours on the highway. We were welcomed on board by smiling crew. Thank Bic, Lucky, Harry, Bobby, etc. We did plenty of activities like visiting the Bright cave on bamboo boats, kayaking, cookery class, exploring the floating farms. We had so much fun. I very much appreciate the effort of all staff. Definitely recommend to all travelers.
"A wonderful experience"
We were recommended to this cruise by our friends, so we took a 1 night trip on Perla Dawn cruise. I must say it was a wonderful time. I really enjoyed all the activities onboard especially kayaking, swimming. I realized that the best thing to do was doing nothing, staying on the deck or room balcony with a cup of drink while admiring the beautiful landscape of the Bay. The boat was well decorated, service was excellent. All the staff was friendly, they smiled all the time (How could they do that). Bic, Harry, and Lucky were born to do their job, they were amazing guys. Thank you so much! Best wishes to you, and we will meet on my next trip to Vietnam. For anyone who hasn't decided yet, go for Perla Dawn sails. You will receive the best services.
"Awesome experience!"
This was a wonderful experience. Lan Ha Bay was a real paradise in the world, we saw plenty of breathtaking scenery built by thousands of limestone mountains. The cruise ship was good quality, the cabin was spotless. But the staff gained my biggest love. All of them were friendly and helpful. I am sorry I couldn't remember all the names but thank Bic, Harry, and Lucky for a superb experience.
"Family vacation."
We will always remember the great trip we had with Perla Dawn Sails. I found all the crew members were extremely accommodating, and they couldn't do enough to make their guests delighted. The customer service went beyond what we expected. Especially, when we had a quick decision to visit the Bay on a helicopter ride, Henry and Harry helped us with all their efforts though this was out of their duties. I must say the Bay was the most amazing natural scenery we have seen. The whole trip was comfortable and relaxing.
"Amazing!!! Would highly recommend!!!"
Our trip with Perla Dawn Sails was fantastic! All the plan was well organized from the pick-up at the hotel to the drop-off back to Hanoi. Lan Ha Bay and Halong Bay was beautiful, I found relaxing when staying on board. The staff were incredibly helpful. Perla Dawn was nicer than most of the cruises I saw around. Special thanks to Thu, Bich, Tuyen for making my trip extremely memorable. What a miss if you don't take this experience when traveling to Vietnam. And highly recommend Perla Dawn Sail for the Lan Ha Bay trip.
"Family visit!"
Thank Perla Dawn Sails for making my trip memorable in an unexpected way. I thought I couldn't find any choice better than this cruise. I really admired Bic, the head cruise. She was such an amazing woman. She showed me what was true hospitality, and her caring for my elderly mother touched my heart. Bic also had excellent communication skills, and perfect English too. Keep up good work, Bic, and her teams. Best wishes to all of you.
"Go for it! Best cruise for family"
My wife was a bit hesitant about the cruise trip in Halong Bay as we have 2 small kids. But we were pleased that we did choose Perla Dawn Sails for our one night stay in the Bay. All the staff made our anxiety unnecessary as they were very good at handling children. First, we were picked up from our hotel in Hanoi by a luxury minivan, and our kids had their own seats. We were transported to the harbor with 2 German guests. The ship was beautiful, and the cabin was perfect with good amenities. But the most impressive thing was the staff. All the crew were superb, they were kind, friendly, and very accommodating. They always were willing to lending a hand with my children during the whole trip. As my children have special diets, they always asked whether we needed anything else. My children also love them, especially they even wanted to stay with Bic, the manager, and didn't want to say goodbye. I felt totally safe on board as the safety instruction was clear, and life jackets were available for everyone. The food was perfect, we really enjoyed all the meals. There was only one regret that we didn't extent one more night!! I will be back.
"Got to go!"
Perla Dawn Sail was the best cruise, and we had a great trip with them. We had booked the trip directly with the cruise before our family came to Vietnam. A woman kept in touch well with us. My family has 4, including two children 3 yo, 6 yo. They were naughty so we were afraid a bit to go to the sea. But everything was fine. To be honest, we didn't have to worry much about them, because they were taken well care of by staff. Bic, the ship manager, was patient to play with them, and my kids love her so much. They even didn't want to leave the cruise. We wish we had spent more time here, so we really want to come back, and still Perla Dawn for our stay. Nice ship, fantastic room, delicious food! Keep going, you are doing a good job. Highly recommend.
"Peaceful trip on Perla Dawn Sails"
My family had a trip with Perla Dawn Sails, that was amazing. I realized my parents were so happy as they were on the honeymoon for the second time. We had 2 cabins side by side, so it was easy to take care of my parents though all the staff did it perfectly. The trip gave us a truly relaxation with some activities like kayaking, boating (for my parents), cooking, fishing. Lan Ha Bay was beautiful, especially Dawn as the cruise's name mentioned. I will definitely come back.
"Lovely cruise at Lan Ha Bay"
We got a bit confused to decide what cruise to go among hundreds of choices. Finally, we booked with Perla Dawn Sails, a 5-star cruise in Both Halong Bay and Lan Ha Bay, but it stayed mostly in Lan Ha Bay. We had read lots of information about the Bay before going to the final decision of Lan Ha Bay. Halong Bay was great, but so many tourists around as well as boats. So we recommend Lan Ha Bay for anyone thinking of a quieter area. Perla Dawn is a lovely cruise. And my heart was melted by all the amazing staff of this cruise. Bich, the cruise manager was very professional, kind, and helpful. Henry, Lucky, and other crew were absolutely friendly, accommodating. They took great care of their guests. We got trouble with the safety box inside our room, and this problem was solved immediately after We made a phone call to the receptionist. All the food was delicious, we saw various seafood. Unfortunately, we are both vegans, but the menu for vegan food was superb too. Thanks so much, Perla team!
"Spectacular Halong Bay."
We booked the highest quality room among 18 cabins with a little extra. But what we had was incredible. Our cabin was spacious, with a nice balcony where we could relax in the lounge! We took one night trip so we embarked at noon, then left the cruise around noon the next day. Lan Ha Bay was wonderful, it was surrounded by row after row limestone islands. We wish we could watch the Bay from a helicopter. Most of the limestone islands were unique, with no shore. They are likely to be rock formations covered by vegetation rather than islands. I must say I could spend hours admiring the beauty of the Bay without getting bored. The price we paid for included almost everything on board 4 meals, ticket entrance, kayaking, party squid fishing, Tai Chi, cooking class, entertainment with a live concert. But you need to pay for drinks and a spa if you use it. This trip made me love cruising so much, would surely do it more.
"Amazing time with Perla Dawn Sails."
This cruise has the greatest staff we could ask for. Bich was a friendly host, Lucky - the head server- was very accommodating. Harry, our tour guide, guided us interesting activities, and Mr. Happy who delivered the music performance on board was super cool. We booked one night trip, and the itinerary was as description, everything was well planned. We did a boating trip to visit the caves, then did kayaking to a fishing village. The night squid fishing was fun, I was the luckiest man when I caught 2 squids, 1 fish. The customer service was excellent, if your trip falls on your birthday, you will receive a birthday party on board. The facilities and cabins went beyond our imagination. I will definitely book this trip again.
"Fantastic trip through majestic Halong and Lan Ha Bays."
We had a cruise for 2 days 1 night with Perla Dawn Cruise. Overall, it was a memorable trip. We got on the luxury minivan in Hanoi, then transferred to the harbor in 2.5 hours on the expressway. After waiting in the waiting house onshore, we embarked on the cruise. All the crew was friendly and welcoming. Bich, Harry, and Bobby were my friends indeed, they did an amazing job to make everyone happy. I would love to recommend Perla Cruise for Halong and Lan Ha Bay trip. My regret is that we should have booked 2-night stay on board.
"Amazing experience with the most friendly staff."
We joined one night trip within a small group as the cruise has 18 rooms only. It made the atmosphere peaceful, and we were able to truly relax. We had just arrived in Vietnam 1 day before we started this trip to the Bay, so we got a bit tired due to jet lag. We really needed a rest, we found on Perla Dawn Sails. Nice cruise, the staff were so friendly, and the Bay was stunning. I Will miss this trip so much.
"Awesome luxury cruise experience."
We were picked up by a limousine minivan. There were only 5 people on the bus. After reaching the harbor, we were welcomed by the friendly staff. They were very accommodating, couldn't do enough to help what we needed. Nice cruise, fantastic rooms, delicious food, and the massages we tried were good. We highly recommend Perla Dawn Sail for the Lan Ha Bay trip. One more thing is that you should consider going to Lan Ha Bay instead of Halong Bay. It is a perfect alternative.
"Perla Dawn Cruise Lan Ha Bay!"
We came across Perla Dawn Sail on a blog, and we decided to book this cruise after checking some reviews about it. I must say all previous reviews told the truth about Perla Dawn. It was an excellent cruise. The itinerary was well planned, and we didn't feel rushed. We still had plenty of time to relax on our own. The food was delicious with typical local cuisine. All the crew was friendly and courteous. We really enjoyed the performance of Mr. Victory. Lucky and Bic were amazing hosts. Go to Perla Dawn Sail to enjoy Lan Ha Bay in the most complete way.
"The highlight of our Asia Tour."
We were being on the Asian Tour, and Halong Bay trip with Perla Dawn Sail was absolutely the highlight of the whole trip. We were so lucky to have a free upgrade to a larger suite room. The room was really nice. We did a cruise through Lan Ha Bay and Halong Bay, and I realized that both of the bays have the same landscape of limestone rock formations. The crew was professional and helpful. The cruise manager, Bic was an amazing lady! She gave personal attention to each guest, and it made us feel welcomed. We had a cookery class onboard where we were taught how to make Vietnamese spring rolls. Kayaking and swimming were available. We also visited caves where I could see some monkeys. On the cruise, bar and spa were good, you need to pay an extra fee. Overall, the trip was totally worth the money we paid for. Highly recommend!
"Excellent Perla Dawn 2 day cruise on Lan Ha Bay."
It seems that everyone flocks to Halong Bay, but we wanted to go to Lan Ha Bay because it is less crowded and less busy. And we had an amazing trip with Perla Dawn Sail. This cruise was one of the best we could expect for a 5-star ship. Everywhere on board was spotless. The cabin was excellent, with balcony and bathtub. Harry was knowledgeable, polite, and very accommodating host. All the meals were served with delicious food, so yummy. We really enjoyed kayaking, it wasn't as difficult as I thought, so we could grow to see more beautiful islands and caves. I will rate 5 stars for this experience.
"Most enjoyable!"
We stayed on Perla Dawn cruise for 2 nights 3 days, so we had sufficient time to get to see all. Perla Dawn cruise was nicer than most of the other boats I saw in the Bay. It was mediumship with only 18 cabins, therefore, it was suitable for any travelers who want to have quiet space. Both the exterior and interior were so beautiful and made us feel luxurious. We had one of only 2 suites room on board, it was fantastic. We had a private balcony, so it was very chill to seat there at night. There was a jacuzzi inside the spacious bathroom where we relaxed our muscles after joining recreational activities like kayaking, swimming. Bic, Lucky, and other crew were amazing people, they gave us such a great service. Definitely come back!
"Awesome experience"
We had a chance to visit Halong Bay in April. It's a good time for outdoor activities like exploring the cave, kayaking, visiting the little villages,… Especially thanks to our guide who was professional and helpful. He made my trip more memorable. Thanks a bunch. For those who plan to overnight on cruise in Halong Bay, we would recommend this tour.
"Amazing!!!! Would highly recommend!!"
I and my parents scheduled a 2D1N tour in Halong Bay with Perla Dawn Sails. There was a great experience with a well-organized reception and transfer to the boat. All the staffs were knowledgeable and helpful. They ensured cases were taken to cabin. Our cabin was lovely with its own small balcony and plenty of room. The meals were delicious. We had a chance to experience many interesting activities. We are really satisfied with this tour! Thank you so much!
"Peaceful trip on Perla Dawn Sails"
Our tour was fantastic from start to finish: the pick-up service, facilities onboard, interesting activities, tasty food and the professionalism of all crews. Especially thanks to our guide, who made us feel comfortable like at home. We also had a 5-course lunch, a nop on the top deck, more kayaking if we wanted,… Overall, we really enjoyed this tour. Strongly recommend everyone.
"Perla Dawn Sails Lovely cruise at Lan Ha Bay"
An itinerary couldn't have been better! We spent 2D1N on Perla Dawn Sails in Halong Bay with my husband and our children. The service on the boat was incredible with the staff good-humored and always take great care of us and our child. The food was delicious too. The outdoor activities were so fun. We enjoyed all day with kayaking, exploring the caves, visiting the fishing villages,… I only wished we could have stayed another night. Highly recommend and the prices are reasonable.
"Amazing time with Perla Dawn Sails Cruise"
We are collected from Hanoi by luxury vans which were good with complimentary water and safe driver. The cruise itself was amazing. It was extremely new and clean too, not to mention absolutely beautiful. Big thanks to the chefs for tasty food. For me, the dinner was a massive highlight with beautiful fruit and vegetable, especially the traditional Vietnamese song at the end of dinner. I've never done anything like that before. So I'm so satisfied with this tour. Would recommend everyone.
"Fantastic trip through the majestic Halong and Lan Ha bay."
A great time that we can not forget in our life. To be honest, the staff made it really memorable. Especially, our children are only 4 years old and we were a bit apprehensive cruises because our children are only 4 years old but there were no problems, in fact, we got lots of help from the staff on excursions. We're only sorry we didn't stay longer!!! Thanks to you all!!
"Awesome luxury cruise experience"
We came on Perla Dawn Sails as a family, myself, my brother and our parents. Truly, we had a memorable experience here. Everything was so great from the amenities, many interesting activities like squid fishing, Tai Chi exercise, kayaking,... to the professionalism and enthusiasm of the staff. I'm really impressed by the delicious food which is well prepared by master chefs. Highly recommended.
"Great service"
What an amazing experience! I and my boyfriend spent 2 days trip to Halong Bay with Perla Dawn Sails. We are very satisfied with this tour. Our room was clean with high-quality facilities. We could just lie in our bed and enjoy the spectacular scenery of Halong through the large window. I'm so excited to talk about the outdoor activities of this tour like taking a small paddle boat out to beautiful caves, or late-night squid fishing where I actually caught a squid! And we would thank all the staff who was super nice and dedicated. Strongly recommended Perla Dawn Sails for those who plan to experience an overnight trip to Halong Bay.
"Halong Bay Overnight Cruise"
I had a 2 days 1-night tour with Perla Dawn Sails in Halong Bay. The schedule is so fruitful. I will not only enjoy the wonderful views in ha long bay but also learn lots of Vietnamese cultures. I'm so delighted to join a cooking class with the master chefs. All staffs are friendly and attentive especially thanks to the hosts who introduced every activity in detail and Happy who delivers an awesome Vietnam musical show. Highly recommended.
"Perla Dawn Cruise Lan Ha Bay"
We boarded a Limousin from our Hotel and were taken to the port where we were welcomed by the lovely staff. For us, this tour provided by Perla Dawn Sails Cruises was an awesome experience. We had a chance to explore the caves, enjoying the local food,… Especially, thanks to all the crews on board and our guide who make our trip very comfortable with their impeccable service. Thanks a lot!