Alisa Cruises 2 days 1 night
Hanoi, Halong Bay, Tuan Chau Harbor, Titov Island, Pearl Farm Village, Sung Sot Cave, Halong Bay, Hanoi
Launched: 2018
21 Cabin(s)
Overview
Alisa Cruises is one of the brand-new steel boats in Halong Bay, which was launched in February 2018. The name of the cruise owes its origin to a princess's name, which shows a vision that it will shine brightly in the bay like a princess.
Indeed, among hundreds of cruises sailing in this worldwide-known UNESCO site, Alisa Cruises is always outstanding thanks to its exquisite design of 4 luxury decks which are elegantly styled with comfortable and modern facilities.
As a luxury cruise in Halong Bay, Alisa believes that the excellent service provided by our dedicated staff, a variety of great activities, and wonderful cuisine will be a once-in-a-lifetime experience for all travelers to memorize.
Along with the deep passion to provide the best service to our distinguished customers, our team also put every effort to be a responsible traveling companion to the local life and nature. We aim at showing all the guests our Halong Bay, a precious present given by the mother of nature, which should be treasured and protected carefully.
Highlights
Restaurant and Bar
The restaurant and the bar are two of the most important parts of the cruise where our guests spend most of their time there for enjoying excellent meals, relaxing with their drinks, and socializing. That is the reason why we put our central focus on styling these areas. The dining room and bar on Alisa Cruises are spacious enough for serving up to 58 guests at the same time and always bring a cozy feeling to our guests with comfortable facilities.
Beauty Spa Service
The Beauty Spa Service is specially designed to bring the truly relaxing moments to our guests during their trip to Halong Bay. After a long fascinating day of various muscle-required activities such as kayaking, swimming, hiking, walking to visit the cave, a massage of 30 or 60 minutes will be a wonderful break for your body. Please book in advance for the spa service if you want to simply close your eyes and let our therapists relieve your stress.
Luxury Pick-up Service
Alisa Cruises is proud to provide one of the best transportation services on the route Hanoi - Halong Bay - Hanoi with luxury limousines. You can totally relax and rely on our professional drivers from the moment he picks you up in the lobby of your hotel until he drops you off back to your hotel. As safety is above everything, all the limousines in our company are always carefully checked before the trip and under regular maintenance.
Facilities
Internet access – wireless
Wooden/parqueted flooring
HA NOI – HALONG BAY ON ALISA CRUISE (L, D)
7:30 – 8:20 Pick-up service in Hanoi
You will be picked up in the lobby of the hotel by our tour guide and driver.
8:30 Departure to Halong Bay
It takes you 3.5 hours to get to Halong Bay. The driver will drive you away from the hustle and bustle to enjoy the endless green scenery of the countryside in the Red River Delta area.
10:00 Short break
The driver will have a stop in Hai Duong Province for a short break. During 20-30 minutes at the stop, you can simply stretch your body or buy a drink to refresh yourself.
12:00 Arrival at Tuan Chau Harbor
The bus stops at Alisa Cruises Lounge in Tuan Chau Harbor. You will take a short break of 10-15 minutes before being transferred to the cruise
12:15 Embark on Alisa Cruises
You will be warmly welcomed by the crew. While you enjoy your welcome drink, the cruise manager will have a short briefing on Alisa Cruises and safety guidelines. After the briefing, you will check in your cabin. At the same time, the captains will start sailing the cruise to Halong Bay - the World's Natural Heritage recognized by UNESCO in 1994 and 2000.
12:30 Lunch
Lunch will be served in the restaurant with a variety of both Vietnamese and International dishes. While enjoying your delicious meal, you also have your eyes pleased with the stunning view from the restaurant's windows. The cruise will be surrounded by thousands of islands and islets which were formed millions of years ago.
14:00 – 15:30 Visit Titov Island
The tour guide will take you to Titov Island for many fascinating activities. You can simply relax by lying on the sandy beach or refresh yourself with swimming there. Also, you can choose hiking, which is a worthy challenge of around 500 steps to the peak. The top of Titov Island is considered the best place to see Halong Bay from above.
16:00 Kayaking around Pearl Farm
After Titov Island, you will head to the Pearl Farm. On the way to get there, you will see Cua Van Floating Village, Tien Ong Cave, Trong Cave, and Dong Ho Tien. Finally, you will reach the pearl farm which is an interesting place to visit as you can not only learn how to cultivate pearl but also do kayaking around this area. With kayaking, you can enjoy the harmony between the working life of the locals and the pure beauty of the nature with emerald water and green trees covering the mountains.
17:30 Sunset party on Alisa Cruises
After the activities, you will be back to Alisa Cruises to relax. During this time, the Sunset Party will take place on Panorama Roof Bar with juices, red wine, and fruits. It is also high time to go hunting for some stunning photos of the sunset view.
18:00 – 18:30 Cooking class on Alisa Cruises
Our talented chef will show you how to make Nem (or Spring Roll) which is a traditional dish in Vietnam. The cooking section will not only bring you a hands-on experience but also take you closer to Vietnamese cuisine.
19:30 Dinner
Dinner will be ready in the restaurant at 19:30. It is time to please your stomach with tasty dishes prepared by our dedicated chefs.
21:00 Leisure time
There are various means of entertainment such as karaoke, playing cards, chess, squid fishing, etc. Besides, you can also have a truly relaxing moment with Beauty Spa Service on Alisa Cruise. The cruise will stop overnight at Titov or 368 anchoring points.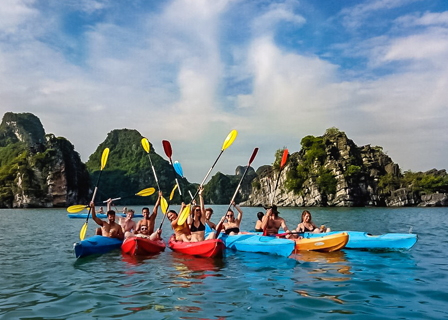 ALISA CRUISE – HANOI (B, L)
6:30 Tai Chi Class
Tai Chi class on the sundeck will be a perfect choice for early birds who would like to relax among the peaceful atmosphere of Halong Bay in the early morning. With slow movements combined with deep breathing, Tai Chi is considered as "meditation in motion" which brings lots of benefits to your health.
7:00 Breakfast
After the Tai Chi session, breakfast with pastries will be ready in the restaurant. Besides, a cup of tea or coffee will make your mind awake after your sleep and keep yourself engaged in upcoming activities as well.
8:00 Visit Sung Sot Cave
Sung Sot Cave will be a great stop to understand the formation of Halong Bay. Our tour guide will show you many stalactites and stalagmites which come in different shapes. You will have a walkthrough 3 small chambers in Sung Sot Cave within 50 minutes; therefore, proper clothes are highly recommended. After the visit, the tender will transfer you back to Alisa Cruises.
10:00 Check-out and brunch
After packing your suitcases, please settle your bills and check-out in the reception area. While Alisa Cruise is heading back to Tuan Chau Harbor, you will have an excellent buffet of various dishes in the restaurant.
11:30 Disembark
When the cruise arrives at Tuan Chau Habor, you will say goodbye to the cruise members and disembark. In Alisa Cruise Lounge, you will have a short break before leaving with our bus.
12:00 Transfer back to Hanoi
Our driver will take you back to Hanoi on a comfortable air-conditioned bus. You can take a nap during the drive or have your eyes relaxed with the endless green countryside scenery once again.
14:30 Short break
The bus will have a short stop in a ceramic workshop in Hai Duong province for 20-30 minutes. You can have a walk around the workshop to observe how the talented craftsmen create fine potteries with their hands.
16:00 – 16:30 Arrival at Hanoi
You will be back at your hotel in Hanoi. It is the end of the Alisa Cruises 2 days 1 night. Thank you for joining an overnight trip with Halong Bay Cruise Deals.
General Information
Bus pick-up time: 7:10 AM - 7:45 AM
Check-in: 12:00 PM - 12:30 PM; Check-out: 10:30 AM - 11:00 AM
Return Hanoi by bus: 4:30 PM
Shuttle bus pick-up & drop-off point: Hotel in Hanoi Old Quarter or in front of Hanoi Opera House
Booking Policy
• 50 % of the total cost is required to secure the booking.
• The remaining balance is to be paid 15 days prior to the departure date.
• In some special cases, you will be required to pay the full cost or a number greater or smaller than the standard 50% to secure your booking.
• In some special cases, the deadline for payment will be required sooner or later than the standard 15 days prior to booking.
Cancellation by Customer
• More than 31 days prior to check-in (departure date): Free of charge
• From 31 to 16 days prior to check-in (departure date): 10% of total rates
• From 15 to 8 days prior to check-in (departure date): 20% of total rates
• From 7 to 4 days prior to check-in (departure date): 50% of total rates
• Less than 4 days prior to check-in (departure date): 100% of total rates.
• No-Show: 100% of total rates
*** Cancellation notice from customer must be sent to us via email. Refund will be processed between 10 -15 working days.
Cancellation by Halong Bay Management Board due to bad weather
If the cancellation is made by the Halong Bay Management Board, following policies will be applied depending on the time of cancellation.
• When a cancellation is made before departure date- check-in date (if no services have been used): 100% refund.
• When a cancellation is made during the trip (some services have been used such as transfer, food, some amenities, etc.): used services will be charged, the rest will be refunded.
• When a cancellation is made before or during the departure date and the trip must be shortened from 2 nights to 1 night, 2 days 1 night trip, plus other used services will be charged, the rest will be refunded.
• The final cost will be confirmed by your consultant via email. In all cases, please contact us directly for any urgent help. We are here to support you!
Note: In case of a cancellation decision made by the Management Board of Halong Bay, an alternative travel arrangement will be made on request, or you will be refunded in accordance. In all cases, please contact our travel consultant via email or phone for support. We are always willing to provide you with any assistance you may need on or off board.
Important Notes
• PROGRAMS & SCHEDULES SUBJECT TO CHANGE WITHOUT PRIOR NOTICE.
• In case of adverse weather conditions in Halong Bay, the cancellation will ONLY be made by the Halong Bay Management Board. Usually the announcement will be declared very close to or on the departure date and our refund policy will come into effect.
Inclusions
Luxury accommodation with A/C, shower, mini bar.
In-house English speaking guide
All meals onboard (3 main meals + 1 breakfast for 2 day/1 night and 5 main meals + 2 breakfast for 3 day/2 night)
Welcome Drinks
Cooking Class, Tai Chi session, kayaking
Insurance on-board
Fishing equipment
Entrance & sightseeing fees
Complimentary morning tea & coffee for breakfast
Includes Taxes & Fees
Exclusions
Transfer Hanoi – Halong Bay – Hanoi (Shuttle bus or private car/van)
Visa arrangement & airfare
Beauty spa and massage services
Tips and other personal expenses
All other services not mentioned above
Surcharge on 24 December, 31 December and Lunar New Year 5th, 6th, 7th Feb 2019
"Great experience"
Alisa cruise is all you want for a nice trip to Halong Bay. I highly recommend this experience to everyone. Our group was in 6 people, we had 3 cabins, and both of them were good. Food was a big plus point for service. All the staff in the restaurant were very accommodating and polite. We did a visit to the cave which is truly amazing, followed by short hiking to the top of a mountain to see the whole view over the Bay. Our tour guide was a woman, she was great. Nancy was found to be very helpful in helping us with our booking process and inquiries. She was good at communication. If you are planning to go to Halong Bay, go with Alisa cruise, you will definitely not be disappointed.
"Fantastic cruise and staff"
Great trip. The scenery, the sea, and the caves were amazing. Thanks to Anna Pham for arranging everything for our booking. She made sure that we would have a smooth trip from the start to the end. Hopefully, you will meet her, if you have any questions, talk to her, then very quickly she will rely on, even out of the working hours. Thanks for your great efforts. The Alisa cruise was nice and made me feel luxurious. We had a large room with jacuzzi and a private balcony. Every corner on the cruise was super clean. The restaurant served delicious food, and I found all the staff very helpful. The tour guide was excellent in giving information. Halong Bay is a sort of mass tourism, so it is crowded with many tourists. But it is still worth visiting because you can get away from the bustling cities. The activities given were diversified with hiking to the top of the mountain, kayaking. Drinks on board were a bit more expensive than the mainland, maybe it's costly to store on the boat.
"Fun way to see Halong Bay!"
My family had a memorable time in Halong Bay with Alisa Cruise. Everything we had during this trip was incredible. There were many things to do, we had options for hiking, kayaking, swimming, fishing, cave exploring, cooking, going party. The food was outstanding, especially the dinner which I LOVED. All the services onboard, were excellent, delivered by the best staff. Our tour guide on board named Thuy, she was very accommodating, informative about the place we visited. We were given enough time to visit and relax, everything was well organized. My family has 4 people, so we booked a connecting senior suite. It was so spacious and convenient for us to keep an eye on our children. The bathroom was truly impressive. Our children love this cruise so much. Personal thanks to Anna Pham who took care of our booking. Would recommend.
"Halong Cruise shouldn't be missed"
I just came back to my hotel in Hanoi after one night trip on Alisa Cruise in Halong Bay. Definitely worth the visit. All the staff working on board were well-trained and friendly. I was so lucky to meet Thuy, our great tour guide, she is very knowledgeable and has a great sense of humor. Food was tasty, the room I had incredibly clean, spacious with a private balcony. It was great to sit there to enjoy the tranquil landscape of the Bay. The activities were well-prepared, on time, not too rushed. I realized most of the cruises share the same route, so I wish I should have booked a 2-night stay to go further. I love the experience so much. Thank Alisa Cruise.
10
Alan Tam Wing Lun
HongKong
"Romantic cruise"
Thanks, Alex and Nancy for making our trip so special. We were on the Alisa Cruise for one night only. We booked this tour with Nancy, and she organized well a package including transfer on a luxury bus from Hanoi. The room was comfortable and clean with jacuzzi inside the bathroom, as well as a private balcony. Thanks, Alex, a super host onboard, for taking good care of us during our stay. Besides, another staff was friendly and helpful. We had 4 meals onboard, and they were all so good. We tried several drinks at the bar (of course extra charges), they were nice with reasonable prices. Overall, it is a must-try trip. Definitely recommend.
"Pleasant and unique experience"
We went for staying one night on Alisa Premier Cruise, and we love this trip so much. The staff was polite and professional. Everything was well prepared, so there was nothing to complain about. Our tour guide Thuy was great. She kept us entertained all the time. Special thanks to Ms. Nancy for helping us book this trip smoothly. The food was tasty, both of us love Vietnamese food, so we enjoyed it. The room was luxurious with a balcony.
10
Emmelie de Forest
Denmark
"Thank you so much Nancy for great service"
Though it was my second trip to Vietnam, it was my first time in Halong Bay. My friends recommended me to book a trip with Alisa Premier Cruise. Nancy was helpful, she was always available to contact on Whatsapp. Thanks, her for answering all my questions, and caring for me throughout the trip. My stay on the cruise ship was fantastic, nice room, lovely people, good food. I also enjoyed all the activities packed on the trip including hiking, kayaking, swimming, sightseeing. Nice!
"Wonderful trip and excellent team"
My family had the greatest experience during our trip to Vietnam with Alisa Cruise and Halong Bay. We did one night trip, and we had a lot of fun. Halong Bay itself is amazing, but the whole experience would be more memorable if you choose the right cruise ship. Alisa Cruise is everything you need for a perfect trip. The food was fantastic. My daughter loved the BBQ dinner so much, it was the first time she enjoyed the food happily since we reached Vietnam. All the staff were really professional and accommodating. They gave my family a big surprise when they gave a birthday cake to one of us who had her birthday over the stay on the cruise. We didn't inform us about this information, but they knew and made us feel welcoming. Thanks, Mr. Alex, Jack, and all the staff for this unforgettable trip.
"Amazing time on Alisa Cruise"
My husband and I booked a 2-night trip because we thought a 1-night stay might be too short for us to relax. Our trip was perfect in all aspects. We had friendly and helpful staff on the cruise, nice room with balcony, great food, and interesting activities of hiking, kayaking, visiting caves. We were picked up in Hanoi, then headed to Halong Bay on the new way by a luxury minibus. It seemed that our bus was nicer than most of the buses we saw at the harbor. Special thanks to Ms. Anna Pham for actively responding to our questions. The customer services from the start to the end was excellent. Highly recommend.
"Excellent hospitality and experience"
Nancy was a great girl. She helped us book our one night trip on Alisa Cruise. There was no problem, everything was clearly stated in the description. The cruise was spacious. Our room was clean, and it has a jacuzzi with an outstanding view. Food is suitable for everyone. They also offer choices for vegetarians. The itinerary, along with all activities, was well organized so that we still had enough time to rest. All staff was welcoming and courteous. 2 bottles of water are free, but others in the minibar need a surcharge. The bar on board has great drinks. Thanks, Alisa.
"Great trip. Many thanks to Ms. Nancy"
I am totally satisfied with Alisa Cruise. It is probably one of the best ships in Halong Bay. Booking the trip directly on Tripadvisor, I was very lucky to have Nancy as a supporter of my booking. She was very accommodating, and always took very good care of me, even after the trip. The meals were served with good food. The captain and his staff were lovely and helpful. My room was the best, even better than the room I got at my hotel in Hanoi. It was spotlessly clean, definitely worth 5 stars. I will suggest Alisa Cruise to my friends and family.
10
Cheryl Cole
United Kingdom
"Amazing Halong Bay Cruise!"
We spent a couple of nights in Halong Bay with Alisa Cruise. Everything was absolutely amazing, we can't fault the whole experience. Firstly, I wanna thank Ms. Anna Pham for her patience in dealing with our inquiries. It was very easy to communicate with her anytime, in return, she gave us responses promptly. The cruise ship was amazing and immaculately clean. Our room was luxurious with a private balcony. It was ideal to enjoy the beautiful sunset in the Bay from the private space. The food onboard was delicious and plentiful. I was so appreciative when I received a birthday cake from the cruise. Thanks to all the staff, all of you are the most amazing people I have had, very enthusiastic, energetic, and friendly. I also would like to thank Mr. James, Mr. Jonny, and Whiskey at the bar. Best trip ever!
"Once-in-a-lifetime trip"
Halong Bay is surprisingly stunning with many small limestone islands. My room was excellent with a nice view. The food surprised me a lot with its variety. I had plenty of choices for food including seafood, Vietnamese dishes. All the staff on board were so nice, and helpful whenever I need anything. The activities were reasonable, not so rushed so that we were able to relax. Thanks, Nancy, a woman at the office, for her kindly support in the booking process. She couldn't do enough to make sure everything would go wrong. We will come back with our friends. Absolutely recommended.
"Great 3 days 2 nights Cruise"
Nice people, nice cruise. Anna Pham was helpful in dealing with our requests. John, our onboard tour guide was very accommodating and knowledgeable. I will recommend Alisa for Halong Bay Cruise.
"Great Cruise company"
We came across Alisa Cruise on Halong Bay Cruise Deals, then we decided to book a 2 days 1 night trip with this cruise. A woman named Anna Pham quickly contacted us and helped us to arrange the pick up from Hanoi to Halong. We were taken comfortably on a luxury minibus with large seats. The cruise was nice and spacious. Our room was clean, it even had a balcony with a nice view. We had good food onboard and an interesting itinerary. We did a cave visiting, short hiking, kayaking, and a cookery class on board. Our guide was informative about the place. It deserves 5 stars.
"First time and definitely come back"
Halong Bay was still amazing though the weather during our trip was foggy. We visited in February, so it was in winter there. The stunning weather is usually from May to December. We still enjoyed the cruise trip so much. We had traveled from South to North of Vietnam, so Halong Bay was one of my last stops this time. And it is certainly one of the most unforgettable times we had in Vietnam. Nancy made our booking reservation easy, she was so careful to make sure everything would run smoothly. Though the pick up in Hanoi was a bit late due to the traffic jam, the transfer on a luxury bus was super comfortable. The rest of our trip on Alisa Cruise was perfect from the staff, activities, entertainment, delicious food to the lovely room. Overall, this trip was worth each penny in the price. We would definitely recommend Alisa to anyone and come back if possible.
"My fantastic vacation in Halong Bay"
It was my first-time experience on a cruise ship, and this trip was more than I expected. We were arranged in a spacious room with a nice view. The cruise was luxurious and super clean. All the staff was great and helpful. They tried to solve your needs as soon as possible with a lovely smile. Our tour guide, Ms. Thuy Trang, was good. She took us to visit the cave, island, and Tai Chi. Thanks for this amazing trip.
"Perfect Cruise"
Amazing trip with Alisa. We had a great overnight stay on Alisa Cruise. Everything was well-organized from the pick-up, embarkation, activities. The room was nice with a spacious bathtub. The restaurant was beautifully decorated, and we had great food here. I particularly enjoyed the hiking to the mountain where I could observe the whole view over the Bay. This trip was even so special to me because it was on my birthday. I was surprised that the cruise did prepare for me a birthday cake and give me a rain of wishes. What a memorable birthday party! I would like to express my appreciation to all the staff on the boat for making my trip so special. They were all kind and lovely. Our guide always tried to make the atmosphere great with lots of laughs. Thanks, Alisa. You will be not disappointed if going on this cruise.
"Enjoyable 2 day cruise"
I booked the trip on Agoda after I had read good reviews about Alisa Cruise. Then Nancy sent me a quick rely on my booking. The communication was easy and convenient because we discussed it in Whatsapp. Nancy was good at keeping in touch with us to help us solve our inquiries though the timezone is so different. Thanks, Nancy for your efforts. Initially, I booked a junior suite, after that, I got a free upgrade to a higher quality room. The room facilities were good, the view was amazing too. I didn't depart from Hanoi, so we didn't need a pick-up. It was easy to get a deduct on the price because the pick up was optional. The food was excellent with many options. A must-have experience.
"Excellent customer service"
We booked a trip for 3 days 2 nights with Alisa Cruise for my family of four people. The payment was fully done. Unfortunately, the monster of Coronavirus has traveled worldwide, we must cancel the cruise trip. When we decided to cancel, we got a full refund. I didn't expect that due to the refund policy. That's great customer service. I was recommended Alisa Cruise by my friends who did a trip with this cruise ship last year. It was so upset we were unable to go on this vacation. But we probably rebook and take this trip when the epidemic will be controlled.