Huong Hai Sealife 3 days 2 nights
Hanoi, Bai Tu Long Bay, Thien Canh Son cave, Cong Do Island, Cong Dam area, Thay cave (Master cave), Vung Vieng Fishing village, Hanoi
Launched: 2013
26 Cabin(s)
Huong Hai Sealife is designed with standard quality, same for its guest cabins. Customers will always feel satisfied when resting in their rooms. With two spacious single beds, a suite cabin is suitable for 2 friends traveling together or can be converted into a convenient double bed for a couple. In an area of 22 square meters, the cabin is fully equipped with elegant and modern furniture bringing a wonderful accommodation. The location on the 2nd and 3rd decks of the boat also offers a great view over the bay.
The Executive Suite Cabin is a great choice for travelers who want to enjoy and experience the breathtaking beauty of Bai Tu Long Bay. Each room covers a large space of 26 square meters including a private balcony, bathroom with standing shower & Jacuzzi, and free bottle of wine.
Overview
With the slogan "Authentic experience", Huong Hai Sealife Cruise aims to provide attractive but also "real" experiences referring to the locality. The image of Halong Bay appearing before visitors is not only a paradise on the ground with nearly 2000 limestone islands floating on the blue sea but also a land of rich traditions and cultural heritage. With no "micro" philosophy of vision and mission, Sealife Group impresses partners and customers thanks to the real values of service quality, deep local knowledge, and customer-centricity.
As one of the pioneering enterprises laying the foundation for the tourism industry and overnight cruise, Sealife Group always pays attention to the preservation of environmental ecosystems as well as the development of a sustainable tourism industry in Halong Bay, Lan Ha Bay in particular and throughout Vietnam in general. Huong Hai Sealife Cruise is the newest effort in our journey to the goal.
Huong Hai Sealife Cruise, one of the luxury cruises in Bai Tu Long, has 26 cabins, all with private balconies and modern amenities. The ship promises to be the preference for your beautiful excursion to Halong Bay and the further area of Bai Tu Long Bay. Onboard, tourists are served with world-class services and facilities like a spacious sundeck, modern spa, finest library, relaxing Jacuzzi, sophisticated lounge and bar, and more. Let the journey lead you through endless oceans to discover the hidden charm of the legend bays.
Highlights
Safety & Security
To ensure absolute safety for visitors, the ship is equipped with a fire detection system which is certified by the local government. All cabins on the ship are connected to a boat CCTV & alarm systems and equipped with fire extinguishers, hammers, flashlights, and life jackets. The boat also stores a large number of lifebuoys, enough for up to 80 people.
MICE & Charter
MICE tourism is a combination of travel and Meetings, Incentives, Conferences, and Exhibitions. We wish to make your meetings and conferences truly unforgettable with our expert services. Meetings and events, instead of taking place in usual locations, will now be taken to a new level amidst the beauty of the world-famous Halong Bay. Taking part in an official event at a floating center will be a different experience for clients. The Huong Hai Sealife's restaurant is specially designed and can be flexibly set up to serve the diverse purpose of the customer's events. Fully equipped with the latest imaging and sound facilities, the floating convention center is perfect for professional events.
Special Extracurricular Activities
To bring a truly new experience for our guests, apart from conference services, we also offer them amazing extracurricular activities besides the main event. Some of the extracurricular activities can be named as entertainment and dining options, morning Tai Chi, kayaking, and swimming.
Facilities
Car park [free of charge]
Water sports (non-motorized)
Wooden/parqueted flooring
Internet access – wireless
Vinashin Tourist Harbor – Thien Canh Son Cave
7.30 - 08.10: Our transfer picks you up from Hanoi Old Quarter to start the journey to Halong Bay.
11.30: You are welcomed to our waiting room at Vinashin Tourist Harbor.
12.15: Set your foot on our Huong Hai Sealife. Stay at our restaurant; enjoy a welcome drink while a cruise briefing and important safety instruction are delivered to you.
13.00: Delicious welcome lunch awaits you in the restaurant while the boat starts cruising into the stunning Bai Tu Long Bay.
14.30: The first stop of the day is the hidden Co Cave (also known as Thien Canh Son Cave). After that, you can relax on Hon Co beach (no swimming).
16.30: Go kayaking at Cong Do area or back to the main boat and relax.
Join our Happy Hour with a 30% discount off from a special drink list from 16.30 to 19.00.
18.00: A cooking demonstration led by our master chef is taken place on the sundeck.
19.15: Take a seat in our restaurant to enjoy your dinner.
21.00: After dinner is your free time to enjoy our Movie Night, Board Games or our Massage & Spa services, squid fishing.
Cap La – Thay Cave
6.30: Let your day start with our Tai Chi session on the sundeck under the amazing sunshine.
7.30: Sumptuous breakfast is served in the restaurant.
8.30: Transfer to our Day Junks to cruise further into the bay to admire the widest beauty at the farthest corner.
10.30: Visit Cap La – a hidden lagoon in Bai Tu Long Bay which is covered by incredible limestone mountains.
11.00: Enjoy kayaking around the lagoon and then leisure at a beach.
12.30: Have your lunch on the Day Junks.
13.30: Discover Thay cave, one of the most beautiful caves in Halong Bay.
15.15: Return to Huong Hai Sealife. The Happy Hour with 30% off and interesting cooking demonstration start again.
19.15: Dinner is served in the dining room.
21.00: Evening activities then overnight on board.
Meals: Breakfast, Lunch, Dinner
Vung Vieng fishing village – Vinashin Tourist Harbor
6.30: Begin your day with a refreshing Tai Chi session on the sundeck.
7.00: Breakfast with cookies, tea, and coffee is served following.
7.30: Learn more about the life of local fishermen living in Vung Vieng fishing village by bamboo boat.
8.30: Huong Hai Sealife welcomes you back on board. You have time for relaxing, picking up luggage and checking out of your cabin.
9.30 - 10.40: Savor your last lunch on board while the ship is cruising back to the harbor.
11.00: Say goodbye to the Huong Hai Sealife. Get on your transfer back to Hanoi. The trip ends.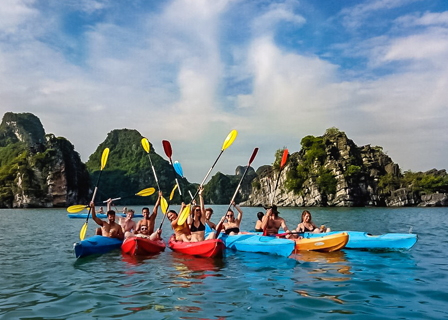 General Information
Check-in: 12:00 PM - 12:20 PM
Check-out: 11:00 PM - 11:15 AM
Bus pick-up time: 7:30 AM - 7: 45 AM
Return Hanoi by bus: 3:30 PM – 4:00 PM
Shuttle bus pick-up point: Hotel in Hanoi Old Quarter and in front of Hanoi Opera House
Shuttle bus drop-off point: Hotel in Hanoi Old Quarter and in front of Hanoi Opera House
Booking Policy
• 50 % of the total cost is required to secure the booking.
• The remaining balance is to be paid 15 days prior to the departure date.
• In some special cases, you will be required to pay the full cost or a number greater or smaller than the standard 50% to secure your booking.
• In some special cases, the deadline for payment will be required sooner or later than the standard 15 days prior to booking.
Cancellation by Customer
• More than 31 days prior to check-in: Free of charge
• From 31 to 16 days prior to check-in: 10% of total rates
• From 15 to 5 days prior to check-in: 50% of total rates
• Less than 5 days prior to check-in: 100% of total rates.
• No-Show: 100% of total rates
*** Cancellation notice from customer must be sent to us via email. Refund will be processed between 10 -15 working days.
Cancellation by Halong Bay Management Board due to bad weather
If the cancellation is made by the Halong Bay Management Board, following policies will be applied depending on the time of cancellation.
• When a cancellation is made before departure date- check-in date (if no services have been used): 100% refund.
• When a cancellation is made during the trip (some services have been used such as transfer, food, some amenities, etc.): used services will be charged, the rest will be refunded.
• When a cancellation is made before or during the departure date and the trip must be shortened from 2 nights to 1 night, 2 days 1 night trip, plus other used services will be charged, the rest will be refunded.
• The final cost will be confirmed by your consultant via email. In all cases, please contact us directly for any urgent help. We are here to support you!
Note: In case of a cancellation decision made by the Management Board of Halong Bay, an alternative travel arrangement will be made on request, or you will be refunded in accordance. In all cases, please contact our travel consultant via email or phone for support. We are always willing to provide you with any assistance you may need on or off board.
Important Notes:
• PROGRAMS & SCHEDULES SUBJECT TO CHANGE WITHOUT PRIOR NOTICE.
• In case of adverse weather conditions in Halong Bay, the cancellation will ONLY be made by the Halong Bay Management Board. Usually the announcement will be declared very close to or on the departure date and our refund policy will come into effect.
Inclusions
Halong Bay cruise itinerary
Welcome drinks, cold or warm handkerchief
Accommodation in deluxe air-conditioned en-suite cabin
Meals as itinerary
Entrance and sightseeing fees
English speaking guide
Cooking demonstration, Tai Chi session
Kayak for 3 day 2 night itinerary
Onboard insurance
Includes Taxes & Fees
Exclusions
Hanoi – Halong – Hanoi shuttle bus/private car (Please book in the next step)
Visa & Hotel arrangements
Spa and massage treatment
Beverages not mentioned in itinerary
Tips and personal expenses
All other services not mentioned in Inclusions