Launched: 2019
24 Cabin(s)
Overview
Indochine Cruise is one of the most luxury cruises in Lan Ha Bay. Together with Indochina Sails in Halong Bay, both belong to Huong Hai Tourism Group. With more than twenty years in the service industry, we have understood all of the needs of our customers. If you are looking to host a special event, there is no need to search, Indochine Cruise is your choice with continuously developed sets for commercial events, product launches, conferences, theme parties, birthdays, weddings, and anniversaries.
Food is not only a biological demand but also a kind of local culture. Let dine and share this special moment with your beloved friends on Indochine Cruise's classic French-Indochina deck. Enjoy this wonderful experience with delicious dishes that Indochine Cruise offers, with beautiful Lan Ha scenery and music around.
Indochine Cruise is proud to be the pioneer in organizing candlelight dinner events in the wonderful caves scattered across the islands. This service is provided for large groups, including M.I.C.E conference and wedding ceremony with a capacity of up to 150 people. This is a truly unique activity only available at Indochine Cruise. If you want a truly unique experience, we also offer dinner service on floating rafts. With luxurious decor, fine food, this is a new service that brings you a never-ending dinner.
The floating bar is the idea that was initiated and implemented by Indochine Cruise. While you experience kayaking through the cave, our staff will bring a bamboo boat to act as a floating bar where everyone can enjoy a snack and a drink while adventuring.
Hanoi - Tuan Chau Harbor - Lan Ha Bay
At Tuan Chau Harbor, we board the Indochine Cruise at noon, receive a quick cruise overview with a welcome drink before a tasty lunch with both Vietnamese and international options is served.
As the Indochine cruises into the emerald water, you are offered two options for your first activity in the afternoon.
Option 1: Go kayaking in a quiet water area near Cat Ba Island. Paddle around to explore beautiful islets and sandy beaches.
Option 2: Transfer to Viet Hai village where you have a few hours exploring the local life and seeing the beautiful countryside scenery.
Back to the Indochine Cruise for a sunset time on the sundeck as a cooking class and a fruit carving demonstration take place.
Your sumptuous dinner is served in our sophisticated restaurant.
Spend the rest of the first day onboard at your leisure, around the classy lounge, spacious sundeck, relaxing spa or your own luxurious cabin.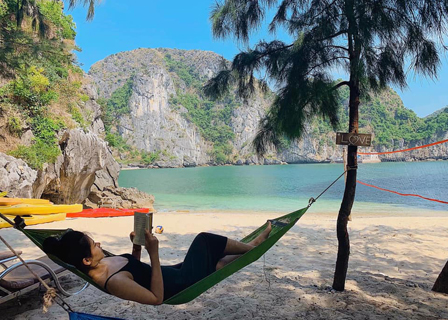 Lan Ha Bay - Van Boi Fishing Village - Tuan Chau Harbor
Your second day starts when the sun rises on the bay and will be followed by a Tai Chi session on the sundeck.
Breakfast is served in the restaurant while the boat starts cruising for its second-day excursion.
The ship takes you to Van Boi fishing village where you are free to explore with a kayak.
Return to the Indochine Cruise, pack your luggage and enjoy your brunch in the dining room before we reach back to Tuan Chau Harbor.
Disembark the ship at around 11.00 am. Take your transfer back to Hanoi or to the next destination.