Paradise Grand Cruise 3 days 2 nights
Hanoi, Halong Bay, Tuan Chau Harbor, Viet Hai village, Cat Ba Island, Dark and Bright Cave, Halong Bay, Hanoi
Launched: 2020
39 Cabin(s)
Overview
Among luxury cruises of Paradise Group, Paradise Grand Cruise is a new brand steel boat taking the route to discover Lan Ha Bay and Cat Ba Islands. Featuring 39 spacious luxury cabins with fully-equipped furniture and private balconies, Paradise Grand promises to elevate your cruise experience in the World Heritage Site to a higher level.
Paradise Grand Cruise offers 2-day 1-night and 3-day 2-night itineraries for passengers' adventures and relaxation. You will have the chance not only to discover the magnificence of Lan Ha Bay but also truly relax with enriching onboard activities. Especially, Paradise Grand uses a high-speed Paradise Express with 198 seats for the transfer from Tuan Chau Harbor to Cat Ba Islands within only 12 minutes, instead of using a tender which takes a long time for transfer from one destination to the next. Among Lan Ha Bay Cruises starting from Tuan Chau Harbor, Halong Bay Cruise Deals would like to recommend you Paradise Grand Cruise for a luxury vacation.
Hanoi – Tuan Chau Harbor – Viet Hai Village (L, D)
11.30: Arrive at Paradise Lounge at Tuan Chau Harbor for checking in and receiving your room key.
12.00 – 12.15: You will be transferred by our Paradise Express to the Grand Cruise. Check-in Paradise Grand Cruise and enjoy a welcome drink.
13.00: Paradise Cruise team will serve you an international buffet lunch on the restaurant while the cruise is sailing among the islands and islets of Lan Ha Bay.
14.30: Enjoy your first relaxing moments on the cruise. You can take your time for a spa treatment or capturing the beauty of Lan Ha Bay.
15.30 – 17.00: Follow our Paradise Express to reach Viet Hai Village. Here you can explore the local life of the villagers by cycling along the paths. Instead of cycling, an electric car is available on request.
16.00 – 17.30: Back to Paradise Grand Cruise for an afternoon tea.
17.30 – 19.00: Take part in a Vietnamese cooking demonstration before dinner is served in the restaurant of Paradise Grand.
21.00 – 23.00: Enjoy your night on the cruise with some interesting activities such as squid fishing, live music, movie watching, and so on.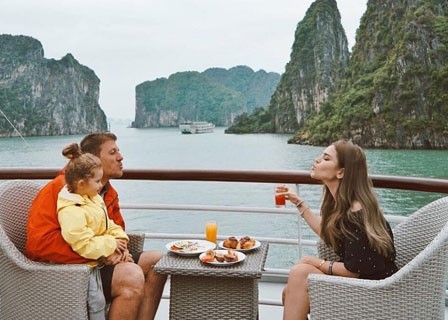 Cat Ba Islands – Trung Trang Cave – Tung Thu Beach – Cat Ba National Park Trekking (B, L, D)
06.30 – 07.00: Start your second day by joining Tai Chi Class on the sundeck at the time of the sunrise over the limestone cliffs of Lan Ha Bay.
07.00 – 07.30: Enjoy a light breakfast with slices of bread, teas, and coffees in the Piano Lounge to energize your day and watching the sunrise view.
08.30: After a full breakfast, we will be ready for interesting activities today to discover Lan Ha Bay.
10.00: Paradise Express will transfer you to Gia Luan Port belonging to Cat Ba Island for excursions.
10.30 – 11.30: Reach Trung Trang Cave – one of the most beautiful caves in Cat Ba. You may have the feeling of getting lost in heaven.
11.30 – 12.00: Afterward, Paradise shuttle bus will bring you to Cat Ba Town for having lunch in the restaurant at Tung Thu Area.
13.30 – 14.30: With Paradise Grand, you will have a chance to discover Tung Thu Beach. Here you can swim in the cool water to refresh yourself and relax on the sandy beach.
15.00 – 16.00: Our next destination today is to visit Cat Ba National Park. You may have a chance to do a short trekking in one of the most iconic and famous trails in Northern Vietnam. Enjoy your reward of the picturesque view of Hoi Lake once you reach the end of the trail.
17.30: Get back to Paradise Grand Cruise and enjoy afternoon tea.
19.00 – 20.30: Enjoy Michelin dinner served in the restaurant. Spend your second night staying overnight in the luxury cabin of Paradise Grand Cruise.
Meals: Breakfast, Lunch, Dinner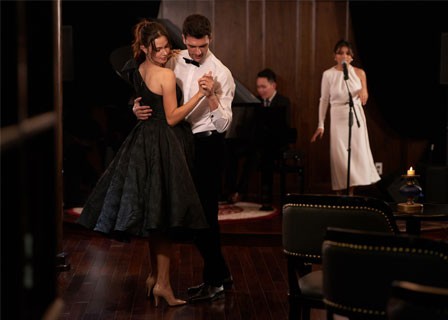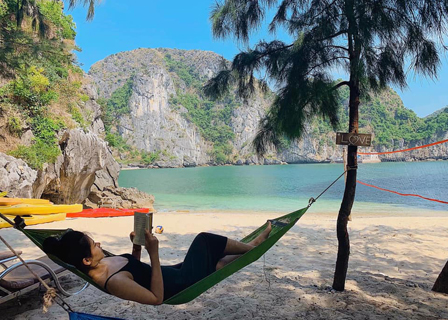 Dark and Bright Cave – Tuan Chau Harbor - Hanoi (B, L)
06.30 – 07.00: As on the second day, Tai Chi Class is on the sundeck to re-energize yourself. The view of the sunrise is a reward for those who wake up in the early morning.
07.00 – 07.30: A light breakfast is served in the Piano Lounge.
07.30 – 08.30: The last stop of the 3-day 2-night itinerary with Paradise Grand Cruise is Dark and Bright Cave area which is surrounded by the limestone islands and islets with different shapes and sizes.
Here the locals will row sampan boats to help you get closer to the nature of the area. Besides, you can choose to do kayaking, but the kayaking fee is in an additional charge.
08.30: Return to Paradise Grand for a buffet breakfast in the restaurant.
09.30 – 09.45: Check out your cabin and return the key to the reception. Paradise Grand is on the way back to Tuan Chau Harbor.
10.30: Paradise Express will take you back to Tuan Chau Marina. Have a relaxing time at the waiting lounge of Paradise Group.
12.00: Take the transfer to return to Hanoi. End of services.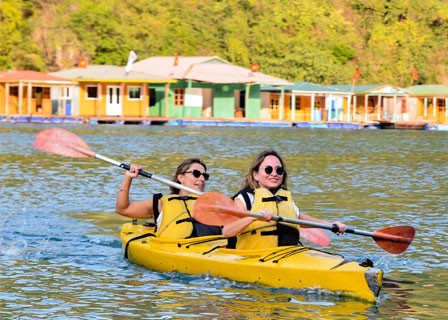 General Information
Bus pick-up time: 7:10 AM - 7:45 AM
Check-in: 12:00 PM - 12:30 PM; Check-out: 10:30 AM - 11:00 AM
Return Hanoi by bus: 4:30 PM
Shuttle bus pick-up & drop-off point: Hotel in Hanoi Old Quarter or in front of Hanoi Opera House
Booking Policy
• 50 % of the total cost is required to secure the booking.
• The remaining balance is to be paid 15 days prior to the departure date.
• In some special cases, you will be required to pay the full cost or a number greater or smaller than the standard 50% to secure your booking.
• In some special cases, the deadline for payment will be required sooner or later than the standard 15 days prior to booking.
Cancellation by Customer
• More than 31 days prior to check-in (departure date): Free of charge
• From 31 to 16 days prior to check-in (departure date): 10% of total rates
• From 15 to 8 days prior to check-in (departure date): 20% of total rates
• From 7 to 4 days prior to check-in (departure date): 50% of total rates
• Less than 4 days prior to check-in (departure date): 100% of total rates.
• No-Show: 100% of total rates
*** Cancellation notice from customers must be sent to us via email. The refund will be processed between 10 -15 working days.
Cancellation by Halong Bay Management Board due to bad weather
If the cancellation is made by the Halong Bay Management Board, the following policies will be applied depending on the time of cancellation.
• When a cancellation is made before departure date- check-in date (if no services have been used): 100% refund.
• When a cancellation is made during the trip (some services have been used such as transfer, food, some amenities, etc.): used services will be charged, the rest will be refunded.
• When a cancellation is made before or during the departure date and the trip must be shortened from 2 nights to 1 night, 2 days 1-night trip, plus other used services will be charged, the rest will be refunded.
• The final cost will be confirmed by your consultant via email. In all cases, please contact us directly for any urgent help. We are here to support you!
Note: In case of a cancellation decision made by the Management Board of Halong Bay, an alternative travel arrangement will be made on request, or you will be refunded in accordance. In all cases, please contact our travel consultant via email or phone for support. We are always willing to provide you with any assistance you may need on or off-board.
Important Notes
• PROGRAMS & SCHEDULES SUBJECT TO CHANGE WITHOUT PRIOR NOTICE.
• In case of adverse weather conditions in Halong Bay, the cancellation will ONLY be made by the Halong Bay Management Board. Usually, the announcement will be declared very close to or on the departure date and our refund policy will come into effect.
Inclusions
All Meals Included.
Afternoon tea.
Complimentary regular tea and coffee onboard.
Two bottles of water in the cabin daily.
Cooking demonstration, Yoga/Tai Chi session.
Onboard insurance, taxes, and service charges.
Entrance and sightseeing fees.
Live music (except every Monday).
Includes Taxes & Fees
Exclusions
Airfare & airport transfers.
Visa arrangements.
Kayaking.
Beauty spa services and massage.
Beverages and tobacco.
Tips and other expenses not mentioned in inclusions.