Genesis Regal Cruise 2 days 1-night
Hanoi, Tuan Chau Harbor, Lan Ha Bay, Dark and Bright Cave, Halong Bay, Hanoi
Launched: 2019
20 Cabin(s)
Overview
Genesis Regal Cruise is a new 5-star vessel taking the route to discover Lan Ha Bay. Settled as a luxury cruise, Genesis Regal offers you the ultimate luxurious facilities. Its design has been inspired by the royalty and elegance of the Indochine style, therefore, it is a combination of neoclassic and luxurious concepts. All cabins of Genesis Regal Cruise have balconies, ceiling-to-floor windows, and are fully equipped with bathroom amenities and bathtubs.
Following the route to discover Lan Ha Bay, Genesis Regal would like to bring a peaceful and pristine atmosphere to you. Its sister, Halong Bay, is very famous and it must say that it is overcrowded in recent years. Now, Lan Ha Bay is a new discovery. It's wonderful that Genesis Regal starts from Tuan Chau Harbor of Halong Bay, so you may have the chance to enjoy both Halong Bay and Lan Ha Bay. A unique itinerary to new attractive destinations would make a different journey.
Halong Bay Cruise Deals would love to send you useful information on Genesis Regal Cruise – Lan Ha Bay Luxury Cruise. All promise a perfect leisure experience for visitors.
Facilities
Water sports (non-motorized)
Hanoi – Tuan Chau Marina – Lan Ha Bay – Sunset Party (L, D)
08.00 am – 08.30 am: Pick-up service
Our cruise journey will start by the pick-up at your hotel in Hanoi. It is easy to recognize the Limousine of Genesis Regal Cruise with its big logo. Then the driver will start to drive on the expressway toward Halong Bay.
If you do not book for Limousine transfer with us, you can arrange your own transportation and meet our team at No. 19 Wharf of Block in Tuan Chau Marina at 11.45 am – 12.00 at noon.
On the way to Tuan Chau Marina, you may have the chance to enjoy the countryside beauty along the sideroads.
11.00 am – 11.30 am: Visit a pearl workshop
On the way to Tuan Chau Harbor, we will make a stop at a pearl workshop to learn about the process of cultivating and harvesting pearls of the experienced locals.
11.45 am – 12.00 at noon: Arrive at Tuan Chau Marina
Once you arrive at the harbor, you will have a refreshing time at the waiting lounge of Genesis Cruise while our staff completes the registration for embarking on the cruise.
After that, you will be transferred by the transferred boat to Genesis Regal Cruise.
12.30 – 14.15: Lunchtime
Welcome you to Genesis Regal Cruise. Our cruise manager is pleased to give you safety instructions and itinerary briefing while you are enjoying a welcome drink.
After that, lunch with tasty local seafood and Vietnamese dishes will be served in the Tonkin Restaurant. The cruise is sailing further to the bay, and you can see the great views of limestone islands during your lunchtime.
14.00 – 14.30: Check-in time
After lunch, you will receive your room key and check-in the room for a short break. You can spend your time enjoying the natural wonder in your private balcony or get on the sundeck for the best views of the bay.
15.00 – 16.30: Kayaking activity
Genesis Regal Cruise will stop near a floating house in Lan Ha Bay. You will have a chance to visit the local people to learn more about their daily life, culture, and history.
Then you will do kayaking around and discover the bay on your own way.
16.30 – 17.00: Swimming in Lan Ha Bay
After kayaking, you can refresh yourself by swimming in the middle of the bay. No beach, no sand, you can immerse yourself into the water of Lan Ha Bay anywhere.
18.00 – 19.00: Cooking Demonstration and Happy Hours
Getting back to the cruise for interesting activities. Genesis Regal Cruise will move to a safe area to set the anchor. You can get on the sundeck for joining a sunset party, and then cooking demonstration held by our chef. In addition, you can buy one and get one drink for free during Happy Hours.
19.00: Dinner time
In the concept of a warm and cozy restaurant, passengers will enjoy a delicious dinner with fresh dishes in the Fusion style. That promises to bring a remarkable dinner on your vacation in Vietnam.
21.00 – 23.00: Relax on board
After dinner, you have free time for onboard activities such as playing chess, squid fishing, tea culture learning, and so on.
Enjoy the starlight night in Lan Ha Bay and stay overnight on the cruise.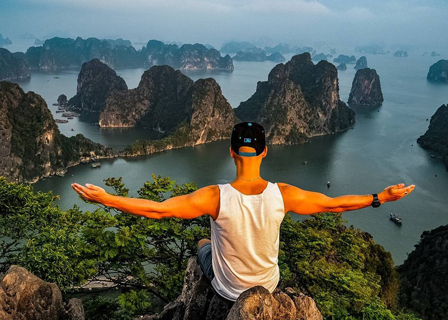 Lan Ha Bay – Dark & Light Cave – Hanoi (B, L)
06.30 am: Tai Chi Class
Energize your day by Tai Chi sessions on the sundeck. It is also the time you can capture the magnificence of the dawn in Lan Ha Bay.
07.00 am – 08.00 am: Breakfast time
A nutritious breakfast is served in the Tonkin Restaurant. Have breakfast and then enjoy a cup of tea or coffee to start your last day in Lan Ha Bay.
08.15 am – 09.15 am: Visit the Dark Cave
The transferred boat will bring you to visit the Dark and Light Cave area. You will sit on the bamboo boats rowed by the locals to go through 3 wet underwater caves. If you prefer to do kayaking on your own to discover this area, just inform the tour guide and take the kayak with you.
09.30 am – 10.00 am: Return the cruise and check-out time
After discovering the cave, you will be transferred back to the big boat. Take a short leisure time, and then prepare for checking out the cabin.
10.00 am – 11.00 am: Brunch time
Move to the Tonkin Restaurant for a delicious buffet brunch. Enjoy the stunning scenery of the bay while Genesis Regal Cruise is sailing back toward the harbor.
11.30 am: Back to the harbor
Say goodbye to the Genesis Regal's crews, you will leave for the transfer boat to back to Tuan Chau Harbor. Take a little time to relax at the waiting lounge before departing to Hanoi with our driver.
14.30 – 15.00: Drop off in Hanoi
We have a quick drive on the expressway and arrive at Hanoi after 2.5 hours.
Our driver will drop you off at your hotel in the Old Quarter of Hanoi. Your memorable cruise trip with Genesis Regal Cruise finishes.
General Information
Bus pick-up time: 09:30 AM - 10:00 AM
Check-in: 12:00 PM - 12:30 PM
Check-out: 09:00 AM - 10:00 AM
Return Hanoi by bus: 2:30 PM - 3:00 PM
Shuttle bus pick-up point: Hotel in Hanoi Old Quarter or in front of Hanoi Opera House
Shuttle bus drop-off point: Hotel in Hanoi Old Quarter or in front of Hanoi Opera House
Booking Policy
• 50 % of the total cost is required to secure the booking.
• The remaining balance is to be paid 15 days prior to the departure date.
• In some special cases, you will be required to pay the full cost or a number greater or smaller than the standard 50% to secure your booking.
• In some special cases, the deadline for payment will be required sooner or later than the standard 15 days prior to booking.
Cancellation by Customer
• More than 31 days prior to check-in (departure date): Free of charge
• From 31 to 16 days prior to check-in (departure date): 10% of total rates
• From 15 to 8 days prior to check-in (departure date): 20% of total rates
• From 7 to 4 days prior to check-in (departure date): 50% of total rates
• Less than 4 days prior to check-in (departure date): 100% of total rates.
• No-Show: 100% of total rates
*** Cancellation notice from customers must be sent to us via email. The refund will be processed between 10 -15 working days.
Cancellation by Halong Bay Management Board due to bad weather
If the cancellation is made by the Halong Bay Management Board, the following policies will be applied depending on the time of cancellation.
• When a cancellation is made before departure date- check-in date (if no services have been used): 100% refund.
• When a cancellation is made during the trip (some services have been used such as transfer, food, some amenities, etc.): used services will be charged, the rest will be refunded.
• When a cancellation is made before or during the departure date and the trip must be shortened from 2 nights to 1 night, 2 days 1-night trip, plus other used services will be charged, the rest will be refunded.
• The final cost will be confirmed by your consultant via email. In all cases, please contact us directly for any urgent help. We are here to support you!
Note: In case of a cancellation decision made by the Management Board of Halong Bay, an alternative travel arrangement will be made on request, or you will be refunded in accordance. In all cases, please contact our travel consultant via email or phone for support. We are always willing to provide you with any assistance you may need on or off-board.
Important Notes
• PROGRAMS & SCHEDULES SUBJECT TO CHANGE WITHOUT PRIOR NOTICE.
• In case of adverse weather conditions in Halong Bay, the cancellation will ONLY be made by the Halong Bay Management Board. Usually, the announcement will be declared very close to or on the departure date and our refund policy will come into effect.
Inclusions
Welcome Cocktail.
Entrance and Sightseeing Fees.
Taxes & Service Charges.
Cruise Itinerary and Program.
Kayaking.
Cooking Class.
Tai Chi Session.
International Breakfast Buffet.
Luxury en-suite Bathroom.
Meals on board during the cruise program.
Luxury Cabins and Suites with A/C.
In-house English-speaking Tour Guide.
Insurance.
Includes Taxes & Fees
Exclusions
Airfares, and Hotel Accommodation.
Beauty Spa Services and Massage.
Transfer from Hanoi to Dinh Vu Port and back (transfer time approximately 2.5 hours).
Visa to Vietnam.
Tax, tips, and other Personal Expenses.
Beverages and Tobacco.
Surcharge for New Year, Christmas.
All other services not clearly mentioned above.
"Magnificent trip in Halong Bay with astonishing view from our executive suite"
Good food, good view and everything. Many thanks halongbaycruisedeals!
"I miss Halong bay already, I will definitely return in near future"
Im kinda appriciate your well-planned, my excutive suite was warm and clean before we come. The sundeck got my attention and i really enjoyed the magnificent view of Halong, with the 2 fresh drinks from Happy hour. I will introduce here with my family and trust me, we'll back one more time :)
"Just stay at Halong in a short time but have too much fun!"
Geresis Regal brings me so much fun and surprise. I cant imagine that kayak is the most exicting things in my trip, i did it with my new friends in cruise and they was talent and humerous. Hope i can back Halong again and stay longer!!
"A lifelong memory built with Genesis around Halong Bay, special thank to Mai"
From the accommodations (especially the balcony facing the harbor) to the staff (special thanks to our personnel Mai) to the well-planned excursions, the cruise amenities were beyond all expectations. A wonderful stay. It took me some time to decide which cruise to take, and I'm very pleased I went with Genesis. From the moment you confirm your ticket to the end of your travel, you will be incredibly well taken care of. I should mention that the cuisine was excellent - the course meals were delicious, and the garlic butter prawns were a personal favorite. Instead of taking time finding other tours, book with Genesis! You will not be disappointed.
"Just everything on point: the cruise itself, the crew, the accommodation, food, etc."
I went on a two-day, one-night cruise with my sister. Very well-organized cabin. The rooms were spotless and quite comfy. They presented a terrific, jam-packed program and kept to it. The meal was delicious. The personnel was always cheerful and trie their best to assist. Without a doubt, I would suggest this cruise.
"Good value for the price. Weather was not good but we enjoyed the trip"
The accommodation was well kept, and the crew from the ground to the ship was professional, kind, and happy. This cruise is highly recommended. We couldn't go into the cave because of the bad weather, but that's okay. We spent the time enjoying the onboard amenities which were enjoyable. The food was good, and special requests was available if necessary.
"Genesis Regal gave us comfort and luxury services. Worth the money overall"
There aren't many vegetarian alternatives, but the team will do their best to accommodate your needs. The activities and the personnel are both good. This is highly recommended.
"Exceptional gorgeous Halong Bay. Will come back to see more of it"
Everything was fantastic, from the pickup in a fantastic limousine to the return to the coast. The personnel was quite polite, the manager was very happy, and the guide was very friendly. Extremely well-kept cruise. The rooms are really big and clean. Wonderful stuff to do, and I learned tai chi on the veranda with a gorgeous dawn. The food was wonderful, but there were just too many selections. During meals, the manager personally visits each table and requests food to be served. He is a fantastic vocalist, and he even encouraged us to join him. The guide is nice and entertaining, and he will make you laugh on the way to and from the airport. The front desk lady is very nice and friendly, constantly greeting me with a grin. I had fun squid fishing at night. A once in a lifetime opportunity
"Fulfilled trip with no mistakes, thank Tony for a great job hosting the trip"
Spending the day touring and traveling among the Ha Long Bay Islands is impressive enough, but sleeping on the boat among them and watching the Sunset and rise is an unforgettable experience. I joined a fantastic trip made even better by the crew of the Genesis Regal. Tony, our host, was engaging and amusing as he informed us about the islands and coordinated our numerous scheduled activities. All activities were fun, and there was plenty of time for personal relaxation. Another Wow element was the rooms. The accommodation was spacious, clean, and nicely designed, with views from every angle, including the bathtub (yes, there was a tub in the room) and the toilet.
"Worth cruising to see the best of Halong Bay and enjoy luxury services"
My impression on staff of Genesis was really pleasant and kind. The pre-arrival help and prompt reaction by the Genesis representative were excellent. The cruise was brand new, with spotless accommodations and plenty of complimentary activities. The buffet offered a diverse selection of dishes, as well as vegetarian options. Overall, it's a really pleasant and well-managed cruise.
"This cruise is the highlight of our dream honeymoon vacation"
We picked Genesis Regal as our cruise for our honeymoon trip to Vietnam, and we thoroughly loved our two days and one night stay. Thank you to everyone on the team for the surprise honeymoon cake; we truly appreciate it!
"Super friendly staffs, Nice Experience Onboard and cave visit quite interesting"
We were really thrilled to be upgraded to the VIP suite, which completely transformed our stay. The accommodation was stunning, with floor-to-ceiling windows overlooking Halong Bay - it's impossible to beat that! The staff was fantastic, really polite and helpful. The bar was fantastic, and they remained up with us till the early hours of the morning to ensure we had a fantastic night. All of the activities were excellent. Thank you very much for a lovely vacation - one of the highlights of our trip to Vietnam.
"Awesome! The crew, the food, the itinerary and even the guests with us"
This was our 3rd Halong Bay Cruise, and Genesis was by far the best! The staff - super friendly when we're onboard which they treated everyone of us like a first class passenger. They made every effort to make sure that we were comfortable and enjoying the trip. Some cool activities while we're onboard ensuring that we get the most experience while we're cruising along the Halong Bay, including kayaking, cooking, fishing, cave exploring etc. The food on the boat was by far the best we've had. The activities were top-notch and well-planned.
9
Konstantinos
United Kingdom
"Relaxing trip... if you are thinking of booking Genesis, go ahead"
We had the finest cruise ever! Incredible view of Ha Long Bay, one of the most beautiful sunrises we've ever seen on a non-peak season visit. The entire check-in and check-out process was really easy, with the staff providing an excellent summary of our stay. There are several activities available, including a boat ride, canoeing, fishing, and swimming. The accommodation was very delightful, quite big, and the view of Ha Long Bay from there was spectacular. After a long day of commuting, the bathtub was ideal for unwinding. It was really beneficial that they provided commuting choices from/to Hanoi, making it easy to reach the port. Everything was fantastic, with only a few suggestions for enhancements. I wish we had more time to rest and not hurry into activities right after lunch for a one-day visit. The food was delicious, but the amounts were little. I wish there was a wider variety of dessert selections. On the second day, when canoeing, there was a lot of trash in the water, which indicates that the bay is not well maintained. We experienced a lot of noise from the eating area upstairs throughout the night (probably while cleaning with a lot of furniture dragging on the floor).
"Thank Genesis Regal for amazing trip, I will suggest this cruise for friends"
My husband and I did a lot of research to find an ideal cruise to spend our first vacation together, turned out Genesis was more than our expectation! Everything, the detail on the ship nothing was old or worn, we had very helpful staff and the food was absolutely amazing, spacious cabin, fantastic Spa,... I cannot say enough of it!
"Excellent services & good food - my best trip in Vietnam ever!!!"
The boat was spotless, and the view from our suite was breathtaking. During our 2D1N schedule, the crew was fantastic and really helpful! The area of the harbor we visited was particularly excellent since it was less crowded, and all of our activities were well-timed to avoid large groups from other boats. A big thank you to the crew for being so attentive and involved in all of the visitors' experiences!
"Memorable trip with my family with the help of Halong Bay Cruise Deals"
The hotel shuttle from Hanoi to the cruise center was seamless. We chose a three-day, two-night vacation to do more activities, including a speed boat ride to Cat Ba Island. The quiet town on Cat Ba island offered a wonderful experience, complete with gorgeous scenery while we rode our bicycles. We also went swimming at a secluded beach with breathtaking views. As it became too hot to swim, they even advised we go to another spot for more comfort. Special thanks to our tour guides, Naomi and Trang, who were attentive, helpful, and sensitive in assuring our well-being throughout. The devotion of all the staff made our stay unforgettable.
"Never knew Halong Bay can be that breathtaking & Genesis crew was awesome"
It was our first cruise with my elderly parents, and the trip was nothing but soothing, delightful, and wonderful! We initially reserved two rooms for a total of six people. The room's glass windows gave a fantastic view of Halong Bay, and the sunset from the balcony was breathtaking. I enjoy it when we sit on the sundeck together and watch the sunset. In addition, the staff was friendly and attentive to my elderly parents. Most significantly, all of the meals served on board were delectable! We thoroughly loved all of our meals, which were all served to perfection. The staff also demonstrated how to make spring rolls, and we had a great time making our own. There was also a cocktail show, which kept us occupied for a while. It was a great opportunity for the family to gather together without worrying about wifi or network disruptions and enjoy the luxury cruise. Thank you again to all of the nice and helpful crew members that made the vacation so memorable for my family and me!
"My sis and I had a wonderful time with Genesis Regal, the food was very tasty"
It was my best halong bay cruise on Genesis Regal with Phi Phi, Alex, Nancy, Mai... The activities were superbly organized and the food was excellent. The only minor issue is the poor WiFi and TV connection... Special thanks to the crew for their tremendous efforts in making us feel at home... I will definitely recommend this cruise for friends!