La Pandora Cruise 2 days 1-night
Hanoi, Halong Bay, Lan Ha Bay, Dark and Bright Cave, Halong Bay, Hanoi
Launched: 2019
24 Cabin(s)
Overview
Being one of the newest deluxe cruises in Lan Ha Bay, Halong Bay, La Pandora Cruise, built in July 2019, is well-designed in a harmonious combination of iron and wood. The iron parts create a solid structure of the boat, which ensures the safety of every journey. The wooden parts bring a cozy yet luxurious atmosphere.
The La Pandora Cruise is well-appointed with a modern system of safety equipment and devices. Smoke and fire alarms, life jackets, lifebuoys, waterproof torch and hammers used in emergencies are found in all cabins and public areas.
Measuring the 52-meter length and 11.5-meter width, the La Pandora cruise has 4 decks, elegant restaurants, large sundecks, and sky bars together with 24 en-suite fully-equipped cabins. Each cabin, besides an elegantly designed architecture and premium furniture, has a private balcony and large windows overlooking the bay offering the most comfortable and enjoyable accommodation.
Not only the facilities but the La Pandora crew team is worth to mention as well. The team is professional, dedicated to every detail of personal services and friendly as family members, which promises to make your cruise with La Pandora a truly exceptional and remarkable experience.
Highlights
SPA & MASSAGE
Cruising with La Pandora Cruise you will not only be treated with excellent service but also a relaxing time with world standard class spa & massage treatments. We offer you only the highest quality of spa products, soothing space, luxury facilities and relaxing therapy served by well-trained therapists.
THE RESTAURANTS
Measuring 120 square meters on the second deck of the boat, the Indoor Restaurant features a deluxe setting in a cozy atmosphere. Surrounded by large panoramic windows, the restaurant allows its customers to take the beauty of the charming Lan Ha Bay while enjoying well-prepared and presented Vietnamese dishes. La Pandora also offers you a Sky Restaurant which is located on the top of the boat. The Sky Restaurant brings you the most romantic and peaceful dinner ever.
THE BARS
The Main Bar, the heart of the indoor Restaurant, offers a wide selection of Aperitifs, Spirits, Cocktails, beer and fine wines all around the world. The Bar is well-equipped with a projector system served for special events. The Sky Bar together with the Sky Restaurant provides you a perfect food and beverage experience. You now can taste some food, sip a cup of wine all while enjoying a delightful place with fresh air and a superb panoramic view of the Bay. A small stage with a 55-inch plasma TV, a sound and lighting system is always available for dancing and singing lovers.
Facilities
Complimentary Mineral Water
HANOI – HALONG BAY - LAN HA BAY
08:30: Hotel pick up inside the Old Quarter of Hanoi with our shuttle bus. A short break halfway.
12:00: Arrive at Tuan Chau Harbor, transfer to the La Pandora Cruise by tender. Embark the boat, enjoy a welcome drink, receive cruise briefing and safety instructions then check in to your cabin while the boat sets sail through Halong Bay. Pass by Da Chong Islet with a 100-year old lighthouse built by the French.
13:00: A welcome lunch with fresh seafood and a mixture of appetizing favorites is served in the dining room.
15:30: The boat cruises into Lan Ha Bay and stops at Ong Cam area - an isolated part of Halong Bay. This is where you enjoy kayaking and/or swimming in the crystal waters of the Bay.
17:30: Back to the La Pandora Cruise for a complimentary sunset party on the sundeck.
19:00: Dinner with delicious local food is served in the Sky Restaurant (if the weather allows).
21:00: Join a squid fishing, watch a movie, have a drink at the bar or just retire to your cabin. Overnight onboard.
BRIGHT CAVE – HALONG BAY - HANOI
06:00: Enjoy sunrise and take part in a Tai Chi session on the sundeck.
07:00: Light breakfast, coffee, and tea are served after that.
07:45: Visit Bright Cave by local rowing boats. This cave is like a water stadium surrounded by limestone islands in the middle of the World Heritage.
09:15: Back to the boat, relax and pack your luggage to check out of the cabin.
09:45: Join a cooking class to learn to make Spring rolls.
10:15: Brunch is served while the boat is heading back to the port.
12:00: Disembark the La Pandora at the Tuan Chau Harbor. Take our shuttle bus to return to Hanoi.
15:00: Arrival back to your hotel.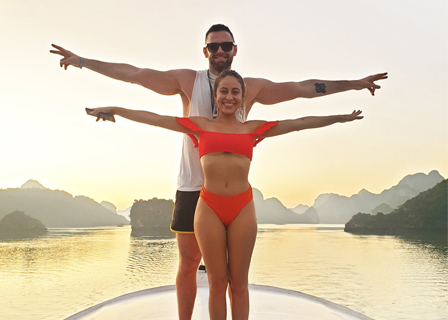 General Information
Bus pick-up time: 09:30 AM - 10:00 AM
Check-in: 12:00 PM - 12:30 PM
Check-out: 09:00 AM - 10:00 AM
Return Hanoi by bus: 2:30 PM - 3:00 PM
Shuttle bus pick-up point: Hotel in Hanoi Old Quarter or in front of Hanoi Opera House
Shuttle bus drop-off point: Hotel in Hanoi Old Quarter or in front of Hanoi Opera House
Booking Policy
• 50 % of the total cost is required to secure the booking.
• The remaining balance is to be paid 15 days prior to the departure date.
• In some special cases, you will be required to pay the full cost or a number greater or smaller than the standard 50% to secure your booking.
• In some special cases, the deadline for payment will be required sooner or later than the standard 15 days prior to booking.
Cancellation by Customer
• More than 31 days prior to check-in (departure date): Free of charge
• From 31 to 16 days prior to check-in (departure date): 10% of total rates
• From 15 to 8 days prior to check-in (departure date): 20% of total rates
• From 7 to 4 days prior to check-in (departure date): 50% of total rates
• Less than 4 days prior to check-in (departure date): 100% of total rates.
• No-Show: 100% of total rates
*** Cancellation notice from customer must be sent to us via email. Refund will be processed between 10 -15 working days.
Cancellation by Halong Bay Management Board due to bad weather
If the cancellation is made by the Halong Bay Management Board, following policies will be applied depending on the time of cancellation.
• When a cancellation is made before departure date- check-in date (if no services have been used): 100% refund.
• When a cancellation is made during the trip (some services have been used such as transfer, food, some amenities, etc.): used services will be charged, the rest will be refunded.
• When a cancellation is made before or during the departure date and the trip must be shortened from 2 nights to 1 night, 2 days 1 night trip, plus other used services will be charged, the rest will be refunded.
• The final cost will be confirmed by your consultant via email. In all cases, please contact us directly for any urgent help. We are here to support you!
Note: In case of a cancellation decision made by the Management Board of Halong Bay, an alternative travel arrangement will be made on request, or you will be refunded in accordance. In all cases, please contact our travel consultant via email or phone for support. We are always willing to provide you with any assistance you may need on or off board.
Important Notes
• PROGRAMS & SCHEDULES SUBJECT TO CHANGE WITHOUT PRIOR NOTICE.
• In case of adverse weather conditions in Halong Bay, the cancellation will ONLY be made by the Halong Bay Management Board. Usually the announcement will be declared very close to or on the departure date and our refund policy will come into effect.
Inclusions
Welcome drink, cold handkerchief, fresh fruits basket, two bottle of mineral water in each cabin.
Full furnished deluxe en-suite cabin with A/C, hot water.
All meals on board one night (02 Lunches, 01dinner, 01 breakfast).
All meals on board two night (03 Lunches, 02dinner, 02 breakfast).
Complimentary morning tea and coffee.
Cooking demonstrations.
Entrance and sightseeing fees.
Kayaking, Tai chi exercise, Local rowing boat, Swimming (if the weather permits), Squid fishing, Music entertainment.
Fishing equipment, exciting games.
English speaking tour guide.
Wi-Fi.
Includes Taxes & Fees
Exclusions
Beverages, tips, and gratuities.
Personal expenses.
All other services and items not mentioned specifically in the list above.
"Lan Ha Bay is really beautiful and I highly appreciate the romantic sunset here."
The cruise was good, crew team was so supportive. My friend and I had our delicious drink while enjoying the sunset on the bay. It was a unique experience. Many thanks.
"A happy time to explore Halong Bay, an memorable trip here"
I really appreciate this chance to explore Halong Bay. Lan Ha Bay has many beautiful landscapes to explore. Really satisfy with this experience!
"La Pandora Cruise is a really good cruise, thank for the good service"
My family had a lovely trip on La Pandora Cruise. We enjoyed every moment on the trip. Besides, the romantic sunset in Halong Bay was breathtaking. So happy!
"Sam tour with La Pandora. So great to learn more about Vietnamese culture and history."
Such a fantastic experience with La Pandora – a cozy and clean boat. We enjoyed cooking class, karaoke with Sam, and other activities guide by Sam. It was so interesting to me to learn more about Vietnamese culture and history. Halong Bay featured its lovely and fresh atmosphere. Join the cruise and enjoy it.
"Sam was the super man, so nice and attentive. Jessica great guide"
Our cabin on La Pandora was so nice and large enough for 2 people, and adding with a private balcony and a shower. All staff, especially Sam and Jessica, were so nice and attentive. Fun activities and great chances to meet and talk with other people from other countries and the locals. Recommend to stay 3 days 2 nights for more experience!
"Excellent La Pandora. Perfect itinerary and everything"
Perfect organization of the cruise itinerary and everything with La Pandora Cruise was beautiful and smoothy. The activities were really impressive and nice. Also, the food was so delicious to enjoy.
"Nice tour with Sam. The cabin was perfect and the food was, too."
We had a beautiful travel with Sam and La Pandora Cruise. Sam taught us a lot about Vietnam. We were so satisfied with the way the cruise team took care of us and other passengers on the cruise. The cabin was perfect and the food was, too. High quality La Pandora!
"Really nice boat, fun activities, and great tour guide!"
My wife and I decided to spend our honeymoon traveling to Vietnam. We took a cruise trip with La Pandora cruise. The staff was really courteous and friendly. The food was nicely decorated and delicious. Sam, our tour guide, was very attentive, and always smiled to make us happy and comfortable. He also provided us a lot of useful information about Halong Bay and its legend. Kayaking and visiting the caves were cool experiences for us. We also performed live music with our tour guide Sam and other passengers. Highly recommend!
"La Pandora cruise trip was the best part of our holiday in Vietnam."
To be honest to say that La Pandora was absolutely amazing. If you are looking for a high-quality service cruise ship with great food, interesting activities, and nice cabins, La Pandora is recommended to you. We joined the sailing trip with a funny and knowledgeable, and great in English tour guide named Ben. Ben was always willing to help us with every requirement during the trip.
"Perfect La Pandora and perfect guide! Thanks Hoan for the awesome work"
I joined a trip for 2 days 1 night on La Pandora cruise with Hoan, our great tour guide. We had an amazing trip with La Pandora in Halong Bay. the staff working on the boat did great jobs and was so nice. All activities like kayaking, visiting the caves, cooking class, and swimming was interesting under the guide of an enthusiastic tour guide, Hoan. He shared with us his knowledge about Halong Bay and Vietnam. I recommend choosing La Pandora and the tour guide Hoan for your experience in Halong Bay. this was our most memorable excursion during our stay in Vietnam.
"The tour guide was knowledgeable and engaging to all passengers on the cruise."
We had an amazing 2-day 1-night trip. It was good value for money. The services on the cruise were great and professional. The chef served us good food and the cruise manager provided us fun and streamlined activities. The cruise ship was in good condition of high quality. Due to the corona virus, there were not many people on the cruise, only half of capacity. So we had a much more private space. That made a better experience on our trip. However, I needed to pay an extra cost for alcohol.
"La Pandora was a great ship of its nice beauty and its incredible services."
This is the good feedback for our tour guide, Sam. He was our tour guide on our cruise trip to Halong Bay with the La Pandora cruise. He was very knowledgeable about the bay area and also its legend and history. He also took care of our specific requirements.A lot of activities to join such as kayaking, swimming, boat rowing. The cruise facilities were so good and I thought it was rated as 4-star. One special thing about La Pandora Cruise to me was Sam and his team. They were so attentive to prepare special things for our honeymoon anniversary. A big thumb up for Sam and the cruise team. Thank you.
"Such a great experience! We would recommend all to join La Pandora Cruise with Sam."
My husband and I visited Vietnam together and decided to spend time joining an overnight cruise. So we got the tour with La Pandora Cruise and met Sam. He had a rich knowledge of Vietnam's history and culture. He was very courteous, generous, and helpful. For all questions we asked, he explained everything very clearly. We enjoyed all activities on the cruise and the way the staff welcomed and served us. Such a great experience! We would like to recommend all travelers to join La Pandora Cruise with Sam.
"Halong Bay tour with Sam. He motivated us and explained everything very clearly and happily."
We did La Pandora tour guided by Sam. Extremely 10 points for La Pandora. Super 5-star services and kind & attentive staff. They took care of us so well and responded to us at any time. The food was tasty, dedicated, and gourmet. The cabin was cleaned up each day, very spacious and nice. Sam was the greatest tour guide I had known. He organized the tour and led a group of nearly 20 people so well. Great journeys with La Pandora.
"5-Star Experience with La Pandora Cruise, thanks to halongbaycruisedeal"
At first, I had a big hesitation to book a cruise because there were too many cruises with different prices. But I was so happy that I chose La Pandora Cruise. Amazing food, super attentive staff, and interesting activities were what you would get if you joined with La Pandora. We changed the boat about 4 times during the trip, from the speedboat, and the tender to the big boat. We also got to Cat Ba Islands for a great experience. We did the itinerary of 3 days 2 nights so we could enjoy most of the activities organized by La Pandora: kayaking, swimming, sampan boat rowing, cooking class, cycling, wine tasting… couldn't ask for more. However, the wi-fi was not available or very weak signal. Just could go to the restaurant to get the internet connection.
"Phoebe was the best. Many thanks for her great guide and humor"
La Pandora was an excellent cruise. We chose La Pandora for a family cruise trip. There were 2 adults and 4 teenagers. And we all loved everything of La Pandora. The activities were very interesting: kayaking, swimming, diving, night squid fishing, exploring the caves, cooking class, and enjoying handmade dishes. Too many interesting things to join. The cabins we stayed in were spacious enough for my family. From the private balcony, we could enjoy our private relaxing time and the stunning views of Halong Bay. We loved the experience to do amazing Tai Chi exercises in the morning and under the fresh of the dawn. I wanted to say thanks to Phoebe for her enthusiasm to create our great trip. We loved you!
"La Pandora Cruise – the best halong bay cruise we found"
At first, the Halong Bay cruise trip was not in our plan. But we booked the cruise tour when we were in Hanoi because we were said that Halong was a must-visit place. So we booked the La Pandora cruise for 2. The food, cabin, cruise ship, and activities were all on the top of quality and truly worth the money. Ben, our tour guide made the trip unique and memorable. He always paid his attention to all parts of the itinerary and all services of the cruise to make sure that we could enjoy the cruise much. We were all interested in the information he gave us. Recommend La Pandora for sure.
"Trip with La Pandora. Love that the dishes were presented so clearly and excellently"
The boat was nice and luxurious. The dishes were presented so clearly and excellently. The staff, especially Sam was so polite and helpful. The cabins of La Pandora were large and nice. Highly recommend!
"Ha Long Bay one night with tour guide Ben"
After careful consideration, we decided to go with La Pandora Cruise to discover Halong Bay, and we had not been disappointed. The cruise itself was so clean and new and followed a quiet route. We stayed in a nice room with a private balcony. We enjoyed great views from our room. The food on the cruise was more delicious than our expectations. Our tour guide, Ben always created a comfortable and happy atmosphere for all passengers on the cruise. All activities were included in the price that we had paid, so the extra cost for any activities. We just needed to pay money for our drinks and massage services. The only thing I had concern about was that we didn't have wi-fi connection. But it could be understood because we were among the sea. We still could use the internet in the dining room and in particular areas. By the way, La Pandora Cruise was a good choice for an overnight trip.
"We had awesome overnight Cruise with La Pandora Cruise"
It could be said that La Pandora was the perfect choice for those who visited Halong Bay for the first time like us. Our tour guide, Phoebe was so nice, friendly, and very knowledgeable to give us so many information about the tour. The crews were nice and accommodating. We loved the food, the crews, and everything belonging to La Pandora. Especially, the menu featured delicious and healthy dishes. No word to say but perfect!
"Great tour! On top of our recommendation to anyone."
We took an overnight Halong Bay cruise with La Pandora Cruise, and the cruise trip was so perfect. It was smoothy from the pick-up in Hanoi until the drop-off at our hotel on the next day. La Pandora was a new and fresh cruise with lovely cabins, which offered large space and a private balcony. We could even see the stunning views of the bay while we were lying on the bed. Our tour guide on that day was Sam, an excellent tour guide with a sense of humor and rich knowledge. He gave us information about the schedule of the cruise and the legend of Halong Bay as well. Overall, the trip with La Pandora Cruise was so nice to me. On top of our recommendation to anyone.
"Excellent cruise experience! We enjoyed a lot with the cruise"
This was the first time our family took an overnight trip on the cruise. And it was worth values of money and time. We really loved Phoebe, our tour guide on the cruise, and other crews because of their friendliness and hospitability. Impressed with our amazing cabin. And the activities were so interesting and at a suitable length for each. Enjoyed La Pandora Cruise!
"We took an incredible boat to Halong Bay and it made me so surprised about this primitive bay"
I felt like that I was in the heaven of peace among the limestone cliffs rising from the sea. The cruise glided slowly in the bay, so no worry about seasick. We had a beautiful and luxury suite with the views of Halong Bay. The bed was so big and comfortable. All were offered for me as if I was a queen. Really loved this cruise. The food was served punctually as scheduled and all dishes were very great and luxury. I really loved Vietnamese food and Asian food. We also experienced to cook spring rolls during cooking class. This was the first made-by-me dishes in Vietnam. And sure, I would make it for my family at home. The best thing on the cruise tour was our tour guide girl, Pheoby. Phoeby was a one of my friends with fluent English, a sense of humor, friendliness, and helpfulness. Everything was so perfect! Thank you, La Pandora cruise for a special tour for us! I have been so excited with the cruise trip so far.