V'Spirit Premier Cruise 3 days 2 nights
Hanoi, Lan Ha Bay, Dark and Bright Cave, Viet Hai village, Ba Ham Lake, Lan Ha Bay, Hanoi
Launched: 2019
25 Cabin(s)
Our entry-level offering provides a comfortable 24m2 of space and a maximum occupancy of two adults and one child on the large double bed or 2 twin beds. The bathroom offers the complete package of amenities as well as a great view over the bay from the bathtub. Get closer to the action from your private, furnished balcony, where views of sunsets are at their most magical.
Making up the front of the second deck, the Premium Suite Balcony cabins offer stellar views over Lan Ha Bay and complete tranquility in which to view it. Watch the forested cliffs glide slowly outside the window from the bathroom, or join a loved one to watch from the gorgeous balcony.
Let enjoy long days of the finest pleasures within the Prestige Suite Balcony, the cabins on the highest cabin decks. Long nights can be spent out on the enclosed terrace, with furnishings fit for a small group, while privacy can be found in the sanctity of your enlarged bathroom.
Overview
A vacation aboard V'Spirit Premier, one of the deluxe cruises in Lan Ha Bay is a seamless choice for you to discover a part of the Halong Bay area that features an indistinguishable limestone duplicate of its more famous neighbor but still maintains its primitive natural beauty. Here, the roar of the engine is transgressed by the voice of the wild, where statuesque mountains, evocative caverns, and jungle-covered islands comprise nature's silent masterpiece.
Cruising with V'Spirit Premier Cruise, you will take part in many stimulating activities such as swimming, kayaking, cave exploring on a bamboo boat, all while sailing through less traveled waters in the poetically gorgeous Lan Ha Bay.
The V'Spirit Premier has 4 decks with 25 Suite Balcony cabins which are inspired by the original traditional styles with solid wood. Our goal is to offer our passengers not only a luxury experience with safety standards but also a traditional Vietnamese cruise with exciting activities and delicious food.
Environmental protection plays a crucial and growing role in sustainable tourism development. It is the reason why responsible tourism is a distinct passion for the V'Spirit Team. We carry in our mind the essence of Green Spirit; through proper recycling, energy efficiency, and regular clean-up events, our team fights for the future of a healthy Halong Bay.
Facilities
Water sports (non-motorized)
Hanoi – Lan Ha Bay – Bright Cave
09:00 – 09:30: Our tour guide and shuttle bus pick you up at your hotel in Hanoi Old Quarter.
12:00 – 12:30: Arrive the V'Spirit Premier private lounge at Cat Hai port. Step on the boat, enjoy a welcome drink and cruise briefing.
13:00 – 14:00: A delicious lunch is then served to you at the dining room while the boat starts cruising.
15:45 – 16:30: Residents of the bay will show you their home by taking you to Bright cave on bamboo boats.
17:00 – 18:45: Return to the V'Spirit Premier Cruise, enjoy the daily remarkable sunset, as well as the cooking demonstration for an insight into Vietnamese cuisine. The happy hour promotion should be taken advantage of to taste some drinks at the bar.
19:00: A fantastic dinner awaits you at our restaurant. Have your meals while admiring some traditional music plays.
Do not end your first day too early, stay awhile for some board games, a massage treatment, or simply relaxation back in the cabin.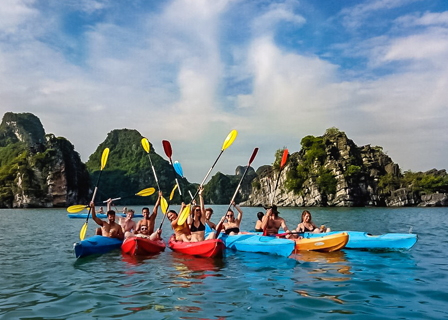 Viet Hai Village – Ba Ham Lake
06:30 – 06:45: Wake up early, head to the top deck for Tai Chi exercises or a photo hunt.
07:00 – 08:00: Have your breakfast before boarding the Day Boat and heading over to Cat Ba Island.
09:00 – 11:00: Set your foot on the village of Viet Hai, located in the isolated eastern area of Cat Ba. Take a bicycle trip around the village and its attractively wild borders.
12:00 – 13:30: Get back to the Day Boat for your second lunch at the floating restaurant.
13:30 - 15:30: Swim and kayak in Ba Ham Lake.
16:00: Rejoin the V'Spirit Premier Cruise.
19:00: Another delicious dinner is well-served to you from the chef.
Meals: Breakfast, Lunch, Dinner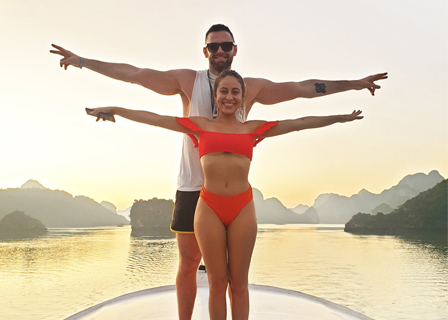 Tra Bau Area – Hanoi
06:30 – 06:45: A Tai Chi session on the top deck under the sunrise is ideal to start your new day.
07:00 – 07:30: Wait for you in the fresh air of the Bay is a delightful breakfast.
07:40 – 08:30: Discover Tra Bau area by kayaking on the secluded water. Here you have a chance to visit a floating farm where stays a family of locals.
08:45 – 09:30: Back to the V'Spirit Premier, time to check out of your cabin.
10:00 – 11:30: Enjoy your farewell lovely lunch buffet while the boat heading to the harbor.
11:45 – 12:00: Disembark the V'Spirit Premier, board the bus and head back to Hanoi.
14:30 – 15:00: Your trip ends when you arrive in Hanoi.
General Information
Bus pick-up time: 09:30 AM - 10:00 AM
Check-in: 12:00 PM - 12:30 PM
Check-out: 09:00 AM - 10:00 AM
Return Hanoi by bus: 2:30 PM - 3:00 PM
Shuttle bus pick-up point: Hotel in Hanoi Old Quarter or in front of Hanoi Opera House
Shuttle bus drop-off point: Hotel in Hanoi Old Quarter or in front of Hanoi Opera House
Booking Policy
• 50 % of the total cost is required to secure the booking.
• The remaining balance is to be paid 15 days prior to the departure date.
• In some special cases, you will be required to pay the full cost or a number greater or smaller than the standard 50% to secure your booking.
• In some special cases, the deadline for payment will be required sooner or later than the standard 15 days prior to booking.
Cancellation by Customer
• More than 31 days prior to check-in (departure date): Free of charge
• From 31 to 16 days prior to check-in (departure date): 10% of total rates
• From 15 to 8 days prior to check-in (departure date): 20% of total rates
• From 7 to 4 days prior to check-in (departure date): 50% of total rates
• Less than 4 days prior to check-in (departure date): 100% of total rates.
• No-Show: 100% of total rates
*** Cancellation notice from customer must be sent to us via email. Refund will be processed between 10 -15 working days.
Cancellation by Halong Bay Management Board due to bad weather
If the cancellation is made by the Halong Bay Management Board, following policies will be applied depending on the time of cancellation.
• When a cancellation is made before departure date- check-in date (if no services have been used): 100% refund.
• When a cancellation is made during the trip (some services have been used such as transfer, food, some amenities, etc.): used services will be charged, the rest will be refunded.
• When a cancellation is made before or during the departure date and the trip must be shortened from 2 nights to 1 night, 2 days 1 night trip, plus other used services will be charged, the rest will be refunded.
• The final cost will be confirmed by your consultant via email. In all cases, please contact us directly for any urgent help. We are here to support you!
Note: In case of a cancellation decision made by the Management Board of Halong Bay, an alternative travel arrangement will be made on request, or you will be refunded in accordance. In all cases, please contact our travel consultant via email or phone for support. We are always willing to provide you with any assistance you may need on or off board.
Important Notes
• PROGRAMS & SCHEDULES SUBJECT TO CHANGE WITHOUT PRIOR NOTICE.
• In case of adverse weather conditions in Halong Bay, the cancellation will ONLY be made by the Halong Bay Management Board. Usually the announcement will be declared very close to or on the departure date and our refund policy will come into effect.
Inclusions
Welcome drinks, cold or warm handkerchief.
Entrance and sightseeing fee.
English speaking tour guide on board.
Accommodation in a luxury balcony cabin.
Tai Chi & Cooking demonstration.
Kayaking & bamboo boat.
Complimentary tea, coffee and 2 bottles of mineral water.
Night squid fishing.
Onboard insurance and service charges.
Full board meals: 2 days (02 lunches, 01 dinners, 01 breakfast); 3 days (03 lunches, 02 dinners, 02 breakfasts).
Includes Taxes & Fees
Exclusions
Hanoi - Lan Ha Bay - Hanoi transfer (Book in next step).
Beverages, tips and personal expenses.
Visa & Hotel arrangements.
Bank charge (for payment by credit card).
Spa treatment services.
Airfares.
All other services not clearly.
Mentioned.
VAT.
"Happy and Great ship"
We spent 2D1N for the trip to Halong Bay with V'Spirit Premier Cruise. And we had an awesome experience. We would thank our chef for his hospitable and Vegetarian food. So great!! All cabins were luxurious and the beds were comfortable too. For me, outdoor activities like kayaking and squid fishing are very interesting and were definitely worth a try when coming here. If I had a chance to comeback Halong again, I still choose V'Spirit Premier Cruise for my trip.
"Halong bay overnight cruise"
I and my friend have just finished the 2D1N tour with V'Spirit Premier Cruises around Lan Ha Bay. I'm so excited to talk about our amazing experience. It's very good with the spectacular scenery, high-quality amenities, professional crew,... Especially, a massive thank you to our guide who was excellent and knowledgeable. Overall, we are very satisfied. Highly recommend this tour for everyone!
"Recommended relaxing cruise"
Everything was great! We really enjoyed this time. All the cabins were so large and clean. The food and atmosphere were perfect too. Both outdoor activities and activities on board were well organized and suitable for all ages. My particular favorite was visiting the villages with our guide. A special thanks to all crew for their especially good care. Thanks a bunch! I would come here again in the future. Highly recommended.
"Cruise of a lifetime"
This was a wonderful time coming on board on the V'Spirit premier cruise. All amenities were excellent quality. Especially, thank you for celebrating my birthday. What a meaningful gift! I enjoyed every minute. Very well organized, great food and very friendly staff. They really looked after me and I'm very pleased. I would recommend this Cruise for everyone.
"Amazing service, helpful and friendly staff"
This tour is great for family trips. We stayed on board for 2 days and 1 night. We enjoyed our day with many activities. The morning is the magic time of the day on Lan Ha Bay. We head to the upper deck to participate in our daily Tai Chi sessions or relax with an early morning cup of tea, coffee or juice to watch the stunning scenery. We are served with delicious food. And thanks to all the staff of Halong Bay Cruise Deals who have made our trip more wonderful and memorable. Thanks a lot!
"Overnight Cruise Halong Bay"
We had a fantastic experience with V'Spirit Premier Cruise! We were collected from our hotel with a limousine bus at 8 am. And then we are welcomed on board with a complimentary drink. Our professional and friendly crew introduced a compulsory safety procedure session. The rooms were nice with big windows and have the Seaview. The beds were super comfy too. We also enjoyed many interesting activities like kayaking, squid fishing, spring roll cooking class,…All meals are more than enough and delicious. Moreover, truly thanks to the crew and our lovely guide for making our experience more comfortable. And we would recommend this tour for those who are planning to overnight on Cruise in Halong Bay.
10
Tom Hiddleston
United States
"The perfect way to experience the bay!"
This was a great tour. We had excellent service throughout the whole trip. Especially thanks to all the staff who made us feel so at home with their enthusiasm and dedication. All outdoor activities and activities on board were really well organized: kayaking, sightseeing, cooking class or Tai Chi exercise,... We highly recommend this cruise for everyone who is thinking of joining an overnight cruise at Lan Ha Bay.
"Fantastic experience on our family holiday!"
My family joined the 3 days tour with Vspirit and had an amazing time on board. Everything was well planned. Our dinner was fabulously coordinated and the dishes were very well curated. We would thank all the staff onboard and our guide who was very knowledgeable and organized with the itinerary. They were helpful with our children too. Thanks a lot! Highly recommend this tour.
"Halong Bay Cruise - V'Spirit Premier Cruise"
What an awesome time! We had a 2N1D tour with V'Siprit Premier Cruises which was above expectation. And we will cherish for a lifetime. The staff was so friendly and helpful. All the rooms were very large, lovely and had a great view. An amazing vegetarian food! Outdoor activities are interesting too, like kayaking or visiting the little villages. We also had fun with the excursions and just relaxing on the balcony. Thank you so much, would come here again.
"Halong Bay experience on V'Spirit Premier Cruises!"
Join V'Spirit Premier Cruises on Halong Bay and had an awesome experience. All the cabins are very nice, clean and lovely like the pictures. The staff is truly hospitable and dedicated. They took very good care of us, all day and evening long. We are provided with excellent food and service too. Overall, this tour was extremely satisfying. Highly recommend to everyone.