Era Cruise 3 days 2 nights
Hanoi, Hai Phong, Halong Bay, Lan Ha Bay, Viet Hai village, Ba Ham Lake, Dark and Bright Cave, Halong Bay, Hanoi
Launched: 2017
18 Cabin(s)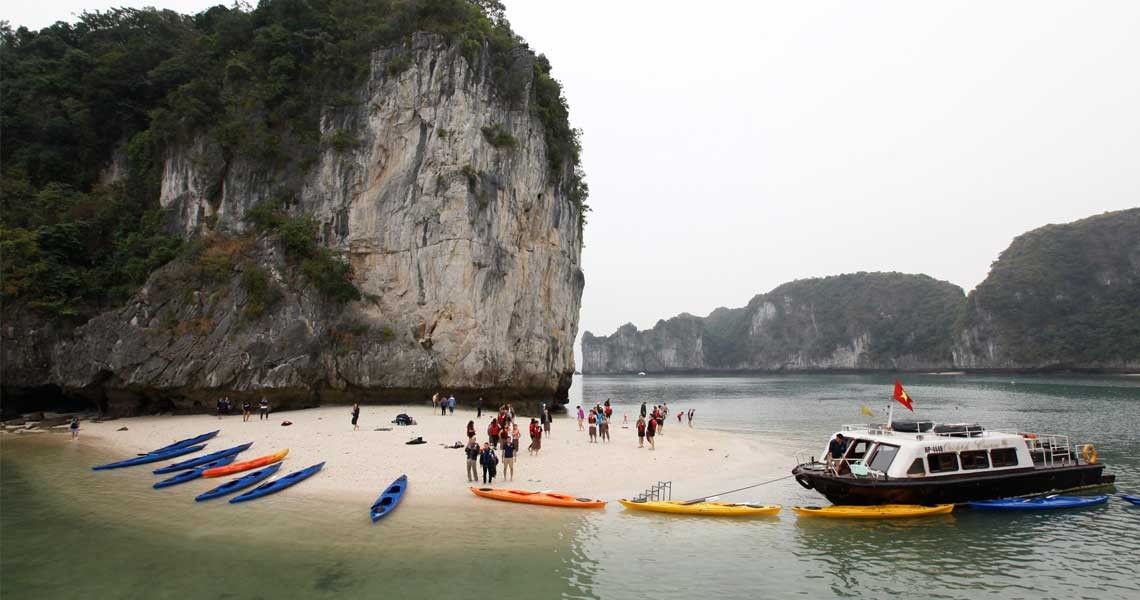 Overview
Halong Bay Cruise Deals pleasantly introduces to you a luxurious cruise among the most prestige cruise in Halong Bay - Era Cruise Halong. It is not just a cruise, it is the combination of the marvelous views over the entire Halong Bay and 5-starts quality experience.
Era Cruise Halong consists of 18 deluxe cabins on a large vessel decorated in morden style. Standing out among the luxurious cruises on Halong and Lan Ha Bay, The cruise is renowned for the contemporary and graful decoration and facilities like 5-star hotelsThis. Emabrking on Era Cruise Halong, guests can experience all the amenities ranging from Galaxy Coffee Lounge, Fitness center, Skyline bar, to even a Starry mini cinema! What is more relaxing than admiring the panpnamic view of Halong Bay while drinking colorful cocktail together with your friends and family?
Era Cruise designed several itinearies that have been personalized for any gues, bringing you to the most strinking sites of the World Heritage and even the hidden gems with little footprints of tourists. You can also join in the various authentic activities that can be enjoyed onboard or offboard.
Enjoy the glamor of Vietnamese cuisine as well as global cuisine via the gifted hands of master chefs. From freshest and nutritive sea foods, we assure your meals will be the most delicious and greatest. About the outdoor activities, kayaking, swimming to unspoiled lagoons and fishing are just a few.
Check out more standing points of the vessel, and let Era Cruise Halong take you into the legendary world with a truly unforgettable impression!.
Facilities
Water sports (non-motorized)
Watersport equipment rentals
HANOI - HAI PHONG – LAN HA BAY
09:00 – 09:30: Begin at your hotel in Hanoi's Old Quarter and proceed by highway directly to the pier in Hai Phong city for the cruise (with the surcharge if required).
12:00: Embark Era Cruise. Then, start with a welcome drink and wet towel during the time that the Cruise Manager introduces a safety briefing. You can take some time to have a look around the vessel or admire the splendid scenery.
13:15: Tasty set menu lunch (with the fresh seafood and an assortment of appetizing favorites) is served in Era restaurant.
We will proceed to Lan Ha Bay passing to Da Chong islet.
15:00: After lunch, it is the right time to enter through Cua Van area to Lan Ha Bay. This area is surrounding of a lot incredible limestone karst landscapes.
The passengers can start their journey to explore Ba Trai Dao beach, doing the kayak to immersed in the crystal clear waters of the bay and/or enjoy swimming.
17:00: Turn to the main boat, and cruising to a place for staying overnight.
17:30 – 18:30: We provide the daily "Happy hour" with a special drink menu (Buy one get another one for free).
18:00: An extremely interesting experience for all guests on the boat: Take part in Vietnamese cooking class with the chef on board to learn how to prepare delicious appetizers.
19:15: Having great dining in our restaurant.
20:45 - 12:00: Let's immerse yourself in the splendid scenery of the bay at night up on the top deck with drinks from our bar.
Travelers can get varieties of interesting activities on the boat. Don't miss Massage service which serves you 24/24 and free to use.
Overnight on board.
VIET HAI VILLAGE - BA HAM LAKE
06:30: An ideal moment to attend sunrise Tai Chi on our upper deck and it's an excellent way to get your energy levels up for today's adventures. All our guests will be fascinated by the exquisiteness in the early hours as you enjoy a coffee, tea.
08:00: A buffet breakfast with the best local coffee brand and fresh fruit juices is served.
09:00: Board our Era Day Boat to head to Viet Hai Village.
Then, you will take the bicycle trip along the village path and go through rainforests and dark tunnel. Let's immerse yourself in the stunning scenery of rice fields on the way.
Stop at the village to relax.
Moreover, you will get a feeling for the ancient ways of life as we visit the old straw and bamboo houses and observe how villagers have adapted to modern life.
Option: Electric car service is available (at an extra cost).
Return to day boat for visiting Lan Ha Bay. Enjoy a great lunch on the cruise.
12:00: Return to day boat and enjoy a great lunch with the signature set menu.
13:45: Experience kayak and swim at Ba Ham Lake which area situated in the middle of a narrow, rectangular area, with the all four sides enclosed by vertical cliffs. (if the weather permit).
16:00: Back to Era Cruise, take some time to freshen up, take a nap or just relax at your leisure as we cruise to our overnight area. Why not the witness which one of the most brilliant sunsets you will ever see.
17:30-18:30: Let your vacation is more interesting with the daily "Happy Hour" (Buy 1 get 1).
18:00: Discover our Vietnamese cuisine of traditional spring rolls.
19:15: Our crew will offer you a special dinner with outstanding and quality service.
20:45 – 00:00: Enjoy whatever you please. We will hold a movie night with a selection of films available and have a selection of board games for your entertainment. Don't miss our bar which is always open and is an ideal place to meet new people and share stories about your adventures.
Meals: Breakfast, Lunch, Dinner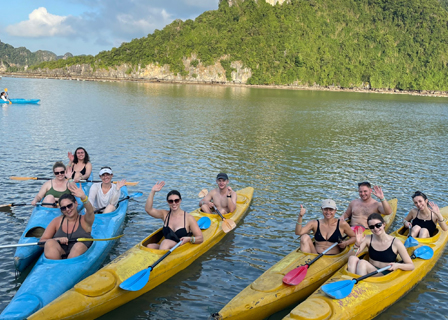 DARK & BRIGHT CAVE – HA LONG BAY - HANOI
06:30: What about rising early to witness the bay at its very best whilst enjoying an invigorating Tai Chi session on the sundeck?
07:00: All of the guests will have a great breakfast which is prepared by our dedicated crews.
7:30 - 9:15: Continue our trip and head out in canoes to explore the bay in the area where the Toi Sang sea cave is situated.
Back to the main board afterward.
09:30: We welcome you back on board and it is time for fixing the bill and checking out.
Please put all your luggage at the outside of your cabin, the crew member will help you bring luggage on land.
12:10-12:30: Back to your drop-off point in Hanoi. End of the trip.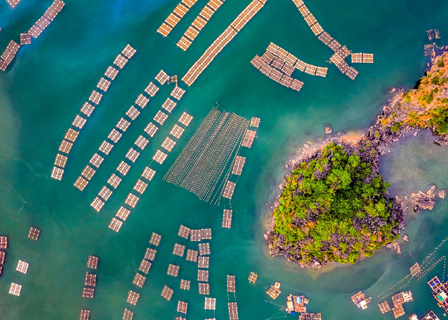 General Information
Shuttle bus pick-up point: Hotel in Hanoi Old Quarter or in front of Hanoi Opera House
Shuttle bus drop-off point: Hotel in Hanoi Old Quarter or in front of Hanoi Opera House
Bus pick-up time: 9:00 AM - 9:30 AM
Return Hanoi by bus: 2:30 PM - 3:00 PM
Check-in: 12:00 AM - 12:30 AM
Check-out: 11:00 - 11:30 AM
Booking Policy
• 50 % of the total cost is required to secure the booking.
• The remaining balance is to be paid 15 days prior to the departure date.
• In some special cases, you will be required to pay the full cost or a number greater or smaller than the standard 50% to secure your booking.
• In some special cases, the deadline for payment will be required sooner or later than the standard 15 days prior to booking.
Cancellation by Customer
• More than 31 days prior to check-in (departure date): Free of charge
• From 31 to 16 days prior to check-in (departure date): 10% of total rates
• From 15 to 8 days prior to check-in (departure date): 20% of total rates
• From 7 to 4 days prior to check-in (departure date): 50% of total rates
• Less than 4 days prior to check-in (departure date): 100% of total rates.
• No-Show: 100% of total rates
*** Cancellation notice from customer must be sent to us via email. Refund will be processed between 10 -15 working days.
Cancellation by Halong Bay Management Board due to bad weather
If the cancellation is made by the Halong Bay Management Board, following policies will be applied depending on the time of cancellation.
• When a cancellation is made before departure date- check-in date (if no services have been used): 100% refund.
• When a cancellation is made during the trip (some services have been used such as transfer, food, some amenities, etc.): used services will be charged, the rest will be refunded.
• When a cancellation is made before or during the departure date and the trip must be shortened from 2 nights to 1 night, 2 days 1 night trip, plus other used services will be charged, the rest will be refunded.
• The final cost will be confirmed by your consultant via email. In all cases, please contact us directly for any urgent help. We are here to support you!
Note: In case of a cancellation decision made by the Management Board of Halong Bay, an alternative travel arrangement will be made on request, or you will be refunded in accordance. In all cases, please contact our travel consultant via email or phone for support. We are always willing to provide you with any assistance you may need on or off board.
Important Notes
• PROGRAMS & SCHEDULES SUBJECT TO CHANGE WITHOUT PRIOR NOTICE.
• In case of adverse weather conditions in Halong Bay, the cancellation will ONLY be made by the Halong Bay Management Board. Usually the announcement will be declared very close to or on the departure date and our refund policy will come into effect.
Inclusions
Sightseeing fees, entrance fees
Accommodation on Luxury Lan Ha Bay Cruise
Luxury air-conditioned en-suite cabin with standing shower and private Jacuzzi bathtub, fruit set-up
Lan Ha Bay Cruise itinerary and program
Entrance and Sightseeing Fees
In-house English-speaking Tour Guide
Meals as itinerary: 01 lunch, 01 dinner, 01 morning snack, 01 brunch ( 2 day 1 night cruise) And 02 lunches, 02 dinners, 01 morning snack, 02 brunches ( 3 day 2 night itinerary)
Activities as the program: Tai Chi session, bamboo boat, cooking demonstration, night squid fishing
Garden-Sea Family Suite & the Era Suite with a bottle of wine
Includes Taxes & Fees
Exclusions
Round trip transfer by bus or private van/car (Please book in the next step)
Visa arrangement/Airfare
Beauty Spa Services and Massage
Beverages, Tips and Other Personal Expenses
Kayaking is available for $10/person
All other services not clearly mentioned above
New Year and Christmas Surcharge
"Heaven in Halong Bay."
We were advised to explore Halong Bay with Era Cruise by our hotel in Hanoi. In the morning, we were picked up by a luxury shuttle bus for 2h30 of transfer to the harbor. After embarking the cruise, we were welcomed by the cruise manager and his team with juice. From that moment till we left the cruise, we were impressed by how amazing all the staff was doing. The cabin was spotless and too large for 2 people. Halong Bay is one of the must-visit destination in Vietnam. Its beauty is highlighted by thousands of limestone islands with hundreds of caves. Maybe, I have seen the best sunset in my life. The itinerary was organized well, so all the activities went smoothly. Food was included in the price, but drinks at the bar required a surcharge. Both food and drinks were of high quality. In short, big handclaps to the whole crew. Keep up the good job!
"AMAZING ERA CRUISE"
Era Cruise was the good one. They have big rooms, nice boats. All the people working onboard was great. Our tour guide was humorous and knowledgeable. Highly recommend!
"Must do experience!"
Absolutely recommend this experience with Era Cruise. We took one-night trip this time, and of course 2-night trip next time. The room we stayed was perfect: large bed, bathtub, and balcony. At night, it was so exciting to sit outside watching the sky dotted by thousands of stars. Food was excellent. But the best one I pick up from all was crew members. Lucky and his colleagues went beyond our expectations. They were very nice and accommodating. A staff taught my son how to catch squid, and then little bot got one baby squid. He was very happy though he left it back to ocean. If we come back, we will pick this cruise again.
"Amazing Experience!"
5 stars for Era Cruise. Our group took 2 days 1-night cruise trip, and after all, we wish we had booked more than one night. First and foremost, the Era boat was beautiful and modern. Our room was king suite cabin so it was very comfortable. All the staff was helpful and professional. Our tour guide on board was great, he was very accommodating and informative about the site. Both of us were strict vegetarians, so our meal was served separately from others. They offered delicious Vietnamese food that was for a vegan like us. We went on this trip on our first honeymoon, so the cruise manager held a small party for us with a beautiful cake. They also decorated our room for the wedding theme. A BIG THANK FOR THAT. There are plenty of activities to do like kayaking, swimming, cooking, cave exploring, BUT you can decide to do or rest on your own. In my opinion, you must try kayaking on the emerald water of the Bay, and you could see the magnificent landscape of limestone islands. The massage service on board was good enough to relax. We don't have anything to complain about. Definitely recommend!
"Stunning!"
We stayed on board 2 days 1 night. Unfortunately, the weather wasn't clear enough to see due to thick fog, but it was still beautiful though. Thanks, Lucky and the entire staff for their hospitality, all of them were the kindest people. I couldn't give them any minus point as they did an excellent job. Era cruise was nice one, and our room had private balcony. On the way, we saw many cruises nearby, but they didn't break the whole breathtaking views of Halong Bay. I highly recommend Era Cruise as top choice for Halong trip.
"A magical one-night cruise"
What we saw in Halong Bay much more amazing than any photos in the Internet. Everything couldn't be better, we didn't book two-night stay as one night didn't allow us to go further. Crew members were friendly and well-trained, they always tried their best to meet any requests from their guests. Room was immaculate and comfortable. Food was delicious with both Vietnamese and Western cuisine. My partner and I really enjoyed seafood as it was super fresh. During the program, we tried kayaking, swimming, cooking spring rolls, doing Tai Chi in the morning, visiting caves, and we had so much fun. Halong Bay views were spectacular, so don't forget your camera at home.
"Excellent cruise to see Halong Bay."
Our stay on Era Cruise visiting Halong Bay was so memorable. We met a lot of people from other countries in the world, so it was great chance for making new relationships worldwide. We were picked up at our hotel in Hanoi, then driving about 3 hours to get the dock. The shuttle bus was extremely comfortable. The itinerary for one night trip was well-planned, including cave touring, kayaking, swimming, happy hours, cooking class, squid fishing, and other onboard activities. Our cabin was spacious and clean. The facilities were perfect, we had our own balcony, Jacuzzi (bathtub), shower, minibar. Free bottles of water and fruits were on the table. We had 4 meals with a lot of yummy food, just note that vegetarian food was available. All the staff were nice people, they were polite, energetic, and very helpful. We were impressed by the cruise manager who was very attentive. As Era Cruise was not the big boat, so we didn't feel over crowded, it was suitable for anyone thinking of relaxing. Highly recommend.
"Excellent Cruise with great service"
We are family group of 4 people booking 2 king suite cabins on Era Cruise 2. Everything was fantastic. That was truly king room with large bed, private balcony, spacious bathroom. The boat was huge and spotless. The entire staff (both working onboard and onshore) were super friendly and caring, they took good care of group of more than 30 people. Specific thanks to Son, Jimmy, and Lucky for helping my family a lot. Halong Bay was recognized by UNESCO for its natural beauty twice, so it is certainly worth visiting.
"Magic cruise on Halong Bay"
Incredible. That's the word I would like to say about the memorable experience I had with Era Cruise! Before coming, I heard that Halong Bay has been spoiled by pollution and overcapacity due to the large number of tourists. But, FORGET ALL. Halong Bay is still amazing. I could see a lot of breathtaking views of mountains on the bay. My experience was enriched by fantastic Era cruise which totally got 6 star from me. All the staff on board were the most helpful and accommodating people I know. How could they be so much energy all the time like that? The food was delicious. We did a lot of activities as we went on 2-night stay: kayaking, biking, cave sightseeing, swimming, Tai Chi, movies, squid fishing, so on. I think the most exciting thing to do is doing nothing. Just get some cocktails, then relax. Perfect trip!!! I really want to go again.
"Amazing Era Cruise for Halong Bay!"
Will definitely come back. Era cruise was stunning with new cruise and luxurious rooms. Everything went smoothly from pick up to drop back in Hanoi. We felt welcomed all the time by smiling staff. Our food requirement was noted down carefully, and if you have any dietary requests, feel free to ask them. In short, we got all that we were charged. Worth trying!
"Better than the perfect cruise!"
My family went on 1-night trip with Era Cruise, and everything was more than perfection. It was right at the beginning. I contacted directly via the company website, then I got reply quickly from Hien who was absolutely useful and patient. She dealt with a lot of my requests, and she also was willing to arrange for my trip in Hanoi and Ho Chi Minh city. She kept us informed well about the latest changes and updates related to our booking so we felt attended all the time. Her effort was highly appreciated. To keep it in short. The cruise was nice, well-decorated, spacious room with balcony and large bathtub. Halong Bay was spectacular with a maze of islands creating breathtaking views. The captain and his team were friendly and accommodating. All the food was tasty with many choices. Personally, I would recommend Era Cruise to anyone thinking of going to Halong Bay.
"Highlight of our trip."
Nothing to complain. Everything was perfect. Outstanding service, accommodating staff, beautiful rooms, and activities were good to try. I love happy hour on the deck, so I could have drinks at discount while enjoying the magnificent landscape of the Bay. My partner and I are both vegetarian so we got some options for veggies and fruits, that was fine. We suggest you should go on 3 days 2 nights cruise unless you will regret it. Thanks, Era cruise, great hosts.
"Wonderful experience"
I am from Italy and it was my first time been to Vietnam. I had heard many times about Halong Bay from my friends, so I really wanted to go. Halong Bay was amazing, and it was much better if you chose the right cruise. Don't look at anywhere else, book Era Cruise. The trip to Era Cruise was the highlight of my holiday. The ship was massive and quite new as it has been operated for nearly 2 years. I was a bit surprised at my cabin on board because it was incredibly spacious and clean. There was balcony with couple of chairs, Jacuzzi, and shower inside the room. Any drinks in the fridge cost an extra, but 2 bottles of water and fruits on the table were complementary. I really enjoyed all the meals with plentiful Vietnamese dishes and international courses, and the restaurant was well-decorated. Itinerary and activities were appropriate, I still have lots of time to relax. I want to express my respect to all the staff for their kindness. They went out of their way to make everyone happy. Thanks, Mr. Jimmy for outstanding performance. Highly recommend.
"Amazing Era Cruise on Halong Bay"
Definitely 5 stars for Era Cruise, especially all the staff. We wished we would spend more time rather than staying for one night only. After reading some reviews left by previous guests, we decided to book this trip without any hesitation. All the crew was lovely and we thought we couldn't ask for better servers. The food was nice, my mom was allergic to seafood so she got her own menu with other dishes. We did several activities like kayaking, cooking demonstrations, and night squid fishing that was all interesting. But squid fishing needs a bit lucky. Our cabin was perfect with nice view, spacious bathroom. In short, it is a must-go cruise in Halong Bay.
"First class service"
Superb experience with Era Cruise. My wife and I went on an overnight Halong Bay cruise for our wedding anniversary, and we were extremely delighted at the exceptional customer service that was even much better than most of the hotel we have stayed. The entire staff was professional, and they knew well what to do to make our trip special. Booking was easy because we got promptly useful support from staff from obtaining a visa to hotel pick-up. What went out of our mind was the lovely anniversary cake and a beautiful couple of swan inside our room. That's totally surprised us. We would love to say Era Cruise must be the best cruise to have a memorable trip. Recommend to everyone.
"Great Overnight Cruise"
Our family went to Vietnam on the first time. We really concerned to the safety on the cruise as we traveled with 2 kids. However, it was unnecessary to worry, we all had so much fun during our stay on the Era Cruise. All the staff spent a special care to our kids, they gave extra food to my little girl. Facilities, amenities on the cruise were excellent. Special thanks to Lucky, he was humorous, accommodating. All in all, you should go to Era Cruise to have the best Halong bay trip.
"Fun adventure on Halong Bay"
We had 2 nights staying on Era Cruise, and we felt that it was a truly relaxing trip. It took about 2 hours of driving from Hanoi to the harbor on a comfortable shuttle bus. Halong Bay was worth visiting once in a lifetime. There are thousands of limestone mountains rising above the emerald water that creates magnificent views. About the cruise, it was a big boat, so we had a king-size bed in our cabin that we never thought we would have on the boat. The cabin was extremely huge, about 76 square meters/ 800 square feet. We also had balcony, spacious shower, and bathtub. We enjoyed all the food on board, the vegan option was available without any extra. Activities in the itinerary were interesting. We visited a local village named Viet Hai where we did a biking tour around. Kayaking or sitting on sampan boats to visit Dark and Bright Cave was fun. To relax, we did try spa service on board, it was enough to recharge for the next day. Overall, nice cruise, friendly people, delighted experience.
"Highly recommended for Halong Bay cruise"
We decided to book on the official website of the cruise, then we got contact with a consultant quickly to arrange our trip. Sorry for not remembering his or her name, but he or she was very useful. Everything we had was the same as announced in the description, some of them were even better than we expected. The boat was in good condition as it was assembled 2 years ago. Our cabin was amazing, it was huge and very luxurious. All the crew members were attentive and friendly; they also took very good photos for us. The food was good, I preferred Vietnamese food than Western food especially spring rolls dipping the sour, spicy sauce. The itinerary was well-planned from the pick-up in Hanoi, shuttle bus, activities to onboard events.
"Service beyond call of duty"
We were all delighted at this trip with Era cruise exploring Halong Bay. All the staff did a wonderful job. They were super friendly and couldn't do enough for their guests. Era cruise was fantastic, it looked bigger than most of the cruise docking nearby. Our room was beautiful and spotless, we had a private balcony and Jacuzzi for resting after doing plenty of activities. Food was delicious, including Vietnamese food that I very would love to eat, and Western food. Thanks, Era and staff.
"Amazing cruise tour-must do in Vietnam"
The trip we had with Era cruise was the highlight of our trip to Vietnam. We actually planned to book another cruise, but we were advised to go with Era cruise as the best one by the guys at our hotel in Hanoi. That's the right choice. Our stay on the cruise was easy and comfortable thanks for helpful staff, they took good care of their guests so we didn't worry anything. Just call them whenever you need help. We got round transfer from Hanoi to Halong Bay on a luxury car. Our room was spacious and very clean, we felt it must be one of best room we've ever had. Other things like food, itinerary, activities were exceptional. We really enjoyed sunset time with happy hour on the deck. Thanks Mai, Son, and other staff for making our trip wonderful.