Oasis Bay Party Cruise 3 Days 2 Nights
Hanoi, Tuan Chau Harbor, Halong Bay, Lan Ha Bay, Hanoi
Launched: 2017
30 Cabin(s)
Overview
Just like an "Oasis" floating on the massive crystal-clear water of Halong bay, the Oasis Bay Party Cruise attracts attention from all angles with its enormous size and modern and up-to-date design. Entering the vessel, our guests will be overwhelmed by the dimensions and impressive features all geared towards a fun trip to Halong Bay.
Launched in September 2017, the Oasis Bay Party Cruise is fully equipped to serve its fate as a party cruise. With three jacuzzis, a water trampoline, a dance floor, a luxury restaurant, and a well-stocked bar, you can combine smooth sailing through the World Heritage Halong Bay with fun activities including kayaking, water trampoline, swimming, boat jumping, beach volleyball, and much more - all can be found on this 5-star cruiser.
If you are a young and free traveler looking to enjoy the top 7 natural wonders of the world, a special few days of party and activity experience will be undoubtfully an exceptional memory of your travels through Vietnam.
Join the Oasis Bay Party Cruise and cruise through the stunning gems of Halong Bay on a luxury cruise ship. Visit the Freedom Island - Lan Ha Bay, covered with lush greenery, relaxing bungalows, an incredible bay view, an open bar, nature trails, and many more to explore. Party the night away on our funky dance floor on board with a live DJ every night and our fun young crowd!
After socializing in the fun and energetic events, don't forget to retreat with a sip of a cocktail on the sun lounger as you chat with new friends and enjoy activities like kayaking, cooking classes, and yoga classes on the deck.
Halong Bay Cruise Deals believes that Oasis Bay Party Cruise has something for everyone - beautiful scenery, adventure, lazing in hammocks, and the chance to make some new friends with fun games. Contact us for advance booking or any other assistance for your Halong Bay Cruise!
Facilities
Complimentary bottle of water
Hanoi - Halong Bay - Oasis Bay Party Cruise (L, D)
08:00 – 08:30: Pick up at hotels in the Old Quarter center in Hanoi.
12:15 – 12:30: We arrive at dock number 26 in Tuan Chau Harbor.
12:00 – 12:45: Transfer to Oasis Bay Party Cruise by tender and enjoy your welcome drink as a greeting from the crew. Then check into your cabin with the help of friendly staff.
13:15 – 14:15: Lunch will be served at the Cruise dining area.
15:30 – 17:30: After you have recharged your energy, the cruise will sail to the foremost tranquil area of Halong Bay which is less crowded and has more space to join in outdoor activities. Feel free to somersault, backflip, kayak, or dive to appreciate the true beauty of the underwater world. To make it even more authentic, we also have a giant trampoline and many jacuzzis arranged around the cruise.
17:30 – 18:45: Now is the time for you to get back on board and join the Sunset Party. Don't miss the special promotion "Happy Hours" when you can buy 2 get 1 drink for free, and have pleasant chats with friends.
19:00 – 20:30: Savor the mouthwatering dishes served by the skilled Chef at the Cruise dining area.
21:00 onwards: Your option to join Oasis cruise night-life activities like dancing, singing with friends, playing board games, drinking in the jacuzzis or enjoying our special Live DJ to blend in the "endless" night.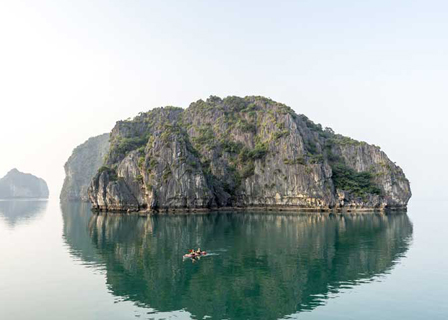 Oasis Bay Party Cruise - Van Boi area - Lan Ha Bay
06:45 – 08:00: Greet the day. Watch the magnificent sunrise right in the middle of the bay. Capture this breathtaking view and enjoy your first meal of the day.
09:30: Get on our transfer boat to start your next voyage to our private island.
11:00 – 12:00: We set sail to the swimming spot in Van Boi area, Lan Ha Bay which is a less-known ecosystem – more for you to explore.
12:00 – 13:00: Lunch served on board.
14:00 – 14:30: Anchor at our very own private Freedom Island. Check ini your room.
15:00 – 16:00: Free time to explore the exclusive and amazing "Freedom Island". Enjoy various games like volleyball, and football with your friends, or swim in the private beach, kayak in the bay and laze around in hammocks. You can also trek to the top mountain of the island for a view of the lush green nature.
16:00 - 17:00: Right when dusk is setting, enjoy a Sunset party with fresh fruits and juice prepared by our staff.
19:00 - 20:30: The dinner will be a BBQ party in the open area by the beach. What is better than a BBG with buddies and new friends on the beach that is completely private?
From 21:00: The rest of the night will be spent on your preference. Enjoy the last night on this cruise with your friends.
Meals: Breakfast, Lunch, Dinner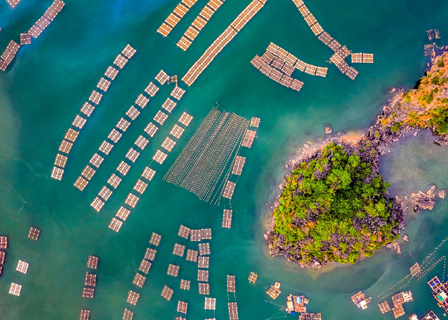 Oasis Bay Party Cruise - Halong Bay - Hanoi (B)
07:00 - 08:30: Savor your breakfast in the Cruise dining area.
08:30-08:45: Check out procedure and bill payment.
9:00 - 10:00: Get on our transfer boat and sail back to Tuan Chau Harbor.
10:00 - 10:30: Bus picks up from Tuan Chau Harbor to Got ferry station.
10:30 - 11:00: From Got Ferry station, you will travel to the other side, and get picked up by our bus to head back to Hanoi Old Quarter. (Due to heavy traffic in this area, you may need to wait for the bus for about 1 hour.)
16:00 - 17:00: Arrive in the Old Quarter. The trip ends.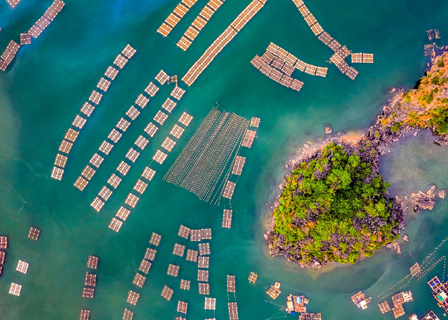 Inclusions
Pick-up and drop-off from hotels in Hanoi Old Quarter
Cabin with 2 ways air conditioner (2-3-4-5 guests/room) on the cruise &
shared accommodation on the island for the 3-day 2-night itinerary
Meals as mentioned in the program
Mineral water in the cabin (1 bottle/pax)
Live DJ during the night
1 indoor heated swimming pool & 2 large outdoor Jacuzzi
English-speaking tour guide
Kayak boats, floating lifebuoys
Tea and coffee during breakfast
Sightseeing entrance fees
Includes Taxes & Fees
Exclusions
VAT (8% surcharge)
Tip
Drinks on the Cruise menu
Additional charge for drinks brought on board (if any)
Other personal expenses incurred outside of the cruise program