Athena Cruise 2 Days 1-night
Hanoi, Halong Bay, Titov Island, Sung Sot Cave, Luon Cave, Tuan Chau Harbor, Hanoi
Launched: 2017
21 Cabin(s)
Overview
Athena Cruise in Halong Bay is brand new among the luxury cruises in Halong Bay, Vietnam. Athena Cruise was newly built in 2016 and launched to make its first trip on July 1, 2017. The ship has 3 decks: the lower deck is the reception area, boarding area, and 12 guest rooms; the middle deck houses the rest of the guest rooms, the restaurant, and the indoor bar, and the upper deck is an open-air deck with an outdoor bar, coffee lounge, spa, and sauna. Halong Athena Cruise has 21 luxury rooms with 5 different styles to meet your tastes during the cruise.
Considered a work of art, the modern and luxurious design of the cruise gives you the feeling of being invited to an exciting trip with a movie star. Not only serve the finest wines, but we also offer a wide selection of wines, beers, cocktails, coffees, teas, and fresh juices. On the Athena Cruise, you will be welcomed as guests with luxurious amenities on the journey to discover one of the most beautiful landscapes that Vietnam offers.
Athena Cruise is the perfect choice for any special occasion such as a honeymoon, anniversary, meeting partners, traveling with the company, family outings, or a romantic vacation. With Athena Cruise, you absolutely can turn your dream trip into a reality; we will bring you the wonderful experience you have been waiting for.
The journey of the Athena Cruise from the legendary Halong Bay offers a unique experience not possible on other ships. Going on the Athena Cruise, you will be overwhelmed by the majestic natural beauty surrounding you, fascinated by the many mysterious and ancient natural wonders of Halong Bay. Our extremely friendly and professional crew and crew always try our best for your safety and satisfaction.
For booking Athena Cruise, you can contact Halong Bay Cruise Deals 24/7 to prepare for the most interesting and luxurious experience. Whether you are looking for adventure or exquisite luxury, sweet romance, or simply relaxation, Athena Cruise can bring you such a trip with an impossible impression to forget.
Highlights
Sauna
We provide a sauna from 3:30 to 4:30 pm for all customers. Our new, well-equipped steam room has been particularly popular among customers. Moreover, the sauna is free to use for all guests to have the opportunity to enjoy the luxury service that Athena Cruise offers. After a long day of playing in the Bay, a sauna is a therapy to relax your mind and purify your body. Saunas have been proven to be one of the most effective ways to regain energy for the body. Come and experience this service at Athena Cruise!
Spa & Massage
One of the characteristics of Asian life is massage. It's a great way to relax and although it may sometimes seem rough, the body loses its stiffness and after the end of a session, most people feel completely refreshed. You can expect to get knots out of your tired muscles. It may be related to some very short-term pain but that does not disappoint. Massaging your feet against pressure points on your foot can also have a positive effect on other parts of your body. After a busy day with water activities, such treatment is a great way to relax before dinner.
Hanoi - Halong Bay - Titov Island (L, D)
12:00: Check-in
Once you arrive at Halong International Harbour, you will be welcomed by members of the Athena Team. You will then have your luggage checked at the waiting lounge before transferring to the cruise.
12:30: Getting on board
After getting transferred to the Athena Cruise by a tender boat, the cruise manager and crew members will welcome you with a drink, then they will show you a brief safety guide on board as well as the itinerary of the trip.
13:00: Setting sail to Halong Bay
13:30: Lunch
All guests enjoy lunch at the restaurant while enjoying the marvelous view of Halong Bay.
14:45: Visiting Sung Sot Cave
When the cruise stops at Bo Nau Cave, guests will be transferred to Sung Sot Cave by a tender boat.
Sung Sot is Vietnamese for "surprising" or "amazement". Indeed, the cave is famous for its magnificent view inside, as it was deemed one of the most beautiful caves in Halong Bay. Don't forget to take pictures while you're here.
15:45: Visiting Titov Island
Leaving Sung Sot Cave, the cruise will head toward Titov Island.
Here you can go for a swim, or just relax on the shore. One activity you cannot miss is climbing to the top of the island. Once you reach the top, you will be in awe of the way it shows you every corner of the paradise-like bay.
17:00: Relax
Guests get back to the Athena Cruise, the ship will then go to Titop587 to stop for the night.
18:30: Cooking class
This is the chance for you to take part in a cooking class where Athena Head Chef will teach you how to make some traditional Vietnamese dishes.
19:00: Dinner
Guests are served a fusion set menu from the restaurant.
From 18:00, there will be an event called "Happy Hour" at the bar, where you can buy 1 drink and get another one for free. Don't miss out on the chance to enjoy some amazing drinks while watching the beautiful sunset on Halong Bay.
20:30: Evening activities
After dinner, you can stay at the restaurant to watch a movie or join in some mini-games. If not, you can try fishing squid from the side of the cruise, or using the massage service, which you can get access to by contacting the cruise manager for assistance.
Sung Sot Cave – Hanoi (B, L)
06:30: Taichi class
Welcome the sunshine of the Bay while exercising on the sundeck for 30 minutes. An experienced teacher will teach you how to practice Taichi - a traditional exercise from China that helps boost body flexibility and strength.
07:00: Breakfast
Guests enjoy a light breakfast at the restaurant while the cruise ship sets sail to Luon Cave.
08:00: Visiting Luon Cave
When you arrive here, you can choose one of two following options to explore the cave: kayaking for free or renting a bamboo boat that is rowed by a local boatman.
09:00: Check-out
Guests come back to the cruise ship, you will have some time to rest and pack the luggage. Once you finish packing, please leave them outside at the door so staff members of the Athena team can collect and unload them for you once the ship reaches the harbor.
09:30: Brunch
After finishing the check-out procedure, guests are served a brunch buffet at the restaurant and pay service bills (if any).
10:45: Disembarking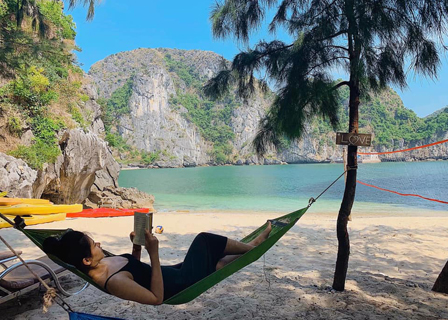 General Information
Bus pick-up time: 7:00 AM - 7:40 AM
Return Hanoi by bus: 4:00 PM
Check-in: 11:30 PM
Check-out: 10:45 AM
Shuttle bus pick-up point: Hotel in Hanoi Old Quarter or in front of Hanoi Opera House
Shuttle bus drop-off point: Hotel in Hanoi Old Quarter or in front of Hanoi Opera House
Booking Policy
• 50 % of the total cost is required to secure the booking.
• The remaining balance is to be paid 15 days prior to the departure date.
• In some special cases, you will be required to pay the full cost or a number greater or smaller than the standard 50% to secure your booking.
• In some special cases, the deadline for payment will be required sooner or later than the standard 15 days prior to booking.
Cancellation by Halong Bay Management Board due to bad weather
If the cancellation is made by the Halong Bay Management Board, following policies will be applied depending on the time of cancellation.
• When a cancellation is made before departure date- check-in date (if no services have been used): 100% refund.
• When a cancellation is made during the trip (some services have been used such as transfer, food, some amenities, etc.): used services will be charged, the rest will be refunded.
• When a cancellation is made before or during the departure date and the trip must be shortened from 2 nights to 1 night, 2 days 1 night trip, plus other used services will be charged, the rest will be refunded.
• The final cost will be confirmed by your consultant via email. In all cases, please contact us directly for any urgent help. We are here to support you!
Note: In case of a cancellation decision made by the Management Board of Halong Bay, an alternative travel arrangement will be made on request, or you will be refunded in accordance. In all cases, please contact our travel consultant via email or phone for support. We are always willing to provide you with any assistance you may need on or off board.
Cancellation by Customer
• More than 30 days prior to check-in (departure date): Free of charge
• From 30 to 16 days prior to check-in (departure date): 10% of total rates
• From 15 to 10 days prior to check-in (departure date): 20% of total rates
• From 9 to 5 days prior to check-in (departure date): 50% of total rates
• Less than 5 days prior to check-in (departure date): 100% of total rates.
• No-Show: 100% of total rates
*** Cancellation notice from customer must be sent to us via email. Refund will be processed between 10 -15 working days.
Important Notes
• PROGRAMS & SCHEDULES SUBJECT TO CHANGE WITHOUT PRIOR NOTICE.
• In case of adverse weather conditions in Halong Bay, the cancellation will ONLY be made by the Halong Bay Management Board. Usually the announcement will be declared very close to or on the departure date and our refund policy will come into effect.
Inclusions
Welcome drinks
Complimentary a bottle of water/ person in room
Fruit set-up
A bottle of local wine for Athena Terrace Suite & Family Suite
Cruise itinerary in Halong Bay
English speaking tour guide on board
Meals on board
Luxury accommodation with A/C, bathtub & shower, mini bar
Bamboo Rowing Boat trip in Luon Cave or kayaking
Entrance and sightseeing fees
Tai Chi session, cooking demonstration
Includes Taxes & Fees
Exclusions
Drinks not mentioned in Inclusions
Airfares
Gratuities
Other personal expenses
All other services not clearly mentioned
Christmas: 23rd, 24th December; New Year's Eve: 31st December
Transfer Hanoi - Halong - Hanoi by bus or private car/van (book in next step)
"A Serene Escape in Halong Bay"
My recent cruise tour in Halong Bay was a serene and relaxing escape from the hustle and bustle of daily life. The bay's ethereal beauty captivated me from the moment we set sail. The emerald waters and towering limestone karsts created a tranquil atmosphere that allowed me to unwind and reconnect with nature. I have no more word to express my great experience in here, i will be back with my fam.
"If you're looking for an off-the-beaten-path adventure, this cruise tour is a must!"
I recently had the pleasure of experiencing a cruise tour in Halong Bay, and I must say it was an absolute delight. From the moment we stepped on board, the crew greeted us with warm smiles and made us feel right at home. The ship itself was elegant and well-maintained, with comfortable cabins and stunning panoramic views of the bay. The highlight of the tour was undoubtedly the breathtaking scenery of Halong Bay. The limestone karsts rising majestically from the emerald waters created a truly magical ambiance. We were able to explore hidden caves and grottoes, and the knowledgeable guide shared fascinating stories about the bay's history and geology. Kayaking through the bay's tranquil waters was a surreal experience, allowing us to fully immerse ourselves in the natural beauty surrounding us. We was so so happy in this time! Thank you guys so much!
"Should choose Athena cruise"
We were very relaxed for 3 days 2 nights on the Athena Cruise. We got a comfortable cabin with a small balcony. We were served by the excellent staff and the great cruise manager with excellent services. 10/10 points for all of them. Besides the accommodation, the food for all meals on board was fine, too. And thank you so much for celebrating our birthday on the cruise. How surprising it was! Thank you so much! I loved Athena Luxury cruise!
"A wonderful trip with Athena"
Athena cruise was an amazing stay. The staff always was willing to help us with anything. We got great cocktails and nice chat from Nguyen at the bar. On the second day, we got the chance to go further to the bay and could swim in a very quiet beach. So lucky that the weather was nice, and we could enjoy the stunning sunset from the cruise.
"Family trip to Vietnam"
Very polite and helpful staff. Our kid was allergic to peanuts and the restaurant made sure to take out all peanuts from his meals. Highly recommend Athena cruise for family traveling.
"Holidays in Vietnam"
We had pleasant 2 days 1 night sailing with Athena cruise. Everything was taken care by the cruise team so well from start to finish. All we needed to do were to enjoy the cruise trip and the breathtaking views of Bai Tu Long Bay. we were always taken care by the cruise members, special thanks to Ms. Gin – the receptionist, Mr. Nguyen, Mr. Chien – the cruise manager and other crews for your helpfulness. The dishes were so delicious and decorated beautifully. The cruise cabins were very clean and with comfortable beds and soft pillows. Thank you, Athena Cruise!
"We recommend Athena Cruise"
We joined the tour to Bai Tu Long Bay with Athena Cruise. The Athena was a luxury cruise. Spacious, clean, and tidy! Both cruise manager and staff were very professional, polite, and friendly. The cruise manager, Mr. Tonic was so nice to ask carefully about my sons' food allergies and adjust the menu for them. He was on the top of the great members. My sons enjoyed their meals safely and deliciously. The cruise manager, Mr. Chien was a great leader, too. He took the responsibility of caring for all activities and services and always made all guests feel comfortable and happy. We enjoyed every single moment of the cruise trip with the help of Mr. Chien.
"Family holiday with Athena Cruise"
Athena Luxury was a fabulous cruise and a wonderful stay in Bai Tu Long Bay. the crews were so attentive to us. Should say thanks to Mr. Tonic, the restaurant manager for his kindness and caring. He helped us with medication when I was headache on the cruise. The crews' English was so good that there were no difficult in communication each other. Thank you so much.
"Amazing Cruise trip"
Everything on Athena Cruise was very outstanding. During my 10 years of traveling, this was the first time I had joined a great cruise like Athena cruise. It's a must-do to visit Halong Bay at least once.
"Athena Luxury Cruise - The best one in Bai Tu Long Bay!"
Athena cruise was a real luxury 5-star cruise in Bai Tu Long Bay. the cabin was nice with very comfortable beds. We also had excellent food, fun activities, incredible services. The most impressive thing to me was the services taken care of by the professional staff. They were on the way to make sure all great services, especially Mr. Ha, and Mr. Tonic – the cruise manager and the restaurant host. We loved Athena Cruise.
"Great services on Athena Cruise"
Athena Cruise not only gave us a wonderful cruise trip but also satisfied our desire of visiting the wonder bay. The staff was always responsible for our requirements. Tonic always took care of our dietary requirements. The tour was well organized to visit the fishing village. Dinner was so lovely and romantic, especially for couples with honeymoon tours.
"Bai Tu Long Bay Cruise"
This was the second time I took a cruise to visit Halong Bay, particularly Bai Tu Long Bay this time. There were about 60 overnights cruises in Bai Tu Long Bay, which is much less than those in Halong Bay, so it was less crowded. A bonus for our cruise trip was that the weather in December was so fantastic. The cruise staff was super nice and helpful. They served us with many dishes of food. My wife was allergic to nut, and the cruise member, Mr. Chien made sure to take all nuts out of his meals. So nice of him. Thanks so much!
"One of the best cruises I've been on Halong Athena Cruise"
I recently made a trip to Vietnam and joined Athena Cruise. And I must say that this cruise ship was one of the best ones I had joined so far. I was a pure vegetarian, so it was difficult for the cruise staff to make different food for me. But they prepared delicious vegetarian meals for me, and normal food for other members of my family. I had not been met any chef who took the best care like Mr. Tonic. He was the best chef of Halong Athena Cruise. Thanks so much. Also, please send my thanks to Mr. Ha, the cruise manager, for his help and caring for all activities and our requirements onboard.
"Amazing Experience on Athena Cruise"
My husband and I spent 2 days of our Vietnam trip on Athena cruise. We loved this cruise. Our cabin was so nice and comfortable. The staff was so courteous and helpful. The facilities on the cruise and the cabin was modern and luxurious. We loved the meals they served us and the cruise itinerary they organized. Thanks all for a beautiful cruise trip in Bai Tu Long Bay. Thank you, Tonic for great food.
"Experienced excellent services on Athena Cruise Halong Bay"
We spent 2 most memorable days in Bai Tu Long Bay with Athena Cruise. We were provided excellent services by the cruise manager Mr. Chien and the cruise team. All of them made us very comfortable to stay on Athena Cruise. And they provided us awesome food. The chef Mr. Tonic took care of us so well. And I could see that all passengers enjoyed his food happily. Highly recommend Halong Athena Cruise to all relatives and friends!
"Great services and delicious food – but the bad weather that the cruise team could do nothing!"
We chose Athena Cruise because this cruise followed the route to discover Bai Tu Long Bay – a part of Halong Bay. Bai Tu Long bay was less touristic and quieter than Halong bay, but the beautiful scenery was the same. However, the weather was not good that day, so we could not enjoy all the beauty of the bay. We always were keen on with smaller and luxury cruise rather than the big and crowded one. And honestly, Athena cruise didn't let me down. The staff was welcoming us with their smiles, helpful and friendly. The food was decorated well and also tasty. We wondered how they could do all meals for many people in the small kitchen on the cruise. We read the reviews from previous clients that lunch was served soon at 09.30 am on the 2nd day, but I thought it was not lunch, it was a brunch in Vietnamese style with noodles… If you didn't want this meal, you could enjoy a lot of other food like fruits, bread, eggs… And additionally, the cabin was a very comfortable stay. It was better than staying in a hotel in the city.
"My choice – Halong Athena Cruise"
We used to be very embarrassed when we had decided to choose which cruise to join. Finally, we decided to go with Halong Athena Cruise, and it was a right choice. Athena Luxury Cruise, Vietnam didn't make me disappointed. The cruise director, Mr. Chien (I hope to write a right Vietnamese name) was courteous and supportive. And the restaurant host, Mr. Tonic, was a nice person, too. He went around the restaurant and asked the clients about their satisfaction and also explained the ingredients of all dishes during the dinner time. At the end of the trip, he gave me and one more guest a rose made from cucumber. He was so nice! But seemed that we cannot meet each other one more time.
"Very nice trip with Athena Cruise"
The cruise was so excellent with its comfort and great services. The crews and staff were so hospitable and nice. The cabin we stayed in was so clean. Especially, we loved the food of Vietnamese cuisine. Our cruise manager, Mr. Chien was so supportive and helpful. He was the nicest one. And, Mr. Tonic was so attentive to help us get other kinds of food instead of seafood that my mon could not eat. Really appreciated his caring. Thank you.
"The best experience in Vietnam trip"
We joined a one-night cruise to Bai Tu Long Bay and had the best experience on our trip to Vietnam. Athena cruise was the best cruise I had been on. The cruise facilities were so great. We got the cabin at the back of the cruise ship and it offered us panoramic views of the bay. So amazing! The scenery was so incredible that I felt like in the dream. The staff, the services onboard, and outdoor activities were good, too. Thanks all!
"Floating hotel in Bai Tu Long"
We decided to join an overnight cruise in Bai Tu Long Bay. The whole concept of the cruise, from how it looked like to how its services were, seemed to be very professional and lovely. Everything was punctual as in the itinerary. There were about 20 cabins on the cruise. They were so large and featured comfortable beds. The food served was delicious and was the best one I had since I arrived in Vietnam. All services were very good. There were not many activities but very interesting. Overall, we had a nice cruise trip. Should try this cruise at least once.
"Athena cruise"
The cruise trip with Athena cruise was the highlight of our trip to Vietnam. Bai Tu Long bay was so stunning and spectacular. The experience with Athena Cruise was so amazing with nice excursions. Athena cruise was actually at the first class in Bai Tu Long Bay. So luxurious! Definitely it was worth paying more money to join a top cruise like Athena Cruise.
"Amazing cruise in Bai Tu Long Bay"
We must say that Athena Cruise had brought a great overnight trip to us. It ran the route to discover Bai Tu Long Bay which was much peaceful and less crowded than Halong Bay, but still impressive with its spectacular scenery. The cruise was so impressive with comfortable and spacious cabins. The cruise staff made our trip to become special by their hospitability and caring. They seemed not be able to do enough for us. Nothing was enough, but they were so great. The food, especially for dinner, was so amazing. We also did kayaking to visit the fishing village. It was our most interesting experience in our trip. There was no complaint to the cruise services and the cruise team. Absolutely luxury cruise!